3D
Providing digital fabrication tools that transform imagination into reality

Outline of 3D Business

3D business's mission has been to provide easy-to-use digital fabrication tools to give anyone the capability of transforming their imagination into reality. In keeping with its concept of desktop fabrication, Roland DG develops a range of digital tools that are compact in size, easy-to-use and affordable. Roland DG's truly innovative product range includes 3D milling machines and 3D printers as well as engraving machines and photo impact printers that are developed with proprietary technologies and are held in the highest regard by creative individuals worldwide. Products are designed to suit a wide range of applications, from creating prototypes in product design and development to education and research for training upcoming designers and engineers, as well as engraving and other professional creative arts, right down to individual hobbyists.

3D Milling Machines

3D milling machines are used in the manufacturing industry for product design and prototyping, rapid manufacturing and jig fabrication, as well as in high schools and university labs for education and research. Models are available for working with a broad range of materials from resins, such as chemical woods, to aluminum and brass, and offer high-speed, high-precision operation in a compact size. Milling machines come equipped as standard with Roland DG's proprietary CAM software for applications tailored to a wide range of 2D and 3D milling processes.

Applications

Product Prototypes

Structural Design Evaluation

Jig and Part Production

3D Printers

Incorporating a stereo-lithography process using a UV-LED projection system, the additive rapid prototyping machine builds models by sequentially curing layers of resin from a liquid resin vat. While subtractive machines provide outstanding accuracy and smooth finished surfaces for applications that require a precise level of machining, additive machines are suitable for quickly checking a design in the initial stages of prototyping or modeling a complex shape. Roland DG offers a proprietary combination solution that delivers the merits of both types of machines, so that users can select the best method to suit the requirements or conditions in each step of their workflow, from inspiration to production.

Applications

Design Prototypes

Product Prototypes

Industrial Part Prototypes

Engraving Machines

Engraving machines can be used to carve text and unique designs on a wide range of materials, including plastic, acrylic, aluminum, stainless steel, brass and wood. They are used for making signs and nameplates, as well as engraving text, logos and other graphics into accessories, gifts and awards.

Applications

Signs

Personalized Products

Name and Product Plates

Photo Impact Printers

The desktop photo impact printer strikes surfaces including metals and resins with a precision diamond-tipped stylus, reproducing text, logos and other graphics at high speed and with pin-sharp accuracy. The size and density of impact dots can be changed to create stunning illustrations and smooth photo gradations. Photo impact printers are used in a diverse range of applications such as imprinting names and decorations onto custom accessories and gifts, and are also ideally suited for industrial marking applications, including the production of serial number and information plates.

Applications

Personalized Gifts

Stationery

Serial Number Plates

Medical Instrument Marking Devices

The medical instrument marking device is a desktop-size dot impact printer designed for the direct marking of medical instruments such as scalpels and forceps with UDI (Unique Device Identification) barcodes for tracking and traceability. It quickly creates 2D DataMatrix barcodes to GS1* standards and imprints them with great precision on the surface of medical instruments in areas as small as one square millimeter. The machine uses dot pin marking to permanently mark surfaces and prevent erasure and corrosion. A vise secures the instrument while a laser pointer indicates the area to be marked so that no special training is required.

* The GS1 DataMatrix is a standard for 2D symbols determined by the GS1 international body for barcodes, symbols and electronic data transfer, and it provides worldwide electronics manufacturers and medical facilities a way to display symbols on instruments. Information on item code, usage limits, lot number, serial number and more can be stored within 26 bytes and read using a special scanner.

Applications

2D Symbol Imprinted on Medical Instruments

Imprinted Forceps

Imprinted Tweezers
3D Business Strategy
Roland DG was established in 1981 during a period characterized by tremendous interest in personal computers. As computers began to revolutionize society and industry, Roland DG envisioned computer peripherals that would work as "digital hands" to facilitate a world where everyone could enjoy their individual creative pursuits and transform their imagination into reality. The concept of desktop fabrication, focused on providing compact, affordable, and easy-to-use value, was born from this vision.
In 1986, Roland DG released the world's first desktop 3D milling machine, the CAMM-3 PNC-3000. The PNC-3000 enabled engineers and designers to observe for the first time materials being fabricated on their desktop next to a personal computer. This process, dubbed the "magic hand," radically streamlined the rapid prototyping and design process, and created the means for anyone with a personal computer to undertake desktop fabrication.
It has now been three decades since Roland DG released its personal 3D milling machines, and the concept of desktop fabrication continues to draw a growing level of interest every year. The growth of the internet and social media, the availability of smart devices and personal-use 3D printers, and the increase in the number of public workshops such as Fab Labs and manufacturer studios has expanded the horizons of digital creation amongst a vast number of people globally. There is no doubt that we're entering an age where anyone with an idea has the potential to become a "Maker." Fabrication is no longer an art that is limited to manufacturing companies, R&D departments or specialists, but instead has expanded beyond traditional workplaces, fields of specialties and corporate or industrial divisions, as well as cultures and values, and has the potential to create new, innovative applications from the collective knowledge and ideas of people around the world.
Today, the digital fabrication industry is on the cusp of another great change. Roland DG is pushing forward with research and development of more diversified core fabrication technologies to provide users with an even greater level of value. In addition to technical improvements applied to the existing line of 3D milling machines and 3D printers, Roland DG is focusing development on innovative new fabrication capabilities using materials that were not previously possible. Moreover, the very essence of 3D devices and services is also being redefined to provide the easiest and best fabrication solutions to meet the needs of everyone who will be using 3D CAD and fabrication tools in the future. With the markets expected to grow exponentially from the current numbers of professionals and creative individuals, Roland DG is fine-tuning its concept of compact size and user-friendliness, and developing its business to meet the needs of the coming generations of potential users.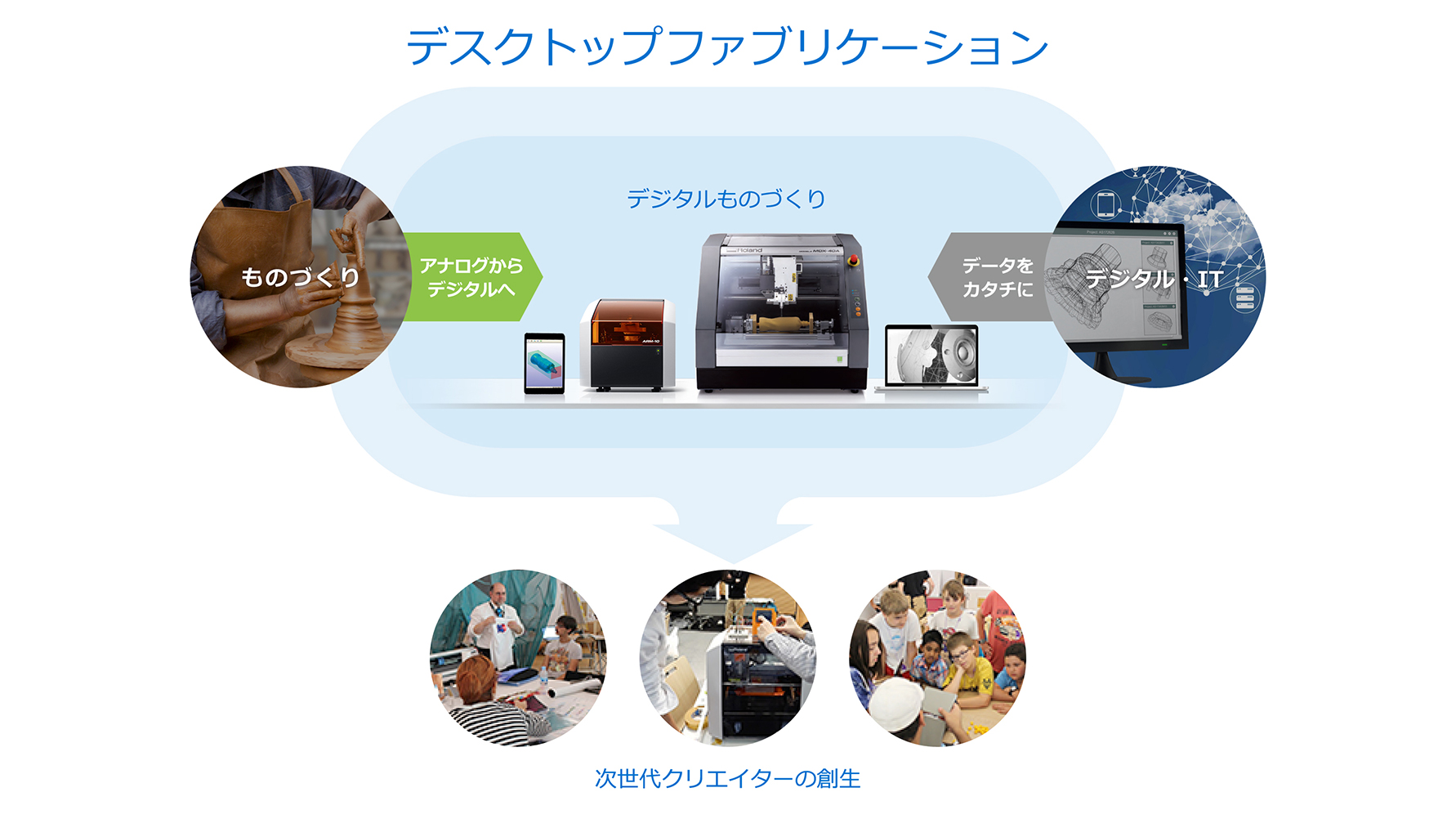 DPM Business Strategy
DPM (Direct Part Marking) is a technology for ensuring traceability and process management using marking identifiers such as 2D symbols and barcodes applied to products, parts, instruments and other equipment. Roland DG has concentrated its efforts particularly in the medical field, to provide solutions that meet Unique Device Identification (UDI) regulations requiring marking identifiers on medical devices and instruments.
In recent years, efforts have been spreading to review medical instrument safety and management procedures in order to reduce the risk of infection inside hospitals and ensure the safety of patients. Regulatory bodies worldwide are seeking a comprehensive management system for special instruments in use at medical facilities. Roland DG saw an opportunity to apply its dot impact printing technology, which had been cultivated since the early 2000s, to produce marking identifiers for medical devices and instruments and, in anticipation of these trends, released the MPX-90M medical instrument marking device in 2012. The MPX-90M allows medical facilities as well as medical instrument manufacturers and suppliers worldwide to utilize a 2D symbol imprinted on each instrument as a permanent solution for tracking available stock, location, times used and usage history.
Roland DG also envisioned that medical facilities could incorporate proven digital support systems in place at Roland DG factories to raise the level of quality and efficiency involving pre- and post-operation tasks. The cleaning, disinfection and reassembly of medical instruments kits includes complicated maintenance procedures across a wide variety of surgical tools that are highly dependent on the experience of the employee. Today, Roland DG is working with leading institutions such as the Ministry of Economy, Trade and Industry (METI) and Hamamatsu University School of Medicine to develop and provide a proof of concept for a medical instrument traceability and maintenance support system. Efforts are underway to develop a comprehensive solution that can be provided to medical institutions starting in 2018.