Product News
08/29/2006
Roland DG Corporation
Roland Unveils New 74" Dye-Sublimation Inkjet Printer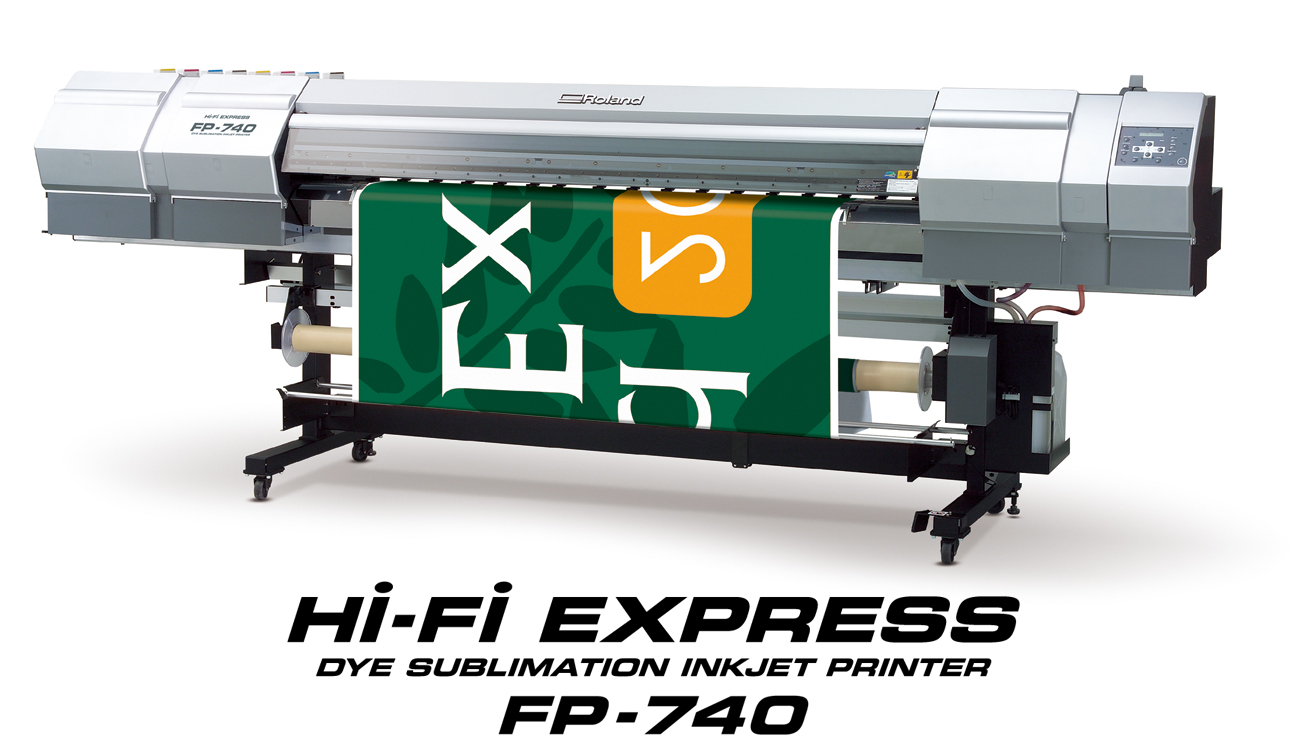 Hamamatsu, Japan, August 29, 2006 – Roland DG Corporation today introduced the new Hi-Fi Express FP-740 74" digital dye-sublimation inkjet printer. The FP-740 is ideal for producing sublimated graphics for a range of wide-format applications including flags, banners and other soft signage.
Featuring eight advanced piezo print heads, a high capacity ink system and built-in media feed and take-up system, the FP-740 produces precision quality graphics at print speeds of up to 51m2/h (548 sqft/hr). The FP-740 maintains image quality even through long production runs for consistent, reliable prints every time.
"It has never been easier to enter the wide-format sublimation market and profit from this lucrative new business opportunity," said Kevin Shigenoya, Roland DG marketing manager. "The FP-740 is based on Roland's award-winning inkjet technology and is just as easy to operate and maintain as the rest of our printer line. No additional training is required, and the results are outstanding. Sublimated prints are easily transferred to polyester fabric for exceptional flags, banners and textiles that preserve the fabric's natural drape and texture."
Hi-Fi EXPRESS FP-740 Features:
‐ High-speed 74"-wide sublimation printer ideal for producing flags, banners and textiles
‐ Prints at up to 51m2/h (548 sqft/hr) for high-volume production
‐ High-density 4-color ink set ensures rich, vibrant colors
‐ Maximum 720 dpi resolution
‐ High-quality print mode delivers consistent, reliable results
‐ Rigid construction for durable performance
‐ Roland VersaWorks professional RIP software included
Roland VersaWorks RIP Software Included
Every FP-740 comes with VersaWorks professional RIP software, developed exclusively by Roland for the company's wide format inkjet printers and printer/cutters. VersaWorks is uniquely designed to both maximize the FP-740's performance and meet the demands of exhibit builders, textile decorators and sign making professionals. A spot color library and functions for spot color replacement ensure precision color reproduction. In addition, VersaWorks features an efficient graphical user interface, advanced color management tools and a wide variety of convenient layout, edit and print functions such as nesting, tiling and auto/manual-layout. VersaWorks also allows users to easily import files from their favorite design application without a lengthy learning curve.
VersaWorks offers the ability to preview jobs on screen, keeping ink and media usage to a minimum. Users can take advantage of two job queues for handling different print conditions and can automatically update VersaWorks through the Internet for the latest software version and Roland ICC profiles available. VersaWorks is built upon the genuine Adobe® PostScript® CPSI™ RIP engine expressly for Roland inkjet technology and is compatible with Windows 2000/XP operating systems.
Roland DG Corporation (TSE symbol 6789) - First Section, Tokyo Stock Exchange
Phone: +81 (0)53-484-1201 / Fax: +81 (0)53-484-1216