Product News
08/21/2007
Roland DG Corporation
Roland Introduces METAZA MPX-80 for Fast, Easy Personalized Gifts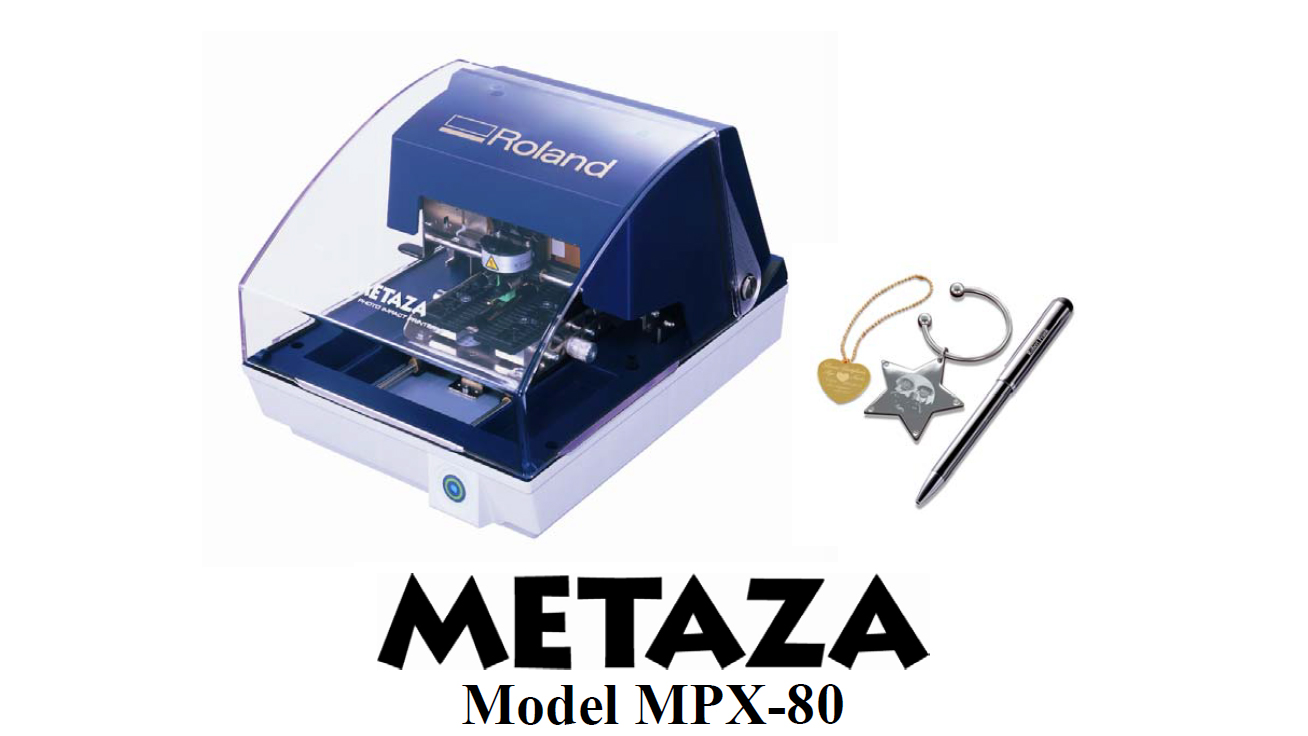 Hamamatsu, Japan, August 21, 2007 – Roland DG Corporation, a pioneer of advanced digital technologies, today introduced the METAZA MPX-80, the company's most precise impact printer to date and a fast, easy-to-use personalization device for souvenir, gift and jewelry stores.
"For many retailers, the METAZA MPX-80 is the perfect personalization tool," said Mayumi Shirayanagi, Roland 3D product manager. "With the MPX-80, anyone can quickly start a business or introduce a new product line by turning ordinary gifts and accessories into valuable and cherished mementos for their customers."
"The market for personalized gift items continues to grow, making the MPX-80 a great profit center," Shirayanagi added. "The MPX-80 is unique in that it is both extremely easy to use and a complete solution featuring everything needed to beautifully imprint names, initials, messages, photos and illustrations on a wide range of popular gift items."

METAZA MPX-80 Features:
- Complete solution for personalizing awards, plaques, gift items and jewelry
- Imprints all text, photos and graphics on one device
- Imprints a wide range of materials including platinum, gold, silver, copper, stainless steel, aluminum and acrylic
- Supports a wide selection of readily available stock items
- As easy to use and maintain as a desktop printer, with no special training or engraving skills required
- Included center vise securely holds items of various shapes in place
- Feature-rich Roland METAZAStudio design software included
- Expanded work table supports items as large as 100mm long x 100mm wide x 40mm thick*1
- Quiet operation and compact size make it ideal for retailers
- High-speed production – in tests conducted by Roland, the MPX-80 imprinted 2mm text 30 percent faster than a conventional engraver
Easy-to-use METAZAStudio Design Software Included
The MPX-80 is a complete solution that comes with everything required to start and run a successful business. METAZAStudio design software accepts artwork, designs and photos from a variety of sources including digital cameras, mobile phones, jpg or bmp files, and common design files such as Adobe ai and eps*2. METAZAStudio supports a wide variety of TrueType fonts and allows users to wrap text around an arched line or the contours of a design. METAZAStudio also generates both single-stroke and fill fonts. METAZAStudio is compatible with Windows® 2000/XP and Windows Vista™(32bit).
*1 MPX-80 imprints areas up to 80mm x 80mm. When equipped with the center vise, the MPX-80 supports items up to 60mm long x 100mm wide x 20mm thick.
*2 The MPX-80 imports Adobe Illustrator version 7 and 8.
Roland DG Corporation (TSE symbol 6789) - First Section, Tokyo Stock Exchange
Phone: +81 (0)53-484-1201 / Fax: +81 (0)53-484-1216