Product News
06/22/2010
Roland DG Corporation
Roland Announces New VersaArt Dye Sublimation Printer Line for Soft Signage, Apparel and Interior Décor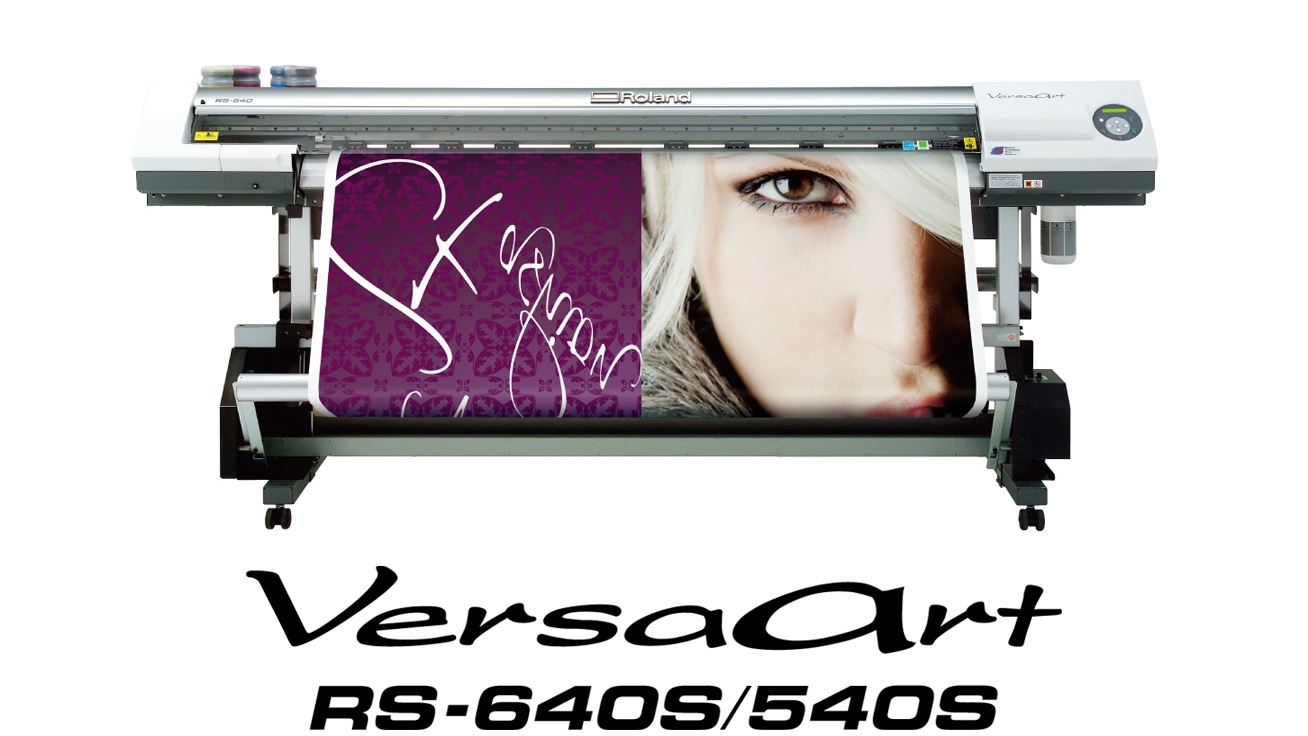 Hamamatsu, Japan, June 22, 2010 – Roland DG Corporation, a leading worldwide provider of wide-format inkjet printers and integrated print/cutters, today introduced a new dye sublimation solution for its VersaArt series of four-color CMYK wide-format inkjet printers. The new VersaArt S series printers deliver rich, saturated colors and exceptional print quality while optimizing productivity and performance, all at an affordable price. Two models are available: the 64" RS-640S and the 54" RS-540S.
"Sublimated fabric graphics are becoming increasingly popular because they are light weight, easy to handle, cost effective to ship and environmentally friendly," said Yuko Seki, Roland DG Color product manager. "With the VersaArt S series, businesses can easily add sublimation to their workflow to achieve a distinct competitive advantage as well as a quick return on investment. Our new VersaArt printers are easy to operate and deliver unmatched print quality and reliable performance for applications ranging from soft signage and apparel to interior décor items."
VersaArt sublimation printers are flexible production tools featuring Roland's proven SBL2 sublimation inks and patent-pending Roland Intelligent Pass Control® technology for exceptional print quality in every mode. VersaArt sublimation printers produce vivid colors and image well at print speeds up to 31.8m2/hr (342.6 sqft/hr.). VersaArt printers are also available as eco-solvent models featuring Roland ECO-SOL MAX ink. All Roland inkjets come complete with VersaWorks®, Roland's professional RIP software for precision color management.
Roland VersaArt S Series Features:
‐ 64" and 54" sublimation inkjet printers
‐ Prints up to 31.8 m2/hr (342.6 sqft/hr.) (RS-640S)
‐ Roland Intelligent Pass Control technology for unparalleled image quality at the highest print speeds
‐ Ideal for high-quality soft signage, decorated apparel and décor items
‐ Roland VersaWorks professional RIP software ensures precision color management
‐ Built-in print heater and dryer accelerate dry times
‐ Optional automated take-up system (TUC-2)
- Handles media rolls up to 30 kg (66 lbs.)
- Collects graphics automatically for unattended production
‐Automated maintenance minimizes ink, labor and downtime
‐Media shaft is positioned low for easy loading and unloading of heavy rolls
‐Environmentally friendly and certified by Energy Star and Roland's own Eco-Label
‐Secure, no-mess 1 liter ink bottles
‐Roland reliability and world-class service and support
VersaWorks® Professional RIP Software Included
Built on the latest Adobe PostScript Engine, Roland VersaWorks professional RIP software supports Roland Intelligent Pass Control® technology for flawless image quality at the highest print speeds. VersaWorks features include advanced cropping, tiling and nesting options, embedded ICC profile support and the Roland Color System for precision spot color matching. Variable Data Printing makes it easy to produce multiple pieces of sportswear with different uniform numbers. VersaWorks® estimation tool automatically estimates the ink usage and print time for each graphic to accurately monitor time and costs. With VersaWorks, users can control up to four Roland inkjet devices and cutters from one personal computer. The Roland@NET auto update feature ensures ongoing access to the latest VersaWorks version and profiles available. VersaWorks supports Windows® 7 (Professional 32 bit and Ultimate 32 bit editions), Vista® and 2000/XP and works seamlessly with popular design software including Adobe Illustrator, Photoshop, InDesign and CorelDRAW.
Roland DG Corporation (TSE symbol 6789) - First Section, Tokyo Stock Exchange
Phone: +81 (0)53-484-1201 / Fax: +81 (0)53-484-1216