Product News
10/06/2014
Roland DG Corporation
Roland DG Announces the Global Launch of its New "Texart" Inkjet Printer for Exclusive Use in Textile Printing, the First Product from its Newly-Formed Textile Department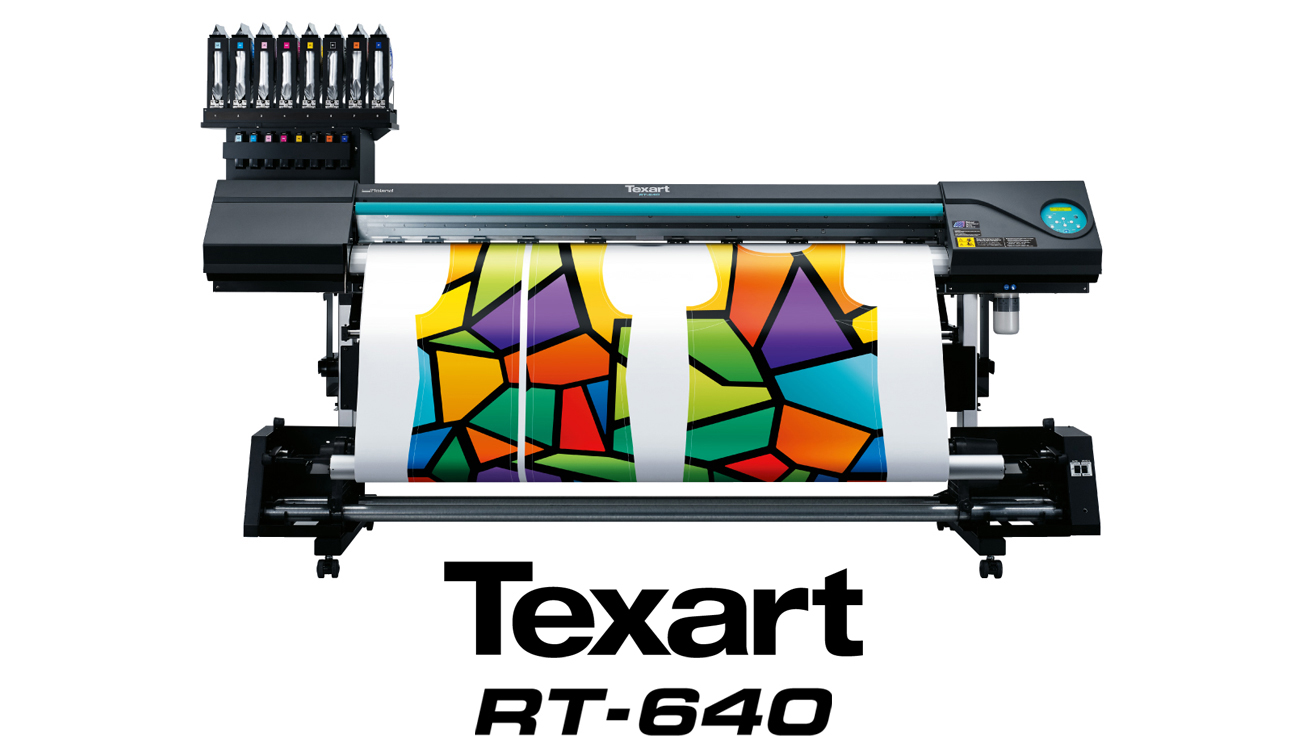 Hamamatsu, Japan, October 6, 2014 – Roland DG Corporation, a leading worldwide manufacturer of wide-format inkjet printers and printer/cutters, today announced the launch of the new "Texart" brand for exclusive use in digital textile printing, and the release of the 64-inch RT-640 as the first product in the lineup. The RT-640 is a state-of-the-art dye sublimation transfer* printer featuring innovative print control technology, powerful RIP software and a choice of four-color (CMYK) or eight-color (CMYKLcLmOrVi) original dye sublimation ink.
"One of the RT-640's major innovations is our new ink," said Yuko Maeda, general manager of the Textile Market Development Department. "The newly developed Texart ink delivers bold and vibrant colors, and deep and rich blacks. Adding orange and violet inks increases the color gamut and allows for exceptional reds, oranges, deep blues and purples, while light cyan and light magenta provide subtle gradation and a remarkably fine level of detail." Moreover, users have a choice between Roland VersaWorks and ErgoSoft Roland Edition RIP software, developed especially for the RT-640 by ErgoSoft, the premier RIP provider in the textile printing industry.
The RT-640 offers numerous features custom made for digital textile productions. Among entry-level dye sublimation transfer printers, the RT-640 has achieved the industry's highest level of practical print speed, 22.0m2/h. Optimized fan absorption power keeps transfer paper flat for printing. Furthermore, a newly designed Feed Adjuster at the front and back provides even tensioning and prevents skewing.
Masahiro Tomioka, chairman and president of Roland DG commented, "We see huge potential in digital textile printing, and established our Textile Market Development Department just a year ago in October 2013 with a firm commitment to make a full-scale entry into the market. I believe the digital textile printing business will become one of our core businesses and the next growth driver for the company."
Maeda agreed, stating, "The digital printing market for textiles shows great promise with research showing an expected surge in demand and double-digit growth rates for the coming years." Demand for digital printers is growing as a means of increasing the efficiency of high-mix, low-volume production and tailored production in a wide range of fields, including fashion apparel, interior decor, gifts and promotional goods. Roland DG has provided the market with a number of solutions including the manufacture of soft signage printed on fabric (such as polyester banners and flags) and decorations on sportswear garments. And now we offer a dedicated brand for textiles that has been developed to capitalize on the increasing size and growth potential of the market.
Maeda continued, "The RT-640 is based on our core inkjet printing technology cultivated through years of experience in the sign and display market, combined with our extensive market and user research in the textile printing market. I believe the RT-640 offers users a comprehensive, optimal combination of superb quality, vivid coloring and highly stable performance needed for professional textile printing."
* Dye sublimation transfer is a printing method that transfers illustrations, photos or other images that are printed in inverse on transfer paper with sublimation ink to polyester or other textiles using heat.
Roland DG Corporation (TSE symbol 6789) - First Section, Tokyo Stock Exchange
Phone: +81 (0)53-484-1201 / Fax: +81 (0)53-484-1216