Product News
01/20/2023
Roland DG Corporation
Roland DG Announces Affordable, Easy-to-use VersaSTUDIO BN-20D Desktop Direct-To-Film Printer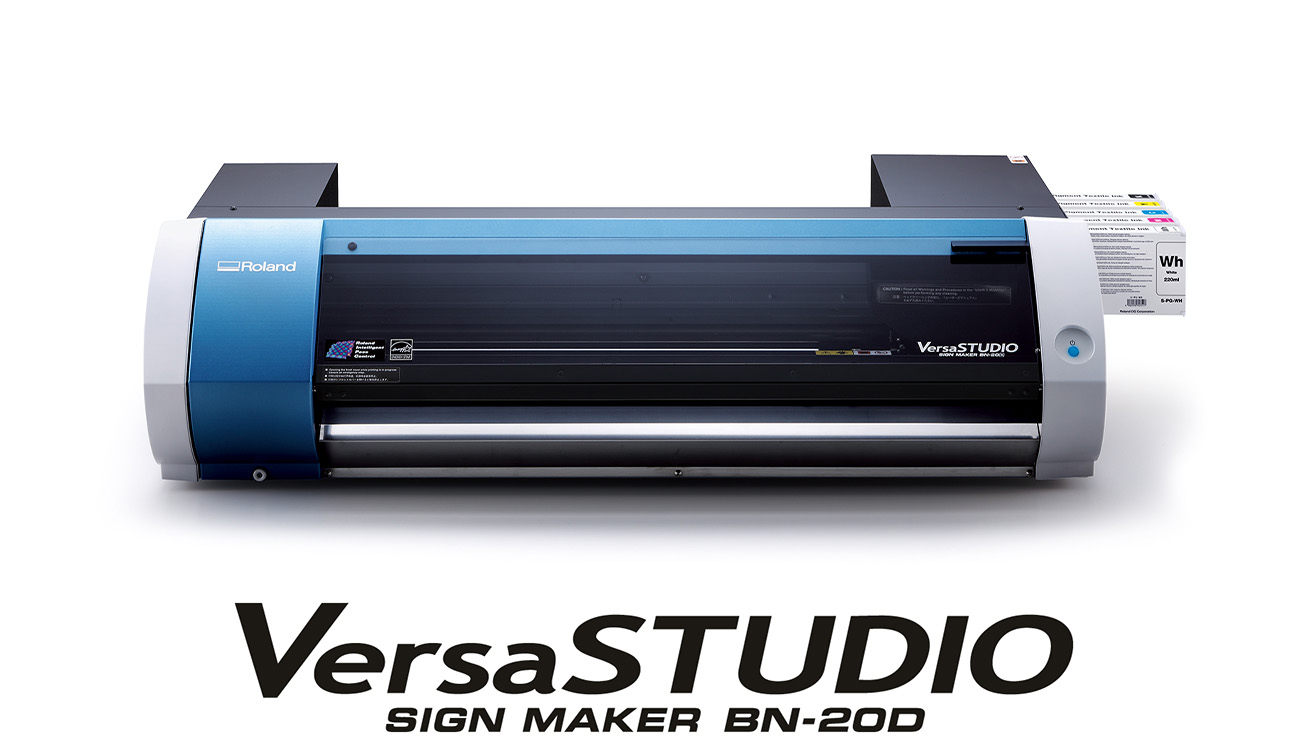 Hamamatsu, Japan, January 20th, 2023 – Roland DG Corporation, a leading manufacturer of wide-format inkjet printers and printer/cutters, announced today the worldwide launch of a new product in its popular VersaSTUDIO series, the BN-20D, a Direct-To-Film (DTF transfer) desktop inkjet printer targeting small- and medium-sized print shops, apparel businesses and start-ups.
"Since our founding in 1981, we have been providing digital solutions that enable anyone to easily do what could only be achieved previously by people with special skills and know-how," said Tony Miller, President of Roland DG's Global Sales and Marketing Division. "Our compact, easy-to-use, and affordable desktop products have contributed to the first steps toward digitalization in a large number of industries. Today, these products are marketed under the brand name VersaSTUDIO and include a broad range of desktop solutions, such as inkjet printers, cutters, engravers, metal printers, 3D milling machines, and foil transfer laser decorator."
The BN-20D, the newest addition to the VersaSTUDIO series, is an affordable inkjet printer using the DTF method to transfer CMYK colors plus White on fabric for vibrant graphics with fine details, photographic reproduction, and superb contrast. DTF transfer has been attracting worldwide attention in the apparel decoration industry in recent years due to the ease of customizing apparel and accessories with eye-catching graphics. After printing illustrations, photos, and other graphics on a special film, powder is applied to the film, which is then thermally melted. This eliminates the need for labor-intensive heat transfer methods, such as cutting the outline of illustrations, removing waste from unnecessary areas, and retouching, which not only makes the work process more efficient, but also allows for the production of more complex and appealing designs.
The BN-20D is equipped with the same high-definition print head used in Roland DG's award-winning large-format inkjet printers for outstanding color output. The machine can transfer onto both light and dark fabrics, including not only cotton, but also polyester, cotton polyester, denim, nylon, rayon and more to produce a wide variety of garments. An automated cutting function also makes it possible for the BN-20D to produce logo and other graphic designs using glitter and metallic color vinyl, which is difficult with standard inkjet printing. In addition, the ink is compliant with OEKO-TEX*, an international standard that guarantees the safety of apparel decoration, making it safe for use on clothing for children and pets.
The printer chassis is based on the popular BN-20 series, which has sold more than 20,000 units, ensuring high reliability and stable output. It also comes with a comprehensive manufacturer's warranty and optional maintenance contract for peace of mind. VersaWorks 6 professional RIP software with comprehensive Roland Color System and PANTONE color libraries is included for high-quality printing with easy-to-use, intuitive controls.
"DTF transfer is a new solution that has only been around a few years but has the potential to revolutionize the apparel business," Miller said. "We believe that improvements in printers, powders, and films will continue to rapidly advance as customer needs increase. By introducing this DTF transfer solution under the VersaSTUDIO brand, we hope that more and more customers will realize new creative and profitable business opportunities with ease."
*Expected to be achieved in February 2023
For more information, contact:

Roland DG Corporation
Corporate Division
+81 (0)53-484-1200
E-Mail:rdg-pr@rolanddg.co.jp