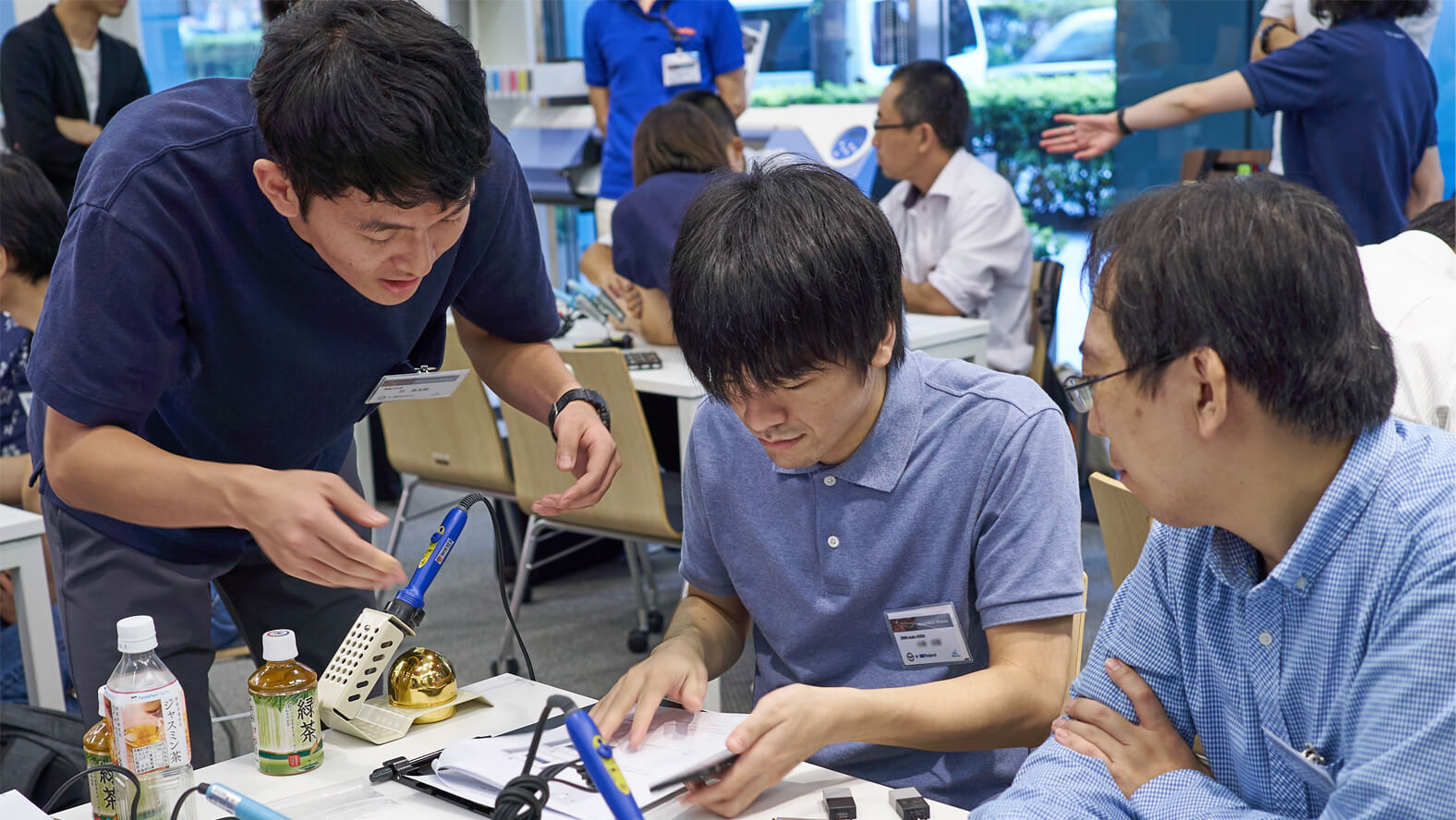 Fabrication Workshop Makes Learning Circuitry Fun — Part 1
Roland DG held a fabrication workshop for educators and Fab Lab managers on September 9 and 16 at the Roland DG Creative Center located in the Tokyo Sales Office. The workshop was based on the concept of providing a fun approach to learning about electronics manufacturing, and was organized with the cooperation of Sony Corporation MESH project and Fab Lab Hiratsuka located on the Kanagawa University Faculty of Business Administration campus. This two-part series covers activities held during the event and explores the background behind planning.
The workshop was designed to be an entertaining way to learn about the basics of electronics manufacturing and programming for school science and technology teachers as well as managers of makerspaces such as Fab Labs* that provide fabrication workshops to the public.
Fab Lab Hiratsuka Director and Associate Professor of the Kanagawa University Faculty of Business Administration, Daisuke Doyo was invited as workshop instructor.
Student staff involved in running Fab Lab Hiratsuka also provided assistance during the workshop.
The three hour workshop program involved mounting sensors, motors, LEDs and other components to circuit boards produced using Roland DG's monoFab SRM-20 3D milling machine. The boards were then connected to Sony's IoT block MESH* to create unique products that respond to sound, light, movement or other input to operate motors or light up LEDs.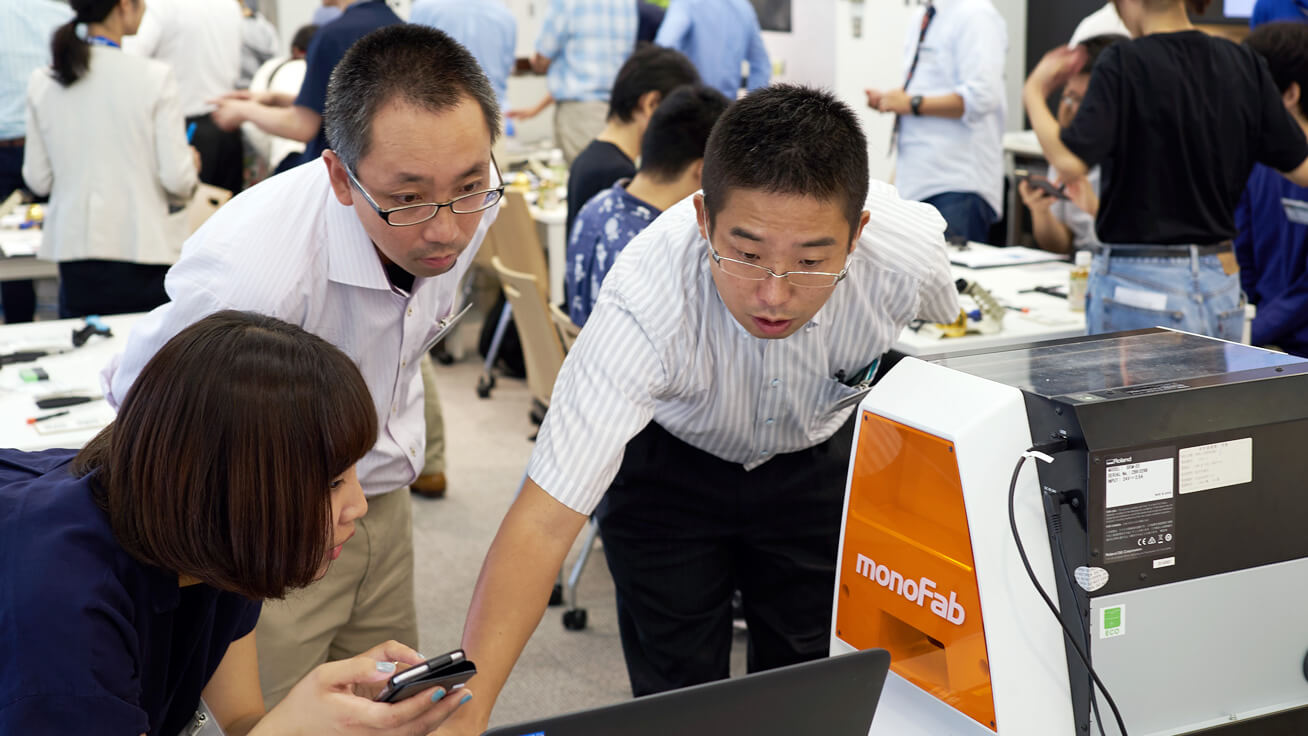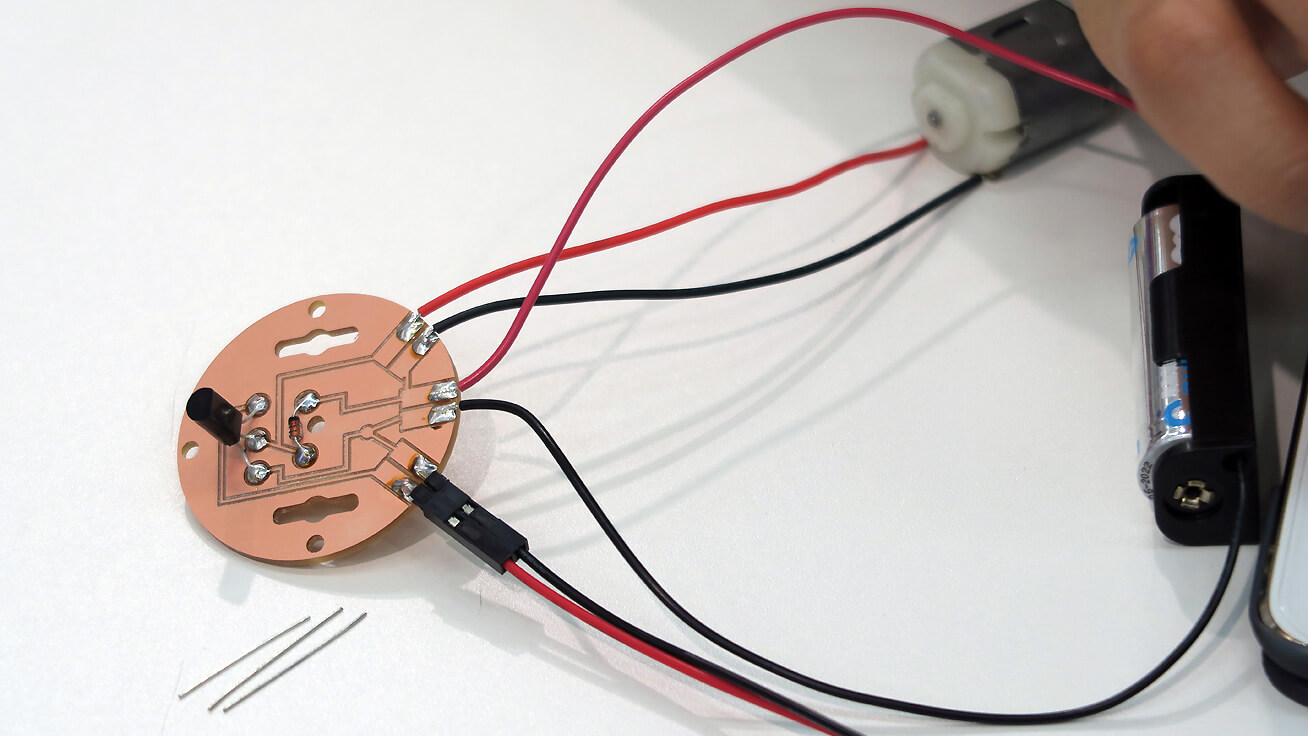 * About Fab Lab
A Fab Lab (fabrication laboratory) is an open workshop offering digital fabrication as well as analog tools with the goal of making "almost anything." Roland DG's monoFab SRM-20 3D milling machine and vinyl cutters are certified as Fab Lab-recommended products and are in use at Fab Labs around the world.
* About MESH
MESH is a new platform of block-shaped triggers developed by Sony Corporation. MESH triggers have different functions including motion and light sensors that can connect with smartphone or tablet apps without the need for expertise in circuitry or network programming. MESH makes it easy to control everyday objects, making all sorts of projects possible.
http://meshprj.com/en/
There were 14 participants at the first workshop held on September 9. Doyo kicked off the workshop by encouraging them to apply their own initiative to produce interesting creations. Participants then paired up to form seven teams to begin constructing their projects.
The first step was working solo: one team member selected a light, pressure, accelerator or other sensor of their choice, while the other member chose a motor, LED or similar component, and mounted them on custom circuit boards. A 3D milling machine was used to cut the most suitable circuit pattern for the selected components out of the board material, which was then cut into a round token. The terminals of components like the sensors needed for triggering the boards were then soldered to complete the custom board.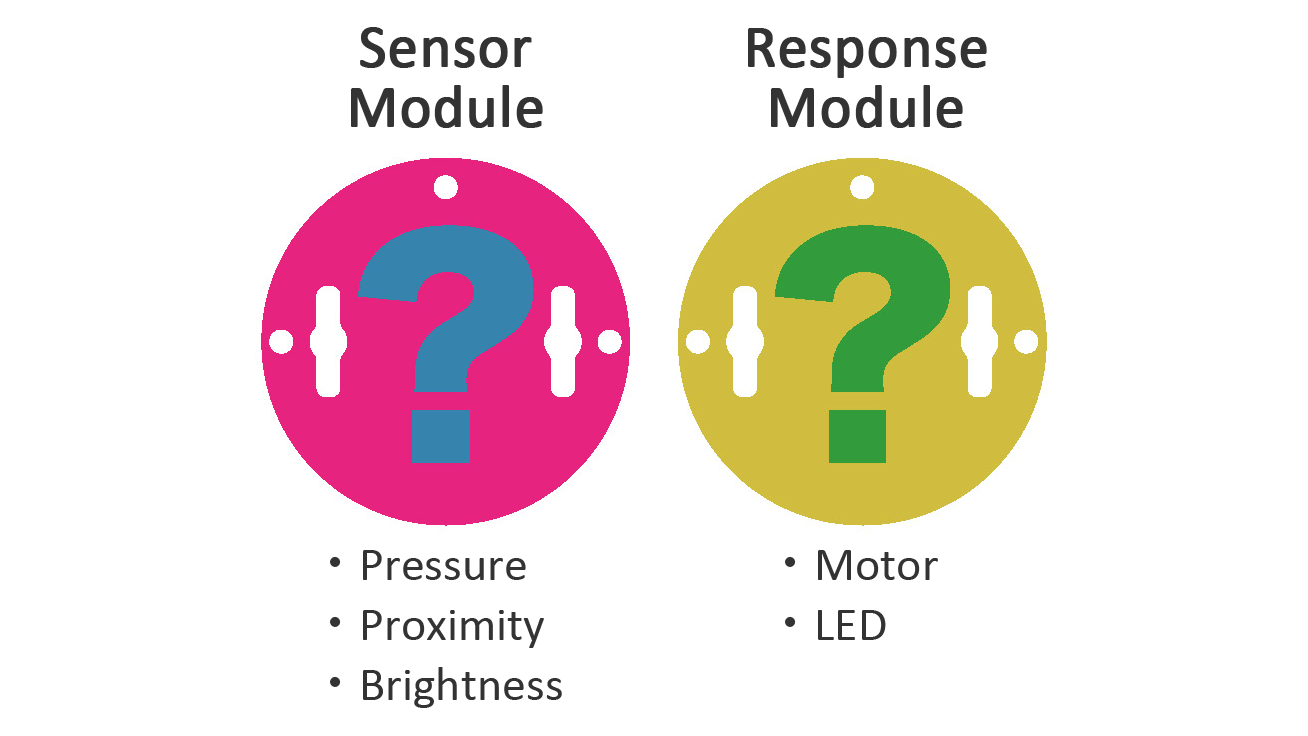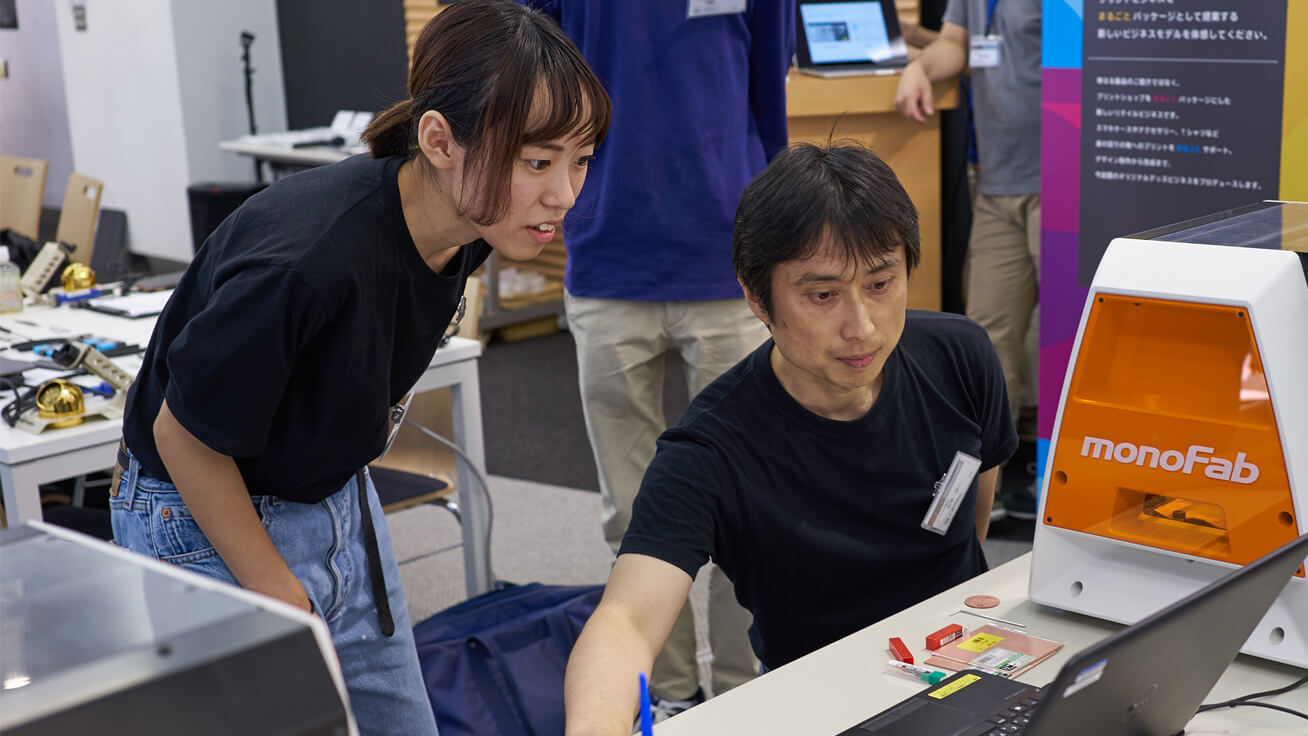 Student staff from Fab Lab Hiratsuka provided advice on how to use a 3D milling machine.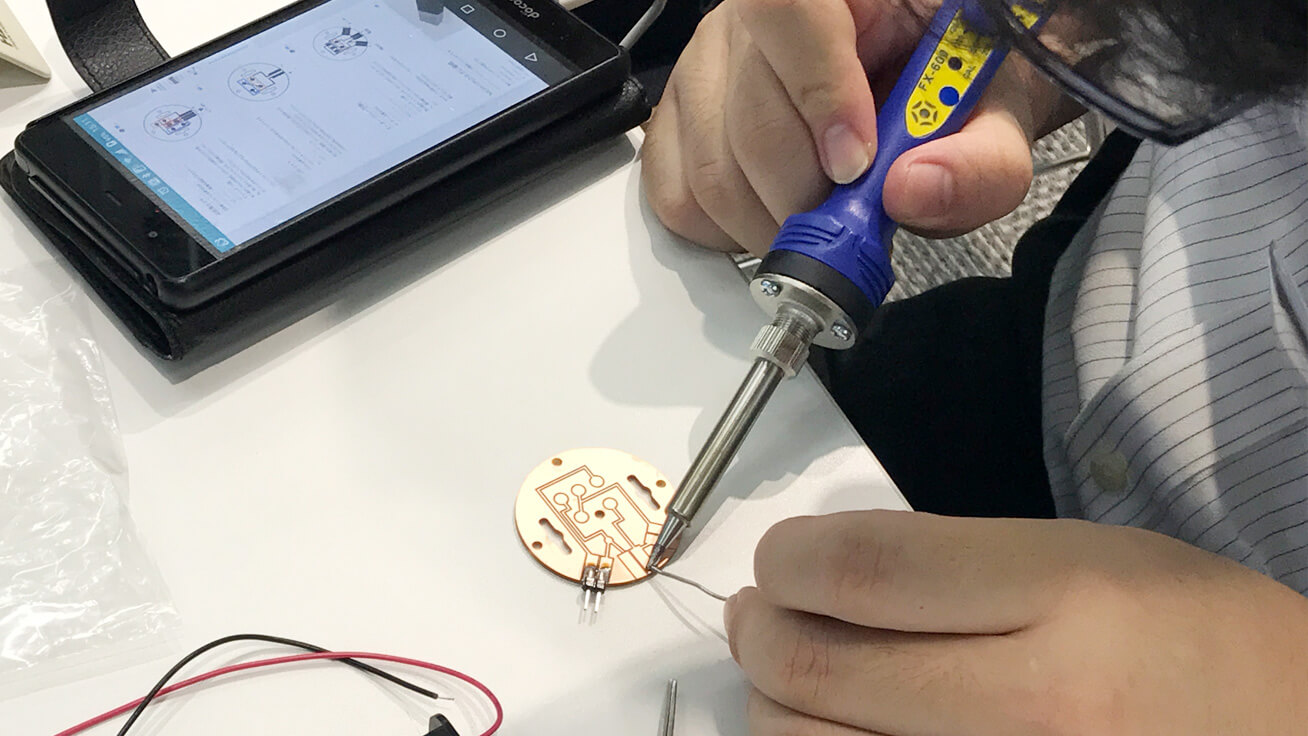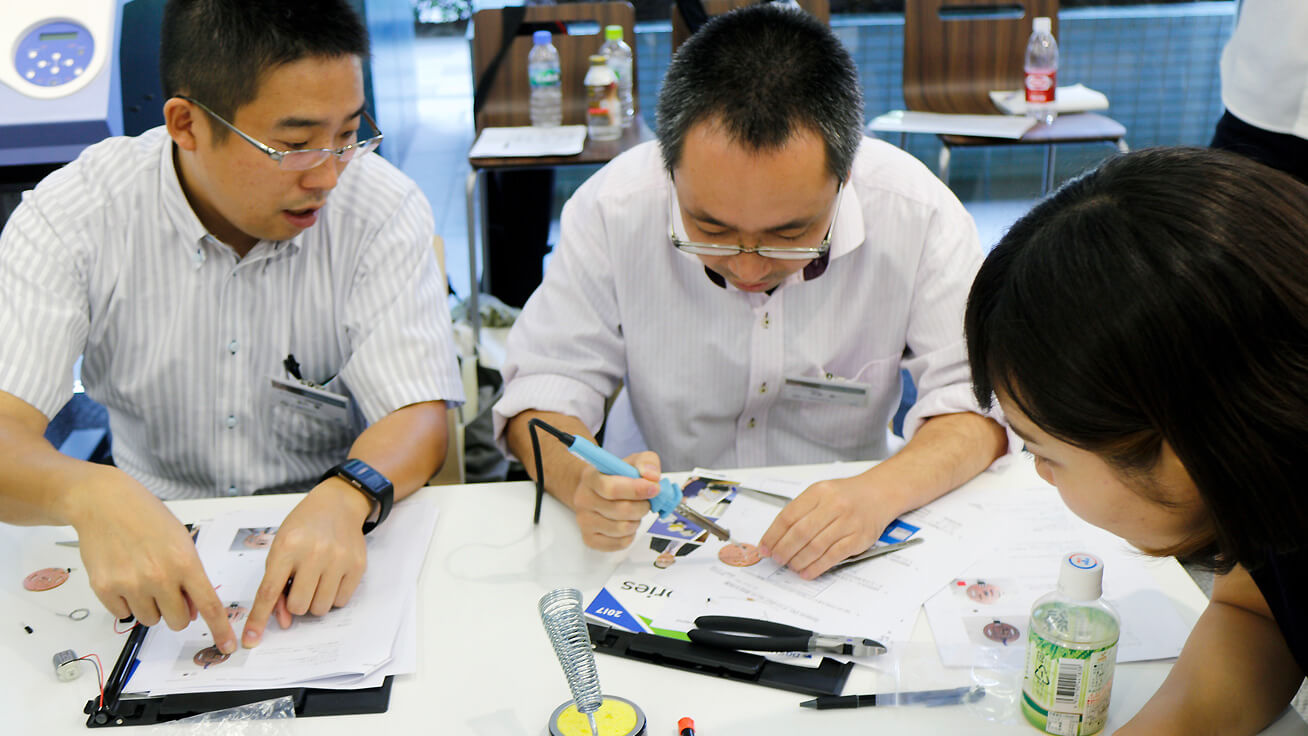 Participant with soldering skills giving others helpful tips.
After completing each board, each team's two circuit boards were connected to MESH, where the smartphone or tablet app was used to create a program to link and control the two boards. Touching, applying pressure or other input to one of the MESH-connected boards made the other board respond by operating a motor or lighting up an LED. Both team members checked the operation of the connected circuit boards before coming up with ideas to create exciting custom designs.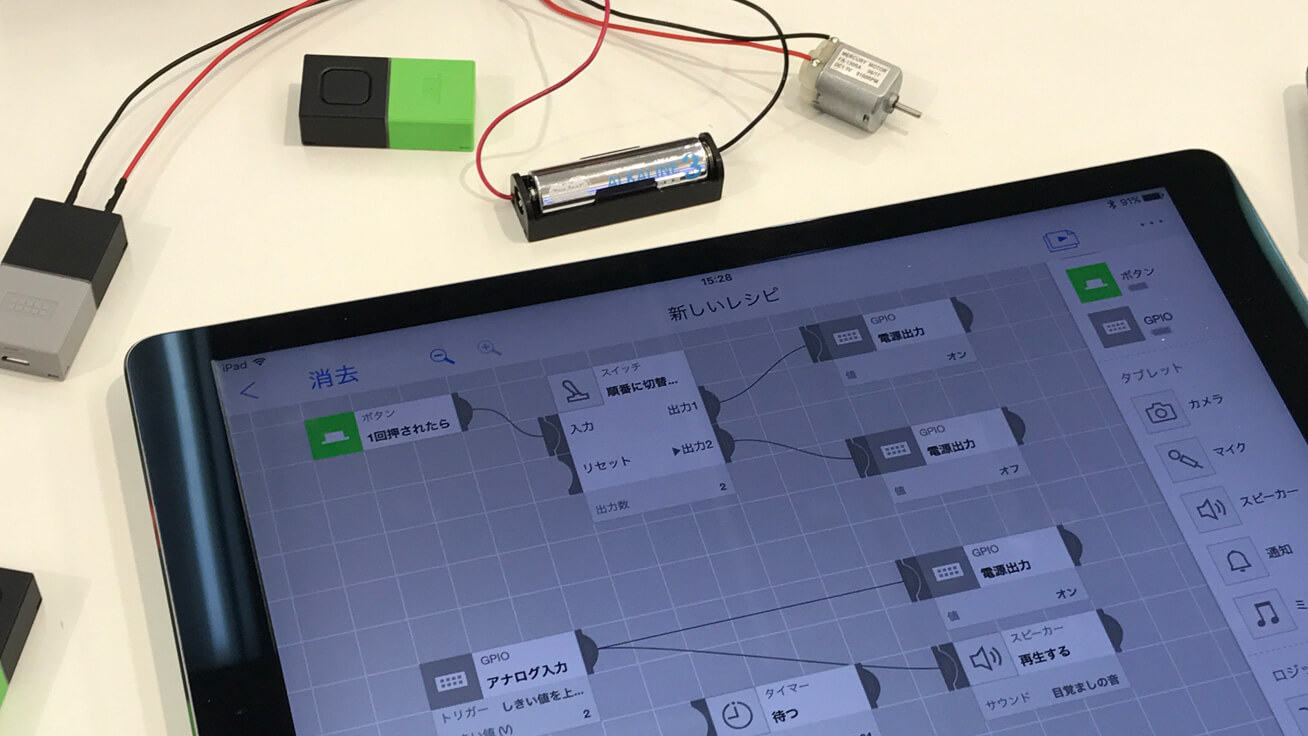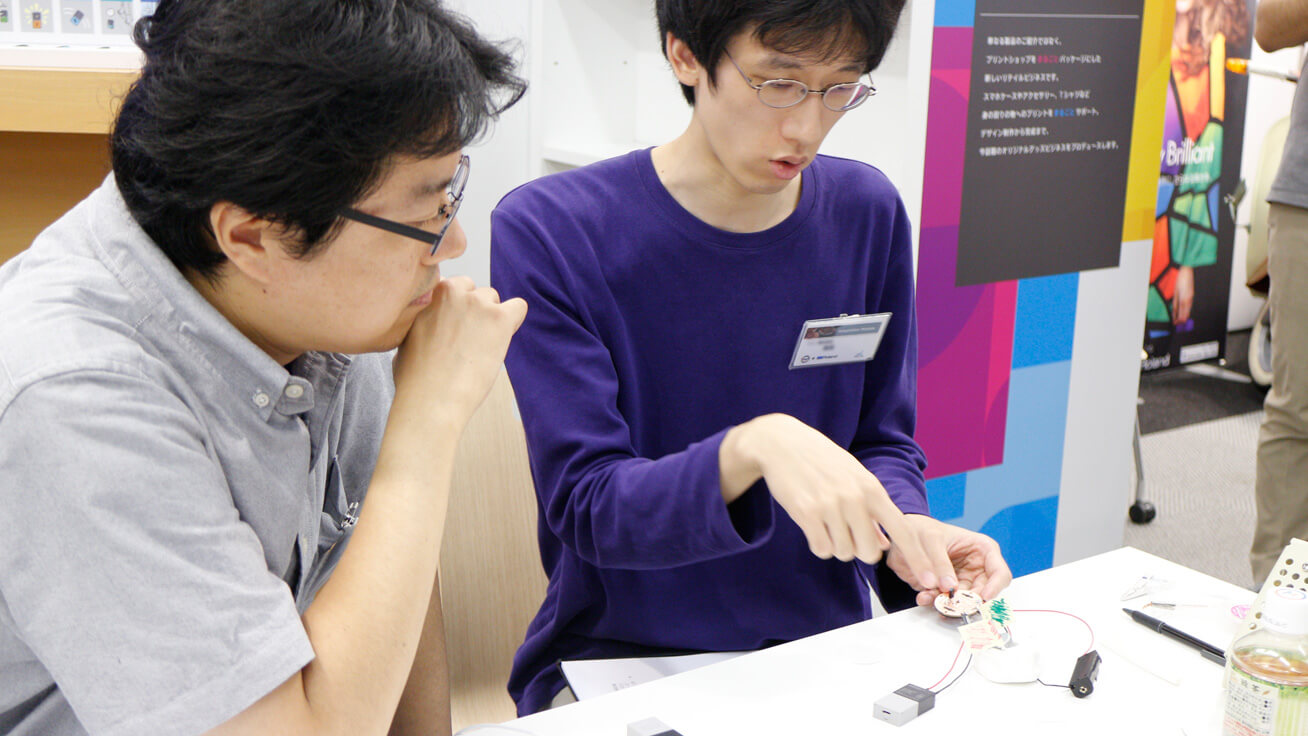 Team members discuss how to arrange circuit boards to create an interesting design.
Many custom designs such as acrylic clip-on accessories, papier-mache products and samples created by Fab Lab Hiratsuka were on display at the workshop venue to help participants come up with more ideas for interesting projects.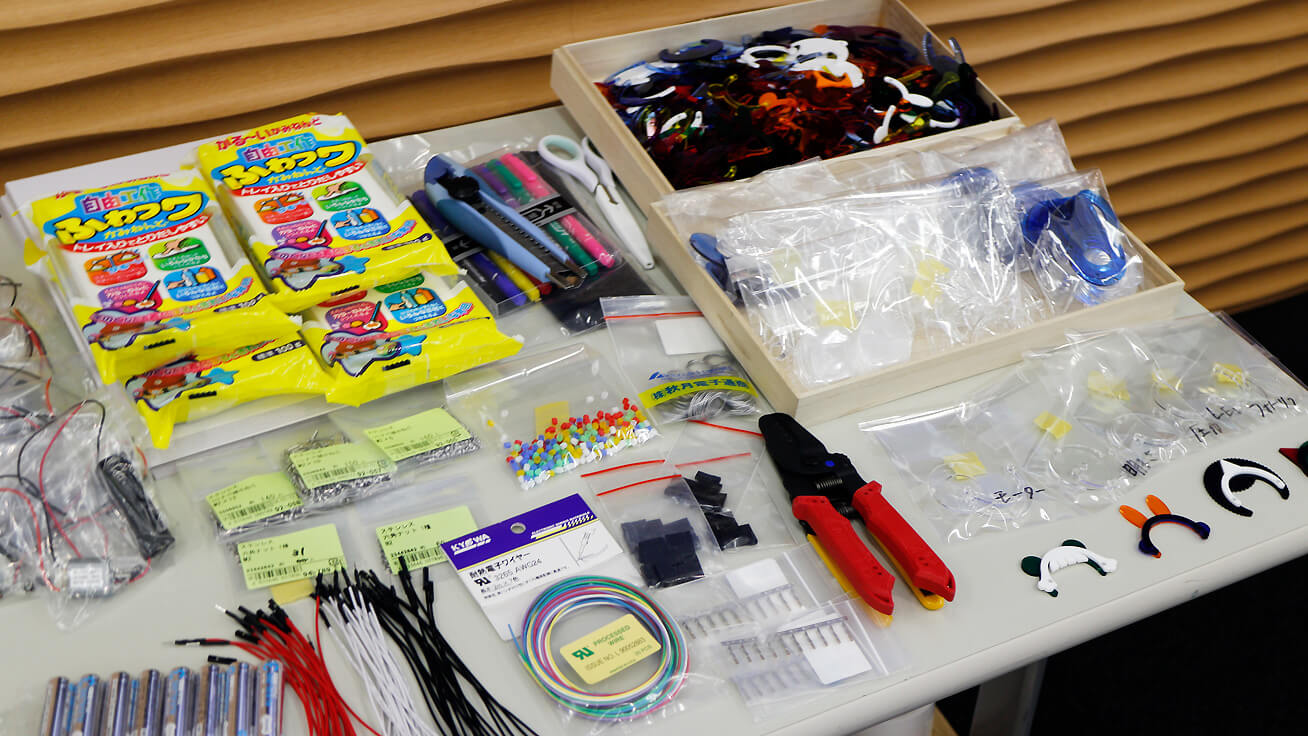 A range of items were available to make more interesting customized projects.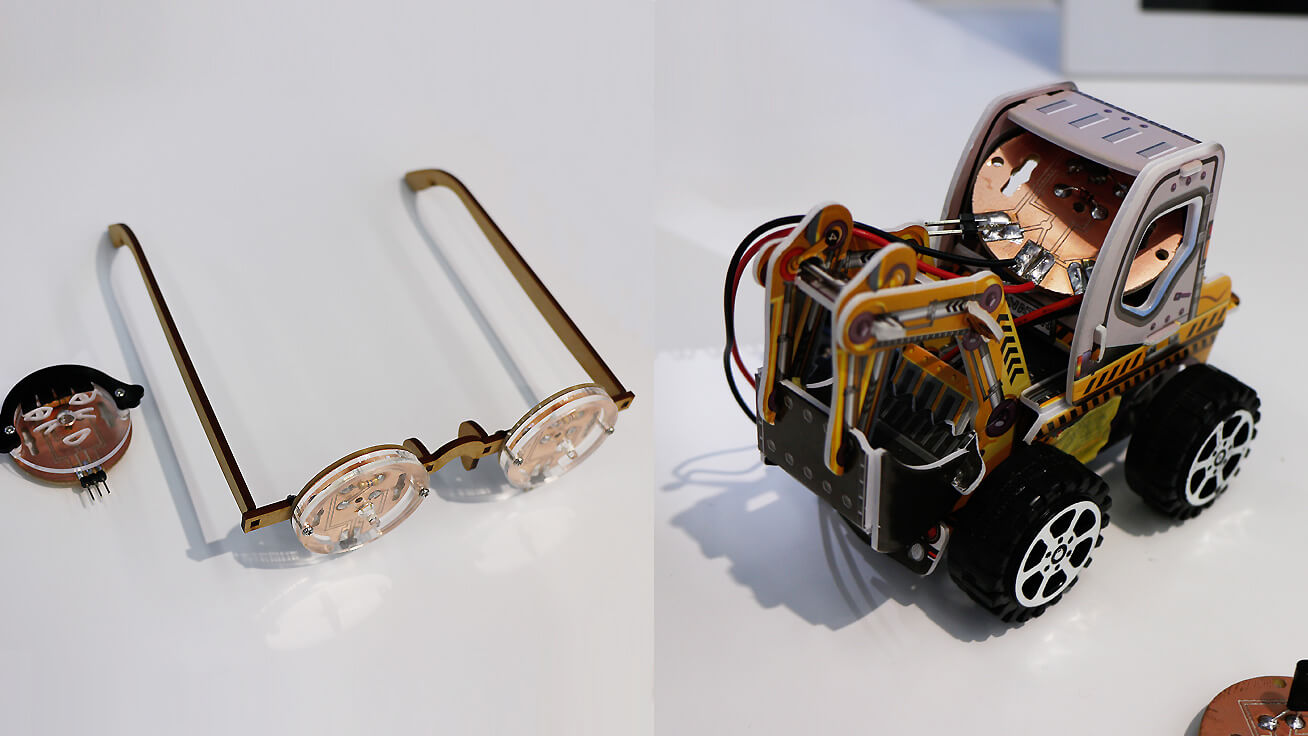 Samples of products made by students at Fab Lab Hiratsuka.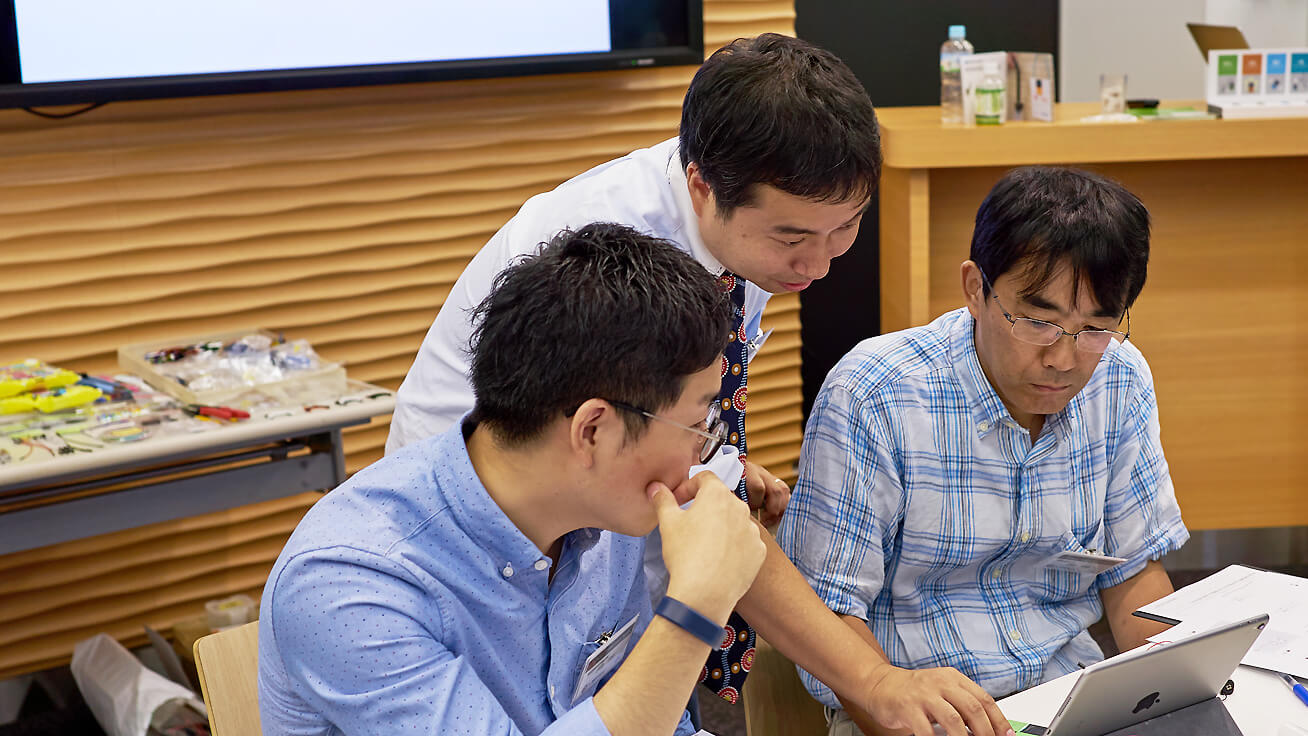 Participants receiving advice from Professor Doyo.
Participants listened quietly to Doyo's explanations at the start of the workshop, but became more lively as they worked with student staff to make their circuit boards and held discussions with their team members while their creations gradually took shape. While all pairs concentrated on making their creations, they laughed as they made mistakes along the way.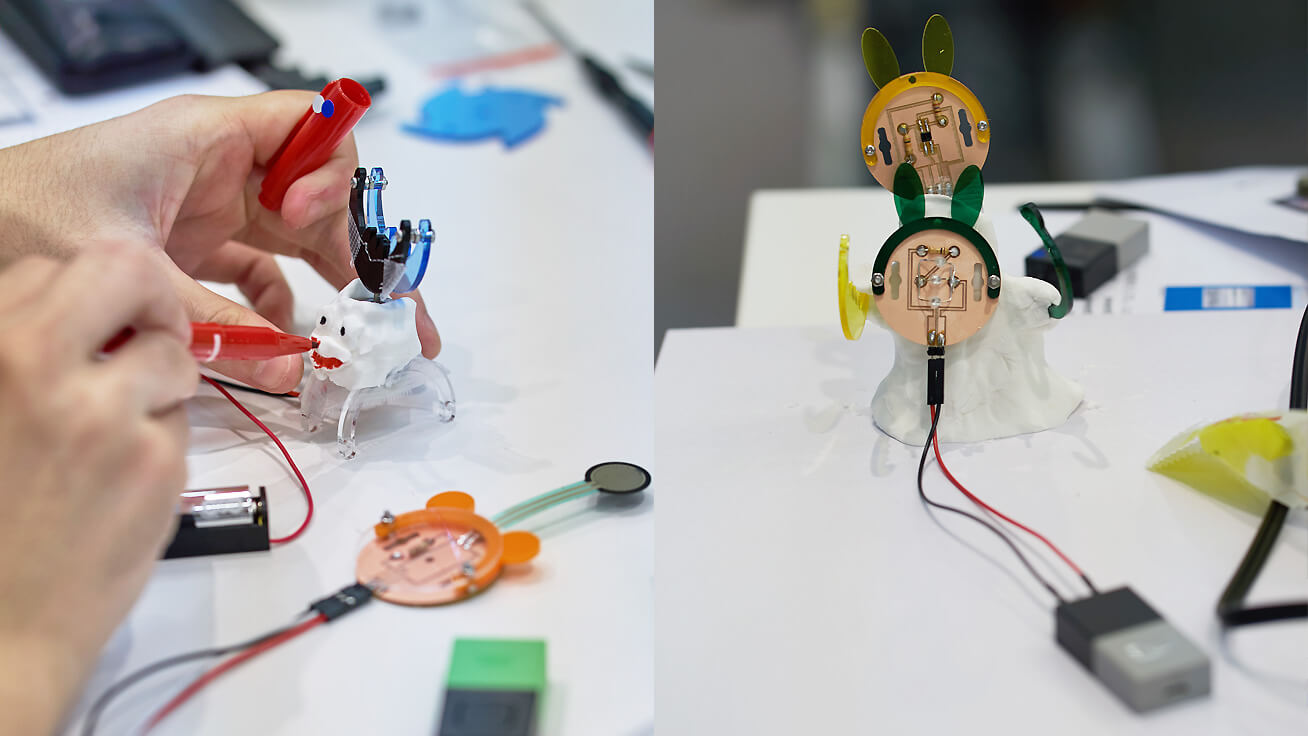 Left: Accessories available to make creations more exciting were included in designs.
Right: One design turned on an LED when pointing at the sensor.
All the teams used the available time to complete their projects, and a presentation session was held at the end of the workshop where teams showed off their creations to other teams. Unique ideas and specific concepts were incorporated in all the designs, and participants expressed their amazement or laughter with each demonstration.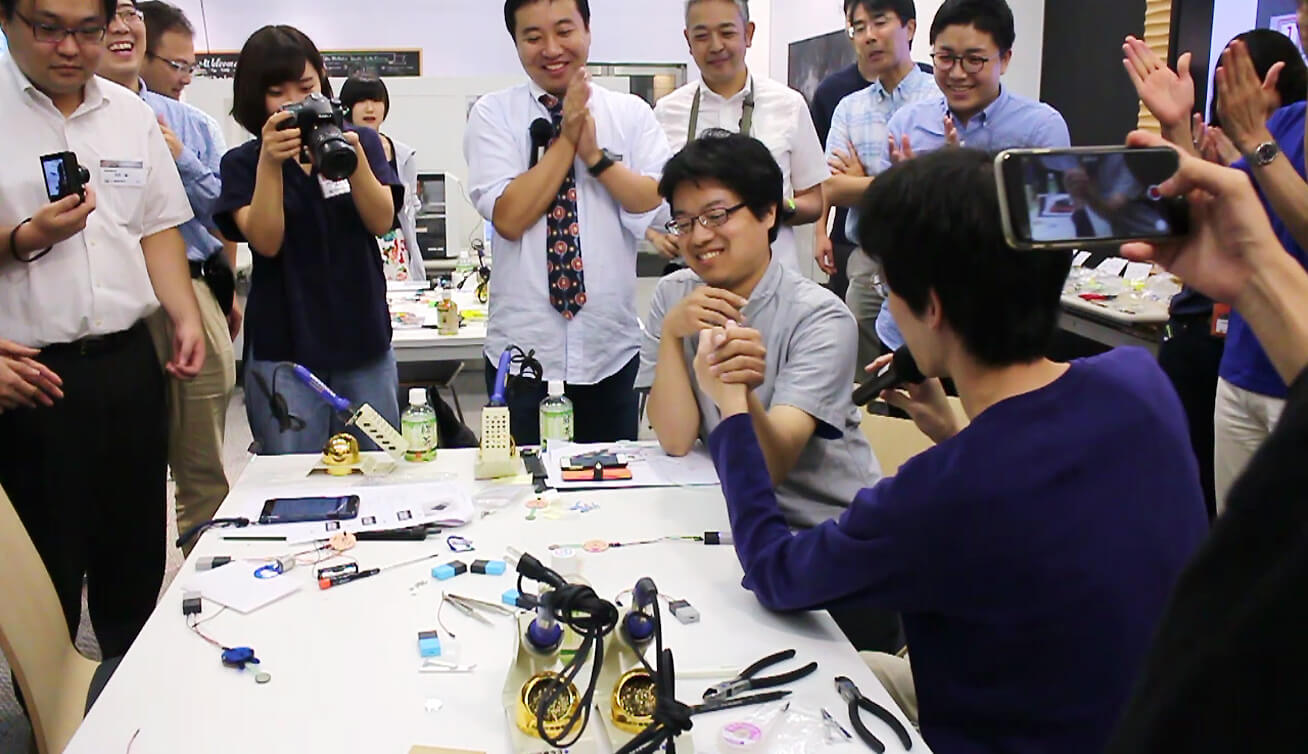 * A video of the projects is available on Doyo's Facebook page below:
https://www.facebook.com/doyo.daisuke/posts/1298591660267172?pnref=story
With the concept of providing an entertaining way to study, this workshop not only made it fun to learn the basics of electronics manufacturing and programming that at first seem complex, but also gave participants an opportunity to experience the importance of communication while working on their projects. Watching participants discuss various topics in great detail while focusing on constructing their designs was a significant highlight of the event.
In the second part of this series we talk with the company staff and Doyo who planned the workshop.