Product News
08/20/2003
Roland DG Corporation
Roland SOLJET PRO II EX Combines Ecology with Economy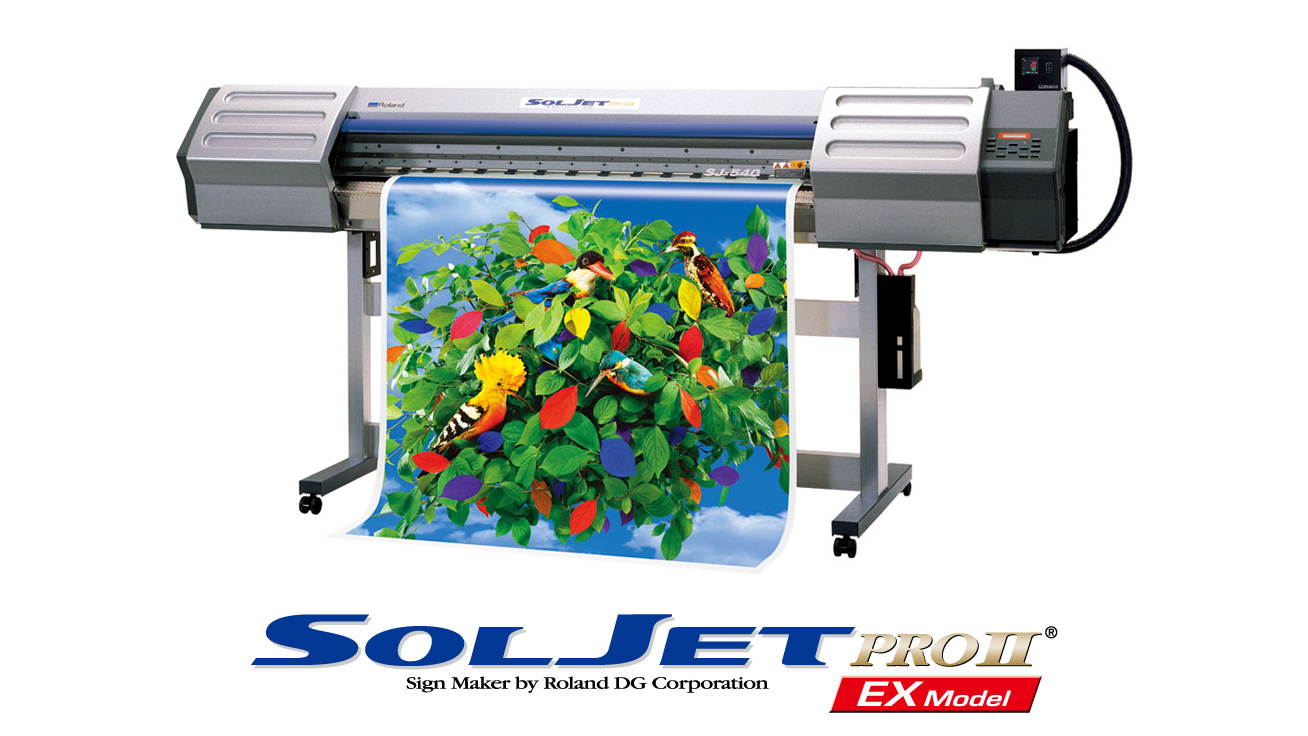 Hamamatsu, Japan, August 20, 2003 – With a corporate commitment of manufacturing products that are environmentally safe as well as low-cost and easy to use, Roland DG Corporation, a worldwide leader in the manufacture of wide-format digital inkjet printers, today unveiled the SOLJET PRO II EX.
"Although they had concerns for their own health and the environment, signmakers previously looked to hard solvent ink printers for the advantages of outdoor durability and low running costs," said J. Kano, Roland DG Color Product Manager. "The new EX Series eliminates environmental and safety concerns even while lowering production costs. New ECO-SOL INK, developed especially for the EX, is safe to use and odor is much less than conventional hard solvent inks. No special ventilation or environmental equipment is required," continued Kano.
"The lack of information and profiles available for uncoated media that were compatible with hard solvent ink made these solutions even less attractive," said Kano. "Our engineers at Roland made test prints from numerous media available in the market and created profiles for more than 50 uncoated substrates so that our EX customers can easily select the proper media for their application without consuming their valuable time and energy."
The combination of ECO-SOL INK and a built-in media heating system*1, *2 allows the EX to print with rich, vibrant colors. The factory-integrated heating system opens the pores of the substrate, allowing ECO-SOL INK to aggressively bond with the media. The result is UV, scratch, and water resistance with up to three years durability outdoors*3. Variable droplet technology and the ability to print up to 1440 x 1440 dpi provides EX users with unsurpassed photographic reproduction and color fidelity for indoor applications.
SOLJET PRO II EX Features:
- ECO-SOL INK is gentle to users and the environment
- Outstanding print quality for indoors and durability up to 3-years outdoors*1
- Low running cost - compatible with a wide variety of uncoated media
- More than 50 ready-to-use profiles for uncoated media available through www.rolanddg.com
- Produces rich, vibrant colors
- Variable droplet technology and up to 1440 x 1440 dpi resolution
- Prints 28 m2/hr (300 sqft/hr) at 450 x 360 dpi
- High performance, professional Roland COLORIP™ included
EX series printers include the Roland COLORIP™ software RIP for efficient operations including fast RIPping. Roland offers the SOLJET PRO II EX in three versions: SJ-740EX (74" printer), SJ-540EX (54" printer) and SC-540EX (54" printer/cutter). Previous SOLJET PRO IIs, including the SJ-740, SJ-540, or SC-540, can be upgraded to EX model capabilities by installing a Roland media heating system. Detailed information for this upgrade will be announced separately.
ISO 14001 and ISO9001 Certified
Roland pursues both environmental protection and continuous quality improvement. Under the philosophy of preserving the environment and human health, Roland DG is actively working to abolish organic solvents in production, to reduce and recycle waste, to reduce power use, and to purchase recycled products. Roland DG constantly strives to provide the most highly reliable products available.
*1 When the built-in heater is operating, media shrinkage may increase depending on the media, operating temperature and humidity; therefore, printing and cutting distance accuracy, repetition between printing and cutting, and repetition between printing and cutting when the media is reloaded are not assured.
*2 Recommended operating temperature and humidity while the built-in heater is operating: 20-32 degrees centigrade (68-89.6 degrees Fahrenheit) and 35-80% (non-condensing).
*3 Three years outdoor durability is based on accelerated weather tests conducted by Roland DG. Results may vary depending upon location and application.
Roland DG Corporation (TSE symbol 6789) - First Section, Tokyo Stock Exchange
Phone: +81 (0)53-484-1201 / Fax: +81 (0)53-484-1216