Product News
09/01/2003
Roland DG Corporation
Introducing the Revolutionary VersaCAMM for Durable, Low-Cost Print Production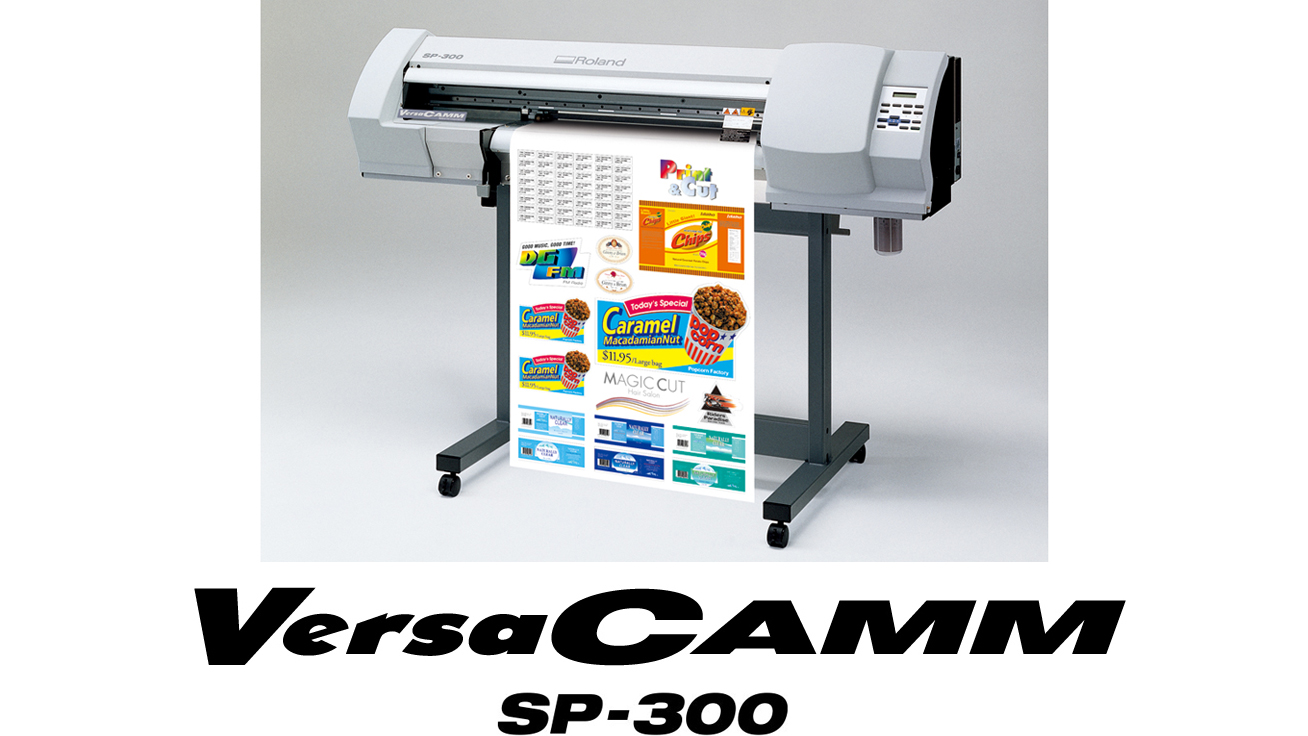 Hamamatsu, Japan, September 1, 2003 – Roland DG Corporation today introduced the VersaCAMM SP-300, a 30" wide printer/cutter for durable, low-cost, on-demand production of small print quantities.
"VersaCAMM doesn't require a large initial investment, special facilities or equipment and its inkjet printing process is much more user-friendly than with conventional screenprinting," said J. Kano, Roland DG Color Product Manager. "Best of all, VersaCAMM is extremely versatile in terms of what you can produce, so you can start or expand your business quickly."

VersaCAMM lets you produce a wide variety of applications with excellent outdoor and indoor durability, including signs, banners, decals and packaging prototypes as well as heat transfers for apparel. A wide variety of coated media is available for outstanding print quality. Thanks to a factory-integrated heating system and Roland ECO-SOL INK, you can even print on uncoated media to keep production costs low.

Roland's industry-leading, contour-cutting technology allows you to cut decals in virtually any shape you desire with no die-cutter required. You can add photographs or gradients to make your work more attractive. VersaCAMM allows small lot production from a single design without extra work for quick delivery to your customers.
"Another advantage of VersaCAMM," Kano said, "is its ease-of-use." VersaCAMM provides full-color reproduction using four colors, CMYK, that are enclosed in easy-to-handle cartridges. ECO-SOL INK, especially developed for Roland inkjet printers, is safe to use and odor is much less than with conventional hard solvent inks. No special ventilation or environmental equipment is required.
SP-300 Features:
- Able to print on uncoated PVC media as well as a full range of coated substrates from paper and canvas to backlit film
- Performs as printer, printer/cutter, or standalone vinyl cutter
- Requires no expensive die cutter for decal production
- Includes Roland's unique optical registration system, Quadralign™, for cutting laminated graphics, even with skew and distortion.*1
- Requires no expensive, high-maintenance ventilation equipment
- ECO-SOL INK is gentle for both users and the environment
- Includes Roland COLORIP® (RCR) for precision color management
- Comes with an easy-to-use Windows® driver (compatible with Windows® 2000/XP) and USB connection
- Graphics are UV, scratch, and water resistant up to 3-years outdoors*2
- Outstanding print quality for indoors with variable droplet technology and up to 1440 dpi resolution
- Built-in intelligent media heating system*3 controlled easily either from RCR or the Windows driver
- Meets ENERGY STAR® guidelines*4
The included Roland COLORIP™ software provides for efficient RIP operations including precision color management, simultaneous RIP&Print capability and several unique layout options to achieve the most efficient media usage. Or you can print directly to the Windows driver from your favorite graphics application.
ISO 14001 and ISO9001 Certified
Roland pursues both environmental protection and continuous quality improvement. Under the philosophy of preserving the environment and human health, Roland DG is actively working to abolish organic solvents in production, to reduce and recycle waste, to reduce power use, and to purchase recycled products. Roland DG constantly strives to provide the most highly reliable products available.
*1 A large amount of distortion or poor reloading may affect contour cutting results.
*2 Three years outdoor durability is based on accelerated weather tests conducted by Roland DG. Results may vary depending upon location and application.
*3 When the built-in heater is operating, media shrinkage may increase depending on the media, operating temperature and humidity; therefore, printing and cutting distance accuracy, repetition between printing and cutting, and repetition between printing and cutting when the media is reloaded are not assured. Recommended operating temperature and humidity while the built-in heater is operating: 20-32 degrees centigrade (68-89.6 degrees Fahrenheit) and 35-80% (non-condensing).
*4 As an ENERGY STAR® partner, Roland DG Corporation has determined that this product meets the ENERGY STAR guidelines for energy efficiency. ENERGY STAR is a U.S. registered mark.
Roland DG Corporation (TSE symbol 6789) - First Section, Tokyo Stock Exchange
Phone: +81 (0)53-484-1201 / Fax: +81 (0)53-484-1216