Product News
01/07/2005
Roland DG Corporation
Roland Announces SOLJET PRO II V Series of Advanced Inkjet Printers and Printer/Cutters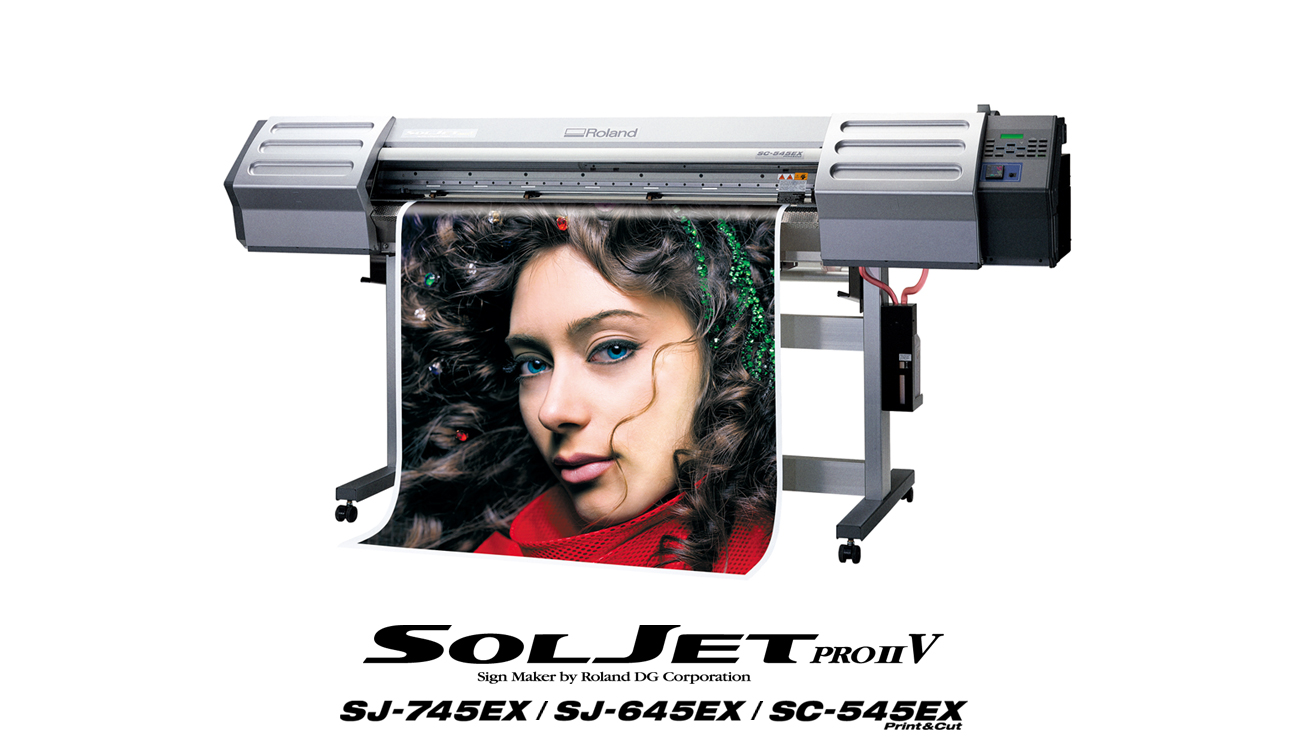 Hamamatsu, Japan, January 7, 2005 – Roland DG Corporation, a worldwide leader in the manufacture of wide-format inkjet printers, today introduced the new SOLJET PRO II V Series of inkjet printers and printer/cutters, building on the company's award-winning SOLJET technology with refinements of increased speed, precision and overall performance.
"Whether you are in the business of outdoor sign making or quality indoor graphics production, you can take full advantage of the new PRO II V series," said A. Suzaki, Roland DG Color Product Manager. "Based on the combination of new Roland's V Technology and environmentally-friendly ECO-SOLINK, the PROII Vs quickly produce vivid billboards, banners or unmatched smooth, natural looking graphics with an outstanding level of detail. With the addition of Roland VersaWorks™ software, every single internal data processing point in the PRO II V Series has been optimized and streamlined for easier, faster production."
To take advantage of all the PRO II V advanced hardware features, Roland created VersaWorks, a powerful software RIP developed exclusively for Roland inkjet printers. VersaWorks features an efficient GUI operation that allows you to take full advantage of a wide variety of layout, edit and print functions such as nesting, tiling and auto/manual-layout, among others. These features combine with an advanced color management system and the ability to customize ICC profiles to ensure the highest overall levels of performance.
In addition, VersaWorks offers the ability to preview jobs on screen reducing ink consumption. It features network support for both Windows and Mac users and simplifies printing by offering two job queues for handling different print conditions. Users can automatically update VersaWorks through the Internet, ensuring that they have the latest version and ICC profiles available. VersaWorks is built upon the genuine Adobe® PostScript® 3™ engine and is compatible with Windows 2000/XP.
SOLJET PRO II V Features:
- Quickly produces billboard signs at 32m2/h (344sqft/h) at 360 x 360dpi or high-quality banners at 8.0m2/h (86.1sqft/h) at 720 x 720dpi
- Roland's 1440 x 1440 dpi resolution and Variable Droplet Technology produce unparalleled precision and beauty
- Enjoy durable, rich and vibrant colors outdoors, and smooth, natural-looking images indoors
- ECO-SOL INK™, developed exclusively for Roland inkjets, is formulated to be gentle for both users and the environment. No special ventilation or environmental equipment is required.
- Roland VersaWorks™, an advanced color management software RIP based on the genuine Adobe® Postscript® 3™ engine, delivers efficient operation
- More than 70 ready-to-use profiles for uncoated media are available through www.rolanddg.com
- SC-545EX performs as printer, printer/cutter, or standalone vinyl cutter
- Quadralign®, Roland's unique optical registration system, enables precision contour cutting of laminated graphics while adjusting for skew and distortion (SC-545EX only)
- Roland offers the SOLJET PRO II V in 3 versions: SJ-745EX (74" printer), SJ-645EX (64" printer) and SC-545EX (54" printer/cutter).
Roland DG Corporation (TSE symbol 6789) - First Section, Tokyo Stock Exchange
Phone: +81 (0)53-484-1201 / Fax: +81 (0)53-484-1216