Product News
05/27/2005
Roland DG Corporation
Introducing 104" SOLJETTM SJ-1045IS The Largest in the SOLJET PRO II V Series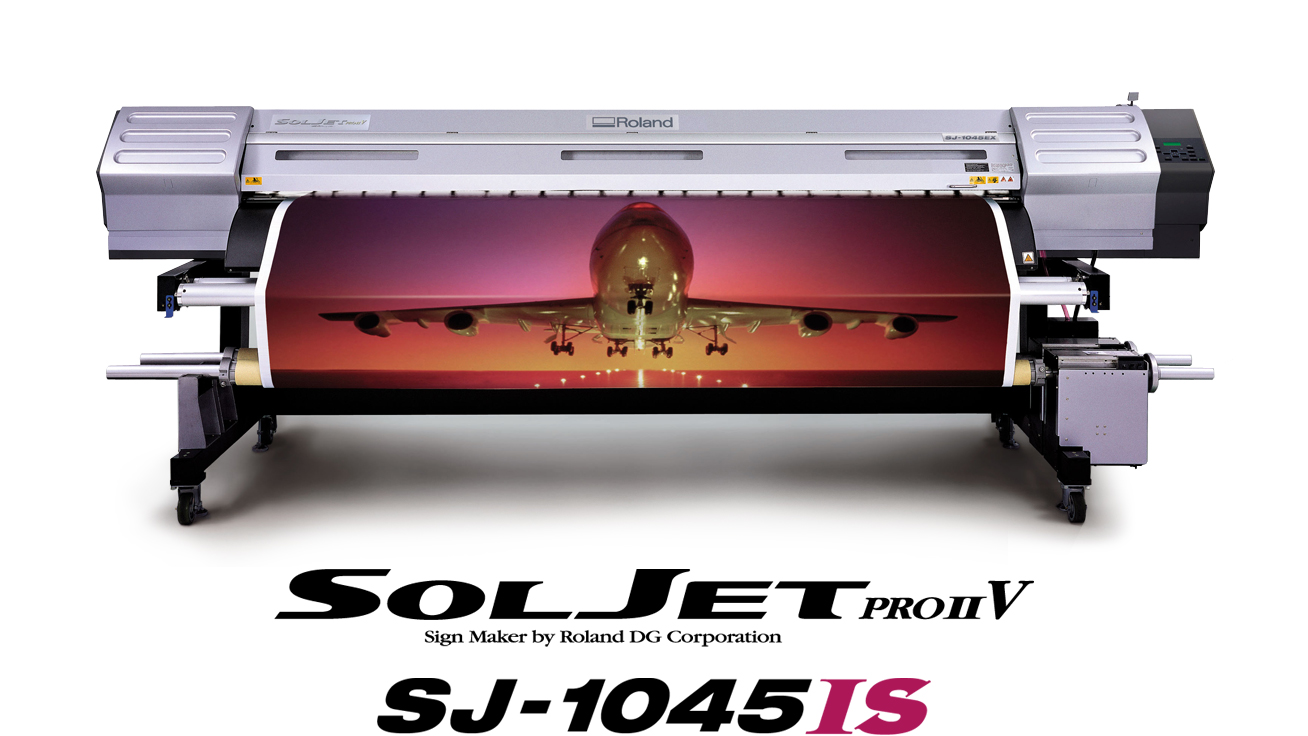 Hamamatsu, Japan, May 27, 2005 – Roland DG Corporation, a leading manufacturer of wide-format inkjet printers and integrated print/cutters, today announced the release of the SJ-1045IS, a new version of its 104"-wide printer and the compan's largest and fastest inkjet to date.
With a maximum print speed of 45m2/h (484 sqft/hr) at 360 dpi resolution, and a maximum print resolution of 1440 x 1440 dpi, the SJ-1045IS is well suited for even the largest applications including billboards, banners, vehicle wraps and large production runs. The SJ-1045IS features a range of enhancements including the new IS-1000 high capacity ink delivery system, newly added print modes, a heavy-duty media handling system and VersaWorks™, a powerful RIP software developed by Roland engineers to optimize the company's inkjet technology."
V Technology Hardware Upgrades
To ensure uninterrupted performance, the SJ-1045IS includes the option of a new IS-1000 high capacity ink delivery system that includes a total of 24 ink cartridges. An automated ink-empty warning indicates when a cartridge needs replacement, and cartridges can be replaced easily without pausing the printer.
Other new SJ-1045IS hardware features include the option to run in two different ink configurations: four-color CCMMYK and six-color CMYKLcLm. The CCMMYK configuration is designed to achieve the highest print speeds possible while maintaining vibrant colors in a wide gamut for outdoor banners. The six-color CMYKLcLm ensures optimum photorealistic reproduction and color gamut even when viewing graphics indoors from a short distance. For fine art and other precision applications, a newly added Artistic Mode allows the SJ-1045IS to print graphics in true photorealistic 1440 x 1440 dpi resolution.
SJ-1045IS Features:
- 104-inch max. media width
- Prints up to 45m2/hr (484 sqft/hr) at 360 dpi
- IS-1000 high capacity ink delivery system (24 ink cartridges) included
- Easy to use, Roland VersaWorks, professional software RIP included
- Prints on uncoated & coated media
- Environmentally-friendly ECO-SOL INK
- Water, scratch and UV resistant graphics
- Two ink configuration options: CCMMYK & CMYKLcLm for both outdoor and indoor applications
- Up to 1440 x 1440 dpi resolution in Artistic Mode
- Variable droplet technology
- Integrated heating system (Pre, Print and Post Heaters) included
- Automated media feed and take-up system for handling up to a 100kg (220 lbs.) roll
Roland VersaWorks
The SJ-1045IS includes Roland VersaWorks, powerful RIP software developed by Roland engineers for the company's inkjet technology. Built upon the genuine Adobe® PostScript® CPSI™ RIP engine, VersaWorks features an efficient graphical user interface that allows users to maximize the SJ-1045IS features without a lengthy learning curve. In addition to advanced color management tools, VersaWorks includes a wide variety of convenient layout, edit and print functions such as nesting, tiling and auto/manual-layout, among others. VersaWorks offers the ability to preview jobs on screen, reducing ink and media consumption due to mistakes. Users can use two job queues for handling different print conditions and can automatically update VersaWorks through the Internet, ensuring that they always have the latest software version and Roland ICC profiles available. VersaWorks is compatible with Windows 2000/XP operating systems.
SOLJET PRO II V Series
The SOLJET SJ-1045IS joins the 74-inch SJ-745EX, the 64-inch SJ-645EX, and the 54-inch SC-545EX. All four inkjets use ECO-SOL INK with an integrated heating system to print durable outdoor graphics on both coated and uncoated materials. They are ideal for the production of signs, banners, POP displays and vehicle wraps.
Roland DG Corporation (TSE symbol 6789) - First Section, Tokyo Stock Exchange
Phone: +81 (0)53-484-1201 / Fax: +81 (0)53-484-1216