Product News
11/30/2005
Roland DG Corporation
Roland Introduces the LPX-600 3D Laser Scanner for Easy, Professional 3D Scanning at the Touch of a Button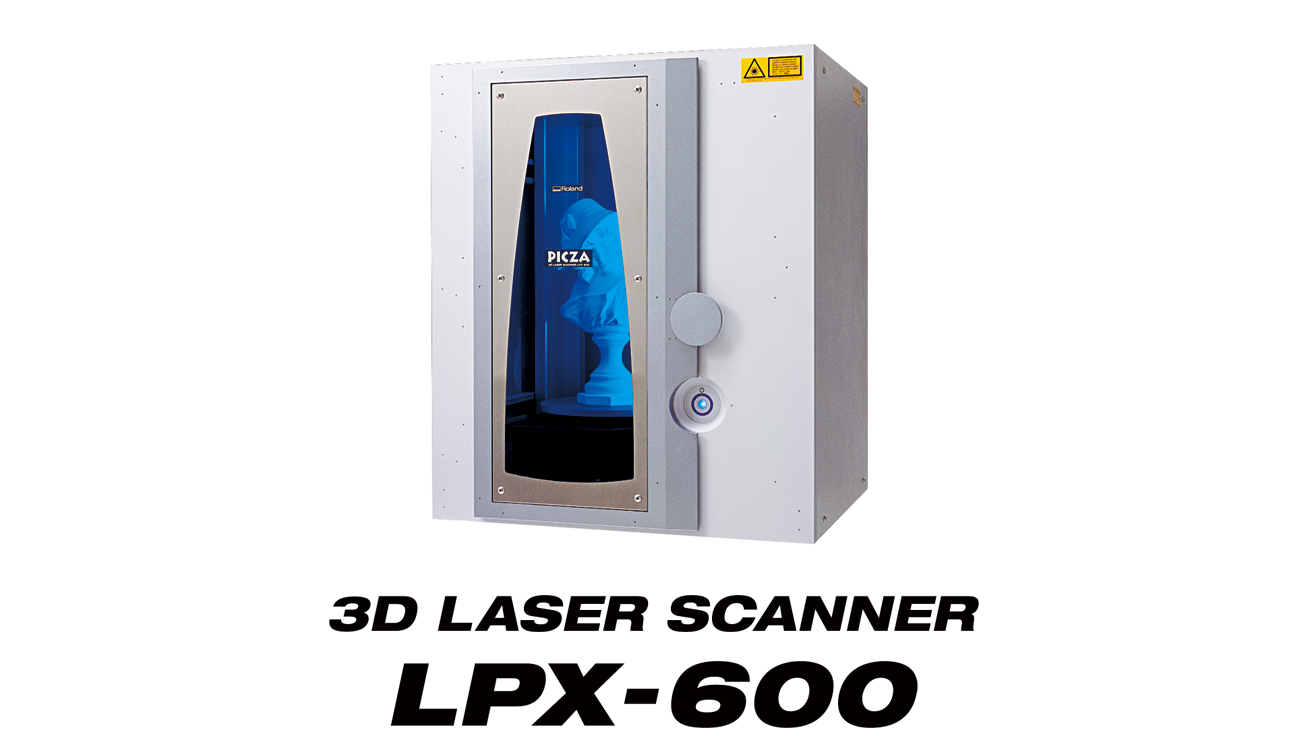 Hamamatsu, Japan, November 30, 2005 – Roland DG Corporation today announced the new LPX-600, a complete laser scanning package including software that easily scans a variety of objects to generate accurate 3D digital data. The LPX-600 is the industry's most user-friendly professional 3D laser scanner, with the entire scanning process controlled by a single button. Conventional 3D scanners, by comparison, require the advanced skills of experienced professionals to operate. "The LPX-600 3D Laser Scanner is an exciting innovation for the 3D CAD/CG industry, bringing unmatched ease-of-use to an otherwise complex process," said Toshi Yahiro, Roland DG 3D Product Manager. "Now, for the first time, anyone can easily generate high-quality 3D digital data. In fact, the LPX-600 is as easy to use as a flatbed scanner. Yet it delivers professional results, automatically filling holes and deleting polygons where needed for smooth surfaces and easy editing."
Scan your object in three easy steps
With the LPX-600, scanning is completed in just three easy steps:
1.Position your object on the LPX-600 work table
2.Press the "Preview" button to confirm scanning time
3.Press the "Scan" button to begin scanning
Easy-to-use Roland LPX EZ Studio scanning software included
Roland LPX EZ Studio scanning software controls the entire process from the initial LPX scan to the creation of 3D CAD/CG data in a range of file formats including STL (Standard Tessellated Language, industry standard 3D CAD format), GSF (Geometry Systems native file format) and 3DM (Rhinoceros file format). EZ Studio automatically eliminates extra polygons and fills holes for smooth, continuous surfaces.* Roland LPX EZ Studio is compatible with Windows® XP/2000/Me/98 SE (Second Edition).
LPX-600 Features:
- Easy to use — Even novices can scan objects to create accurate 3D data.
- Includes Roland LPX EZ Studio scanning software.
- Features USB connection for easy setup.
- Large working area, up to 254 mm (10") in diameter and 406.4 (16") mm in height.
- High-quality scanning as precise as 0.2mm (0.008") scanning-pitch
- Benchtop size and quiet operation make the LPX-600 ideal for any office environment.
- Special features for advanced users:
- Dr. PICZA 3 scanning software (included) allows scanning configurations and exports data to either surface software or 3D CG/CAD software.
- Pixform Pro surface software is available as an option.
*The ability to fill holes automatically depends on the shape of the object and whether the laser can reach all sides including front and back.
Roland DG Corporation (TSE symbol 6789) - First Section, Tokyo Stock Exchange
Phone: +81 (0)53-484-1201 / Fax: +81 (0)53-484-1216