Product News
09/15/2006
Roland DG Corporation
Introducing the LPX-60 Compact 3D Laser Scanner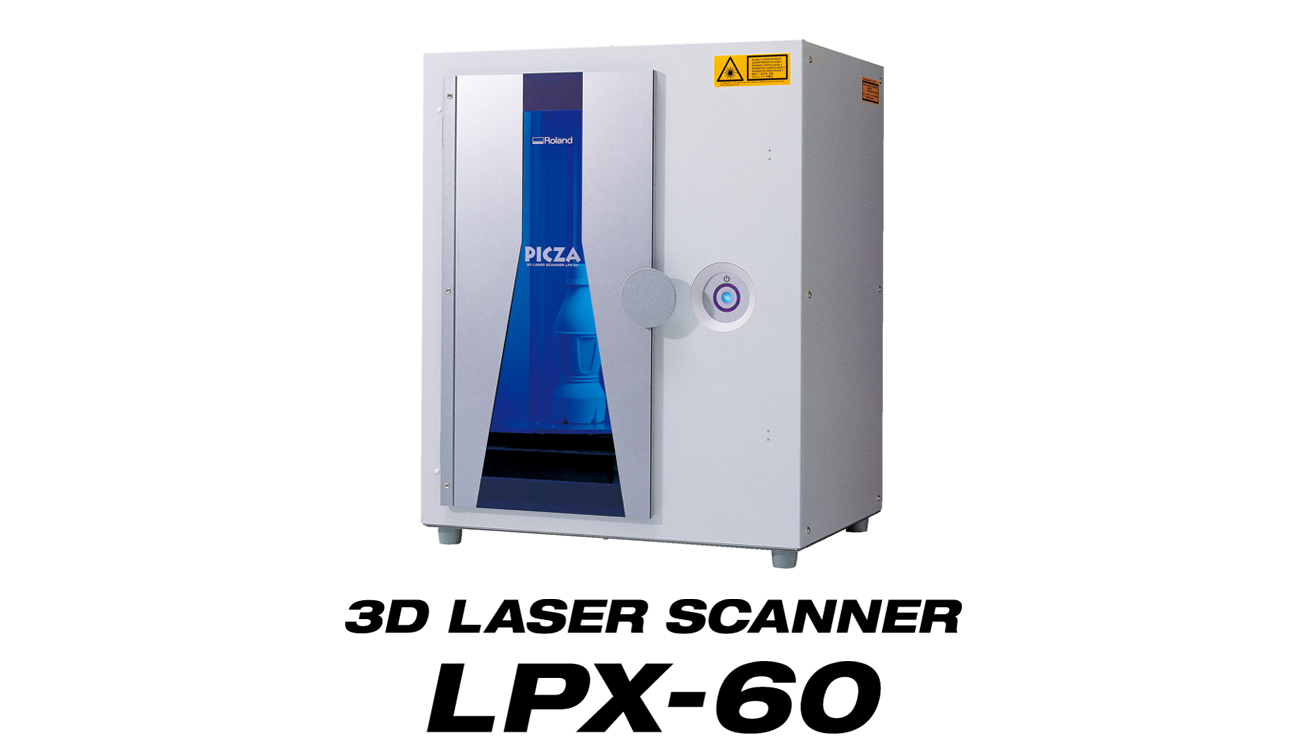 Hamamatsu, Japan, September 15, 2006 – Roland DG Corporation has expanded its line of LPX 3D laser scanners with the addition of the LPX-60, a new 3D laser scanner designed to deliver all the precision of Roland's larger, more advanced LPX-600 in a compact, affordable device. Designed for ease of use, the LPX-60 can be controlled from a single button and comes complete with user-friendly scanning software that creates high-quality digital data from a wide variety of objects.
"The LPX-60 is ideal for reverse engineering and for designing smaller items for the production of clay prototypes," said Toshi Yahiro, Roland DG marketing manager. "The LPX-60 is unique in that it allows virtually anyone to create 3D files without a lengthy learning curve. Its unprecedented ease of use makes the LPX-60 well suited for vocational training and other educational applications as well as commercial use. Instructors and designers can operate the LPX-60 with confidence — even without previous training on the device."
LPX-60 3D Laser Scanner Features:
‐ Extremely easy to use
‐ Even novices can generate scans to create high-quality 3D files.
‐ Includes user-friendly Roland LPX EZ Studio scanning software
‐ Easy setup through a standard USB connection
‐ Delivers the speed and precision of Roland's professional LPX-600 model including high-quality scanning of up to 0.2mm (0.008") scanning-pitch
‐ Offers a work area of 203 mm (8") in diameter and 304.8 mm (12") in height
‐ Desktop size and quiet operation make the LPX-60 ideal for any school or office environment
‐ Special features for advanced users:
‐ Dr. PICZA 3 scanning software (included) allows scanning configurations and exports data to surface software
‐ Pixform Pro surface software is available as an option
Roland LPX EZ Studio scanning software controls the entire process from the initial LPX scan to the creation of 3D CAD/CG data in a range of file formats including STL (Standard Tessellated Language, industry standard 3D CAD format), GSF (Geometry Systems native file format) and 3DM (Rhinoceros file format). EZ Studio automatically eliminates extra polygons and fills holes for smooth, watertight mesh surface models. Roland LPX EZ Studio is compatible with Windows® XP/2000/Me/98 SE (Second Edition).
Roland Desktop Fabrication
Roland also offers the MDX series of 3D milling machines to meet a wide range of demands from 3D professionals who are still developing their digital design skills. To go from initial design to finished prototype, combine the LPX-60 and a Roland 3D desktop milling machine such as the MDX-40. Simply scan a clay model using the LPX-60 and then mill the scanned data with the MDX-40 for a professional prototype. The entire process can be completed right at the desktop.
Roland DG Corporation (TSE symbol 6789) - First Section, Tokyo Stock Exchange
Phone: +81 (0)53-484-1201 / Fax: +81 (0)53-484-1216