Product News
03/31/2006
Roland DG Corporation
Roland's new Advanced JET AJ-1000 104" Grand Format Inkjet Printer Delivers Industrial-Strength Performance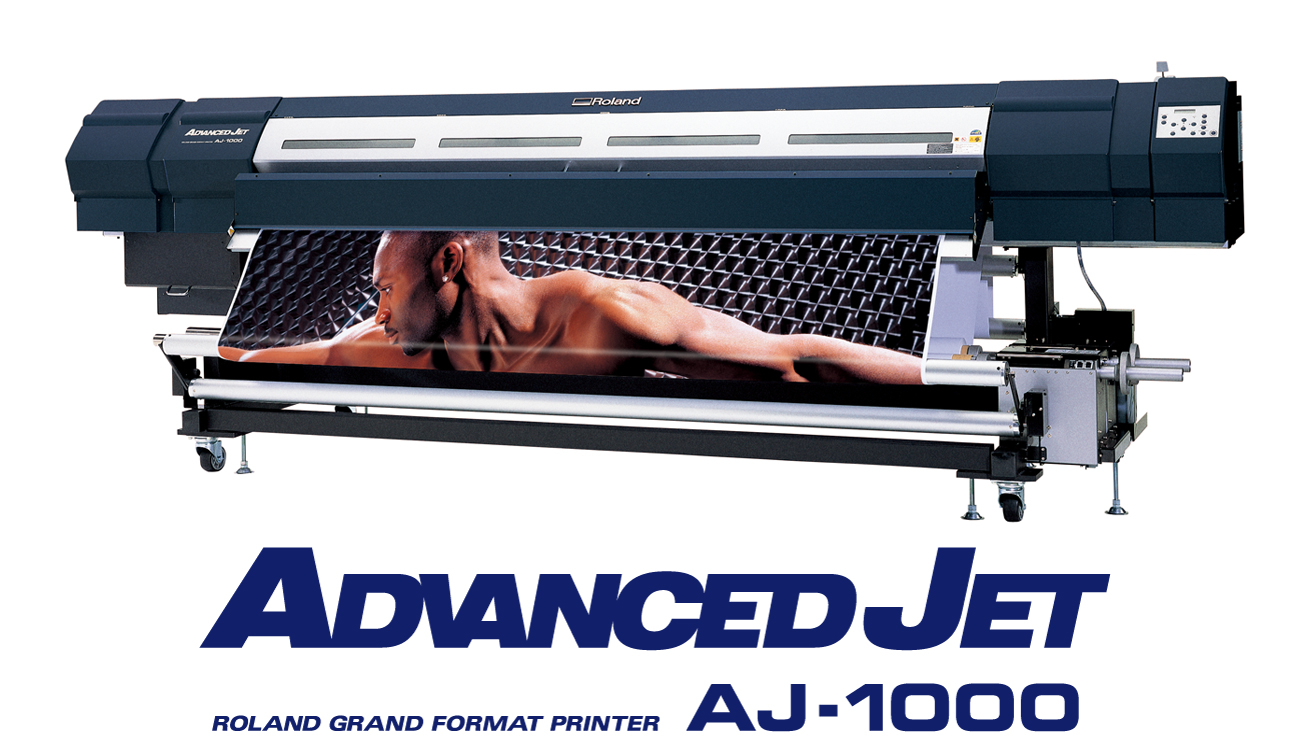 Hamamatsu, Japan, March 31, 2006 – Roland DG Corporation, celebrating its 25-year history in the sign making industry, today introduced the new Advanced JET AJ-1000 104" grand format inkjet printer. Designed for very high productivity with minimal maintenance, the AJ-1000 features new industrial-strength EcoXtreme eco-solvent ink, delivering enhanced durability and performance for durable outdoor and indoor graphics applications.
The AJ-1000 combines the easy operation of a large format printer with the high-volume capabilities of a grand format printer. At 104" wide and with a precision print speed of 45m2/h (484 sqft./hr.), the AJ-1000 is the perfect production printer for a wide range of outdoor graphics including banners, billboards, front- and backlits, fleet graphics, and more. Every AJ-1000 comes with VersaWorks, Roland's powerful, easy-to-use professional RIP, allowing users to easily set up the printer for immediate production and quick delivery of graphics to their customers.
"The AJ-1000 is ideal for outdoor banner production and other high-volume applications that require the fast-drying properties and dense, rich colors offered by Roland's new EcoXtreme ink," said Kevin Shigenoya, Roland DG inkjet printer product manager. "To further increase productivity, the AJ-1000 features an easy-to-use automatic maintenance system which eliminates the need for wiper cleaning and other manual maintenance procedures that can interrupt daily production."
AJ-1000 Features:
‐ 104" eco-solvent inkjet printer for fast, high-volume production printing.
‐ Achieves a maximum print speed of 90m2/h (968 sqft./hr.)*. Delivers superior image quality at 45m2/h (484 sqft./hr.).
‐ Durable new EcoXtreme ink produces dense, rich colors in CMYK+LcLm for brilliant outdoor banners and vehicle graphics**.
‐ Featuring three heaters and 10 blower units, the integrated print-drying system dries graphics quickly to facilitate speedy collection by the take-up system.
‐ Heavy-duty take-up system supports rolls up to 100kg (220.5 lb) for unattended printing on a wide variety of media.
‐ Auto maintenance system ensures reliable performance and easy, hassle-free operation.
‐ Easy-to-use Roland VersaWorks RIP software comes standard.
*Highest-speed production mode may not be suitable for all applications.
**To minimize odor, Roland recommends that you provide adequate ventilation in the work area.
Roland VersaWorks RIP Software Included
Built upon the genuine Adobe® PostScript® CPSI™ RIP engine expressly for Roland inkjet technology, VersaWorks features an efficient graphical user interface that allows users to maximize the AJ-1000 features without a lengthy learning curve. In addition to advanced color management tools, VersaWorks includes a wide variety of convenient layout, edit and print functions such as nesting, tiling and auto/manual-layout, among others. VersaWorks offers the ability to preview jobs on screen, reducing ink and media consumption due to mistakes. Users can use two job queues for handling different print conditions and can automatically update VersaWorks through the Internet, ensuring that users always have the latest software version and Roland ICC profiles available. VersaWorks is compatible with Windows 2000/XP operating systems.
Roland DG Corporation (TSE symbol 6789) - First Section, Tokyo Stock Exchange
Phone: +81 (0)53-484-1201 / Fax: +81 (0)53-484-1216