Product News
07/01/2006
Roland DG Corporation
Roland Introduces MODELA PRO II Benchtop Milling Machine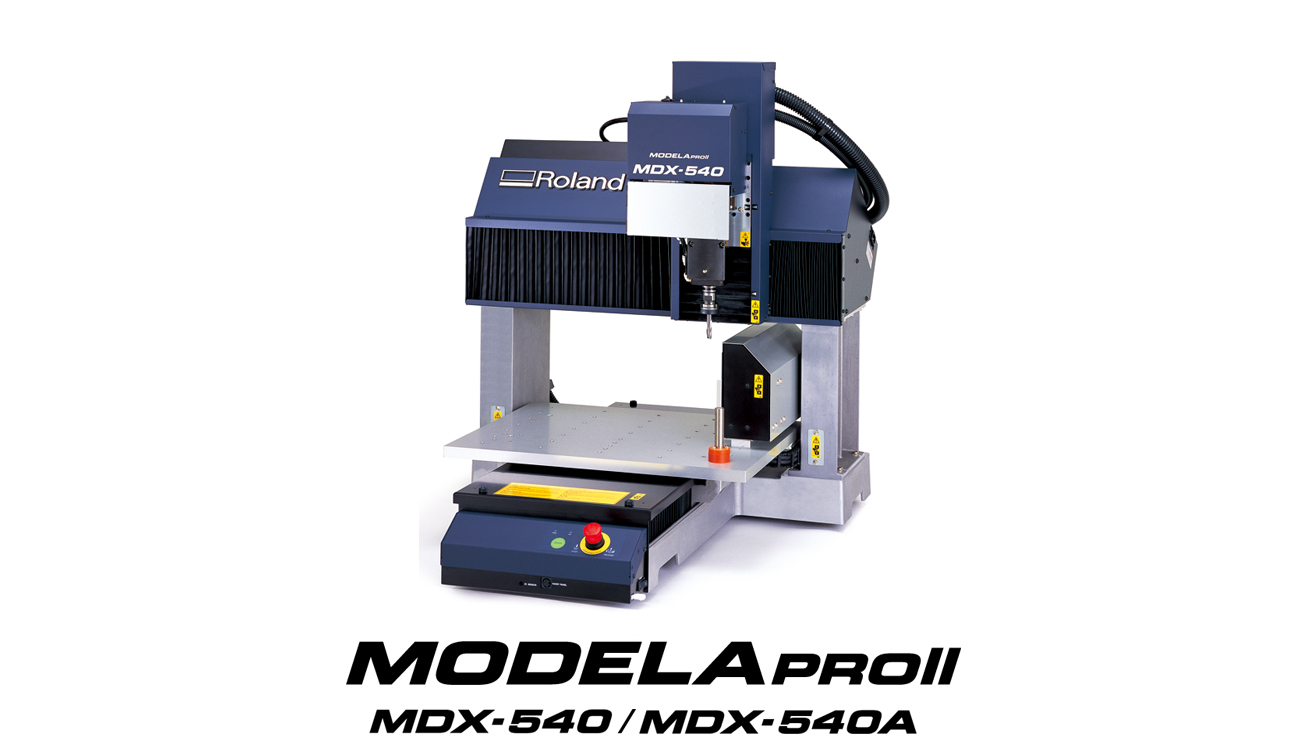 Hamamatsu, Japan, July 3, 2006 – Roland DG Corporation today introduced the new MODELA PRO II MDX-540 Benchtop Milling Machine, ideal for Subtractive Rapid Prototyping (SRP) and industrial design including the production of simple molds and parts for in-house use. Well suited for short-run production applications, the MDX-540 can be purchased with an optional automatic tool changer, rotary axis unit and T-slot table which together support a wide range of milling applications. Every MDX-540 comes with robust, easy-to-use Roland SRP Player CAM software, and a convenient, easy-to-navigate operation panel.
"The MDX-540 and SRP Player have revolutionized the conventional milling process," said Toshi Yahiro, Roland DG marketing manager. "With this new system, milling has never been easier. Simply position the material on the MDX-540, set the origin point, choose the material, shape and cutting quality, and attach the appropriate tool as indicated by the SRP Player software. The MDX-540 does the rest for dependable results. As an added benefit, the MDX-540 features an optional safety cover which keeps your work area clean."
MODELA PRO II Milling Machine Features:
‐ Large cutting area of up to 500mm(X) x 400mm(Y) x 155mm(Z) (19.6" (X) x 15.7" (Y) x 6.1" (Z) )*1
‐ Produces smooth, precision, high-quality surfaces in all modes
‐ Choose from high-torque settings or high-spindle speeds ranging from 400 to 12,000 rpm*2
‐ Optional automatic tool changer (ATC) stores up to four tools for unattended milling
‐ Optional rotary axis unit allows milling of multi-surface or cylindrical materials*3
‐ Includes Roland's easy-to-use SRP Player CAM software
‐ Easy-to-navigate operation panel and on-screen panel greatly simplify the setup and production process
‐ Supports a wide variety of materials from light metals, chemical woods and resin to ABS including aluminum, brass and copper*3
‐ Low initial investment and materials cost
‐ Available in two models:
‐ MDX-540 — a standard model including a high quality spindle unit ZS-540TY
‐ MDX-540A — an advanced model including the automatic tool changer (ATC) ZAT-540
Includes New Roland SRP Player CAM Software
Until now, precision milling has required the advanced skills of experienced professionals. With the introduction of the MDX-540 and Roland SRP Player, even novices can achieve professional results. Simply program the MDX-540 with a few required settings and the accompanying SRP player does the rest, determining the choice of tools and other details integral to the milling process. In addition, the SRP Player imports DXF, IGES, STL and Rhino 3D files, generates precision tool paths, and outputs the data much faster than conventional CAM software. To maximize material usage, it also allows end users to confirm a finished shape on screen. Roland's SRP Player is compatible with Windows® 2000/XP.*4
The MDX-540 has been optimized for speed and precision as well as ease of use. Its convenient operation panel and on-screen panel work together to guide users through the production process. The operation panel allows users to quickly set an origin point and change spindle speed and feed rate without interrupting the milling process.
*1 With the rotary axis unit, loadable work piece size is up to 90mm (3.5") in radius from the center of the rotary axis by 371mm (14.6") long and 5kg (11 lbs.).
*2 400 to 3,000rpm is for positioning and centering.
*3 MODELA PRO II cannot mill light metals with the rotary axis unit.
*4 1GB or more RAM is recommended.
Roland DG Corporation (TSE symbol 6789) - First Section, Tokyo Stock Exchange
Phone: +81 (0)53-484-1201 / Fax: +81 (0)53-484-1216