Product News
10/05/2011
Roland DG Corporation
Roland Introduces iModela iM-01 Affordable 3D Hobby Mill is Designed for the Craft and Hobby Markets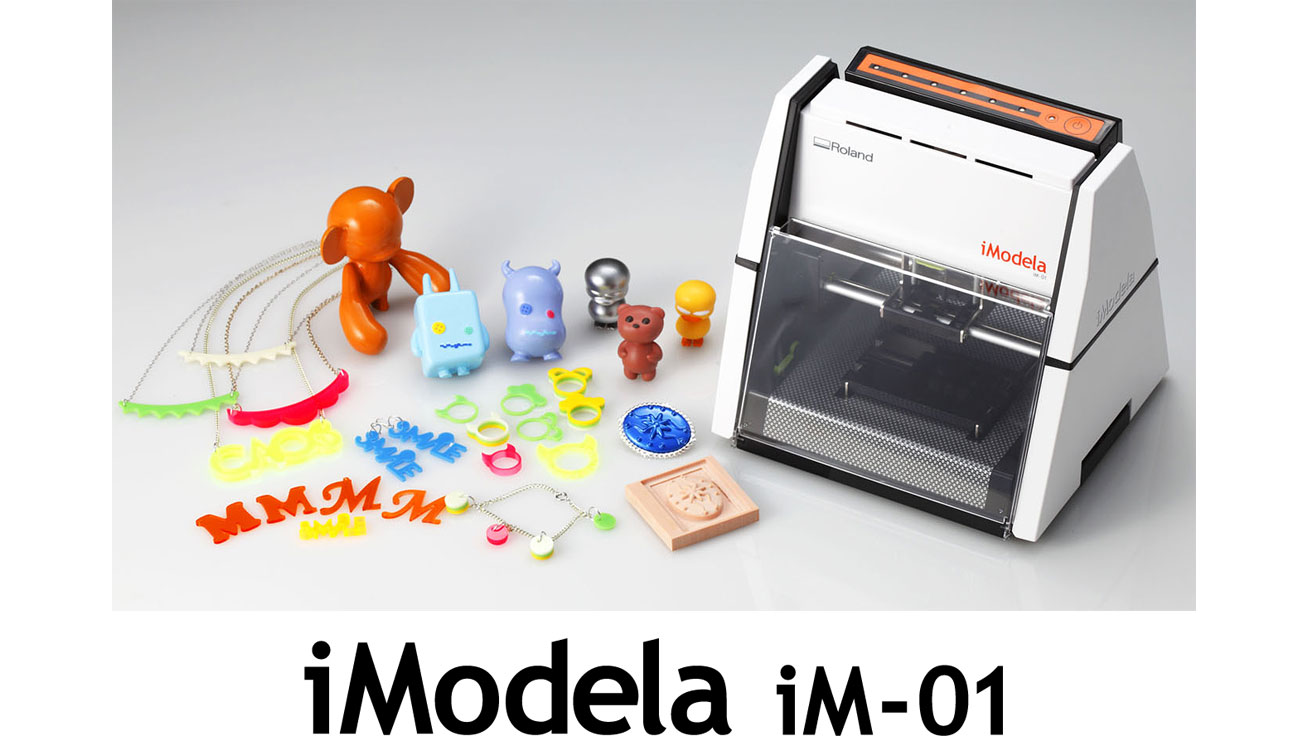 Hamamatsu, Japan, October 5, 2011 – Roland DG Corporation, a leading worldwide provider of 3D milling and engraving technologies, today introduced the new iModela iM-01. Incorporating 25 years of Roland's proven 3D milling technology, the iModela is an inexpensive, easy-to-use desktop device that mills wax, foam, balsa wood and plastic materials commonly used in craft and hobby projects.
"Digital devices have transformed the way we do so many things, and continue to play an important role in the lives of people everywhere," said Midori Sugiyama, Roland DG product manager. "With iModela, artists around the world can bring their most innovative design ideas to life, adding dimension and style to creative projects, whether or not they have any previous experience with 3D technologies. iModela makes it easy to create a physical model from an artist's 3D rendering, using powerful 3D modeling technology to sculpt shapes, drill holes, create reliefs, smooth surfaces and engrave designs. With iModela, 3D modelers and hobbyists can affordably produce even the most complex designs with precision."
iModela Creator Design Software Included
With the iModela Creator design software, iModela is a complete system for producing a wide range of items, from charms, pendants and key chains to small figurines and accessories for doll houses and model train sets.
iModela Creator allows users to create and mill shapes, holes, textures and patterns with precision right out of the box. Free-hand drawing tools are available so users can sketch out more complex ideas. With iModela Creator, users can either download a file or create original 3D models and designs right on a personal computer. Intuitive menus and icons make design and production easy, even for novice users. Once the milling material is loaded, the iModela produces the design in precise detail.
Roland iModela iM-01 Features:
- Precisely mills 3D shapes, patterns and designs out of foam, wax, balsa wood and plastic
- iModela Creator, Roland's 3D design software, is included, allowing users to accurately mill shapes, holes, textures and patterns right out of the box
- Affordable, easy-to-use platform for exploring creativity
- Easy to setup and operate, with just a power switch, simple LED display and external control panel for adjusting computer settings
- Compact, desktop device stores in a dedicated carrying case and travels easily
- A specially designed spindle motor*1 unit supports a variety of milling tools*2 commonly available at model shops and do-it-yourself (DIY) retailers
Exclusive iModela Online Community
To help iModela artists further their creative goals, iModela has its own dedicated website. In addition to complete information on the product, the site discusses design ideas, production workflows and maintenance tips, and also offers free project samples which can be downloaded for production on iModela. Direct links to Facebook, YouTube and Twitter allow iModela users to share projects and techniques with each other. The site also features a wide range of optional materials and supplies as well as the iModela unit, which can be purchased conveniently online.*3
*1 Spindle motor is compatible with 130 motor for model.
*2 Accommodates both new and used tools (dia. 2.35mm), including router bits.
*3 The online shop is not available in some regions.
Roland DG Corporation (TSE symbol 6789) - First Section, Tokyo Stock Exchange
Phone: +81 (0)53-484-1201 / Fax: +81 (0)53-484-1216