Product News
06/12/2006
Roland DG Corporation
Roland Introduces STIKA SV-15/12/8 Portable Vinyl Cutter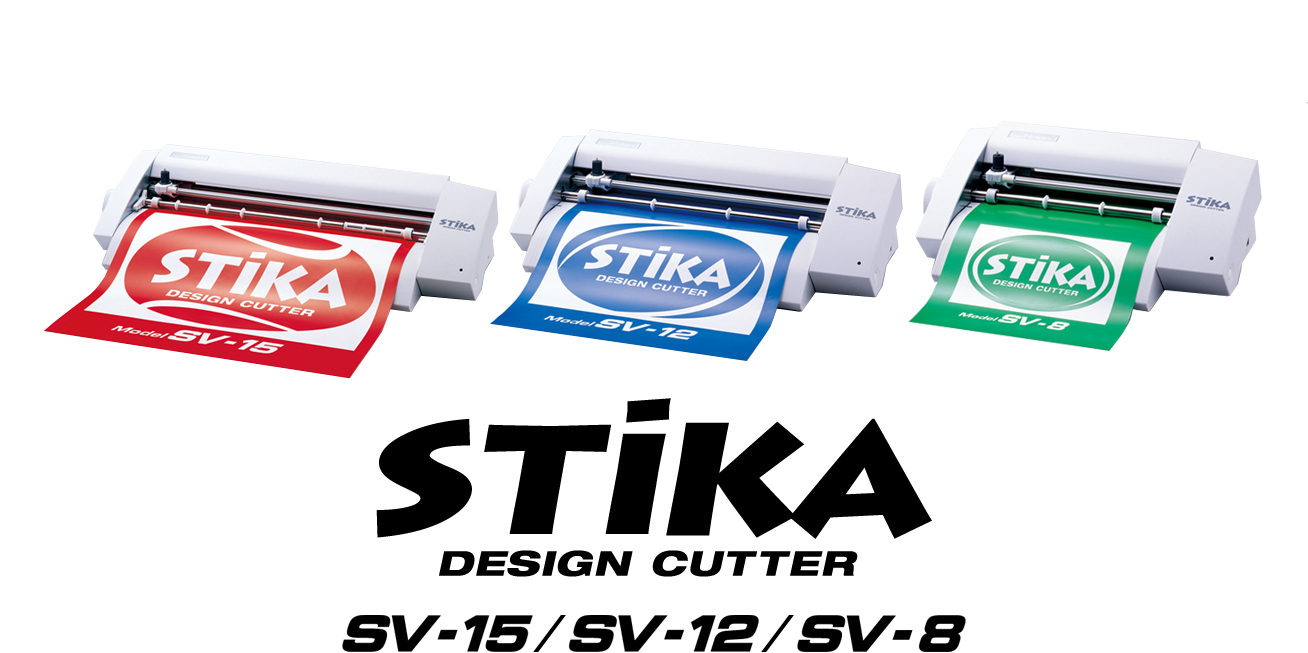 Hamamatsu, Japan, June 12, 2006 – Celebrating 25 years of leadership, innovation and vision for the sign making industry, Roland DG Corporation today introduced the new STIKA Series SV-15/12/8, a complete portable sign making package including easy-to-use vinyl cutter and design software.
Based on Roland's industry-leading vinyl cutting technology, STIKA is the ideal compact sign making solution for offices, schools, organizations, small businesses, shops and homes. With STIKA, even novices can quickly and easily create signs, labels, decals, retail displays, vehicle graphics and more right from a Windows or Macintosh computer. When used in combination with a standard desktop printer, STIKA contour cuts printed images for colorful, professional results.
"With STIKA, a wide range of individuals, organizations and businesses can take advantage of Roland's innovative sign making technology to create colorful vinyl signs and graphics," said Toshi Yahiro, Roland DG marketing manager. "STIKA is as easy to use as a desktop printer, yet it delivers much more professional results. STIKA produces precision cut vinyl lettering and images that significantly enhance any graphics project."
STIKA Features:
‐ Compact, easy-to-use vinyl cutter for schools, shops, businesses or homes
‐ Ideal for a wide variety of applications including signs, labels, decals, stickers, vehicle graphics, retail displays, heat transfers for apparel and etching material
‐ A complete solution packaged with everything required to get started
‐ Includes Roland CutStudio design software
‐ Able to connect to a standard desktop printer for contour cutting of printed images without additional equipment
‐ Tiling feature allows STIKA to produce larger signs of up to 64 tiles (8 tiles horizontally and 8 tiles vertically)
‐ Media guidelines help ensure correct media positioning for quality production
‐ USB interface for easy connection to PCs
‐ Available in three sizes: SV-15 - 15" cutter, SV-12 - 12" cutter, and SV-8 - extra-wide 8" cutter
Roland CutStudio Software
Every STIKA comes with the latest version of Roland CutStudio, easy-to-use design software packed with features. With CutStudio, users can draw or edit circles and curves, add text along an arc, and import photos and graphics in jpg or bmp. In addition, CutStudio allows users to combine rectangles, circles, polygons, lines and curves for more sophisticated graphics.
CutStudio is compatible with Windows 98 SE/Me/2000/XP and includes plug-in software for Adobe® Illustrator® 9/10/CS/CS2 and CorelDRAW® 10/11/12 for Windows, and Adobe® Illustrator® 9/10/CS for Mac. As a result, users of these programs can send data directly to STIKA.
Roland STIKA Navi On-Screen Operation Panel
STIKA comes equipped with the STIKA Navi on-screen operation panel, a unique feature that makes vinyl cutting even easier and helps maximize media usage. Using the STIKA Navi panel and a mouse, users can move the cutting blade into the optimum start position for precision results every time. The STIKA Navi menu can be accessed from either the "Cutting Setup" or "Set up the printer" menu.
Five Simple Steps To Creating Labels With a Desktop Printer
When paired with a desktop printer, STIKA allows users to precision cut printed images quickly and easily. No complicated techniques or additional equipment is required.
1. Choose the media size and select "Print&Cut" to add crop marks to the printed image.
2. Import the design inside the crop marks and add contour-cutting lines.
3. Using your printer, print the graphics and crop marks on your media.
4. Load the printed media in your STIKA and send the file to STIKA.
5. STIKA contour cuts the graphics.
*1 This function is included in the expansion of STIKA Driver.
*2 Plug-in software is compatible with Adobe Illustrator for Windows 9/10/CS/CS2, CorelDRAW for Windows 10/11/12, and Adobe Illustrator for Macintosh 9/10/CS.
Roland DG Corporation (TSE symbol 6789) - First Section, Tokyo Stock Exchange
Phone: +81 (0)53-484-1201 / Fax: +81 (0)53-484-1216