Product News
06/13/2023
Roland DG Corporation
Roland DG Connect Offers Expanded Operational Capabilities

Hamamatsu, Japan, June 13, 2023 – Roland DG Corporation, a leading manufacturer of wide-format inkjet printers and printer/cutters worldwide, announced the launch today of the new Roland DG Connect subscription service.
Roland DG Connect is a cloud-based connected service designed to foster increased value and business growth by providing a more comfortable and stable operating environment, improved workflow efficiency, tools for increased business development and profitability, and by enabling people with various skills and needs to collaborate and share ideas.
Tony Miller, President, Global Sales and Marketing Division, said, "Roland DG Connect enables to provides faster, more proactive support, visualization of the status of various functions and machine data, easily calculates profitability, and quickly downloads media output profiles. Many of our customers use this solution today successfully, supporting the grow of their business."
"Today, we are proud to announce that Roland DG Connect will offer three new services." Miller said. "Business Dashboard" provides expanded functionality to enable multidimensional analysis of a variety of data. Customers can quickly visualize detailed information on multiple printers' ink consumption, printing time, output in square meters, and usage time, as well as measure the achievement of target operation rates, for more profitable business planning, efficient management, and waste-free inventory control.
A second feature is a "multi-user function" that allows customers to view information on devices which they own but do not have physical access to. For example, in a company with multiple locations, the headquarters can manage information on printers at each location in one screen. This can be useful in formulating company-wide operation plans, improving efficiency of ink ordering by centrally managing ink consumption, and realizing stable operation by understanding the status of appropriate maintenance for each device.
Finally, the "automatic backup function" of VersaWorks RIP software automatically saves print settings and restores them at the touch of a button when needed, thereby supporting smooth resumption of operations in the event of PC malfunction, addition, or replacement.
"As consumer needs continue to diversify and trend cycles shorten," Miller added, "it is becoming increasingly important for businesses to create and deliver unique value in a timely manner. In the printing industry, on-demand printing using inkjet printers is common, and an increasing number of customers are using different types of printers together or installing multiple printers to improve productivity. Under these circumstances, knowledge of how to operate printing operations efficiently and without waste has become critical to achieving a highly competitive and sustainable business. Roland DG Connect, which allows customers to visualize key information about their devices, has the power to help customers meet these challenges. We will continue to accelerate the expansion of its functions and contribute to the realization of new creative and business opportunities for our customers."
A campaign to celebrate the launch of the subscription service will run until the end of December 2023.
During this period, customers can take advantage of special pricing and a free one-month trial of the premium version.
For more information about Roland DG Connect, please visit the Region Selector and select your country.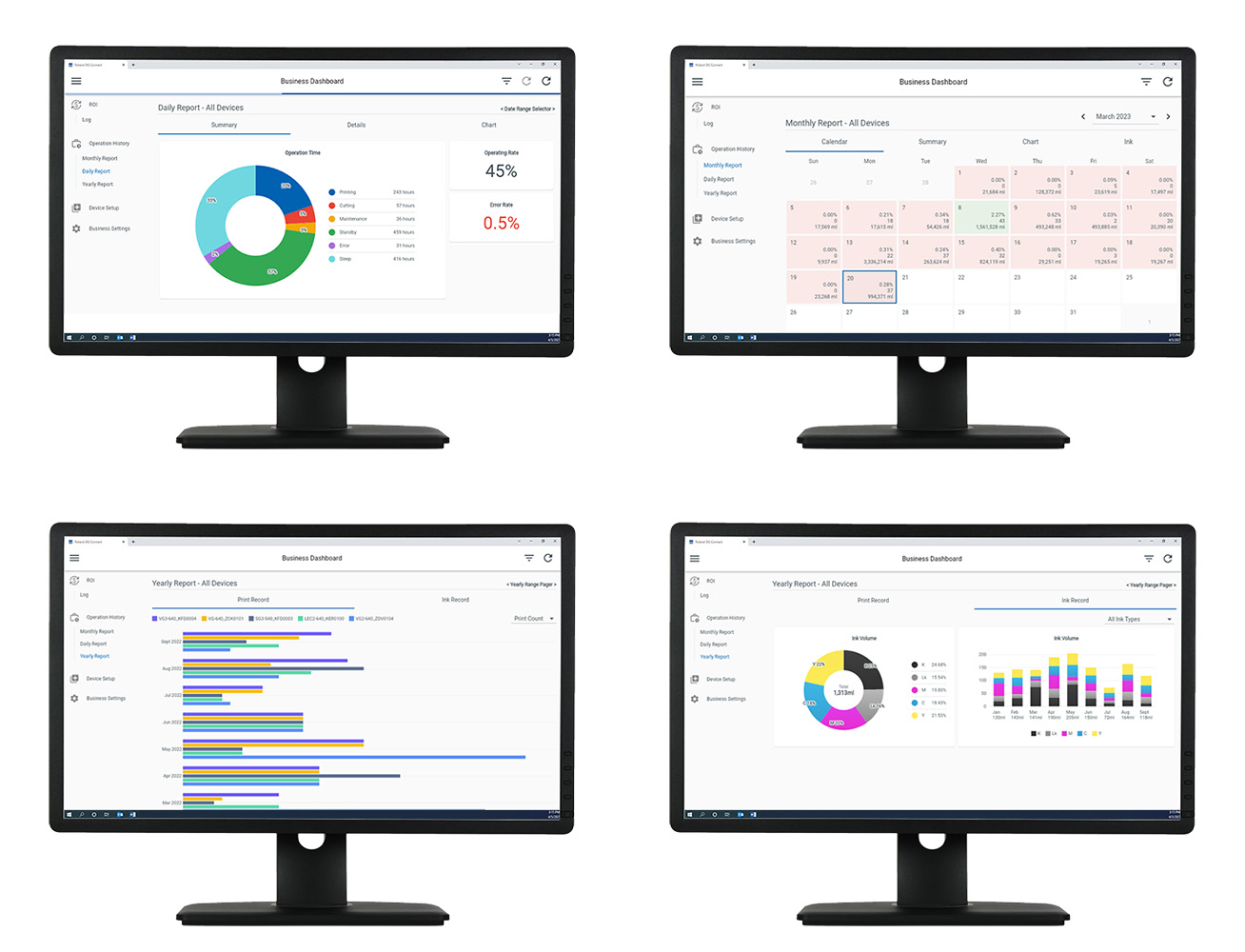 Advanced Dashboards
For more information, contact:

Roland DG Corporation
Corporate Division
+81 (0)53-484-1200
E-Mail:rdg-pr@rolanddg.co.jp