Product News
02/19/2007
Roland DG Corporation
Roland AdvancedJET AJ-1000 Features New Mesh Printing Unit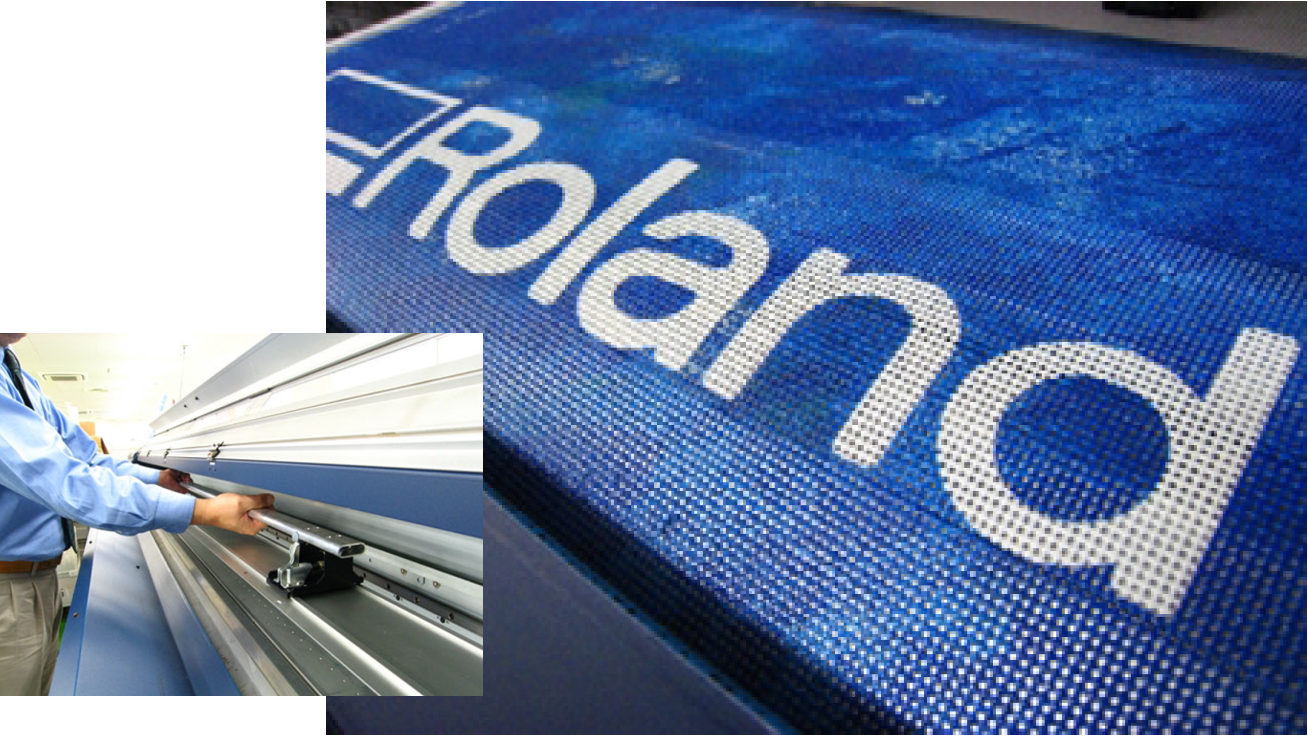 Hamamatsu, Japan, February 19, 2007 – Roland DG Corporation today introduced a new mesh printing unit for the 104" AdvancedJET AJ-1000, an industrial grand-format printer engineered for high-volume production of banners, billboards, signage and other durable graphics.
The AJ-1000 now offers support for unlined mesh media, ideal for any application calling for the unique sheer look of mesh or outdoor graphics that may be exposed to excessive wind. Available as an option for the AJ-1000, the new MU-1000 mesh printing unit attaches and detaches easily from the AJ-1000, allowing professionals to quickly switch from standard grand-format media such as tarpaulin to unlined mesh media.
"Mesh can add more sophistication and texture to virtually any graphic from indoor soft signage to outdoor banners," said Kevin Shigenoya, Roland DG marketing manager. "In addition to its unique look, mesh is lightweight and easy to store." It is also well suited for oversized banners and other large prints where the bulk and weight of the media are safety factors. In today's highly competitive business environment, mesh printing gives Roland AJ-1000 users a distinct advantage."
Mesh Printing Unit MU-1000 Features:
- Allows printing directly on unlined mesh media
- Lowers production costs for mesh printing
- Is easy to attach and detach, allowing professionals to quickly alternate between banner media and mesh
- Available as an option for the Roland AdvancedJET AJ-1000 grand-format printer
Roland AdvancedJET AJ-1000
Designed specifically for the high volume, print-for-pay market, the AJ-1000 achieves a maximum print speed of 90m2/h (968 sqft./hr.). The AJ-1000 features EcoXtreme ink for brilliant 6-color CMYKLcLm graphics that are durable, scratch and alcohol-resistant. EcoXtreme delivers dense, rich colors and an exceptional gamut that together ensure beautiful, consistent prints for viewing up close and at a distance. An automated Intelligent Maintenance System automatically performs routine maintenance that results in reduced overhead costs and man-hours for manual maintenance. The AJ-1000 also features Roland VersaWorks, powerful RIP software developed by Roland engineers to maximize the company's inkjet technology.
Roland DG Corporation (TSE symbol 6789) - First Section, Tokyo Stock Exchange
Phone: +81 (0)53-484-1201 / Fax: +81 (0)53-484-1216