Product News
08/29/2007
Roland DG Corporation
New 74" Addition to AdvancedJET Series Is Most Productive Printer in Its Class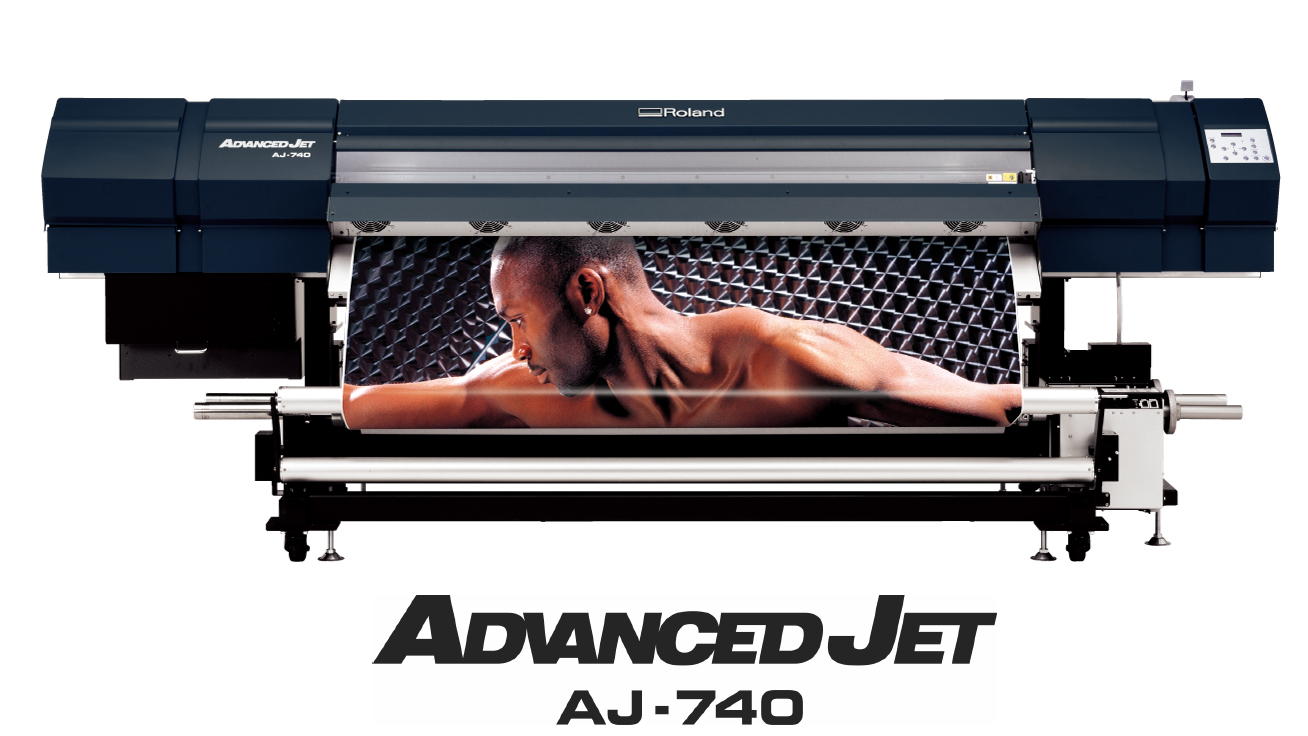 Hamamatsu, Japan, August 29, 2007 – Roland DG Corporation, a leading worldwide provider of wide-format inkjet printers and integrated print/cutters, today introduced a new addition to its AdvancedJET line of industrial inkjet printers, the 74"-wide AdvancedJET AJ-740.
"High-speed printing of up to 81m2/h (872 sqft/hr) gives the AJ-740 the power and productivity needed for both high-volume and rush jobs," said Yohei Shinomura, Roland DG color product manager. "At 74" wide, the AJ-740 supports the majority of media available today for these applications. With demand increasing for high-speed, small lot production of a wide variety of graphics, shops are looking for more productive and flexible printers. The AJ-740 has been precision engineered for this market and can help businesses take advantage of this significant growth opportunity."
Designed for high-volume printing of outdoor signage, the AJ-740 delivers brilliant six-color CMYK+LcLm graphics at an impressive maximum print speed of 81m2/h (872 sqft/hr) and offers a precision print mode of 44m2/hr (473 sqft/hr). Unlike other industrial printers, the AJ-740 runs with very little maintenance and fine tuning. Automated maintenance eliminates the need for daily manual cleanings and ensures consistent, reliable performance.
Roland AdvancedJET AJ-740 Features:
- Produces billboards, banners, backlits, fleet graphics and more at a maximum print speed of up to 81m2/hr (872 sqft/hr) for high-volume and rush jobs
- Handles media rolls up to 100kg (220lbs.) for long, unattended production runs
- Automated maintenance system requires minimal operator intervention, lowering operational costs
- Durable EcoXtreme Ink for extended three-year outdoor durability
- Easy to attach and detach optional mesh printing unit available for soft signage that stores easily, is lightweight, and offers the unique sheer look of mesh
- Powerful Roland VersaWorks RIP software included
- New Max Impact™ preset produces vivid outdoor signs with richer color contrast
- Roland Color system provides color charts and chips for spot color matching and improved communication with customers
Powerful Roland VersaWorks RIP Software Included
Exclusively developed for Roland inkjets, Roland VersaWorks RIP offers advanced features including a new Max Impact™ color management preset, the Roland Color System for spot color matching and variable data printing for easy, custom prints with variable data. The Max Impact preset produces deeper, more vivid blues and reds, the fundamental colors for outdoor graphics, while preserving the overall color balance required for beautiful, photorealistic images. VersaWorks also includes more than 150 ICC profiles for reliable results the first time and every time. The Roland@NET automated update feature ensures ongoing access to the latest VersaWorks version and profiles available. Built on an Adobe Postscript engine, VersaWorks is compatible with Windows® XP Professional, 2000 and Windows Vista™.
Roland DG Corporation (TSE symbol 6789) - First Section, Tokyo Stock Exchange
Phone: +81 (0)53-484-1201 / Fax: +81 (0)53-484-1216