Product News
10/15/2007
Roland DG Corporation
Roland Introduces EcoXtreme LT Ink for AdvancedJET Series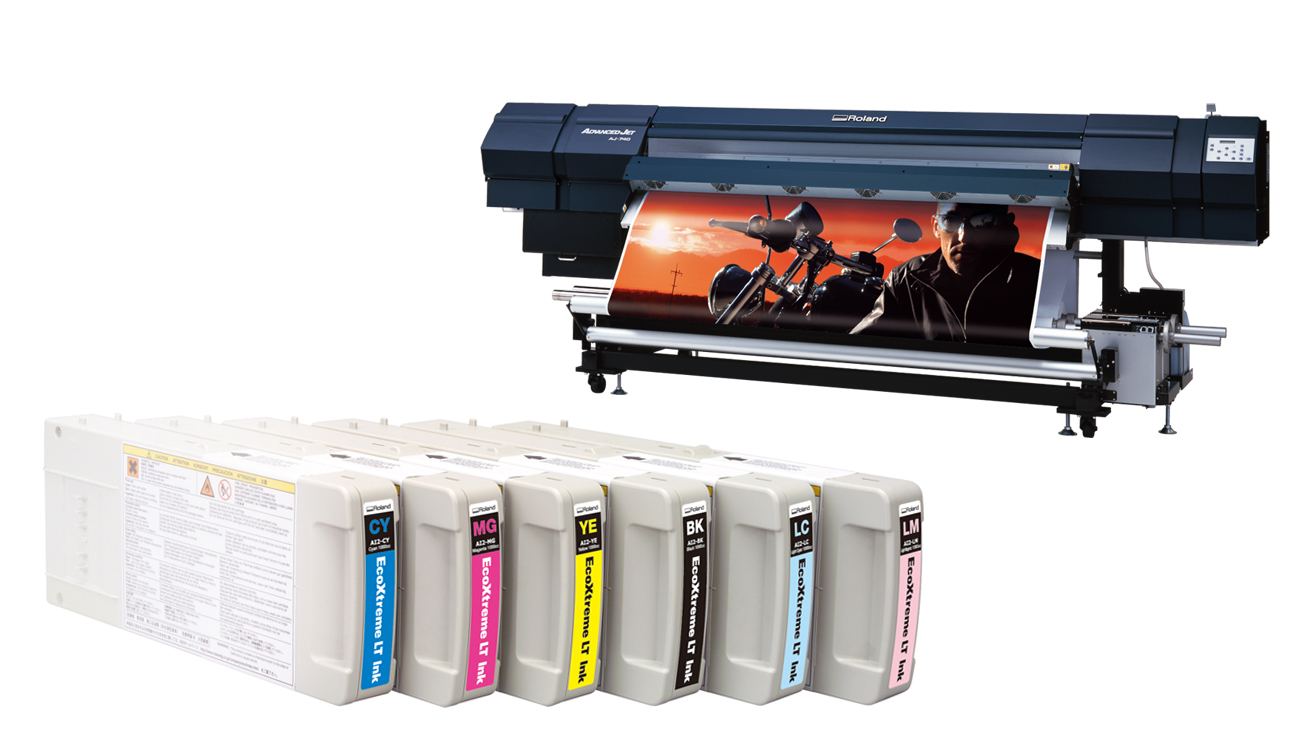 Hamamatsu, Japan, October 15, 2007 – Roland DG Corporation, a leading worldwide provider of wide-format inkjet printers and integrated print/cutters, today introduced new EcoXtreme LT ink for its AdvancedJET series of industrial inkjet printers including the 104"-wide AJ-1000 and 74"-wide AJ-740.
Roland now supports the AdvancedJET line with two ink formulations: new EcoXtreme LT and EcoXtreme. Both have been developed exclusively for the AdvancedJET series to provide outstanding color density, a wide gamut and rugged durability for a variety of applications.
A cost effective alternative to EcoXtreme ink, new EcoXtreme LT is very competitively priced and well suited for high-mix, high-volume production of short-term graphics such as event and campaign signage, trade show and expo graphics, and temporary retail displays. Roland recommends EcoXtreme ink for signage, banners, retail décor, fleet graphics and other applications requiring extended durability of up to three years outdoors.
New Roland EcoXtreme LT Ink Features:
- Available in six colors (CMYKLcLm)
- Ideal for billboards, banners, backlits, temporary fleet graphics and event signage
- Optimizes AdvancedJET technology for rich, vivid images and superior color contrast
- Produces vibrant images even in high-speed production modes on coated and uncoated media
- High-capacity 1-liter cartridges are easy to handle
- Automated maintenance system minimizes operator intervention for lower operational costs
- Cyclohexanone free
Roland AdvancedJET Series
Designed for high-volume printing and rush jobs of billboards, banners, fleet and vehicle graphics, the AdvancedJET delivers brilliant six-color CMYK+LcLm graphics at an impressive maximum print speed of 90m2/h (968 sqft/hr) and offers a precision print mode of 45m2/hr (484 sqft/hr). Unlike other industrial printers, the AdvancedJET runs with minimal operator maintenance and fine tuning. Automated maintenance eliminates the need for daily manual cleanings and ensures consistent, reliable performance. The AdvancedJET includes powerful Roland VersaWorks RIP software, built on an Adobe Postscript engine and compatible with Windows® XP Professional, 2000 and Windows Vista™.
Roland DG Corporation (TSE symbol 6789) - First Section, Tokyo Stock Exchange
Phone: +81 (0)53-484-1201 / Fax: +81 (0)53-484-1216