Product News
01/15/2008
Roland DG Corporation
Roland Introduces New Version of the Industry-Leading SOLJET PRO III XC-540 Printer/Cutter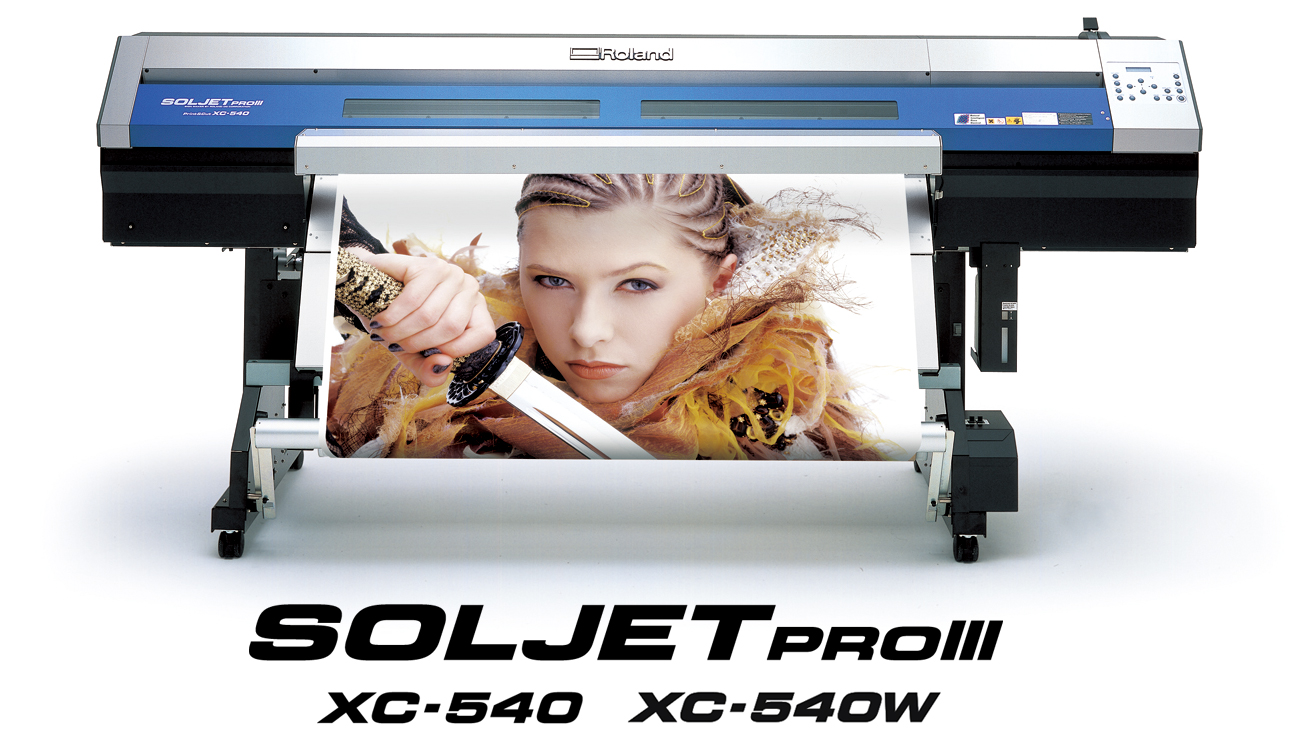 Hamamatsu, Japan, January 15, 2008 – Roland DG Corporation, a leading worldwide provider of wide-format inkjet printers and integrated print/cutters, today introduced a powerful new version of its SOLJET PRO III XC-540 print/cutter featuring revolutionary new Roland Intelligent Pass Control technology and additional enhancements that deliver even higher levels of speed, print quality and versatility.
The SOLJET PRO III XC-540 printer/cutter is widely recognized as the industry's highest performing and most flexible production tool for a wide variety of applications including partial and full vehicle wraps and graphics, signs, POP displays, banners, labels, decals and more. The new XC-540 is Roland's most advanced 54"-wide printer/cutter ever, offering all the advantages of the company's revolutionary new Roland Intelligent Pass Control technology. This new feature doubles the XC-540's productivity in Standard print mode on vinyl*1 for finished graphics that reflect the highest levels of print quality. Roland Intelligent Pass Control also enhances XC-540 print quality overall for even smoother gradations and flawless solid colors.
The new XC-540 features award-winning ECO-SOL MAX inks and is available in two models: the XC-540 in 6-color CMYKLcLm and 4-color CCMMYK configurations, and an XC-540W model equipped with 5-color CMYK+W inks featuring new White ECO-SOL MAX ink.
When paired with transparent and opaque media including gold and silver reflective media used for labels and decals, the XC-540W and White ECO-SOL MAX ink offer shops the flexibility to print in three configurations for added versatility: CMYK + White, White only and CMYK. The XC-540W prints highlights, graphics and text on transparent media for a range of unique, profitable applications including decorative window films, packaging comps, signs, labels, decals and point of purchase displays. In addition, White ECO-SOL MAX ink can be printed as an undercoat to increase the opacity and vividness of four-color printing.
Both XC-540 models come with powerful Roland VersaWorks 2.6 RIP software including the Roland Color system for spot color matching, Variable Data Printing, and the Max Impact™ preset for richer color contrast, outstanding image quality and maximum productivity. The new models also feature upgraded media flanges that securely support media tracking for precision printing through long, unattended production runs.
New SOLJET PRO III XC-540 Printer/Cutter Series Features:
‐ Industry-leading 54" Roland printer/cutter line delivers the highest levels of speed and performance across a wide variety of precision applications
‐ New Roland Intelligent Pass Control system for optimum print quality overall and twice the productivity in Standard print mode on vinyl*1
‐ Two models available
‐ XC-540 for 6-color CMYKLcLm or 4-color CCMMYK printing
‐ XC-540W for added versatility: CMYK + White, White only, and CMYK printing options
‐ White ink model adds business value with profitable new applications such as packaging comps and decorative window films
‐ Powerful Roland VersaWorks 2.6 RIP software included
‐ Roland Color system for precision spot color matching, ideal for corporate colors and logos
‐ Variable Data Printing for easy custom prints including variable photos and text — perfect for POP displays, name cards, serial number labels, posters and more
‐ The Max Impact™ and default presets
‐ ensures vibrant colors for outdoor signs that stand out, even at a distance
‐ use the default preset to faithfully reproduce natural colors with superb gradations, perfect for indoor backlits and other applications that are viewed up close
‐ECO-SOL MAX ink in 220 or 440 cc cartridges
‐ Exceptional image quality and vivid colors with outstanding ink density, opacity and wider color gamut
‐ Supports a wide range of uncoated media for lower production costs
‐ Highly durable and scratch resistant for easy handling through the finishing and installation processes
‐ User-friendly, virtually odorless and competitively priced to maximize profits
‐Now available in white for the XC-540W (220 cc cartridges only)
‐ Newly upgraded media flanges for precision tracking during longer jobs
‐ Automated media take-up system included*2 supporting rolls up to 30kg (66 lbs.)
*1 Print speeds vary from 37% to 100% faster than the previous model depending on the media and print mode selected.
*2 The take-up system does not support contour cutting or white ink printing applications.
Roland DG Corporation (TSE symbol 6789) - First Section, Tokyo Stock Exchange
Phone: +81 (0)53-484-1201 / Fax: +81 (0)53-484-1216