Product News
08/27/2008
Roland DG Corporation
Roland VersaArt Wide-Format Printers Set New Standards for Precision, Productivity and Performance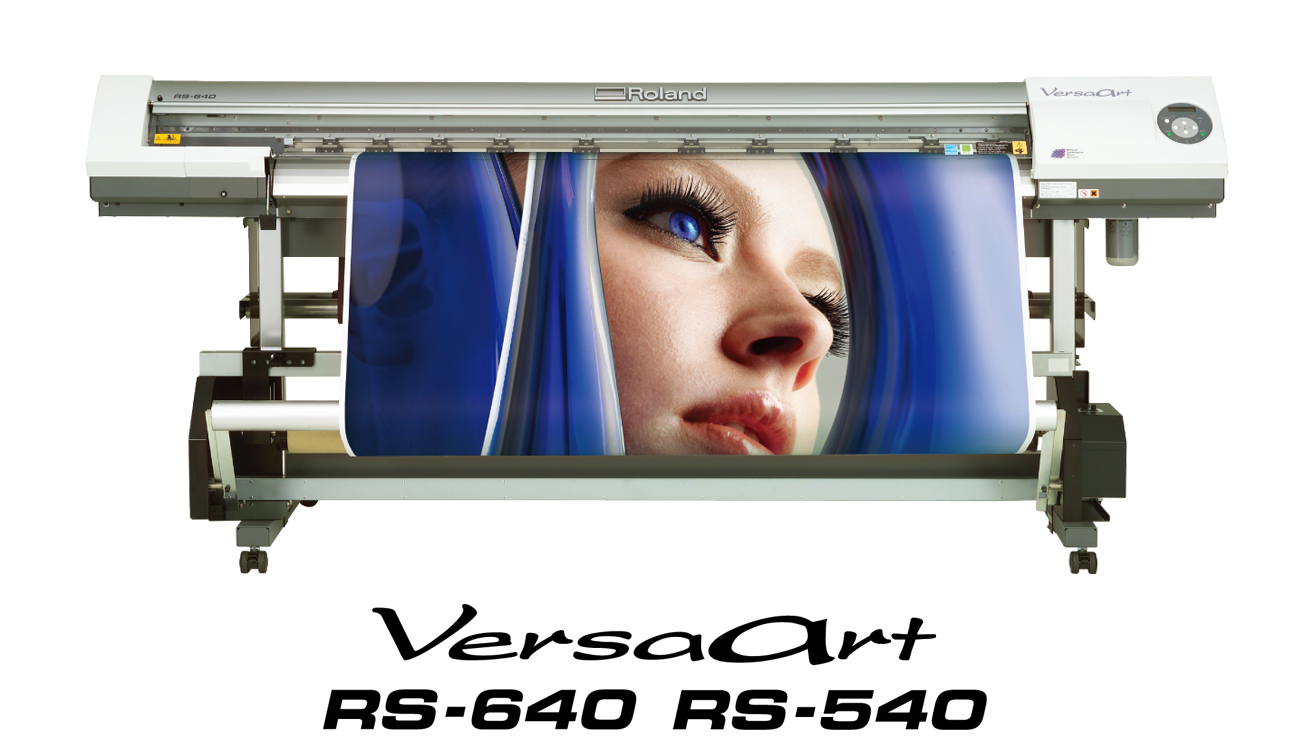 Hamamatsu, Japan, August 27, 2008 – Roland DG Corporation, a leading worldwide provider of wide-format inkjet printers and integrated print/cutters, today introduced the new VersaArt RS series of four-color CMYK wide-format inkjet printers. Featuring the latest in Roland eco-solvent inkjet technology, the VersaArt series offers image quality, productivity and performance beyond that of any other printer line in its class. VersaArt printers come complete with VersaWorks professional RIP software for precision color management and are available in two models: the 64" RS-640 and the 54" RS-540.
"Today, eco-solvent inkjet printers are widely used in a variety of graphics businesses," said Yuko Seki, Roland DG Color product manager. "The VersaArt RS series offers these businesses advanced digital printing capabilities, allowing them to enjoy both a distinct competitive advantage and quick return on investment. The VersaArt delivers the exceptional productivity and print quality required for successful in-house production, eliminating the need to outsource wide-format graphics."
VersaArt is a flexible production tool for a wide range of applications from precision design comps and posters to large, durable outdoor signs and banners. VersaArt supports new environmentally friendly paper media and fabrics for profitable specialty applications as well. Featuring ECO-SOL MAX ink and Roland Intelligent Pass Control technology, VersaArt produces vivid colors and unmatched image quality at print speeds of up to 21.4m2/hr (230.3 sqft/hr.).
Roland VersaArt RS Series Features:
‐ 64" and 54" eco-solvent inkjet printers
‐ Print speeds of up to 21.4m2/hr (230.3sqft/hr) on the RS-640
‐ Roland Intelligent Pass Control technology for unparalleled image quality at the highest print speeds
‐ Supports a wide variety of media for applications ranging from high-end design proofs and photographic reproductions to stunning outdoor signs and banners
‐ Fast drying, scratch resistant ECO-SOL MAX ink produces vivid colors and is virtually odorless for convenience and comfort
‐ Roland VersaWorks professional RIP software ensures precision color management
‐ Built-in print heater and dryer accelerate dry times
‐ Optionally available automated take-up system
‐ Facilitates unattended production
‐ Supports roll weights of up to 30kg (66lbs.)
‐ Handles banner media as heavy as 470g/m2 x 50m (1.54oz/sqft x 54.7 yard)
‐ Automated maintenance minimizes ink, labor and downtime
‐ Low media shaft for easy loading and unloading of even the heaviest rolls
‐ Environmentally friendly
‐ Energy Star Certified
‐ Carries Roland's Eco-Label
‐ Widespread ICC profile support for eco-friendly papers and fabrics
‐ Secure, no mess 220cc or 440cc ink cartridges
‐ Roland reliability and world-class service and support
VersaWorks® Professional RIP Software Included
Built on the latest Adobe PostScript Engine, Roland VersaWorks professional RIP software supports Roland Intelligent Pass Control technology for flawless image quality at the highest print speeds. Among its many features, VersaWorks includes the Roland Color System for precision spot color matching and offers advanced cropping, tiling and nesting options. VersaWorks also includes Variable Data Printing, the Max Impact™ Preset for richer color contrast, embedded ICC profile support, ink level adjustment tools and software proofing capabilities. VersaWorks supports Windows 2000/XP and Vista and works seamlessly with popular design software including Adobe Illustrator, Photoshop, InDesign and CorelDRAW. VersaWorks allows control of up to four Roland printers from one personal computer. The Roland@NET auto update feature ensures ongoing access to the latest VersaWorks version and profiles available.
Roland DG Corporation (TSE symbol 6789) - First Section, Tokyo Stock Exchange
Phone: +81 (0)53-484-1201 / Fax: +81 (0)53-484-1216