Product News
04/06/2009
Roland DG Corporation
Roland Announces New AdvancedJET i Series Grand-Format Printers Featuring Roland Intelligent Pass Control and EcoXtreme i Ink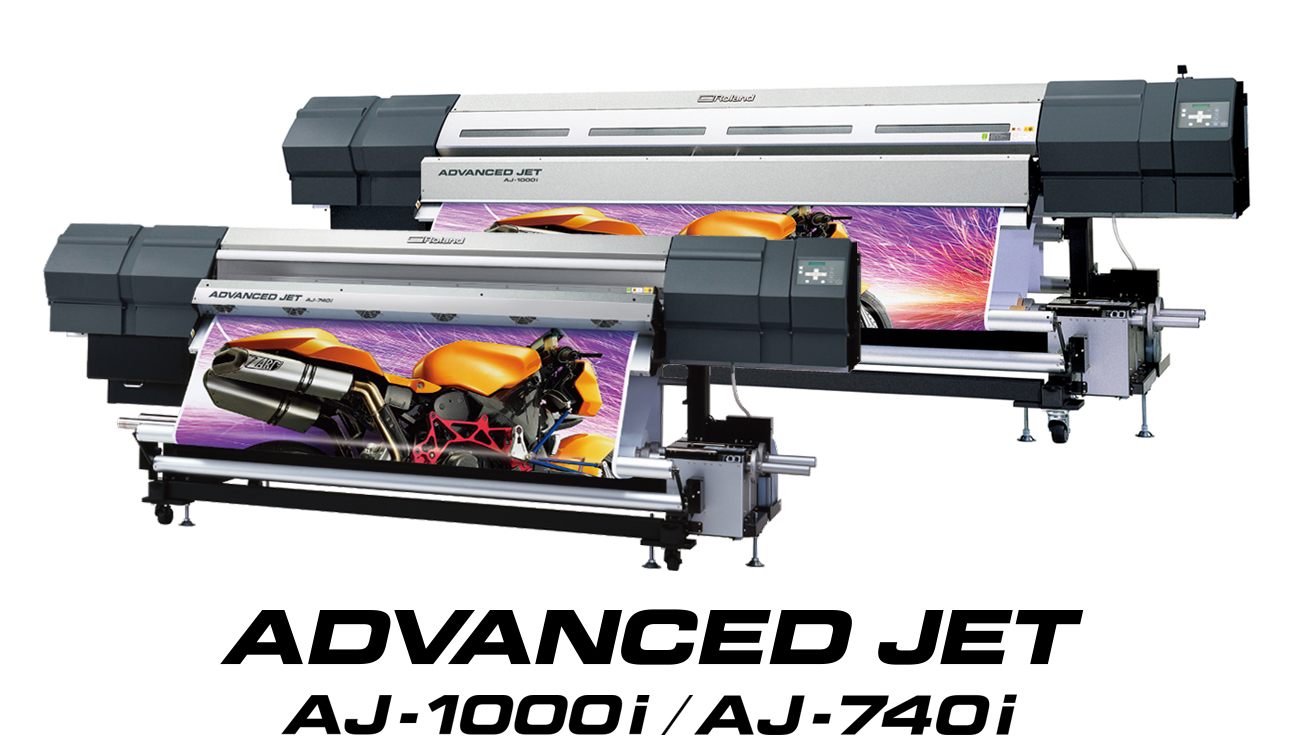 Hamamatsu, Japan, April 6, 2009 – Roland DG Corporation, a leading worldwide provider of professional inkjet printers and printer/cutters, today announced the new AdvancedJET i series of grand-format inkjet printers including the 2641mm (104") AJ-1000i and 1910mm (74") AJ-740i. The new AdvancedJET i series features revolutionary Roland Intelligent Pass Control technology which optimizes image quality and productivity. New EcoXtreme i ink is formulated to dramatically reduce odor for a comfortable work environment while providing brilliant color and durability.
The addition of Roland Intelligent Pass Control allows the AdvancedJET i series to produce sharp, vivid and solid images for indoor and outdoor graphics with smoother gradations and virtually no banding. With Roland Intelligent Pass Control, the AdvancedJET i series is also up to 25%* more productive for banner printing in standard print mode. For example, the AdvancedJET i can print five rolls of banner measuring 2.5m (8.2') wide by 50m (164') long in standard print mode (bi-direction) in the time it took the previous model to print just four rolls.
*Increased to 20 m2/hr (215.31sqft/hr) from 16 m2/hr (172.25 sqft/hr) for uni-direction, and to 30 m2/hr (322.97 sqft/hr) from 24 m2/hr (258.37 sqft/hr) for bi-direction.
Roland Intelligent Pass Control enhances the richness of colors for images that are clear and sharp when viewed at a distance for applications such as billboards. New print modes enable more customized results including the high-precision 16-pass print mode for beautiful PVC banners.
For added flexibility, feed calibration can be adjusted at any time during the printing process, a feature that can reduce media waste. Newly introduced protection plates prevent damage to AdvancedJET print heads.
EcoXtreme i Ink Reduces Odor While Offering Outstanding Color Density and a Wide Gamut
Developed exclusively for the AdvancedJET i series, Roland's new EcoXtreme i ink provides outstanding color density, wide gamut and rugged durability of up to three years outdoors while dramatically reducing odor. The AdvancedJET i series also supports EcoXtreme LT ink for more cost-effective, short-term applications. EcoXtreme inks offer exceptional bonding with uncoated banner substrates and tarpaulin, as well as enhanced scratch and alcohol resistance for outstanding outdoor durability.
New AdvancedJET AJ-1000i/AJ-740i Features:
- Revolutionary Roland Intelligent Pass Control for professional print quality and productivity
-Produces sharp, vivid and solid images flawlessly for fleet graphics, billboards and banners
-Based on Roland's exclusive interpolation algorithm
-Gives graphics more dimension
-Up to 25%* more productive for faster banner printing in standard mode
- New high quality 16-pass mode for beautiful PVC banners
- New aluminum media feed rollers increase stability and enhance print quality
- Feed calibration can be adjusted at any time during printing to reduce media waste
- New protection plates prevent print head damage
- Center alignment mark and DVD guide to media setting assist users and ensure quality printing
- New EcoXtreme i ink offers outstanding color density and a wide gamut while dramatically reducing odor for a comfortable work environment
- Feature-rich Roland VersaWorks RIP software included
Powerful Roland VersaWorks 3.1 RIP Software Included
The AdvancedJET i Series comes complete with VersaWorks, Roland's own advanced RIP software for signmaking professionals. Feature-rich VersaWorks includes the Roland Color System which enables users to accurately reproduce spot colors using Roland Color charts and swatch books. VersaWorks also includes a wide variety of convenient layout, edit and print functions, and allows users to import files from popular design programs and preview jobs on screen. Users can update VersaWorks software automatically through the Internet. VersaWorks is based on the genuine Adobe CPSI3018 PostScript engine and supports Windows XP Professional, Windows 2000 Service Pack 4, and later versions of the Windows operating system.
Roland DG Corporation (TSE symbol 6789) - First Section, Tokyo Stock Exchange
Phone: +81 (0)53-484-1201 / Fax: +81 (0)53-484-1216