Product News
09/01/2009
Roland DG Corporation
New Aqueous Ink for Roland Inkjet Printers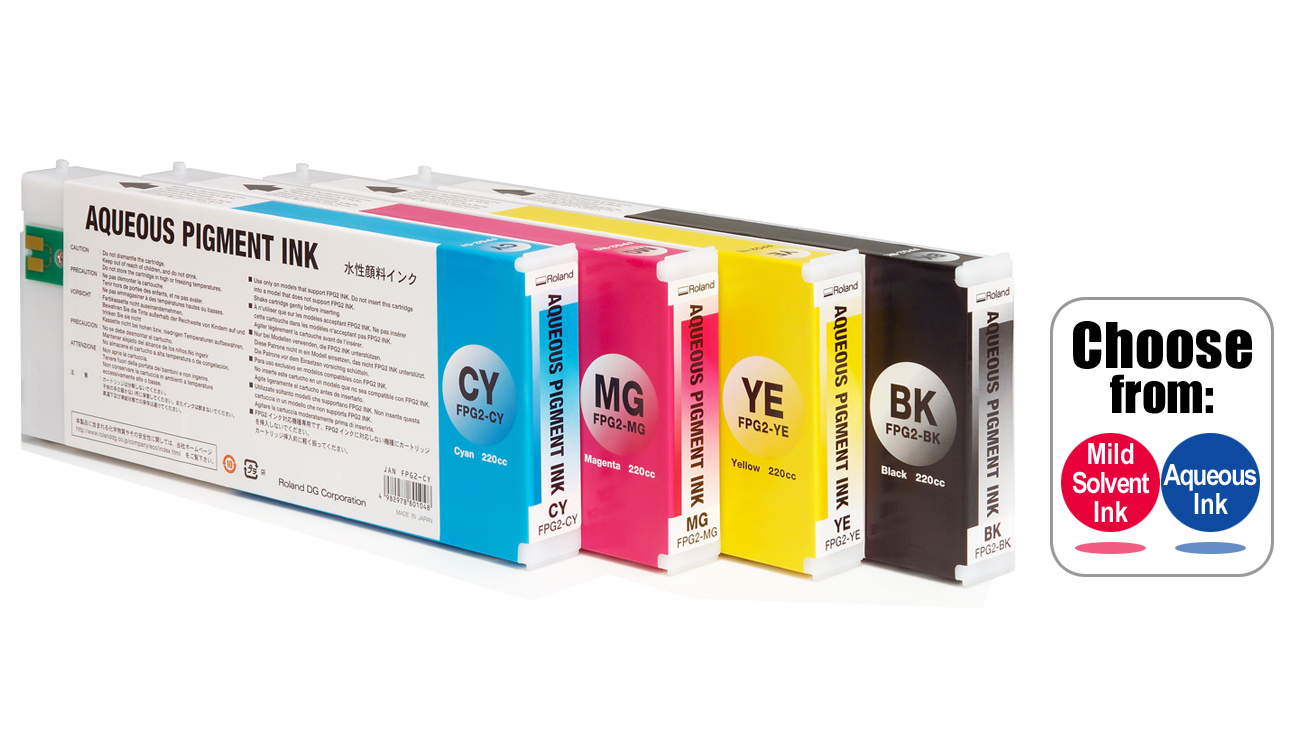 Hamamatsu, Japan, September 1, 2009 – Roland DG Corporation, a leading worldwide provider of wide-format inkjet printers and Print&Cut devices for professional and general office use, today announced new FPG2 aqueous inks available in four colors (CMYK) for its VersaArt RS series of 64" and 54" inkjet printers and VersaCAMM VP-i series of 54" and 30" inkjet printer/cutters. Users of these products can select from new FPG2 aqueous inks or award-winning ECO-SOL MAX eco-solvent inks to suit their business demands.
"The new FPG2 aqueous inks print on a wider variety of media for brilliant colors and sharp crisp images," said Yohei Shinomura, Roland DG color product manager. "For short-term applications, users can print graphics on inexpensive paper media to lower their production costs. FPG2 aqueous inks are also ideal for environmentally-conscious users and indoor applications. For durable outdoor graphics, we recommend ECO-SOL MAX ink."
New Roland FPG2 Aqueous Ink Features:
- High-density pigment produces brilliant colors on a wide range of media
- Wide color gamut, especially in red and green tones, for vivid color reproduction
- Ideal for short-term indoor applications
- Lower production costs
- Environmentally-friendly solution
- ICC media profiles for 3rd party media available online at http://download.rolanddg.jp/en/download.html
- FPG2 inks in 4 colors (CMYK) are available for the VersaArt RS-640/540 inkjet printers and VersaCAMM VP-540i/300i inkjet printer/cutters*
*Ink type (either FPG2 or ECO-SOL MAX) must be selected at the time of purchase.
Roland VersaArt RS-640/540
VersaArt inkjet printers are flexible production tools for a wide range of applications from precision design comps and posters to large, durable outdoor signs and banners. VersaArt also supports environmentally-friendly paper and fabrics for profitable specialty applications. Featuring Roland Intelligent Pass Control® technology, VersaArt delivers vivid colors and unmatched image quality at print speeds of up to 21.4m2/hr (230.3 sqft/hr.). The VersaArt series is Energy Star certified and carries Roland's Eco-Label.
Roland VersaCAMM VP-540i/300i
The VersaCAMM VP-i series features Roland's integrated printing and digital die-cutting technology, making it a complete production solution for professional-quality decals, labels, stickers, posters, POP displays, vehicle wraps, heat transfers for apparel and more. VersaCAMM VP-i printer/cutters create graphics of any size and shape on demand for both indoor and durable outdoor display. They also offer uncompromising image quality, accelerated print speeds and optimum ease of use, allowing both professionals and entry level users to produce high quality promotional materials.
Roland DG Corporation (TSE symbol 6789) - First Section, Tokyo Stock Exchange
Phone: +81 (0)53-484-1201 / Fax: +81 (0)53-484-1216