Product News
09/01/2009
Roland DG Corporation
Roland Announces New VersaCAMM SP-i Series of Inkjet Print&Cut Devices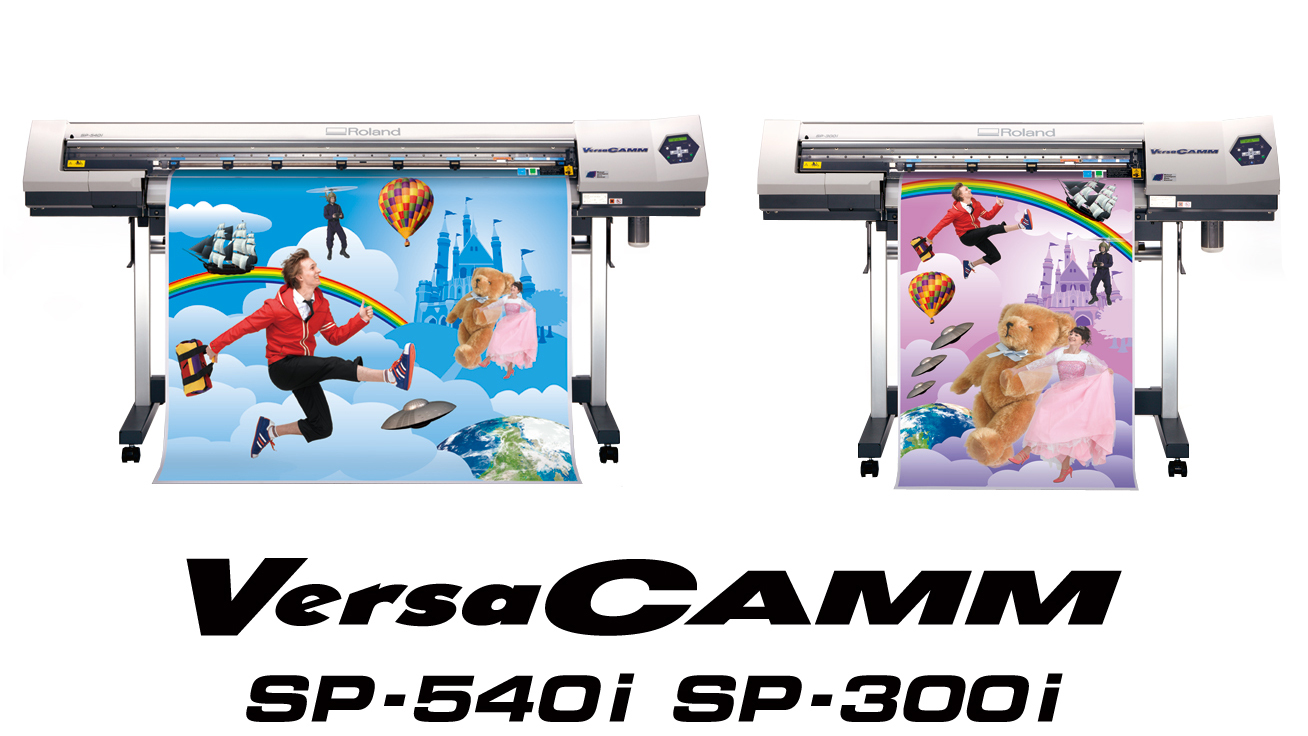 Hamamatsu, Japan, September 1, 2009 – Roland DG Corporation, a leading worldwide provider of wide-format inkjet printers and Print&Cut devices for professional and general office use, today announced the new VersaCAMM SP-i series printer/cutters delivering reliable performance and unmatched print quality for a low initial investment.
With the addition of new SP-i models, the VersaCAMM series now includes four print/cut models: the high performance 54" VP-540i and 30" VP-300i, and the more affordable 54" SP-540i and 30" SP-300i.
"We remain committed to providing our customers with a wide selection of inkjets to support their business demands in this challenging economic environment," said Yohei Shinomura, Roland DG color product manager. "The new SP-540i and SP-300i are our most powerful entry-level printer/cutters to date thanks to the addition of innovative Roland Intelligent Pass Control technology. This revolutionary upgrade ensures superior image quality and 1.5 times the productivity of the previous SP models in Standard print mode. Easy-to-use Roland VersaWorks 3.2 operation software is included as well, making the SP-i a complete digital printing solution."
New Roland VersaCAMM SP-540i and SP-300i Features:
- Complete production solution for professional-quality signs, banners, decals, labels, stickers, posters, POP displays, vehicle wraps, heat transfers for apparel and more
- Low initial investment
- Innovative Roland Intelligent Pass Control technology for professional print quality with smoother gradations and flawless solid colors
- Increased throughput – up to 50 percent faster than the previous models in Standard print mode on vinyl and banner media
- Integrated Print&Cut technology creates labels, decals and other graphics of any size and shape, on demand and without dies
- Roland ECO-SOL MAX ink
-Produces brilliant colors for both indoor and durable outdoor display
-Virtually odor free and packaged in easy-handling sealed cartridges
- Supports a wide variety of media including adhesive-back vinyl, banner, paper, film, tarpaulin and heat transfer paper
- Cost effective for short production runs
- Intuitive Roland VersaWorks operation software included
- Handles media rolls up to 30kg (66 lbs.) for the SP-540i and 20kg (44 lbs.) for the SP-300i
- As easy to operate as any other office equipment
- Legendary Roland reliability and world-class service and support including workshops and seminars through Roland DG training academies
- Roland Eco Label and Energy Star Program certified
- Available in 54"-wide and 30"-wide models
Roland VersaWorks Operation Software, Designed Exclusively for the Company's Inkjet Devices
Every SP-540i and SP-300i comes complete with VersaWorks 3.2, Roland's own easy-to-use RIP software for professional print quality. VersaWorks includes advanced features such as the Roland Color System which enables users to accurately reproduce spot colors using Roland Color charts and swatch books. Variable Data Printing makes it easy to create a series of individualized prints based on one template, with each print featuring its own photos, messages, numbers and names. In addition, VersaWorks estimates the ink usage and print time for each graphic so users can accurately monitor their time and costs. Users can also update VersaWorks software automatically through the Internet. Based on the genuine Adobe CPSI3018 PostScript engine, VersaWorks is designed for speedy performance and compatibility. VersaWorks supports Windows XP Professional, Windows 2000 Service Pack 4 and later versions of the Windows operating system.
Roland DG Corporation (TSE symbol 6789) - First Section, Tokyo Stock Exchange
Phone: +81 (0)53-484-1201 / Fax: +81 (0)53-484-1216