Product News
10/26/2009
Roland DG Corporation
Introducing World's First Inkjet Printer/Cutter for Metallic Silver Ink
New Metallic Silver ECO-SOL MAX Ink Named 2009 DPI Product of the Year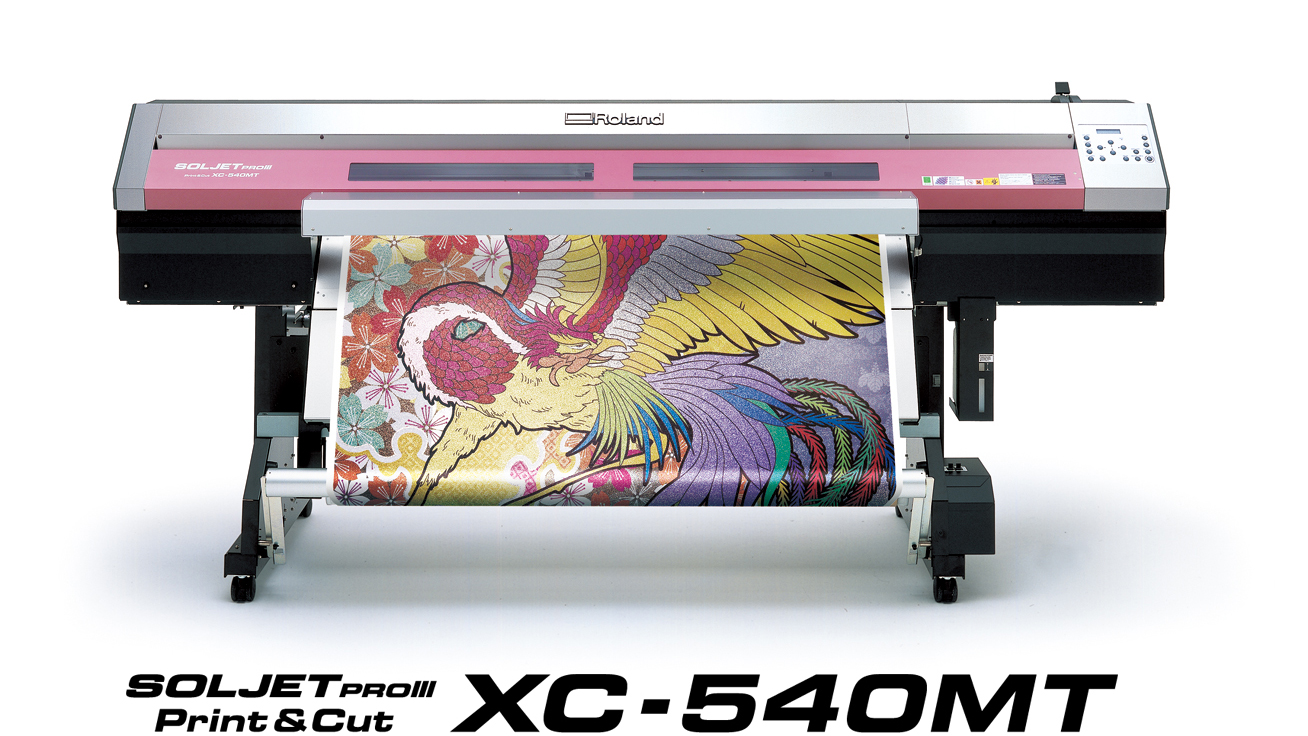 Hamamatsu, Japan, October 26, 2009 – Roland DG Corporation today announced the new SOLJET PRO III XC-540MT 54" inkjet printer/cutter featuring revolutionary new Metallic Silver ECO-SOL MAX ink (ESL3-MT).
As the world's first inkjet printer/cutter developed exclusively for metallic silver ink, the XC-540MT features six colors, CMYK+Metallic Silver+White (CMYK+MT+W). Compatible with vinyl, PET film, canvas, paper, transparent film and banner, the new metallic silver ink can be printed on demand as a spot color or combined with the XC-540MT's CMYK + W inks to produce a range of colored metallic effects including gold, silver and pearlescent colors. A double white ink model (CMYK+WW) is also available for the brightest white text, graphics and floods.
"In the past, gold and silver effects could only be produced using more complex printing systems such offset and flexo presses, screen printing equipment or by foil stamping," said Yuko Seki, Roland DG color product manager. "Each of these technologies requires plate processing, making it difficult and costly to produce metallic graphics in small quantities. The new XC-540MT has transformed this process. For the first time, professionals can take full advantage of Roland's advanced inkjet technology to produce brilliant metallic graphics on demand – easily, profitably, and in any quantity."
The XC-540MT is engineered for a wide range of applications including vehicle wraps, T-shirt heat transfers, labels, decals, POP displays, banners and signs. It achieves a maximum print speed of 441 sqft./hr. and image quality up to 1440x1440 dpi resolution in CMYK mode. As an integrated printer/cutter, the XC-540MT prints and then automatically contour cuts images without any steps in between. As a result, the XC-540MT can be operated unattended and achieves lower operating costs and faster production times than competing inkjets. It is ideally suited for producing short-run labels with spot colors.
To meet the demands of production shops, the XC-540MT features a heavy-duty media handling system, automated maintenance, the DU-540 dryer/blower unit and Roland's most advanced inkjet technology, Roland Intelligent Pass Control. ECO-SOL MAX inks offer dense, rich colors, superior scratch resistance, fast drying time, wide gamut, uncoated media support and outdoor durability of up to three years for CMYK, one year for White, and one to three years for the new Metallic Silver ink. DPI award-winning Metallic Silver ECO-SOL MAX ink produces thousands of metallic colors for premium quality graphics.
Roland SOLJET PRO III XC-540MT Features:
- 54" inkjet printer/cutter available in two ink configurations
- CMYK + Metallic Silver + White for the widest range of applications
- CMYK + White + White for the brightest white text, graphics and floods*1
- New Metallic Silver ECO-SOL MAX ink
- Prints as a spot color
- Combines with CMYK for a spectrum of new metallic hues including gold, bronzes and a wide range of pearlescent colors.*2 *3
- Roland's unique Advanced Ink Circulation System
- Prevents the pigment in metallic silver and white inks from settling
- Requires no manual intervention
- Reduces ink waste by up to 84% for lower running costs *4
- Roland Intelligent Pass Control® assures the highest productivity while maintaining smooth gradations and flawless solid colors
- Integrated print/cut technology quickly and easily prints and digitally die cuts finished graphics into virtually any shape, on demand
*1 Ink configuration (either Metallic Silver + White or Double White) must be selected upon purchase.
*2 The glossiness of metallic colors depends on the media used. For best results, test print on each substrate before production.
*3 Lamination is strongly recommended for indoor and outdoor graphics to protect metallic inks from scratching.
*4 Results are based on Roland DG's comparison test between XC-540MT models with and without the ink circulation system.
VersaWorks® Professional Color Management RIP Software Included
The XC-540MT includes VersaWorks 3.3, the latest version of Roland's color management RIP software. VersaWorks supports the Roland Color system which accurately reproduces spot colors from color charts and swatch books. A new Roland Metallic Color library in VersaWorks features 12 metallic colors that print using CMYK+MT in a single pass. This palette includes silver, gold, bronze and nine other metallic colors. Users can also easily create and save their own custom metallic spot colors in VersaWorks. VersaWorks offers a wide range of print options including high-speed mode for production banner printing, the MAX Impact preset for vivid outdoor graphics and Artistic mode for exceptional indoor graphics to be viewed up close. In addition, VersaWorks automatically estimates the ink usage and print time for each graphic to accurately monitor time and costs. VersaWorks supports Windows Vista® and 2000/XP.
Roland DG Corporation (TSE symbol 6789) - First Section, Tokyo Stock Exchange
Phone: +81 (0)53-484-1201 / Fax: +81 (0)53-484-1216