Product News
06/18/2010
Roland DG Corporation
Roland's Introduces CAMM-1 PRO GX-640 64" Grand Format Vinyl Cutter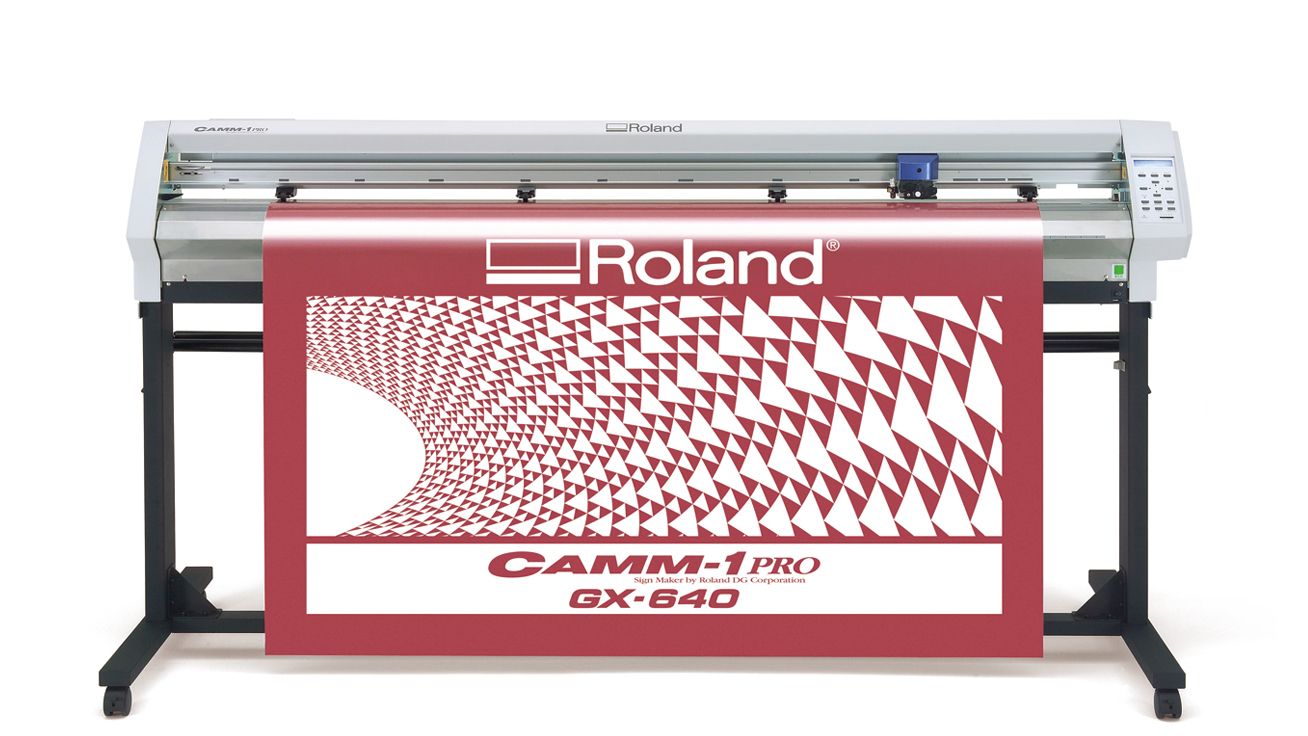 Hamamatsu, Japan, June 18, 2010 – Roland DG Corporation, the world's leading manufacturer of wide-format inkjet printers, printer/cutters and vinyl cutters, has introduced the CAMM-1 PRO Series GX-640 64" vinyl cutter.
Building on 23 years of advanced CAMM-1 technology, the GX-640 is Roland's largest and most advanced cutter ever, setting a new standard for performance and precision across media ranging from vinyl and polyester to Mylar, polyurethane, sand blast, twill and flock. The GX-640 outperforms other cutters on the market today with a new generation of servo motor technology, superior media handling, and powerful integrated design and output software for both stand-alone cutting and print-then-cut workflows. The GX-640 joins Roland's CAMM-1 PRO cutter line which also includes 50," 40" and 30" models.
"Within the automotive restyling industry, the CAMM-1 PRO is widely recognized as the leading cutter line for personalizing cars, trucks, boats, trailers, RVs and motorcycles with logos, decals, pinstripes and other graphics," said Midori Sugiyama, Roland DG cutting product manager. "At 64" wide, the GX-640 also cuts window tint and paint protection film in virtually any size and shape. New powerful servo motors and a "heavy mode" setting guarantee results on the largest, heaviest media rolls, including paint mask."
As a CAMM-1 PRO cutter, the GX-640 offers full integration with VersaWorks RIP software, included with every Roland wide-format inkjet printer. As a result, the GX-640 can be paired with a Roland printer to produce custom t-shirt heat transfers, full-color POP displays, signs, vehicle wraps, labels and decals. The GX-640 features Roland's optical registration system, Quadralign®, which reads crop marks on pre-printed data and accurately aligns the graphic. This allows the GX-640 to automatically contour cut pre-printed designs with precision.
Roland CAMM-1 PRO GX-640 Features:
‐ Supports 64"-wide media, large enough for virtually any vehicle wrap, window tint or paint protection job
‐ Powerful new servo motor technology and a "heavy mode" handle large, heavy media rolls, including sand blast materials
‐ New "pre-feed" function ensures proper feeding of heavy media by automatically drawing one meter of media through the device before cutting
‐ High-performance cutting speed and blade force for precision handling of a wide range of media, including long rolls of thick and thin materials.
‐ Full integration with VersaWorks, Roland's easy-to-use RIP software, for pairing with our inkjet printers
‐ Cutting data for pre-printed graphics is output from VersaWorks directly to the GX-640
‐ The GX-640 recognizes printed crop marks, making it fast and easy to contour cut full-color graphics
‐ Includes CutStudio, Roland's feature-rich design software
Roland CutStudio Software
CAMM-1 PRO cutters come with the latest version of CutStudio, Roland's powerful, easy-to-use design software. With CutStudio, users can draw or edit circles and curves, add text along an arc, and import photos and graphics in jpg or bmp. In addition, CutStudio allows users to combine rectangles, circles, polygons, lines and curves for more sophisticated graphics. CutStudio is compatible with Windows 7/VISTA/XP and includes plug-in software for Adobe® Illustrator® CS2/CS3/CS4, CorelDRAW® X3/X4/X5 for Windows, and Adobe® Illustrator® CS2/CS3/CS4 for Mac. As a result, users of these programs can send data directly to the CAMM-1 PRO.
Roland DG Corporation (TSE symbol 6789) - First Section, Tokyo Stock Exchange
Phone: +81 (0)53-484-1201 / Fax: +81 (0)53-484-1216