Product News
06/21/2010
Roland DG Corporation
Roland Introduces the DWX-30 Dental Milling Machine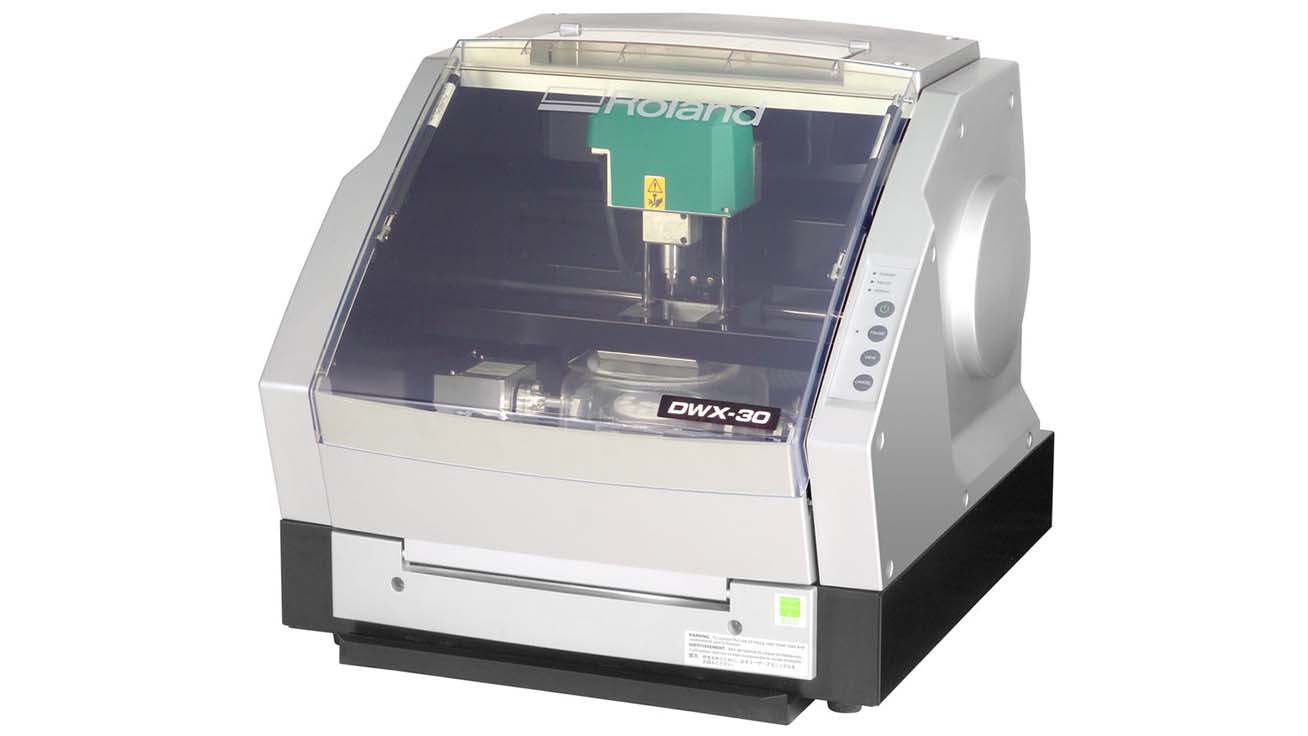 Hamamatsu, Japan, June 21, 2010 – Roland DG Corporation, a leading worldwide provider of 3D engraving and milling technologies, today announced the new DWX-30 dental milling machine, a highly efficient, precision production tool for creating copings and crowns from zirconia.
Dental crowns and bridges are typically produced by dental labs. Cosmetic dentistry standards require crowns to closely match the natural tooth. Zirconia (zirconium dioxide, ZrO2) is a ceramic material with excellent durability and biocompatibility. Widely used for dental prostheses because of its translucent, white appearance, it must be milled to achieve its final form.
"Because of the price and performance characteristics of zirconia, it is rapidly becoming the new standard for copings and crowns," said Yuki Shimizu, Roland DG product manager. "Previously, only large-scale labs could afford the facility and equipment required to mill zirconia. Now, labs everywhere can rely on the DWX-30 to mill attractive zirconia copings and crowns at an affordable cost."
Currently, most dental milling systems require a costly investment and dedicated production room. Roland's new DWX-30 eliminates these issues by providing a cost-effective, compact and easy-to-use solution that can be implemented in most dental office environments. The DWX-30 is an open platform supporting dental CAD/CAM software.
The product of extensive research within the dental community, the DWX-30 reflects the input of artisans and dentists worldwide and is available from dental industry distributors authorized by Roland DG. Roland is currently establishing partnerships with system integrators as well to create a complete production solution including the mill, scanner and software.
Roland DWX-30 Features:
‐ 4-axis control (XYZ axes and rotary axis (A axis))
‐ Allows materials to be tilted ±20 degrees
‐ Produces high-quality copings, crowns and bridges
‐ Three types of clamps are included, one for disks and two for blocks, making it easy to securely hold a wide variety of material
‐ Clear dust collection capsule captures all milling materials for a clean environment free of dust particles
‐ Tool sensor automates machine and tool set up for significant time savings
‐ Desktop device compact enough for small office spaces and easy to relocate to accommodate new office layouts
Roland DG Corporation (TSE symbol 6789) - First Section, Tokyo Stock Exchange
Phone: +81 (0)53-484-1201 / Fax: +81 (0)53-484-1216