Product News
09/01/2010
Roland DG Corporation
Roland Expands VersaCAMM VS Line of Wide-Format Metallic Inkjet Printer/Cutters
Three New Models Add Stunning Metallic Effects to Signs, Banners, Vehicle Wraps, Posters, Labels, POP and Decorated Apparel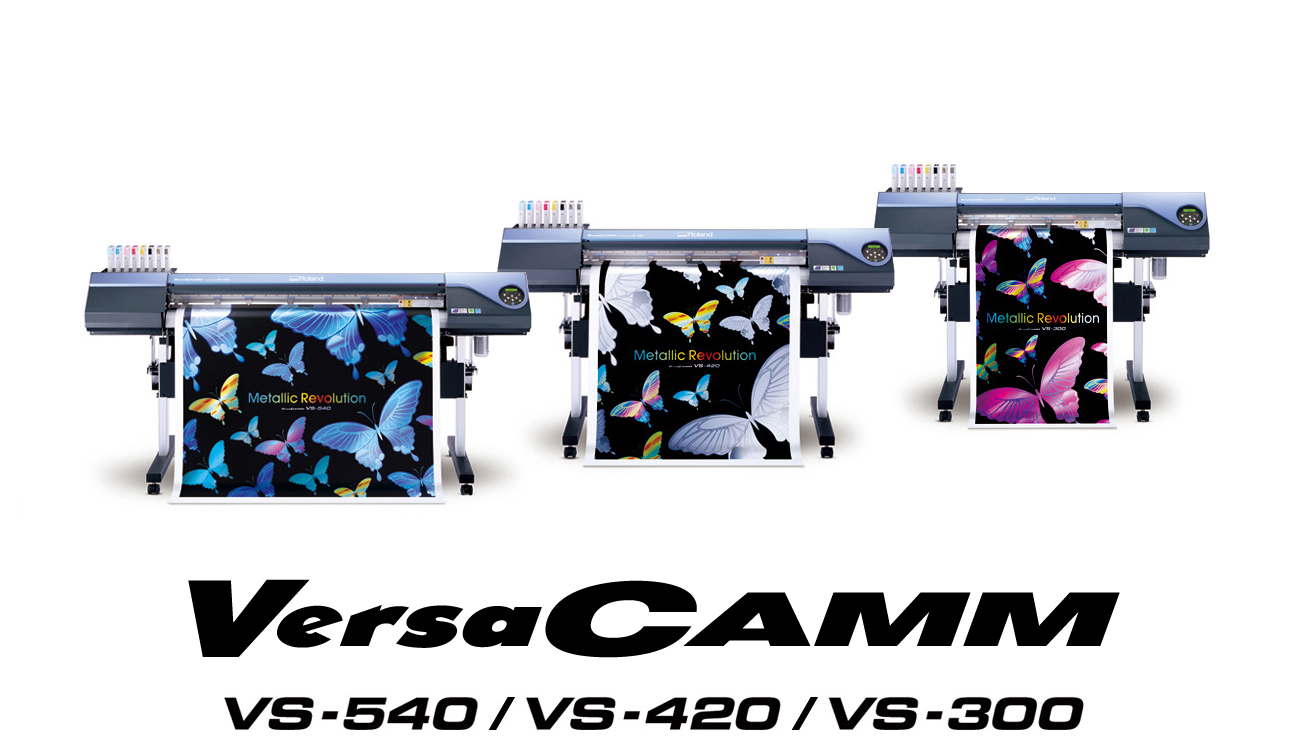 Hamamatsu, Japan, September 1, 2010 – Roland DG Corporation, a leading worldwide provider of wide-format inkjet printers and printer/cutters, has introduced three new VersaCAMM VS wide-format metallic inkjet printer/cutters: the 54" VS-540, 42" VS-420 and 30" VS-300.
New VS models join Roland's original 64" VS-640, introduced in March 2010 for the sign and display market. Featuring ECO-SOL MAX CMYK, White, and Metallic Silver ink which won DPI award, VersaCAMM VS wide-format inkjet printer/cutters create premium metallic graphics on demand. Metallic Silver ink produces a whole new metallic color palette previously only available through screen printing, offset printing and hot stamping. ECO-SOL MAX achieves outstanding outdoor durability on coated and uncoated media for a broad range of applications.
"Metallic colors add sophistication to virtually any graphic and now professionals can choose from four VersaCAMM VS sizes and price points to meet their business demands," said Yuko Seki, Roland DG color product manager. "The 54" model is ideal for signs, banners, vehicle wraps and window graphics while the 42" VS excels at printing A0 and B0 size posters typically produced with water-based inks. The compact 30" model is a great production tool for stickers, decals and apparel heat transfers. The VersaCAMM VS is also well suited for custom graphics, a growing market, allowing users to personalize items with the style and brilliance of metallic and pearlescent effects."
Featuring Roland Print&Cut technology, the VersaCAMM VS series prints and then automatically contour cuts images without any steps in between for maximum efficiency. The VS series delivers a wide process color gamut as well as high-density Metallic and White inks, perfect for flexography, offset and gravure printing comps. Gold, silver and metallic spot colors can be reproduced on demand and at a tremendous cost savings to printing industry professionals.
New VersaCAMM VS features include the "Roland Metallic Texture System Library" which allows users to create even richer effects by selecting metallic patterns and textures with a click of the mouse. This feature is part of Roland VersaWorks RIP software, included with every VersaCAMM VS.
Roland VersaCAMM VS Series Features:
‐ Eight-color wide-format inkjet printer/cutters
‐ Offered in a choice of four cost-effective models
‐The original 64" VS-640 plus new 54," 42" and 30" models
‐ Metallic Silver and White inks open up a new world of creative options
‐ ECO-SOL Max Metallic Silver ink combines with process colors to print luxurious metallic effects
‐ Roland Metallic System Library, included in VersaWorks, features 512 metallic spot colors which are easy to apply to graphics
‐ Three ink configurations available*1
‐ CMYK, Lc, Lm, Metallic Silver and White
‐ CMYK, Lc and Lm
‐ Double CMYK
‐ New features that enhance metallic effects
‐ Roland Metallic Texture System Library allows users to easily add patterns and textures to metallic colors for dramatic lighting and shadow effects
‐ Two print modes for varying styles
‐ Blend print mode prints CMYKLcLm and Metallic Silver ink together for more natural metallic colors
‐ Layered print mode prints Metallic Silver first, then CMYKLcLm with one pass, adding richness to metallic effects
‐ Roland's integrated Print&Cut technology quickly and easily prints and die cuts finished graphics into virtually any shape, on demand
‐ A built-in 2-stage integrated heater system precisely controls the proper amount of heat for each application, yielding outstanding results on both uncoated and coated media
‐ Roland's Advanced Ink Circulation System prevents the pigment in metallic and white inks from settling for exceptional long-term image quality
‐ New print head design
‐ Droplets are fired in seven different sizes with unmatched precision for exceptional print quality and reliability
‐ New variable droplet technology automatically positions droplets to ensure beautifully smooth gradations when prints are viewed up close
‐ Roland OnSupport allows remote monitoring of production activities
Remote Production Management with "Roland OnSupport" Messaging System
Roland OnSupport is an online support software allowing users to remotely track the status of VersaCAMM VS series activities. The system sends e-mail messages directly to a PC or mobile phone notifying users of important information such as when a job is completed or when ink is running low. With Roland OnSupport, users are free to leave their printer unattended, knowing that critical production information will be sent to them in real time. The system also distributes valuable information such as how to create data using metallic colors and other tips to further enhance metallic color production.
*1 Ink configuration (either CMYKLcLm+Metallic Silver+White, CMYKLcLm, or Double CMYK) must be selected at the time of purchase.
Roland DG Corporation (TSE symbol 6789) - First Section, Tokyo Stock Exchange
Phone: +81 (0)53-484-1201 / Fax: +81 (0)53-484-1216