Product News
05/24/2011
Roland DG Corporation
Roland Introduces World's First Metallic Desktop Printer/Cutter
VersaSTUDIO BN-20 20-Inch Eco-Solvent Inkjet Device Prints and Cuts Full-Color Graphics with Stunning Metallic Effects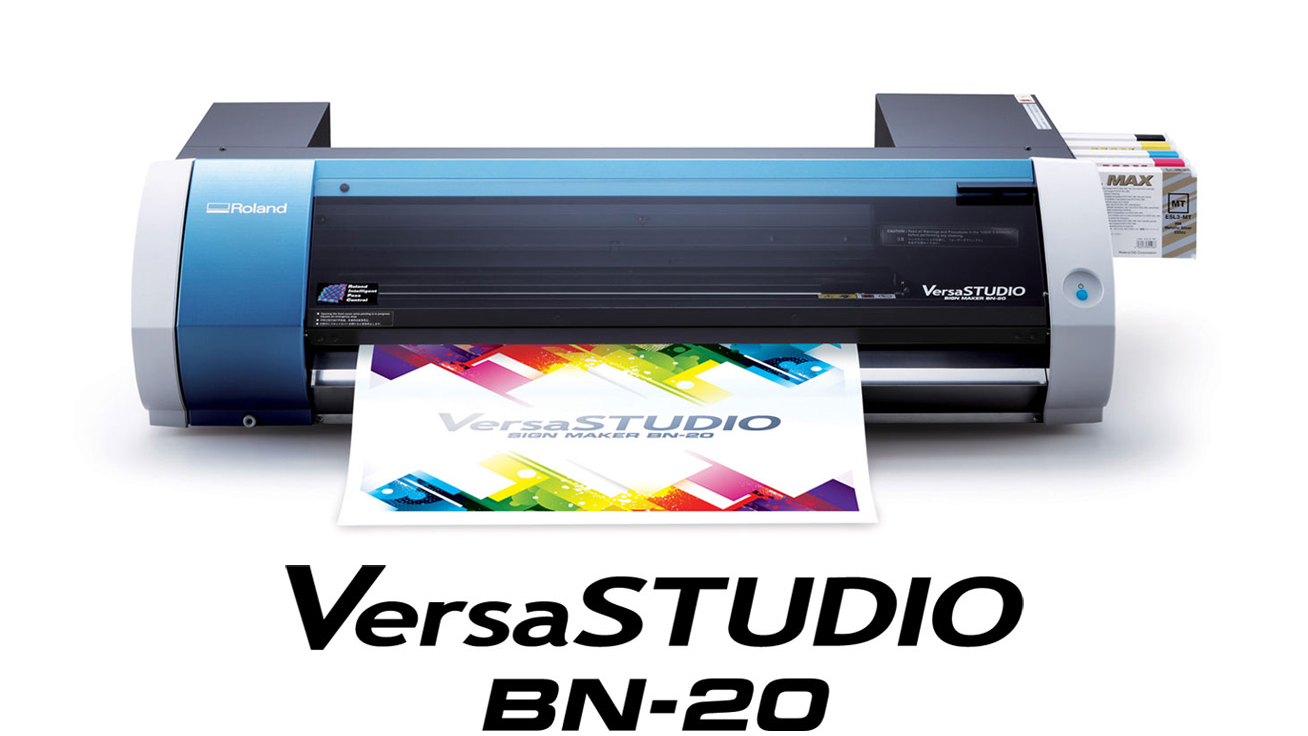 Hamamatsu, Japan, May 24, 2011 – Roland DG Corporation, a leading worldwide provider of wide-format inkjet printers and integrated printer/cutters, has introduced the VersaSTUDIO BN-20 20-inch metallic desktop eco-solvent printer/cutter. A complete solution, including VersaWorks® RIP software, the new BN-20 combines all the versatility and advanced features of Roland's latest inkjet printing technologies into a compact, affordable device designed for both experienced professionals and those just getting started in the digital printing business.
"We developed the BN-20 exclusively for small-lot production of custom-designed graphics," said Yohei Shinomura, Roland color inkjets product manager. "The BN-20 sits right on the desktop, allowing professionals to quickly and easily produce a wide range of full-color prints with metallic effects, on demand, for apparel heat transfers, labels, decals, POP, promotional signage and more. Integrated print/cut technology allows the BN-20 to contour cut graphics into virtually any shape without additional die cutting equipment."
(From left to right: Heat transfer for apparel, posters and labels and decals.)
The BN-20 is well suited for use in small or home offices, print shops or kiosks. It is designed for small-lot production on demand, and can serve as either a primary printer or secondary device to support a growing business.
With the BN-20, users get all the benefits of award-winning Roland Eco-SOL MAX ink, including exceptional image quality, fast dry times, three-year outdoor durability and support for both coated and uncoated media. The BN-20 prints up to 40 labels or decals, measuring 100 mm by 100 mm each, per hour. In addition to CMYK, the BN-20 can be configured with Metallic Silver Eco-SOL MAX ink for brilliant metallic effects previously only possible through specialized processes such as screen printing, offset printing or hot stamping technologies. With Metallic Silver Eco-SOL MAX, users can select any of the 512 spot colors offered in the Roland Metallic Color System Library that is part of VersaWorks® and print them with accuracy on the BN-20. A Metallic Texture System Library is also included in VersaWorks, making it easy to add patterns and textures to metallic effects.
Roland VersaSTUDIO BN-20 Features:
- Industry's first metallic desktop eco-solvent printer/cutter
- Prints apparel heat transfers, labels, decals, POP, posters and signs up to 20 inches wide
- Integrated Print&Cut technology prints and digitally die cuts graphics on one device
- Supports Roland Eco-SOL MAX CMYK and Metallic Silver inks for full-color graphics with metallic colors and effects
- Complete solution including VersaWorks professional print management software
- Roland Metallic Color System Library of 512 metallic spot colors included*1
- Roland Metallic Texture System Library included, allowing users to add dramatic lighting and shadow effects to metallic colors
- Easy-to-use Roland R-Works design software included
- Compatible with Windows® 7, Vista and XP, and supports popular design software including Adobe® and CorelDRAW®
- Choose from three ink configurations upon purchase
- Eco-SOL MAX eco-solvent ink in CMYK and Metallic Silver
- Eco-SOL MAX in CMYK
- FPG aqueous pigment ink in CMYK
*1 Available only when using Roland VersaWorks software
Roland VersaWorks® Professional Print Management Software
The BN-20 includes the latest version of Roland VersaWorks professional print management software, making it easy for users to achieve outstanding image quality from the very first print. VersaWorks features a variety of convenient layout functions, including scaling, cropping, rotating, tiling and more. Variable data printing allows users to produce a series of labels, name cards and serial number stickers in which text and graphics change from one print to the next. The Roland Color and Roland Metallic Color System Libraries support precise spot color matching by allowing users to print reference tools, including swatch books and color charts, and match colors accordingly. To accurately monitor production time and costs, VersaWorks estimates the ink usage and print time for each graphic. Users also get the Roland@NET auto update service free of charge, allowing them to receive automatic updates to VersaWorks whenever a new version becomes available.
Easy-to-Use Roland R-Works Design Software
From simple lettering to colorful graphics, R-Works allows users to immediately start designing graphics for the BN-20, whether or not they have experience with commercially available design software. With R-Works, users can draw and edit circles and curves, add text, and import both stock photos and images taken with a digital camera (jpg and bmp file formats supported). R-Works also supports 12 ready-to-use metallic colors, so users can add metallic effects to custom t-shirts, posters, labels and decals.
Roland DG Corporation (TSE symbol 6789) - First Section, Tokyo Stock Exchange
Phone: +81 (0)53-484-1201 / Fax: +81 (0)53-484-1216