Product News
02/14/2012
Roland DG Corporation
Roland DG Introduces the METAZA MPX-90M Direct Part Marking Device for the Medical Industry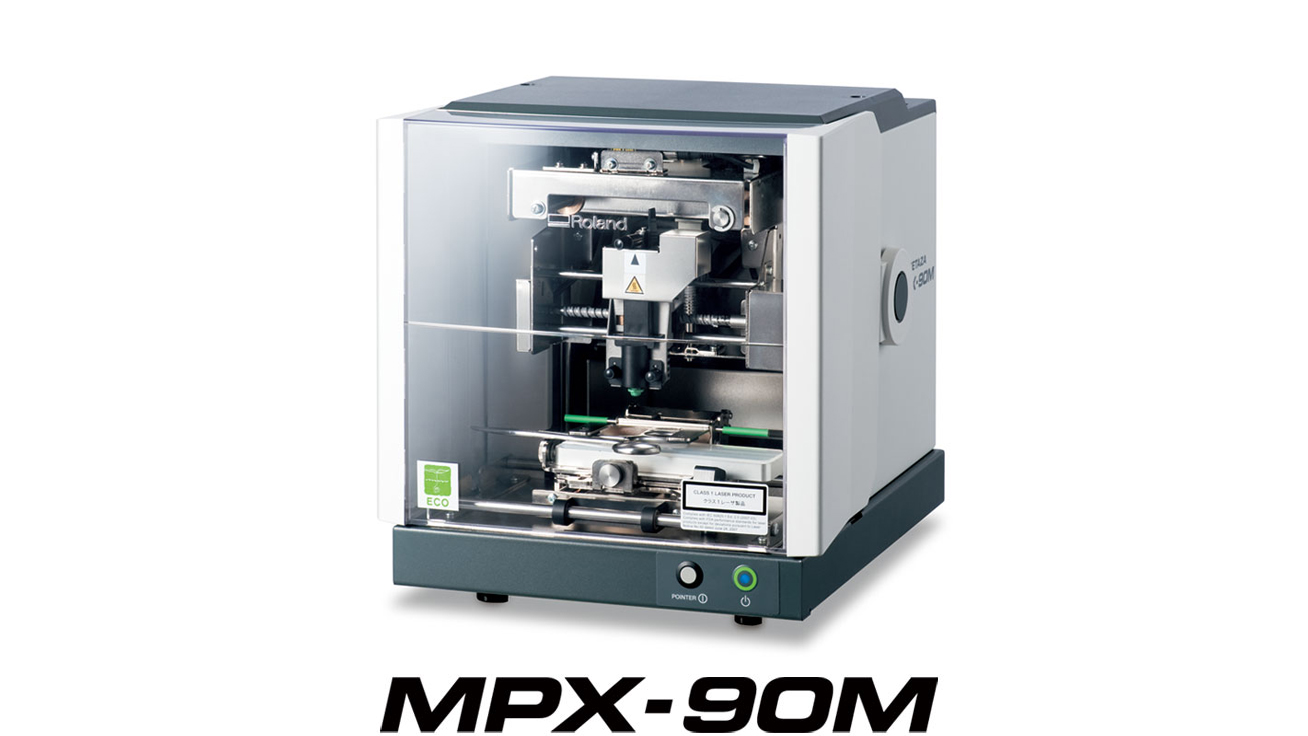 Hamamatsu, Japan, February 14, 2012 – Roland DG Corporation, a leading worldwide provider of 3D milling, engraving and direct part marking technologies, today introduced the new METAZA MPX-90M, a desktop impact printer designed to permanently mark UDI (Unique Device Identification) barcodes on medical instruments for tracking and traceability. Incorporating 30 years of Roland's proven technology, the MPX-90M quickly creates two-dimensional (2D) DataMatrix barcodes that meet GS1*1 standards, and imprints them on the surface of medical instruments with high speed and precision. MPX-90M barcodes can be read with commercially available barcode scanners*2 to trace and track the usage of medical instruments throughout their lifecycle.
"To protect the safety of patients, medical professionals need a reliable way to trace and track the usage of instruments such as scalpels, tweezers and forceps," said Y. Yazawa, Roland DG 3D product manager. "The new MPX-90M has been exclusively designed for this application, marking tools and devices with lasting barcodes, serial numbers and other information. Among the industry's most precise direct part marking tools, the MPX-90M creates 2D DataMatrix barcodes as small as one square millimeter."
The MPX-90M imprints data on a wide variety of materials*3 without generating any odor or debris. Because it does not burn or remove materials, marked surfaces remain protected from corrosion. With the MPX-90M, no special training is required. The included vise makes it easy to secure an item and a built-in laser pointer pinpoints the exact area to be marked. Its compact footprint and energy efficiency make the MPX-90M ideal for small office settings, as well as medical-instrument manufacturers and suppliers.
METAZA MPX-90M Features:
‐ Durable diamond-tipped stylus directly imprints on titanium, stainless steel and other hard metals*3
‐Quickly imprints 26 digits of information inside an area as small as one square millimeter
‐ Clean, high-speed precision marking does not burn or remove material on impact
‐Operation is free of odors and debris
‐Marked area will not rust
‐ Includes GS1 standard 2D DataMatrix barcode software
‐Imports CSV spreadsheet files for variable data printing which allows for serialization of barcodes
‐Imprints logos, text and graphics in jpg or bmp file formats to incorporate branding elements and other customized data
‐ Easy to setup and use with the included vise and built-in laser pointer and no special training or daily maintenance required
‐ Compact footprint and energy efficient design make it ideal for small office settings, as well as medical instrument manufacturers and suppliers
‐ The built-in laser pointer is safe to use, with a fully enclosed, class 1 laser
Included METAZAStudio Software Generates UDI Numbers
The MPX-90M comes with METAZAStudio software, which includes a 2D DataMatrix barcode feature. To create a unique barcode, simply select the barcode icon from the software's main screen and enter the appropriate UDI numbers. The software does the rest, creating a 2D DataMatrix barcode that can be output on the MPX-90M. METAZAStudio also imports CSV spreadsheet files for variable data printing to add 2D DataMatrix barcodes with a series of numbers and text. METAZAStudio also imprints logos and graphics in jpg, bmp or Adobe Illustrator 8 (ai/eps) file formats to incorporate branding elements.
*1 GS1 is an international not-for-profit association with member organizations in over 100 countries, dedicated to the design and implementation of global standards to improve the efficiency and visibility globally and across sectors.
*2 Computer and barcode scanner required for a complete UDI system.
*3 Vickers hardness (HV) of the surface to be imprinted must not exceed 200.
Roland DG Corporation (TSE symbol 6789) - First Section, Tokyo Stock Exchange
Phone: +81 (0)53-484-1201 / Fax: +81 (0)53-484-1216