Product News
11/02/2016
Roland DG Corporation
Roland DG Introduces METAZA MPX-95 Direct Part Marking Device and DPM Kit for Medical Instrument Traceability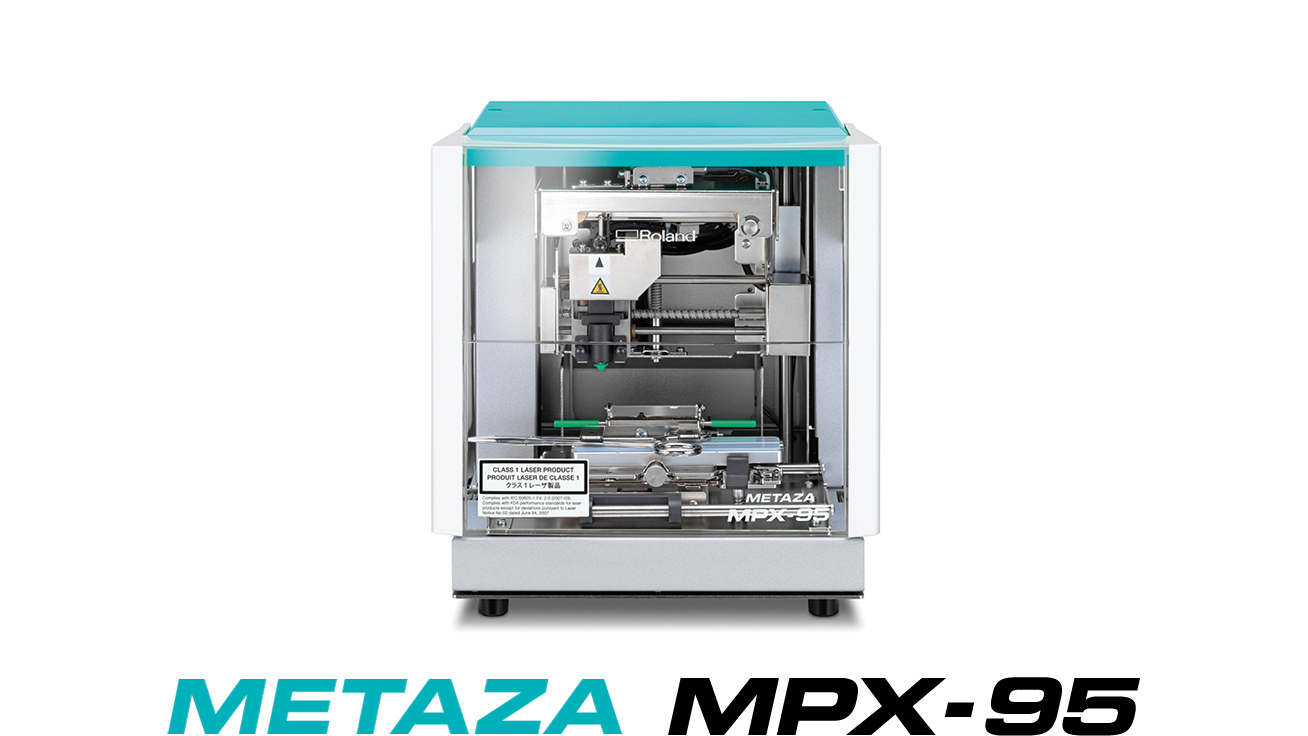 Hamamatsu, Japan, November 2, 2016 – Roland DG Corporation, a leading manufacturer of digital fabrication tools including 3D milling machines, 3D printers and engraving machines, today announced the launch of the UDI (Unique Device Identification) barcode impact printer, the METAZA MPX-95, and DPM Kit as an exclusive solution developed to support traceability of medical instruments.
The MPX-95 and DPM Kit were developed for permanently marking medical instruments such as scalpels and forceps. With its diamond stylus and powerful impact force, the MPX-95 can imprint on a wide variety of materials, including stainless steel, iron, titanium, platinum and softer substrates such as gold, silver, copper, nickel and aluminum at high speed and with pinpoint accuracy. Imprinting individual medical instruments with a serial number, 2D symbol or other markings enables management of those instruments, including stock availability, location, usage history, and maintenance records.
Yoshihiro Yazawa, Roland DG DPM Manager, Easy Shape Business Development HQ, said, "Regulatory bodies worldwide are seeking a comprehensive management system for instruments used at medical facilities in order to reduce the risk of infection and ensure the safety of patients. In the United States, the FDA Unique Device Identification regulation, which requires that all medical devices to display a unique identifier, began being phased in September of 2014 and is expected to become compulsory in the EU and Asian countries within a few years."
The MPX-95 quickly creates 2D DataMatrix barcodes to GS1*1 standards and imprints them on the surface of medical instruments in areas as small as one square millimeter by using dot pin marking to permanently mark surfaces and prevent erasure and corrosion. A removable base table and plate enables virtually all types and sizes of medical instruments to be marked with identifiers. The MPX-95 also comes standard with a laser pointer that assists in identifying the area to be marked so that even novice healthcare workers who may not be accustomed to using digital technology can easily and accurately apply marking with no special training required. The DPM Kit consists of software that generates unique identifiers for each instrument, as well as a gripping vise, a movable center vise and clamp pins to hold instruments in place while they are being marked. Both vises allow the position of the item to be fine-tuned by aligning it with the laser pointer after it has been clamped.
*1 The GS1 DataMatrix is a standard for 2D symbols determined by the GS1 international body for barcodes, symbols and electronic data transfer. It provides electronics manufacturers and medical facilities worldwide a standardized method to display symbols on instruments. Information on item code, usage limits, lot number, serial number and more can be stored within 26 bytes and read using a special scanner.
For more information, contact:

Toshiyuki Okino
+81 (0)53-484-1201
E-Mail:rdg-globalpr@rolanddg.co.jp