Product News
09/12/2012
Roland DG Corporation
Roland Introduces Larger, Faster SOLJET Printer/Cutter, Featuring an Advanced Eight-Channel Print Head and New ECO-SOL MAX2 Inks
64-Inch SOLJET PRO4 XR-640 Combines High-Speed Performance, Exceptional Image Quality, Integrated Contour Cutting and Specialty Inks, Including New Light Black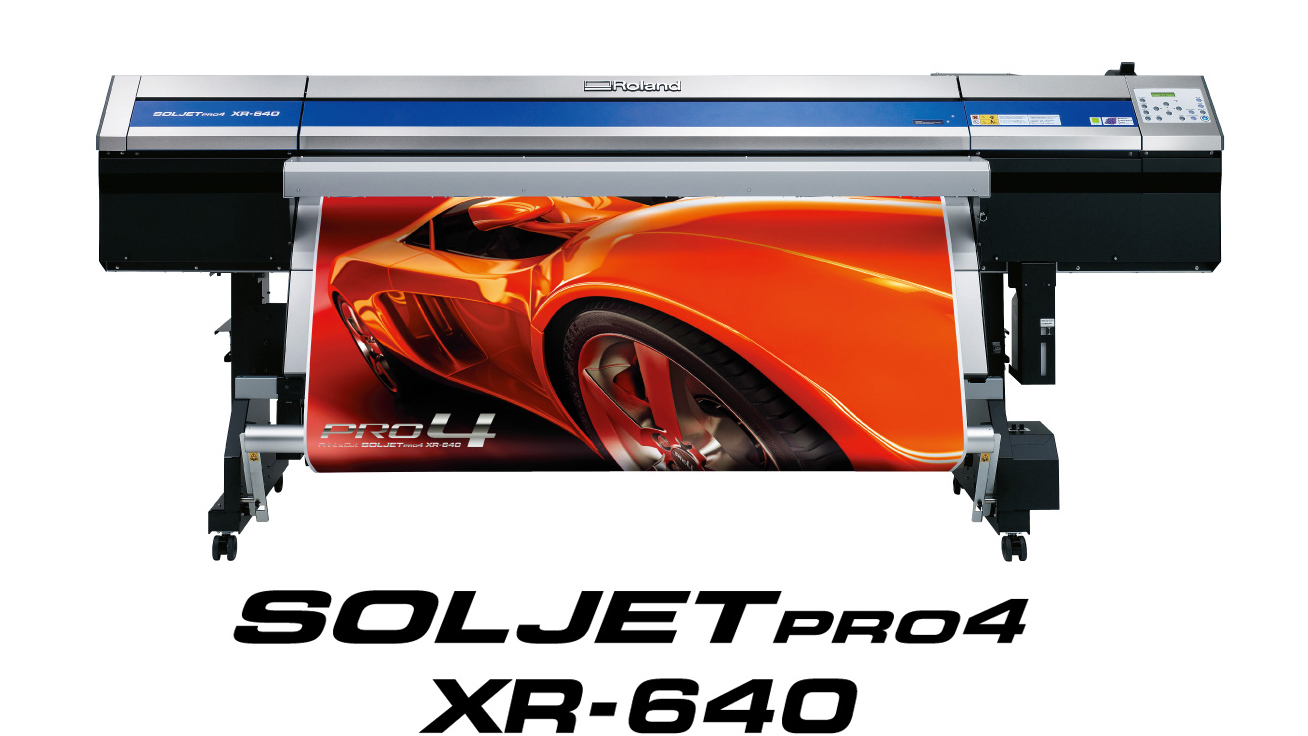 Hamamatsu, Japan, September 12, 2012 – Roland DG Corporation, the leading worldwide provider of wide-format inkjet printers and printer/cutters for professional durable graphics, today announced the SOLJET PRO4 XR-640, the industry's most advanced printer/cutter to date.
At 64 inches wide, the SOLJET PRO4 XR-640 combines accelerated print speeds with Roland's renowned integrated print/cut technology, an innovative new print head design, both seven- and eight-color configurations, and new ECO-SOL MAX2 inks in nine colors: cyan, magenta, yellow and black (CMYK), plus light cyan (Lc), light magenta (Lm), white (Wh), metallic silver (Mt) and new light black (Lk).
"As the industry's first printer/cutter to offer this much power and versatility, the XR-640 is designed for volume production while allowing professionals to express their creativity with high-end effects and finishes," said Yohei Shinomura, Roland DG product manager. "The XR-640's new high-density inks include white, metallic silver and new light black, an expanded palette that opens up profitable new applications and markets."
The XR-640 is purpose built for production printing with a dual inline print head configuration that yields outstanding image quality at a maximum print speed of 49.1 m2/h (528.1 sqft./hr). The XR-640 fires droplets of seven different sizes for exceptionally smooth gradations and flawless solid colors. Integrated contour cutting produces graphics of any shape in one seamless workflow.
The PRO4 XR-640 features ECO-SOL MAX2, a new generation of Roland's award-winning eco-solvent ink, in four configurations: CMYKLcLmWhMt, CMYKLcLmLkWh, CMYKLcLmLkMt and CMYKLcLmLk. ECO-SOL MAX2 dries fast and offers outstanding long-term outdoor durability, scratch and chemical resistance, broad media support and a wide gamut. Fully optimized for the XR-640's new print head design, ECO-SOL MAX2 is ideal for popular applications, including banners, signage, POP, decals, labels, vehicle graphics, backlit displays, building wraps, package prototypes and photographic reproductions.
ECO-SOL MAX2 adds value and impact to graphics with three specialty inks. New light black ink ensures a neutral gray for smooth gray scale gradations, natural skin tones and precise photographic images. An improved reformulated white ink offers even greater opacity for exceptionally bright white text, graphics and floods. Metallic silver, also improved for brighter color, can be printed as a pure spot color or combined with CMYK to create hundreds of shimmering metallic colors and effects.*1
SOLJET PRO4 XR-640 Features:
‐ The industry's most advanced print head technology for stable production, outstanding image quality and high productivity
‐Innovative new dual print head design fires droplets of seven different sizes, with settings that can be adjusted for specific media and print resolutions*2
‐Ink configurations are mirrored through seven colors to ensure consistent imaging throughout bi-directional printing
‐Production speeds of 21.6m2/h (232.4 sqft./hr) for both banner and vinyl media in high speed print modes
‐Roland Intelligent Pass Control® precisely controls dot placement between passes for high quality images that are virtually free of banding
‐ New ECO-SOL MAX2 ink
‐Highly durable, scratch resistant and virtually odorless
‐Support for a range of coated and uncoated media
‐Fast, consistent drying across images for even colors and sharp images and text
‐Environmentally friendly with no nickel compounds
‐ The latest print control technology
‐Maximizes the performance of new dual print heads and ECO-SOL MAX2 ink
‐Delivers high-density coverage for vibrant, expressive colors even at high speeds
‐ New ECO-SOL MAX2 light black(Lk) ink
‐Achieves accurate gray color reproduction and seamless gradations
‐Enhances the quality of subtle colors and skin tones which contain neutral colors
‐ New white and metallic silver inks
‐Higher-density White ECO-SOL MAX2 ink expedites production while delivering brighter, more opaque white text and graphics
‐Metallic Silver ECO-SOL MAX2 pigments are more reflective for maximum brightness
‐ Roland Print & Cut technology for versatility
‐Prints and then automatically contour cuts images into any shape
‐Ideal for custom applications such as POP, floor signage, stickers, vehicle decals and apparel heat transfers
‐ New version of Roland VersaWorks®
‐Features a built-in PANTONE® spot color library*4 to streamline the conversion process from PANTONE® to CMYK colors *3*4
‐Predictive ink calculator estimates the amount of ink needed for each job for flawless unattended printing
‐Spot color replacement feature*4
‐ Roland OnSupport sends you a text or email message when a print job is completed or ink is running low
*1. White and metallic silver inks are scheduled for release in November 2012.
*2. Print quality is set in Roland VersaWorks® RIP and color management software. Select the right setting for each job, from Billboard, High Speed, Standard and High Quality modes.
*3. Supports PANTONE® + solid coated/uncoated and PANTONE® Goe™ coated/uncoated.
*4. A built-in PANTONE swatch library and spot color replacement feature are scheduled to be available in November 2012.
Roland DG Corporation (TSE symbol 6789) - First Section, Tokyo Stock Exchange
Phone: +81 (0)53-484-1201 / Fax: +81 (0)53-484-1216