Corporate News
11/12/2012
Roland DG Corporation
Roland DG receives Viscom Best of 2012 Award for Roland's Latest High-End Inkjet Printer/Cutter Pro series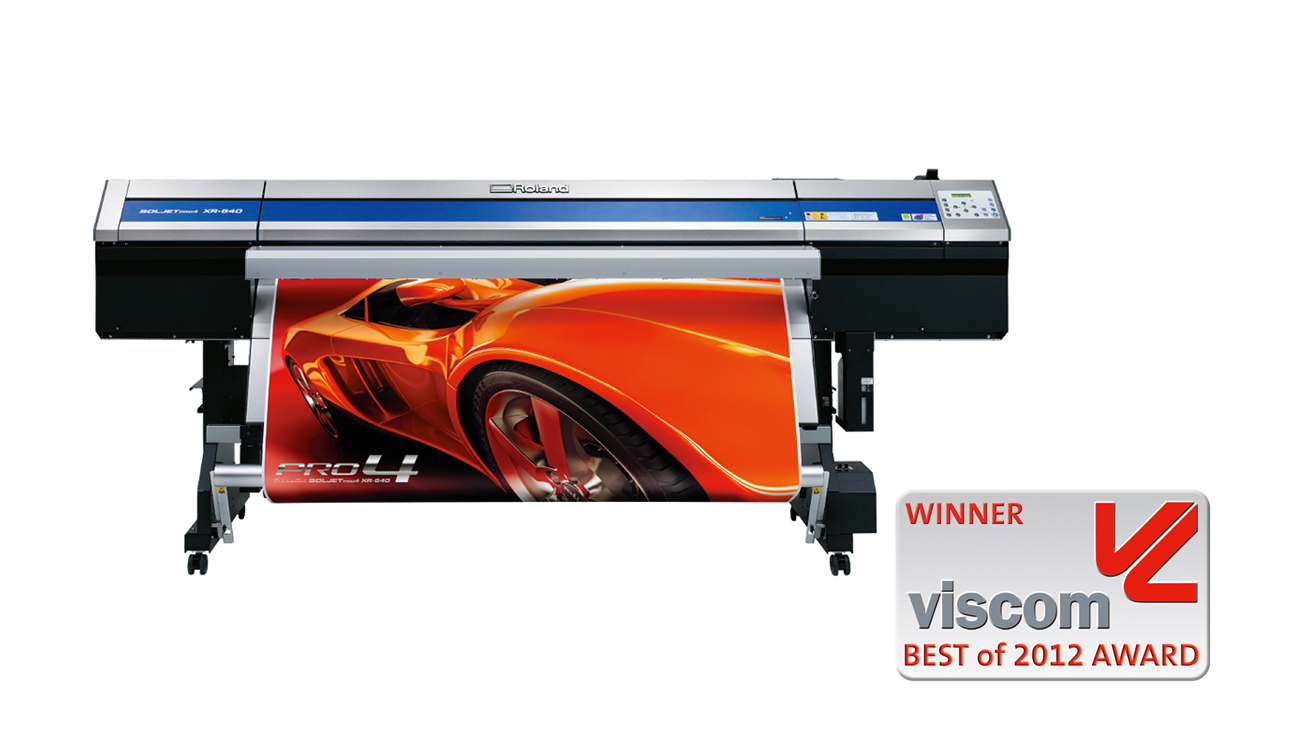 Hamamatsu, Japan, November 12, 2012 – Roland DG has won a Viscom Best of 2012 Award in the Signmaking category for the SOLJET PRO4 XR-640 printer/cutter. The prize, which was awarded at Viscom in Frankfurt, acknowledges the most innovative exhibitors.
The SOLJET PRO4 XR-640 was only launched in September 2012 and has already received an award from the Viscom organization. The jury explained it choice as follows: "With this unit for printing and cutting, Roland DG is appealing to professional signmakers with support for their creative work. The XR-640 can be used for the most diverse applications, including stickers, window decorations, banners, posters, textiles, vehicle-wrapping or canvas. The jury gave special praise for the possibility of choosing seven- and eight different colours among CMYKLcLm, Light black, white and metallic silver inks – in the machine. The unit sets itself apart by its high quality and absolute precision in the results."
Eli Keersmaekers, CEO of Roland DG Benelux, responded to the award by saying, "The XR-640 is our new flagship product and we have high expectations of it. The jury recognized that the XR-640 is the ideal unit for signmakers, thanks to its great versatility and excellent quality. We are therefore also proud that we can add this Award to our record."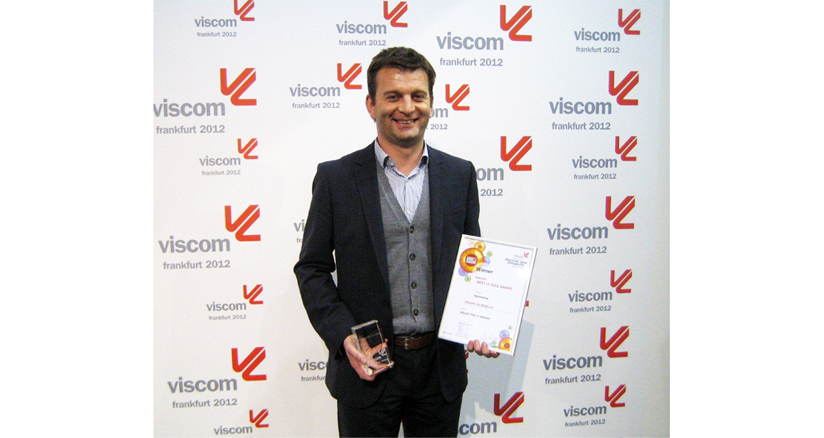 Mr. Eli Keersmaekers, CEO of Roland DG Benelux
Roland SOLJET PRO4 XR-640
The 64-inch XR-640 combines accelerated print speeds with Roland's renowned integrated print/cut technology, an innovative new print head design, both seven- and eight-colour configurations, and new ECO-SOL MAX2 inks in nine colours: cyan, magenta, yellow and black (CMYK), plus light cyan (Lc), light magenta (Lm), white (Wh), metallic silver (Mt) and new light black (Lk).
The XR-640 is designed for volume production while allowing the professionals in sigh graphics market to express their creativity with high-end effects and finishes as well as to create the profitable new applications and markets.
BEST of 2012 Award and Viscom Frankfurt
Viscom is the largest trade show in Europe for signmaking industry, taking place biannually, switching between Düsseldorf and Frankfurt. Since it was founded in 1986, Viscom has become the leading trade show for visual communication. The Viscom Awards honour the innovative achievements of the Viscom exhibitors. There are five categories for the awards: Signmaking, Large-format printing/LFP, Light advertising, Textile refinement and Software. The jury consisted of the editors-in-chief of various trade magazines, representatives of trade organizations and members of the exhibition organization.
Roland DG Corporation (TSE symbol 6789) - First Section, Tokyo Stock Exchange
Phone: +81 (0)53-484-1201 / Fax: +81 (0)53-484-1216