Product News
11/27/2012
Roland DG Corporation
SOLJET PRO4 XR-640 to be Given Further Boost by Introduction of New White and Metallic Silver Inks
Productivity drastically increased, together with superior color expression
Hamamatsu, Japan, November 27, 2012 – Roland DG Corporation, the leading worldwide provider of wide-format inkjet printers and printer/cutters for professional durable graphics, today announced to start shipping the newly-developed ECO-SOL MAX2 white and metallic silver inks for SOLJET PRO4 XR-640, the industry's most advanced eco-solvent printer/cutter to date. This will enable use for a wide range of applications, including window graphics, vehicles graphics, large posters, decals and labels with excellent added-value, fully utilizing the potential of the XR-640.
"The XR-640 is an eco-solvent inkjet printer that was announced in September of this year as our flagship model. The XR-640 that we now start shipping with the new white and metallic silver inks has achieved excellent productivity, almost double that of predecessor's in the same class*1," said Yohei Shinomura, Roland DG product manager. "In fact, the standard mode of the XR-640 can match the image quality and density of its predecessor's high quality mode. As a result, you can now print high quality large-scale items in a much shorter time frame."
The newly developed white ink has drastically improved density, which is particularly useful for the production of items using transparent film. For example, when producing decals to be applied to vehicles or bicycles, colors can be finished exactly as desired by first printing a base layer with white ink that has excellent concealment properties, and then carrying out full-color printing. Also, the pigment of metallic silver ink are more reflective for higher brightness*2. This will produce applications that have greater impact and added value than before.
In addition, the XR-640 has refined the automated ink circulation system, which prevents the pigment in white and metallic silver ink from settling. As well as maintaining stable output quality, waste of white and metallic silver inks required for maintenance has been cut by around 50% in comparison with predecessor's model*1, contributing to significant reduction of running costs.
*1 SOLJET PROIII XC-540MT
*2 Print results vary depending on the media.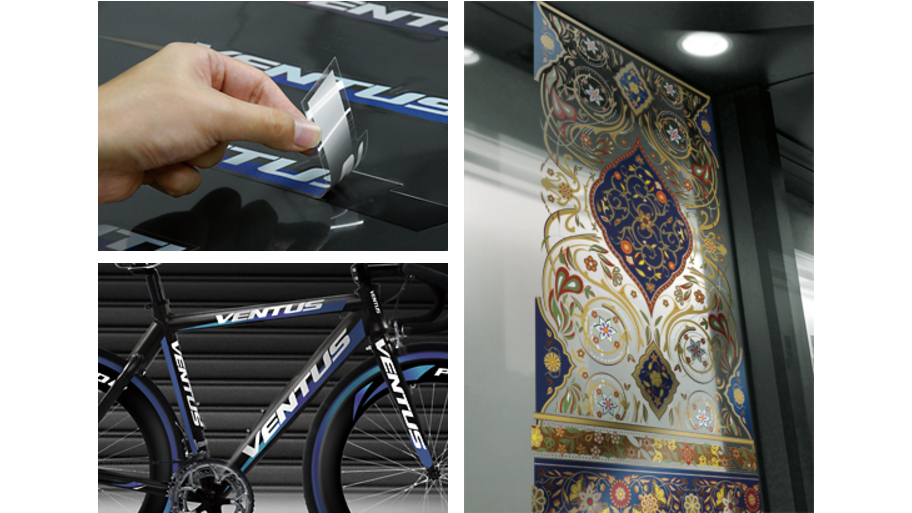 About the SOLJET PRO4 XR-640
The 64-inch XR-640, which won viscom best of 2012 award, combines accelerated print speeds with Roland's renowned integrated print/cut technology, an innovative new print head design, and new ECO-SOL MAX2 inks in nine colors: cyan, magenta, yellow and black (CMYK), plus light cyan (Lc), light magenta (Lm), white (Wh), metallic silver (Mt) and new light black (Lk). The XR-640 is designed for volume production while allowing the professionals in sign graphics market to express their creativity with high-end effects and finishes as well as to create the profitable new applications and markets.
Roland DG Corporation (TSE symbol 6789) - First Section, Tokyo Stock Exchange
Phone: +81 (0)53-484-1201 / Fax: +81 (0)53-484-1216