Product News
04/02/2013
Roland DG Corporation
Roland Introduces New SOLJET PRO4 XF-640, Its Fastest, Most Advanced Wide-Format Printer to Date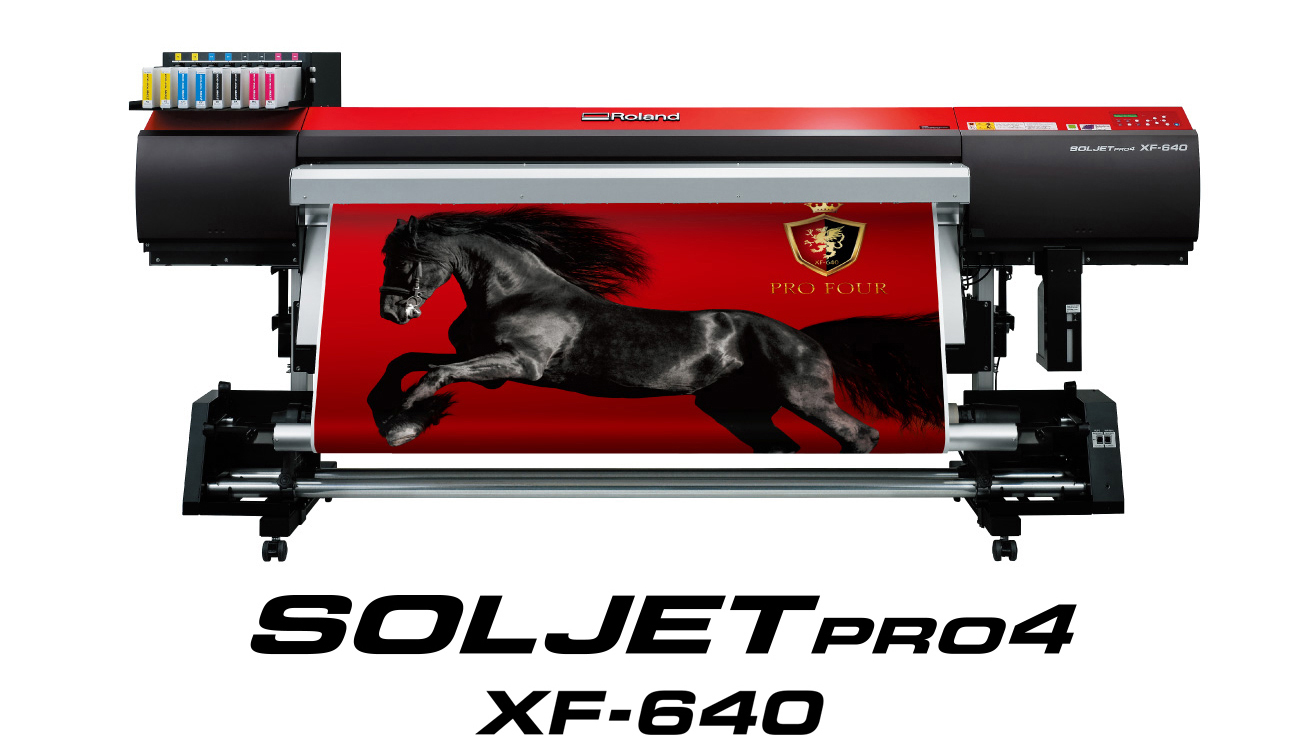 Hamamatsu, Japan, April 2, 2013 – Roland DG Corporation, the leading worldwide provider of wide-format inkjet printers and printer/cutters for professional durable graphics, has introduced the 64-inch SOLJET PRO4 XF-640, the company's fastest wide-format printer to date. The XF-640 incorporates next generation dual print heads and redesigned take-up and pinch roller systems, plus a host of other advanced features for high quality imaging at a maximum print speed of 102m2/h (1,098 sqft./hr.).
"Today, more than ever, high-speed large format printers are in demand across developed countries and emerging markets alike," said Katsuo Ikehata, Roland DG research and development manager. "While high volume production is the goal for many of these businesses, quality imaging is equally important. The SOLJET PRO4 XF-640 answers this need in the marketplace by combining exceptional print quality with reliable, high-speed performance."
Designed for both indoor and outdoor applications, the XF-640 is the ideal production tool for signs, banners, vehicle wraps, window graphics, POP displays, trade show graphics, posters and more. With the XF-640, new advanced print control technology incorporates the industry's most advanced print head in a staggered design for maximum productivity. The dual mirrored CMYK ink configuration virtually eliminates banding for consistent color imaging when handling large graphic files. The new heads are also designed to fire high levels of ink for added density and rich, saturated colors. Roland's newest eco-solvent ink, ECO-SOL MAX2, dries quickly and delivers an expanded color gamut for exceptional image quality.
The XF-640 features a robust architecture with several new performance upgrades. Durable construction of its unique bearing rail and frame firmly support and stabilize the head assembly for highly precise ink droplet delivery. A total of 16 pinch rollers and a new grit roller system ensure flawless media feeding. Additionally, a redesigned media take-up system and heater maximize productivity by reducing the amount of time required for printing and drying graphics during high-speed, volume production.
Like the rest of the Roland printer line, the XF-640 is easy to operate. A redesigned front-loading ink cartridge unit provides easy ink access while minimizing the functional printer footprint. A latched maintenance cover protects the print head assembly and opens automatically at the touch of a button for easy cleaning. With the XF-640, media loading levers are positioned in both the front and back for maximum convenience. Special media brackets support even the heaviest media rolls as they are loaded into place.
SOLJET PRO4 XF-640 Features:
- Built for high-speed production and outstanding image quality
-New head control technology drives the industry's latest print heads, staggered to achieve print speeds up to 102m2/h (1,098 sqft./hr.)
-Mirrored CMYK ink configuration ensures consistent imaging at top speeds
-Roland Intelligent Pass Control® precisely controls dot placement between passes for exceptional images, virtually free of banding
- New ECO-SOL MAX2 ink produces rich, vibrant colors
-Increased ink coverage allows for high-density printing, even in the fastest mode
-Durable, scratch resistant and virtually odorless
-Supports coated and uncoated media
-Fast, consistent drying across prints for even colors and sharp images and text
-Environmentally friendly with no nickel compounds
- Durable construction of rail and frame stabilizes head movement for precise ink droplets
- New media take-up system for long, unattended production runs
-Redesigned for exceptional results at high print speeds
-New supply bar supports eliminate distortion
-New dancer roller device stabilizes media handling
- Redesigned heater supports quality high-speed printing with the take-up system
-Ensures even drying across every inch of the graphic
- New AC servo motor supports extended production runs
- Easy operation ensures maximum productivity from the very first print
-Front loading ink cartridges are easy to access
-Media loading levers are located in both the front and back of the printer for maximum convenience
-Automated, latched maintenance cover opens at the touch of a button for easy cleaning
- New version of Roland VersaWorks®
-Features built-in PANTONE® spot color libraries to streamline the conversion process from PANTONE® to CMYK colors
-Includes a predictive ink calculator which estimates the amount of ink needed for each job
- Roland OnSupport enables unattended printing by sending text or email messages to a smart phone or remote computer when a print job is completed or ink is running low
Roland DG Corporation (TSE symbol 6789) - First Section, Tokyo Stock Exchange
Phone: +81 (0)53-484-1201 / Fax: +81 (0)53-484-1216