Product News
10/02/2013
Roland DG Corporation
The World's Best Just Got Better - Introducing the new Roland VersaCAMM VS-i Wide Format Printer/Cutter
Power your imagination with the next generation of the world's best-selling printer in the durable graphics market*1 – an advanced yet affordable wide format printer/cutter equipped with the new ECO-SOL MAX2 ink and a range of productivity and usability enhancements to deliver the versatility and exceptional image quality sought by print professionals.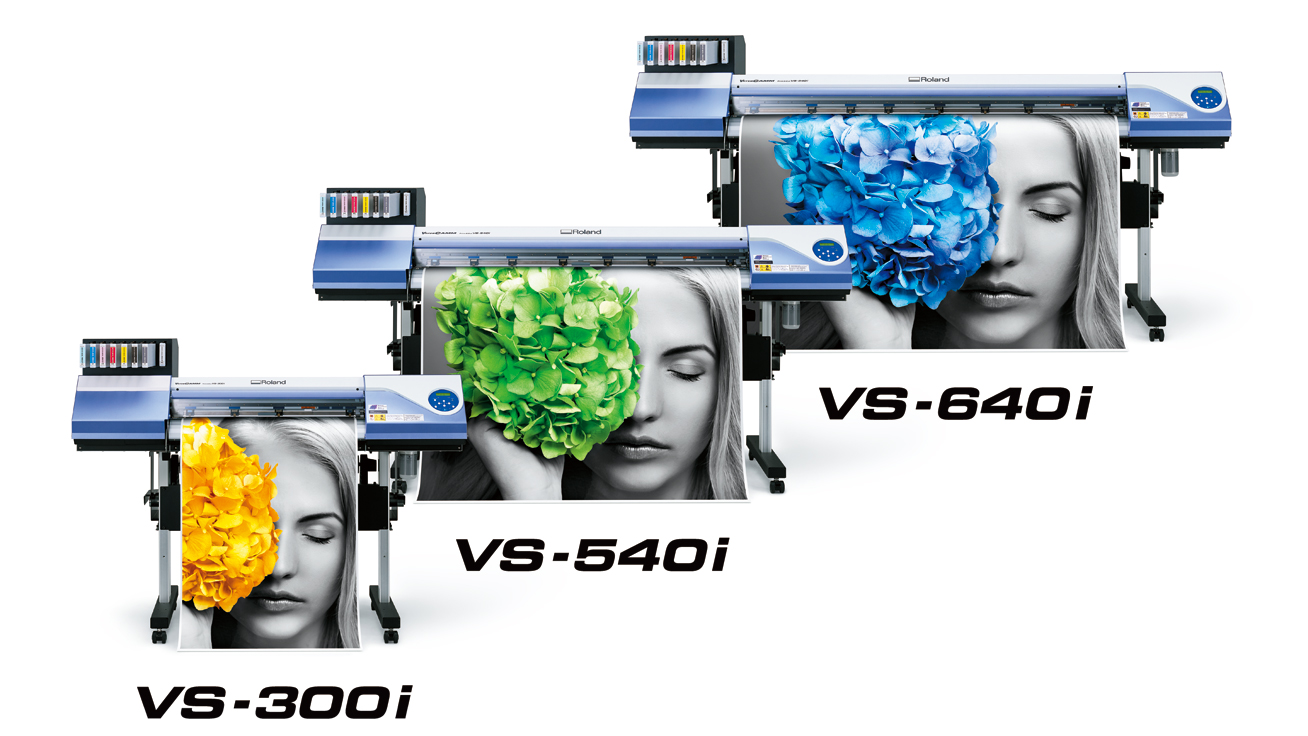 Hamamatsu, Japan, October 2, 2013 – Roland DG Corporation, the leading worldwide provider of wide-format inkjet printers and printer/cutters for professional durable graphics, has introduced the new VersaCAMM VS-i Wide Format Printer/Cutter Series, including the 64-inch (1625mm) VS-640i, the 54-inch (1371mm) VS-540i, and the 30-inch (762mm) VS-300i.
"The new VS-i series continues Roland's rich history of innovation and builds upon the highly successful Roland VersaCAMM range - the world's best-selling printer in the durable graphics market," said Satoko Yoshida, Roland DG Marketing manager. "Leveraging Roland's leading print and cut technology, renowned reliability, and ease of use, and then adding to this a range of powerful new features and usability enhancements, the VS-i is one of the most versatile and affordable solutions available, and will no doubt remain the world's favorite printer/cutter for durable graphics."
The VS-i series incorporates the new high definition, nickel free ECO-SOL MAX2 ink, available in nine colors including CMYKLcLm, White, Metallic Silver and Light Black. The new light black delivers accurate reproduction of grays and skin tones, for flawless photographic reproductions and seamless gradients. The latest generation white and metallic inks offer higher density than ever before, plus approximately 1.5 times faster production speed for white ink, and up to 2 times the speed for metallic ink compared to the previous model. All this enables the VS-i series to produce a versatile range of profitable applications including durable outdoor banners, metallic print and cut labels, transparent window graphics, striking vehicle wraps and high quality fine art prints.
In addition, the new VS-i series has a range of usability enhancements including front loading ink cartridges for easy user access, and the ability to adjust cut settings during operation to improve accuracy and flexibility on long or complex jobs and achieve flawless cutting results. The integrated contour cutting on the VS-i series can produce graphics of any shape in one seamless workflow. Backed by a comprehensive Roland warranty program and a range of premium after sales solutions through Roland DG Care including Roland DG Academy training and Roland DG Creative Center, the VS-i is a complete print solution.
VersaCAMM VS-i Series Features:
- Nine (9) color eco-solvent wide format printer/cutter available in 3 models:
-64-inch (1625mm) VS-640i
-54-inch (1371mm) VS-540i
-30-inch (762mm) VS-300i
- The industry's most advanced latest generation print head technology for reliable and stable production, outstanding image quality and high productivity
-Innovative print head design fires droplets of seven different sizes, with settings that can be adjusted for specific media and print resolutions.
-Print speeds up to 26.9m2/hr (288.9sqft./hr) for high production print modes.
-Roland Intelligent Pass Control® precisely controls dot placement between passes for high quality images that are virtually free of banding.
-Roland automated ink circulation system to dramatically reduce maintenance costs of white and metallic silver inks and deliver consistent output quality.
- New ECO-SOL MAX2 ink produces rich, vibrant colors
-Highly Durable, scratch resistant and virtually odorless
-Fast, consistent drying across prints for even colors and sharp images and text
-Supports coated and uncoated media
-Environmentally friendly with no nickel compounds
- New ECO-SOL MAX2 light black (Lk) ink
-Achieves accurate gray color reproduction and seamless gradations
-Enhances the quality of subtle colors and skin tones which contain neutral colors
- New white and metallic silver inks
-Higher-density White ECO-SOL MAX2 ink delivers approximately 1.5 times faster production speed while producing brighter, more opaque white text and graphics
-Metallic Silver ECO-SOL MAX2 delivers approximately 2 times faster production speed while the pigments are more reflective for maximum brightness
- Five (5) different ink configurations of nine (9) colors including:
-CMYK plus Light Cyan, Light Magenta, Light Black, White (CMYKLcLmLk+Wh)
-CMYK plus Light Cyan, Light Magenta, Light Black, Metallic Silver (CMYKLcLmLk+Mt)
-CMYK plus Light Cyan, Light Magenta, White, Metallic Silver (CMYKLcLm+Wh+Mt)
-CMYK plus Light Cyan, Light Magenta, Light Black (CMYKLcLmLk)
-Dual CMYK (CMYK+CMYK)
- Usability enhancements including:
-Front loading ink cartridges for easy access
-Ability to adjust cut position while cutting
- Roland Print & Cut technology for versatility
-Prints and automatically contour cuts graphics to any shape
-Ideal for custom applications such as POP, floor signage, stickers, vehicle decals or apparel heat transfers
- Latest version of Roland VersaWorks®
-Features built-in PANTONE® spot color libraries to streamline the conversion process from PANTONE® to CMYK colors
-Includes a predictive ink calculator which estimates the amount of ink needed and printing time for each job.
- Roland OnSupport enables unattended printing by sending text or email messages to a smart phone or remote computer when a print job is completed or ink is running low.
*1 InfoTrends wide format data - 2009 Q4 to 2013 Q1, Solvent ink and durable aqueous ink technology category
VersaCAMM VS-i series will be showcased at the following events worldwide in 2013
| Date | Exhibition | Area (Official URL) |
| --- | --- | --- |
| 10/2 - 5 | JGAS | Tokyo, Japan (http://www.jgas.jp/en/) |
| 10/3 - 5 | Viscom Italy | Milan, Italy (http://www.visualcommunication.it) |
| 10/8 | Roland Experience Day | Madrid, Spain (http://www.rolanddgi.com/es/events/roland-experience-day) |
| 10/23 - 25 | SGIA | Orlando, FL U.S.A. (http://www.sgia.org/) |
| 10/24 - 27 | IPMEX | Kuala Lumpur, Malaysia (http://www.ipmex.com/) |
| 11/7 - 9 | Viscom Düsseldorf | Düsseldorf, Germany (http://www.viscom-messe.com/) |
Roland DG Corporation (TSE symbol 6789) - First Section, Tokyo Stock Exchange
Phone: +81 (0)53-484-1201 / Fax: +81 (0)53-484-1216