Product News
07/02/2014
Roland DG Corporation
Roland Introduces the New VersaEXPRESS 64-inch Printer, Designed for High-Speed Production and Superior Print Quality, All at a Smart Price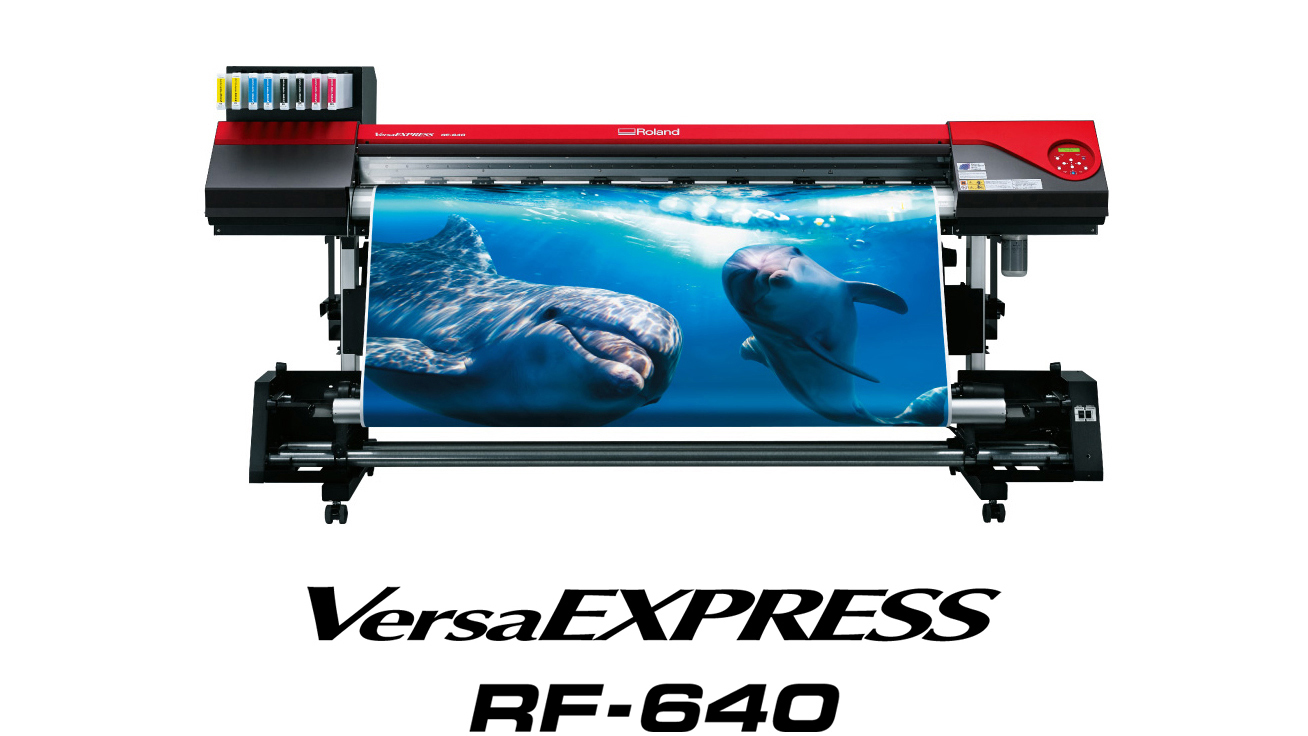 Hamamatsu, Japan, July 2, 2014 – Roland DG Corporation, a leading worldwide provider of wide-format inkjet printers and printer/cutters, has introduced the new 64-inch VersaEXPRESS RF-640, a high-speed production printer that delivers outstanding print quality at an affordable price point.
"The new VersaEXPRESS printer line was designed to meet the demands of the competitive global marketplace by providing unmatched performance and value at a low price," said Keita Yamasaki, Roland DG product manager. "Sign shops and print service providers worldwide, and especially in emerging countries, require affordable volume production solutions that will help them increase their productivity and profits. Offering high-speed printing, superior image quality, competitively low running costs and ease of use, the RF-640 is the ideal production tool for many shops."
The RF-640 features Roland's advanced print control technology for quality imaging and color consistency. It is supported by a robust take-up system as well, which stabilizes production at print speeds up to 48.5m2/h (521.9ft2/h). Equipped with the new Roland Ink Switching System, the RF-640 further increases productivity by supporting unattended continuous printing. This unique system allows users to load a backup cartridge that automatically discharges ink to the printer when the primary cartridge is empty.
Other advanced features include an industrial high-performance print head, GREENGUARD Gold certified, low-VOC ECO-SOL MAX 2 inks, and new optimized profiles which together deliver vivid, rich colors at an ink savings of up to 20%*1 when compared to previous models. Easy to operate, the RF-640 features the new Roland Printer Assist*2 system, which allows you to manage printer functions remotely. With this intuitive new app, you can also monitor the printer status and manage jobs comfortably from your iPad*3 for maximum convenience and efficiency. A redesigned front-loading ink cartridge unit provides easy access to cartridges while minimizing the printer's footprint. Other key features include media loading levers positioned in both the front and back, and special media brackets that support even the heaviest media rolls as they are loaded into place.
*1 Results are based on Roland DG's comparison test between the RF-640 and RE-640. The numbers vary depending on the use conditions.
*2 Roland Printer Assist is a free downloadable app available from the iTunes*4 App Store.
*3 *4 iPad and iTunes are trademarks of Apple, Inc.
Roland DG Corporation (TSE symbol 6789) - First Section, Tokyo Stock Exchange
Phone: +81 (0)53-484-1201 / Fax: +81 (0)53-484-1216