Product News
03/05/2019
Roland DG Corporation
New TrueVIS VG2 Series Printer/Cutters Produce "Power to Excite"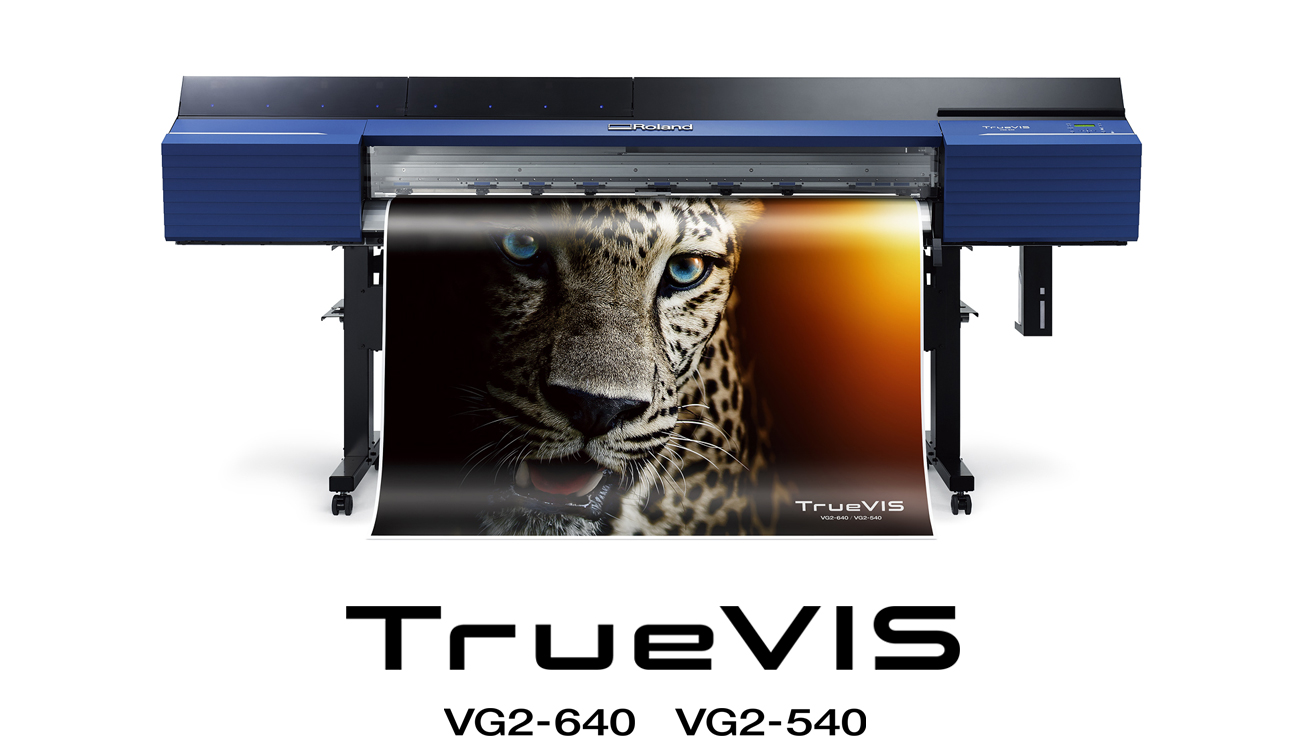 Hamamatsu, Japan, March 5, 2019 – Roland DG Corporation, a leading manufacturer of wide-format inkjet printers and printer/cutters worldwide, today announced the launch of its second generation TrueVIS VG2 series 64" and 54" wide-format eco-solvent inkjet printer/cutters.
Kohei Tanabe, President, Digital Printing Business Division, stated that the company's objective in creating the VG2 series was to improve upon the already high standards set by the previous award-winning VG series. "To create printer/cutters that boast the highest output quality in Roland DG history, we did not stick to existing concepts, but redefined product development by focusing on dozens of little details. The result is that the new TrueVIS VG2 series offers customers a true competitive advantage and the "power to excite."
The TrueVIS VG2 series adopts a new generation of eco-solvent TR2 ink. In addition to the previous seven colors of CMYKLcLmLk and White, new TR2 ink supports Orange ink to greatly expand color gamut. "Orange ink effectively leads to richer color expression which resonates in the mind," Tanabe said. A new Multiprocess Color Function was developed to enable using Orange ink as a process color. In order to take full advantage of the VG2's superior color reproduction capability and the wide color gamut provided by TR2 ink, a True Rich Color preset was also created. "Now for the first time," he added, "vibrant color can be combined with neutral grays, smooth gradations and natural skin tones to create stunning graphics."
The VG2 offers a host of technological advancements to improve both printing and cutting accuracy for reliable results during unattended operation. New middle pinch rollers raise automatically prior to starting the cutting process for unattended operation. New crop mark options for cutting laminated printed materials in combination with optimized pinch roller pressure provide more stable cutting performance. A new take-up unit supports two modes according to the type of media chosen, securing take-up stability for smooth post processes.
Tanabe said meticulous attention to details by Roland DG engineers resulted in increased performance and reliability for the VG2. Roland DG FlexFire printheads produce the precision ink firing that enables printing neutral grays, vivid colors, and smooth skin tones even at the highest speeds. TrueVIS VG2 and TR2 ink is certified for long-lasting results by the 3MTM MCSTM, providing assurance of the quality and reliability of their graphics. The VG2 with TR2 ink also supports Avery's ICS performance guarantee and is certified GREENGUARD Gold for safe indoor graphic applications. Included VersaWorks 6 RIP software supports the latest Harlequin® RIP dual core engine with PDF 2.0 and native 64-bit processing plus new, easy-to-use capabilities that make it the most powerful RIP software ever.
Tanabe noted that the previous VG series won the 2019 Pick Awards for Color and Productivity from Buyers Lab. "Roland DG is committed to providing products to help graphic providers and sign makers unleash their creative possibilities, transform their imagination into reality, and enjoy a sense of accomplishment when people react to their output graphics with 'WOW!'" he said.
For more information, contact:

Roland DG Corporation
PR/IR Unit
+81 (0)53-484-1400
E-Mail:rdg-ir@rolanddg.co.jp