Product News
04/03/2019
Roland DG Corporation
Roland DG's New TrueVIS VG2 Series Wins Prestigious ISA International Sign Expo® 2019 Innovation Award
Hamamatsu, Japan, April 3, 2019 – Roland DG Corporation, a leading manufacturer of wide-format inkjet printers and printer/cutters worldwide, announced today that its new TrueVIS VG2 series eco-solvent printer/cutters have won the 2019 ISA Sign Expo® Innovation Award in the "Printer" category.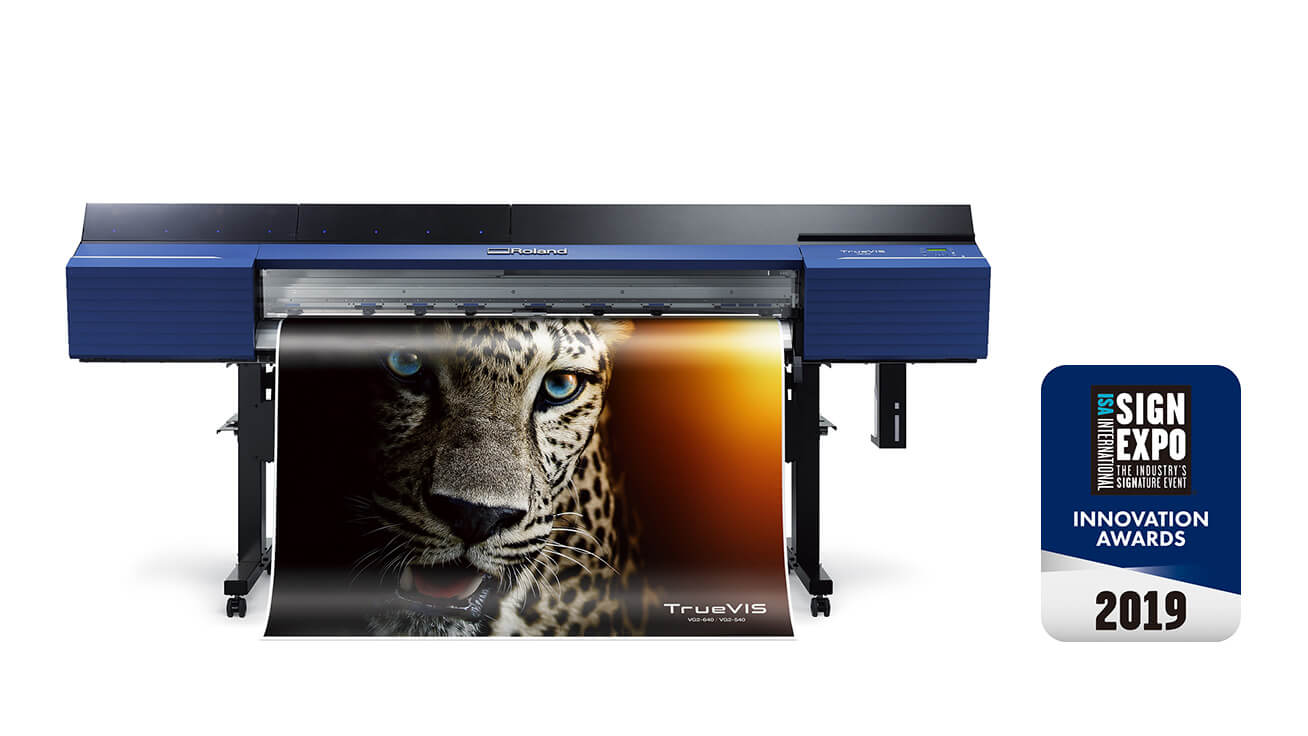 The ISA Innovation Awards recognize the most unique and outstanding product launches at ISA Sign Expo 2019. In all, there were nominees across four categories, representing the breadth of the sign, graphics and visual communications industry. The VG2-540 and VG2-640 impressed the judges – an outside panel of experts – with technological advancements, comprehensive color choices, improved machine efficiency and increased print-and-cut accuracy.
"The ISA Innovation Award winners truly represent the most creative and innovative products available on the ISA Sign Expo floor," said Lori Anderson, ISA president and CEO. "Attendees at ISA Sign Expo have come to expect groundbreaking products and the latest solutions. These raise the bar."
Andrew Oransky, President and CEO of Roland DGA, Roland DG's US-based sales and marketing subsidiary, was quick to point out the importance of winning this coveted award. "To have ISA recognize our new TrueVIS VG2 series as a standout product for 2019 is quite an honor, especially considering the stiff competition. The cutting-edge technologies and features of these next-generation printer/cutters put them in a class by themselves," Oransky noted. "An amazing amount of research and effort went into the design and development of these machines, ensuring that every VG2 is built to exceed the needs of the most demanding graphics professional."
Kohei Tanabe, Roland DG President, Digital Printing Business Division said, "We are very pleased that the VG2 series printer/cutters, which boast the highest output quality in Roland DG history, have won this prestigious award. Roland DG is committed to providing products to help graphic providers and sign makers unleash their creative possibilities, transform their imagination into reality, and enjoy a sense of accomplishment when people react to their output graphics with 'WOW!'"
For more information, contact:

Roland DG Corporation
PR/IR Unit
+81 (0)53-484-1400
E-Mail:rdg-ir@rolanddg.co.jp