Product News
05/27/2019
Roland DG Corporation
Roland DG's New TrueVIS VG2 Series Tops the Print and Cut Field with EDP Award
Hamamatsu, Japan, May 27, 2019 – Roland DG Corporation, a leading manufacturer of wide-format inkjet printers and printer/cutters worldwide, announced that the new TrueVIS VG2 series eco-solvent printer/cutters won 'Best Print & Cut Solution' in the prestigious EDP (European Digital Press Association) Awards. The TrueVIS VG2 series was launched in March of this year.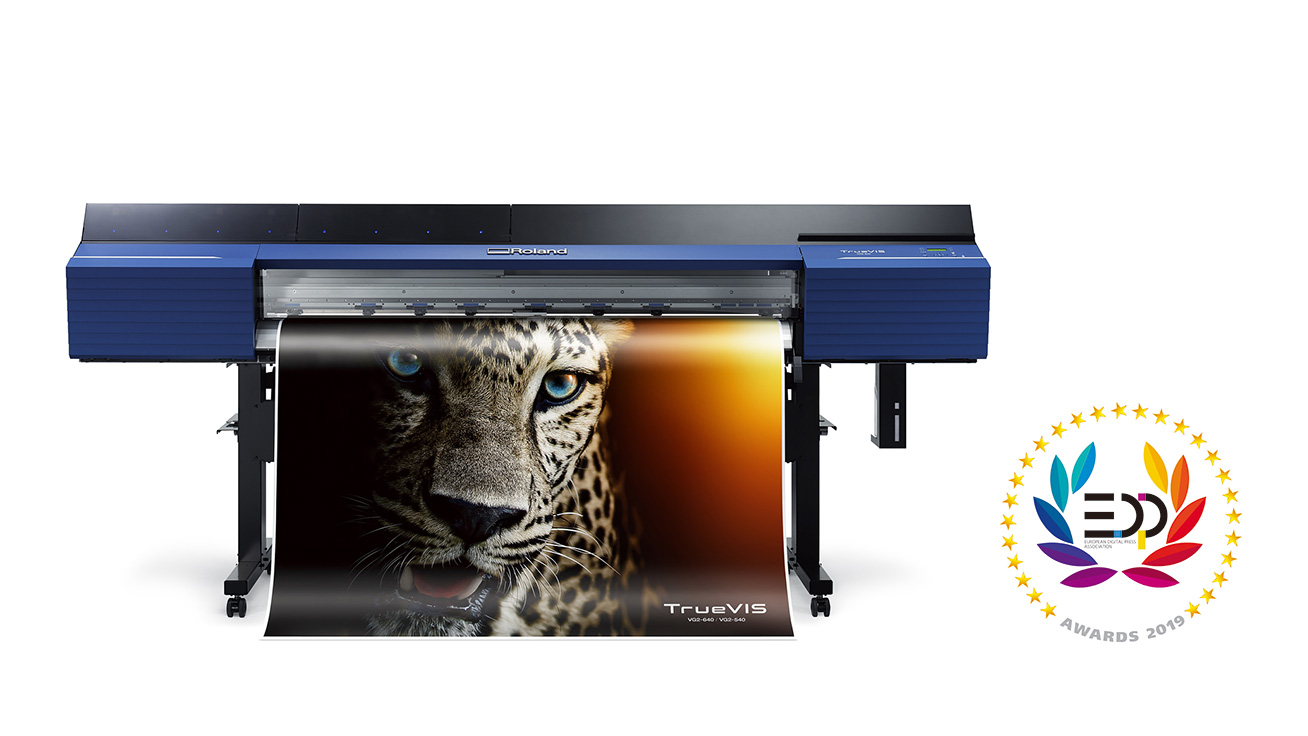 Winners of the EDP Awards are decided by an independent panel of judges from Europe's 21 leading trade publications, who evaluate the most exciting technical launches from the previous twelve months based on their "achievement, quality and cost efficiency." When judging the Roland DG TrueVIS VG2 series, the panel said, "Roland DG has not adhered to existing concepts, but has redefined product development." The judges were particularly impressed by the system's breadth of color gamut, optimized color accuracy and color reproduction capability, plus a host of technological advancements to deliver high-precision print and cut performance.
"We're absolutely thrilled to have won the EDP Award for 'Best Print & Cut Solution' with the new TrueVIS VG2 series," said Gillian Montanaro, Head of Marketing for Roland DG EMEA. "When we launched the VG2 series just a few months ago we were ready to show the industry something special, a solution that could genuinely change print professionals' working lives in terms of color quality, turnaround speeds, reliability, longevity of their output and much more. The EDP Awards are widely regarded as the most prestigious awards for the digital print business in Europe so the title of 'Best Print & Cut Solution' absolutely reflects how incredible this machine is."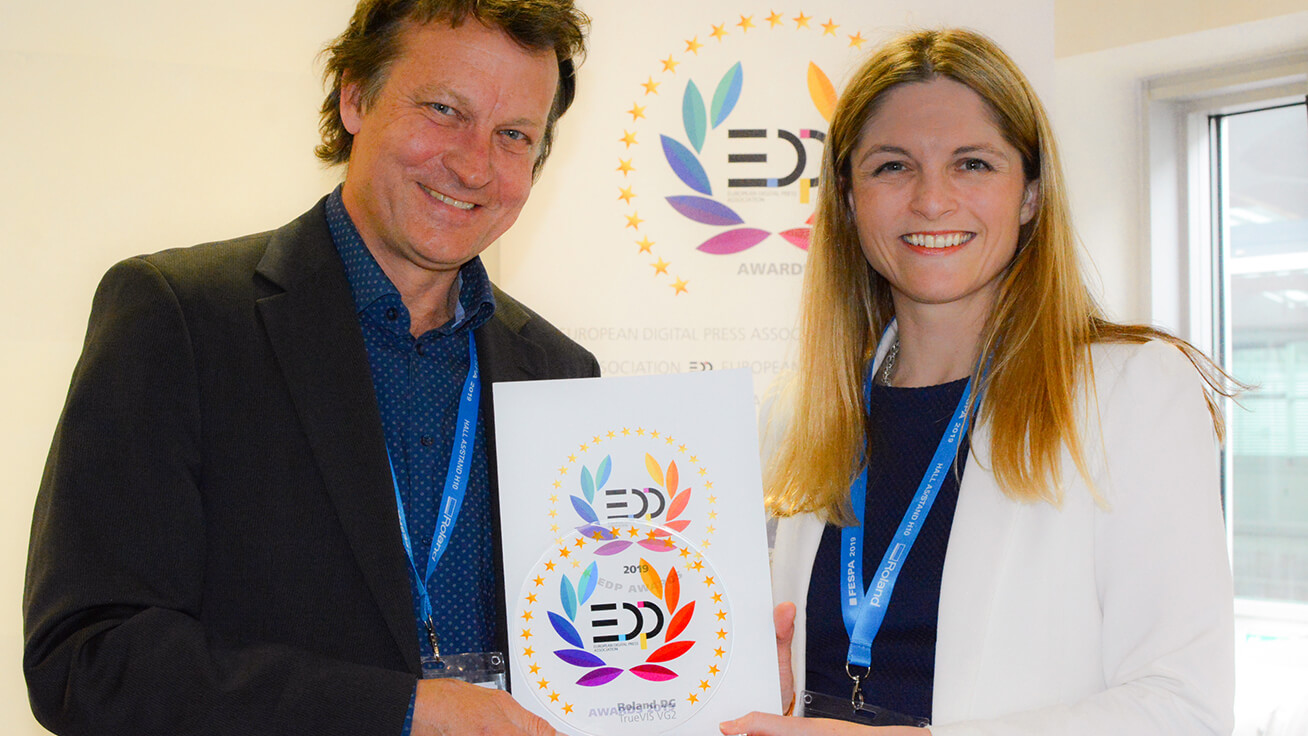 Gillian Montanaro, Head of Marketing for Roland DG EMEA (right) receives the award.
Ryo Baba, TrueVIS VG2 Project Manager, Roland DG Digital Printing Business Division said, "We wanted to provide a printer that can produce sign graphics with the power to excite hearts and minds as well as improved reliability and usability. Therefore, we challenged a lot of ideas by aiming to achieve the best printer in all aspects of hardware and software. It is a great honor to receive the EDP Award," he said. "With the VG2, we hope that our customers will enjoy unleashing their creative possibilities and transforming their imaginations into reality."
The EDP Award marks the second major international accolade for the TrueVIS VG2 series. In April, it won the coveted 2019 ISA Sign Expo® Innovation Award in the "Printer" category.
For more information on Roland's award-winning TrueVIS VG2 series wide-format printer/cutters, visit
Region Selector
and select your country.
For more information, contact:

Roland DG Corporation
PR/IR Unit
+81 (0)53-484-1400
E-Mail:rdg-ir@rolanddg.co.jp