Product News
10/09/2019
Roland DG Corporation
Roland DG Expands Award-Winning TrueVIS Printer/Cutters Lineup with Affordable SG2 Series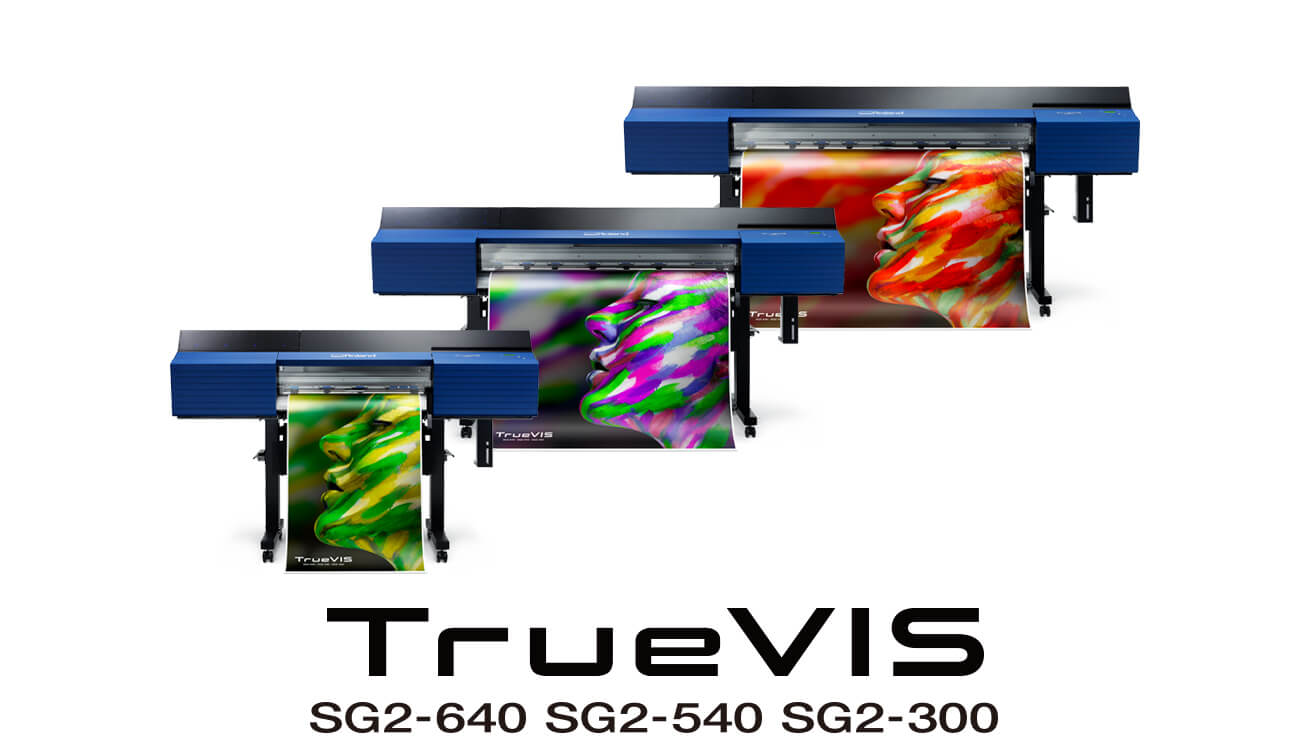 Hamamatsu, Japan, October 9, 2019 – Roland DG Corporation, a leading manufacturer of wide-format inkjet printers and printer/cutters worldwide, today announced the addition of the new SG2 64", 54", and 30" wide-format eco-solvent printer/cutters to its second generation TrueVIS series.
TrueVIS is the award-winning series of wide format printer/cutters which was developed by Roland DG to achieve the highest ever print quality available for durable graphic print businesses. The SG2 series of printer/cutters features a CMYK ink configuration to achieve an affordable price and low running cost designed for emerging as well as developed markets. The new series offers the power to excite with outstanding color and versatility in three different sizes to meet a variety of graphic business requirements.
To take full advantage of its superior color reproduction capability and the wide color gamut provided by new TR2 ink, the SG2 series includes the newly developed True Rich Color preset. Now vibrant color can be combined with neutral grays, smooth gradations and natural skin tones to create stunning graphics. According to Kohei Tanabe, President, Digital Printing Business Division, this pioneering print quality is unequalled for durable graphics.
Among the SG2's myriad technical improvements are a newly developed automatic pinch roller system requiring minimal operator intervention, a Multiple Print function to conduct highly accurate automated printing and cutting without the need of using crop marks and a precision Perforated Cut function for providing high quality die-cut, ready-made labels/decals without the need for trimming. A new take-up unit supporting two modes according to the type of media chosen and increased take-up stability for smooth post processing adds up to exceptional performance and value.
The new SG2 series is equipped with Roland DG's FlexFire print heads and a new waveform technique to control the precise firing of new TR2 ink droplets. Simultaneous variable droplet control of three different sized droplets results in premium quality printing performance. In addition, the SG2 includes several new features to minimize running costs for increased profitability, including a brand-new ink delivery system that reduces ink consumption by up to 54% due to automated maintenance sequences*, as well as a new 750 ml ink pouch designed exclusively for emerging markets as an addition to the previous 500 ml version resulting in a lower ink cost per ml.
"I strongly believe that by providing outstanding color and versatility in three different sizes at an affordable price, the new SG2 series will appeal to large numbers of digital print business owners," Tanabe said. "In addition to individuals just entering the sign and display graphics market, we designed it especially for those focused on diversifying their print businesses by expanding graphic product offerings while also maximizing profitability through efficient production."
Tanabe added, "Roland DG is committed to providing products to help graphic providers and sign makers unleash their creative possibilities, transform their imagination into reality, and enjoy a sense of accomplishment when people react to their output graphics with 'WOW!'"
* In comparison with the previous SG series using TR inks.
For more information, contact:

Roland DG Corporation
PR/IR Unit
+81 (0)53-484-1400
E-Mail:rdg-ir@rolanddg.co.jp