Product News
03/30/2022
Roland DG Corporation
Roland DG Adds 4-Color UV-LED Flatbed with Excellent Cost Performance to EU Series Lineup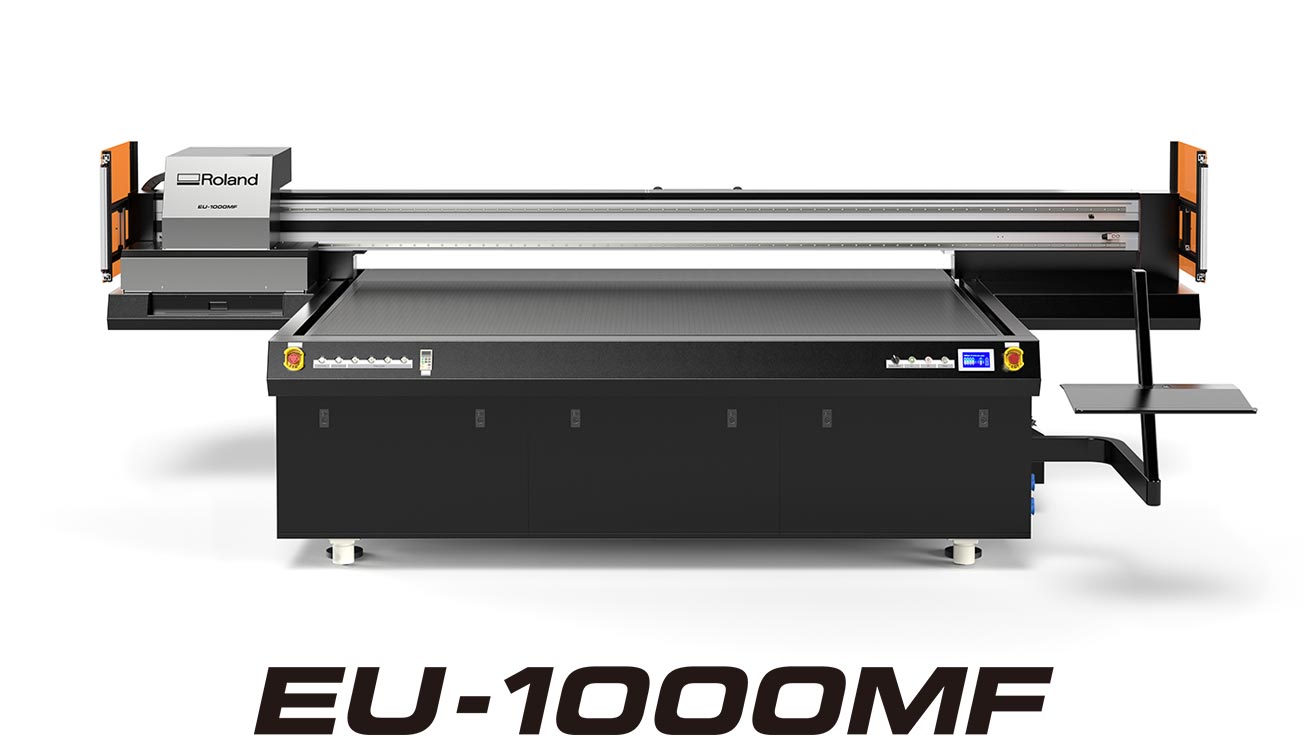 Hamamatsu, Japan, March 30th, 2022 – Roland DG Corporation, a leading manufacturer of wide-format inkjet printers and printer/cutters, announced today the addition of a new 4-color EU-1000MF large-format UV-LED flatbed printer to its EU series.
Tony Miller, President, Global Sales and Marketing Division, said, "Since the launch of our first inkjet printer in 1997, Roland DG has led the sign and graphics market in image quality, product reliability and customer service. The EU series of large format UV flatbed printers builds upon these strengths by offering high-quality printing and unmatched support at a great price and productivity level that will appeal to a wide range of customers."
According to Miller, the printer is capable of beautiful imaging on a wide range of materials up to 95 mm thick for a large variety of applications, including sign graphics, event and store displays, décor, and small-lot, high-mix custom goods. The 6-color CMYKGlWh model was first launched in Southeast Asia and Taiwan in July 2021, and now a new 4-color CMYK model has been added. "With the addition of Latin America to our sales area, we are now able to introduce the EU series to more customers. "Miller said.
Both 4- and 6-color models in the EU series achieve are equipped with printheads in a staggered array for printing up to 27.6 m2/h in 720 x 600 dpi CMYK mode and enabling it to handle approximately nine rigid 4' x 8' (1,220 x 2,440 mm) boards per hour for indoor decoration and display. The UV ink is cured instantly, making it fast-drying and eliminating the need for post-printing drying. The ability to print directly onto a variety of materials such as acrylic, PETG, PVC, foam, PC, wood, and aluminum composite boards eliminates the need to print on roll media and then mount on a board, reducing post-processing time and costs.
In addition to Variable Dot Printing Technology, which uses different sizes of ink droplets with high precision, Roland DG's acclaimed True Rich Color print setting makes it possible to achieve a higher level of output quality by combining both "vividness" and "naturalness" in a single print job.
The EU series also offers a high level of safety. It is equipped with four emergency stop switches and a safety sensor that stops the printer to protect the operator and printer. The UV inks are GREENGUARD Gold certified for low VOCs, making them safer for indoor applications.
"In recent years," Miller said, "as communication tools have become more diverse and output times shorter, there has been an increasing demand for faster, more cost-effective delivery of a wider range of print services, and the EU Series is well suited to meet these needs in terms of functionality, price, and service support. We are also preparing a new option that will allow customers to upgrade the EU-1000MF from 4 to 6 colors as their business grows, making it a powerful tool for business expansion and for new entrants in fast-growing economies where the demand is increasing for signs and graphics. Roland DG will continue to contribute to the development of the digital printing market through products and solutions that enhance our customers' creativity and business," Miller said.
For more information, contact:

Roland DG Corporation
Corporate Division
+81 (0)53-484-1200
E-Mail:rdg-pr@rolanddg.co.jp