Product News
05/10/2022
Roland DG Corporation
Roland DG Launches My TrueVIS Campaign for Sharing User Stories from Around the World
Hamamatsu, Japan, May 10, 2022 – Roland DG Corporation launched the My TrueVIS campaign worldwide on May 10, 2022, to publish user comments about its TrueVIS large-format inkjet printers and printer/cutters on its webpage and social media.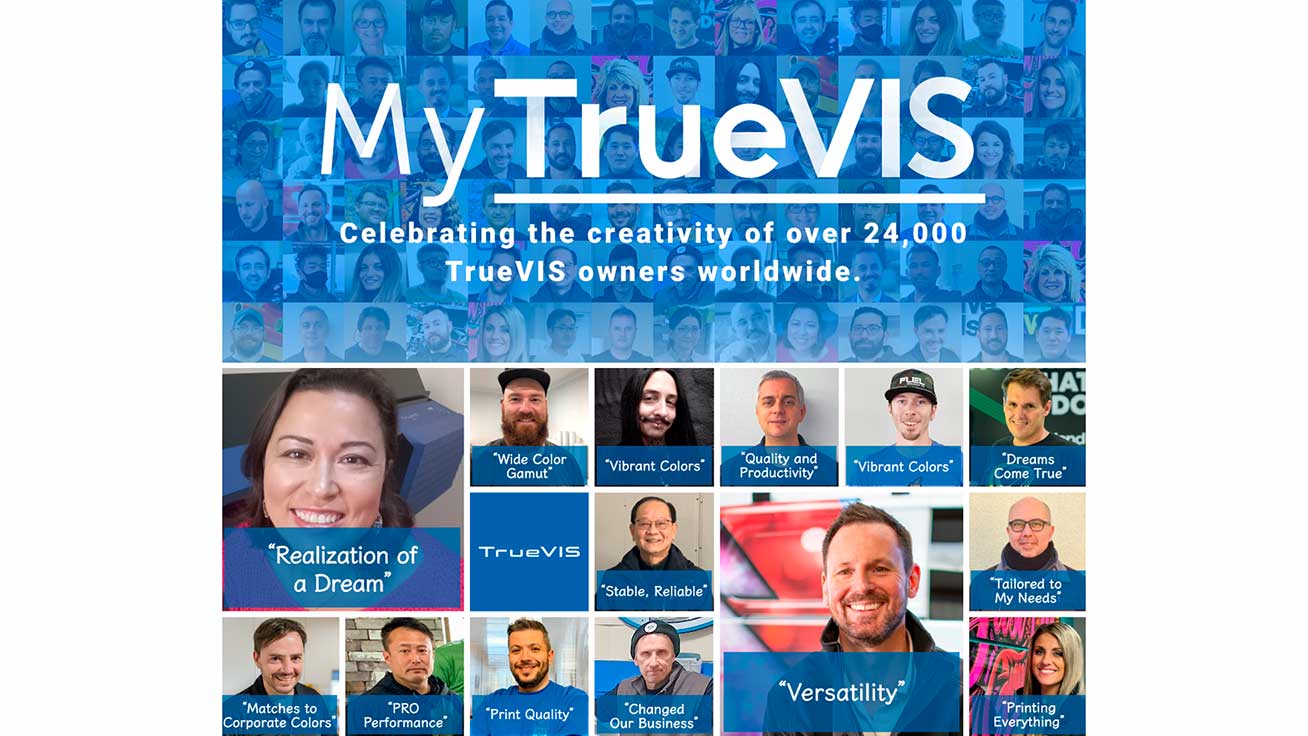 The TrueVIS series represents Roland DG's flagship models for producing sign and graphics with the extraordinary power to excite hearts and minds. The combination of unparalleled color, durability and ease of use has appealed to large numbers of digital print business owners resulting in shipping more than 24,000 units.* On March 1st, the company launched its third generation of TrueVIS printer/cutters, including the professional VG3-640 and 540 models with up to eight colors of ink and the value-packed SG3-540 and 300 with four colors of ink.
For the My TrueVIS campaign, TrueVIS users everywhere are invited to post what they love about TrueVIS with photos of their work and workplaces by using the hashtag #MyTrueVIS on social media.
Tony Miller, President, Global Sales and Marketing Division, said, "We started this campaign to let people know about the benefits of TrueVIS, but it has revealed not only our customers thoughts about TrueVIS, but also many exciting success stories. For example, an American user sold her couch, put her TrueVIS printer in her living room and started a printing business. A British customer said that his sons will now be taking a bigger role due to TrueVIS furthering the growth of his business. A Brazilian woman said that TrueVIS has created new possibilities for her company and made her dreams come true."
"These are just a few of the stories we were impressed to hear from users working successfully in different environments in numerous countries. They remind us of the important role and responsibility that our products play in the personal lives of our users, not just in business," Miller said.
"The purpose of our company is to provide more people with the joy of creation. These passionate and creative customers are a great source of pride for us and one of our most treasured strengths. They make us even more determined to continue to provide products and solutions that meet or exceed the expectations of our customers around the world," Miller continued. "Through this campaign, we sincerely hope that more and more people will become aware of the value that TrueVIS offers and the stories of creativity, joy, and excitement that result from it."
Please check the My TrueVIS at https://global.rolanddg.com/products/printers/mytruevis.
* As of the end of March 2022
For more information, contact:

Roland DG Corporation
Corporate Division
+81 (0)53-484-1200
E-Mail:rdg-pr@rolanddg.co.jp