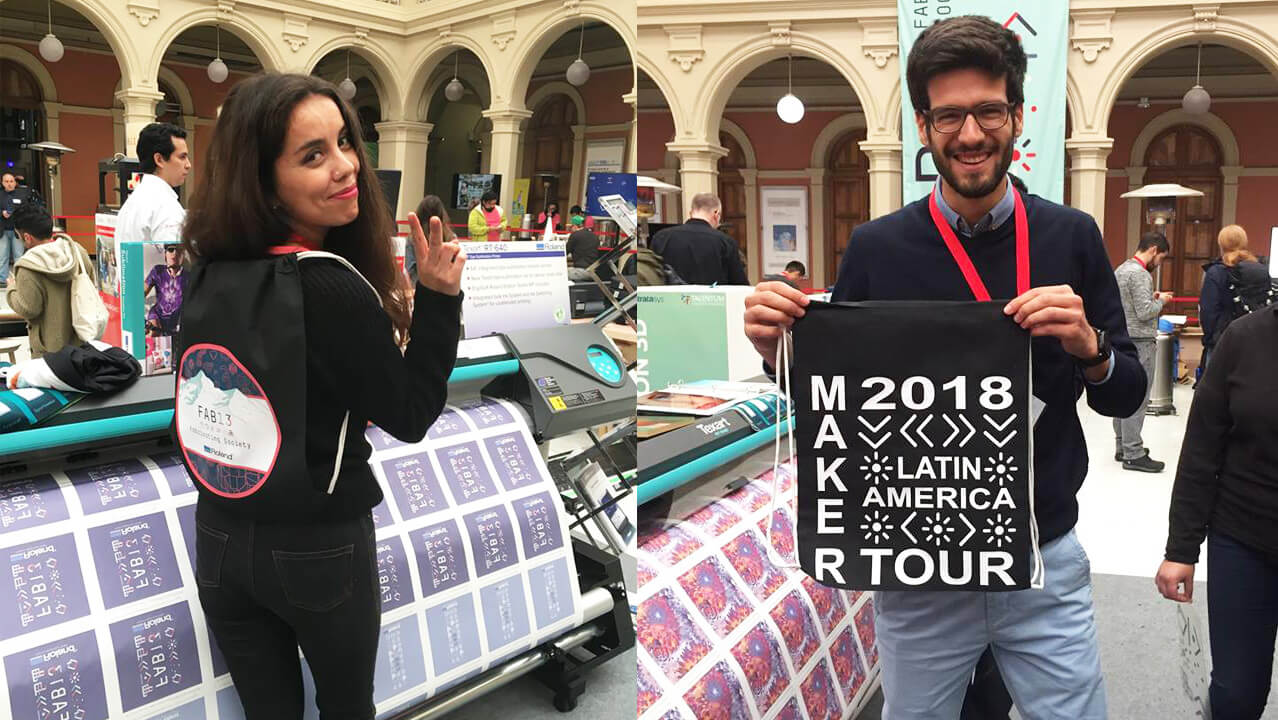 Roland DG Gives Back to the Tech Community at FAB13
From July 31 to August 6, 2017, more than 1,000 Fab Labs around the world gathered in Santiago, Chile for FAB13, the 13th annual meeting of the global Fab Lab community. It marked the fifth time that Roland DG has sponsored the event that features presentations by leading thinkers in design, engineering and technology, tackling such fascinating topics as artificial intelligence, synthetic prototyping and creating a sustainable future through technology. Throughout the event, Roland DGA, Roland DG's U.S.-based sales and marketing subsidiary for the Americas, demonstrated the capabilities of our cutting-edge products and conducted an interactive workshop.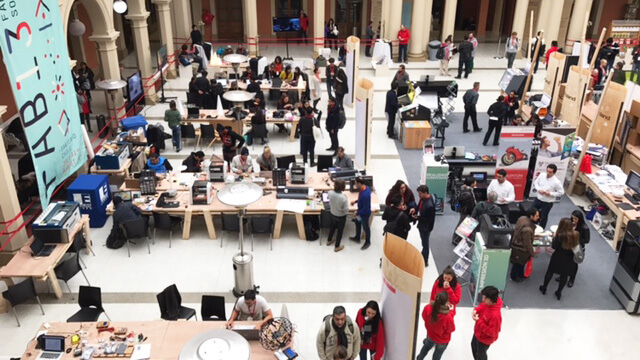 Birds-eye view of FAB13 at the Centro De Extensión – Pontificia Universidad Catolica.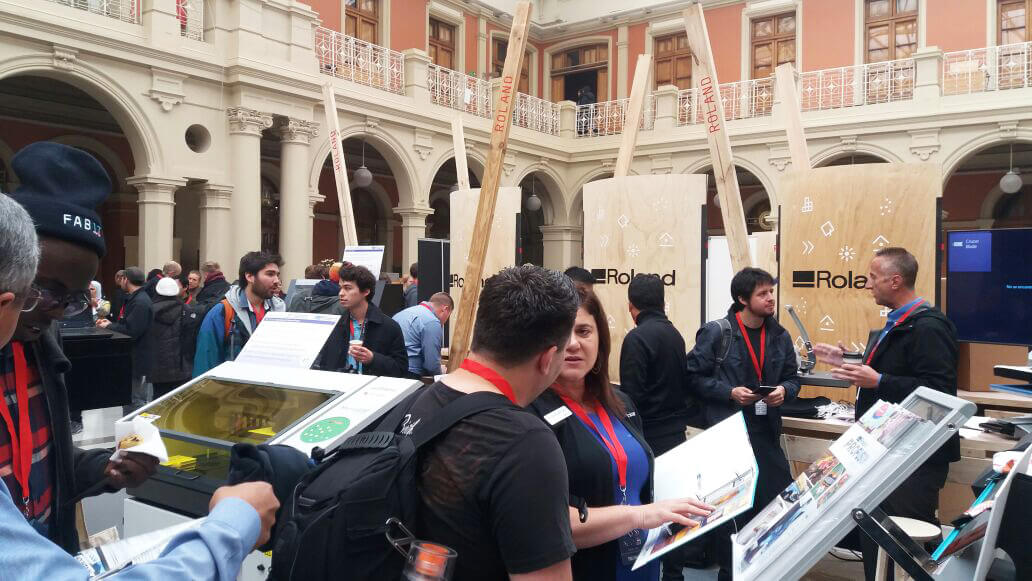 A packed stand was the result during FAB13 where excited attendees were able to experience Roland DG printing and digital fabrication technologies.
FAB13 is an event in which Roland DG is thrilled to "give back." It was very rewarding for Roland DGA representatives to see young Chileans using Roland DG equipment and other technologies for the first time during hands-on workshops that gave them the chance to create, print, build and digitally fabricate their concepts. The annual Fab Lab events have become highly important for Roland DG and for the technology industry as a whole because they are all about the pursuit of ideas and the realization of those ideas through the eyes of young creators, designers, and engineers – i.e., future technology leaders and Roland DG users.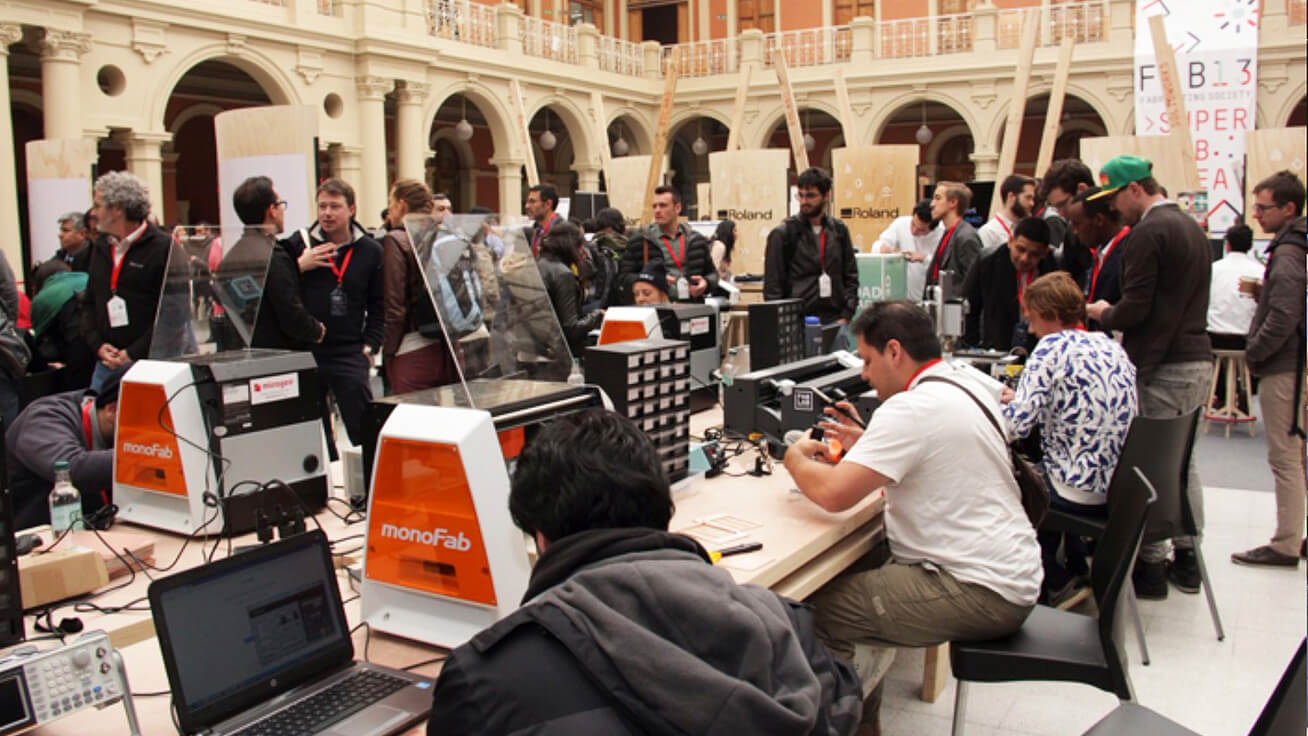 FAB13 attendees using SRM-20 milling machines to experiment, collaborate, and fabricate.
Roland DGA team member Amado Lara, showing FAB13 attendees the complete line of Roland DG printers and equipment.
In addition to showcasing our printers, 3D milling machines, and vinyl cutters, Roland DGA demonstrated its newly developed Project Based Learning (PBL) tutorials which consist of ready-to-teach solutions specifically designed to engage students in engineering, design, art, and STEM-related projects for use with our most popular digital devices. The Roland DGA booth became the "go-to" print shop for all the tutors, professors, engineers and Fab Lab owners at the event. Roland DGA representatives were happy to help attendees print their files onto bags, t-shirts and other applications. Nicole DelPrato, Roland DGA, Marketing Manager for Campaigns and Events, described how it was a whirlwind event but an incredibly fun experience: "We were nearly overwhelmed, but it was so amazing to help such engaging and excited attendees by showing them all the possibilities of Roland DG equipment."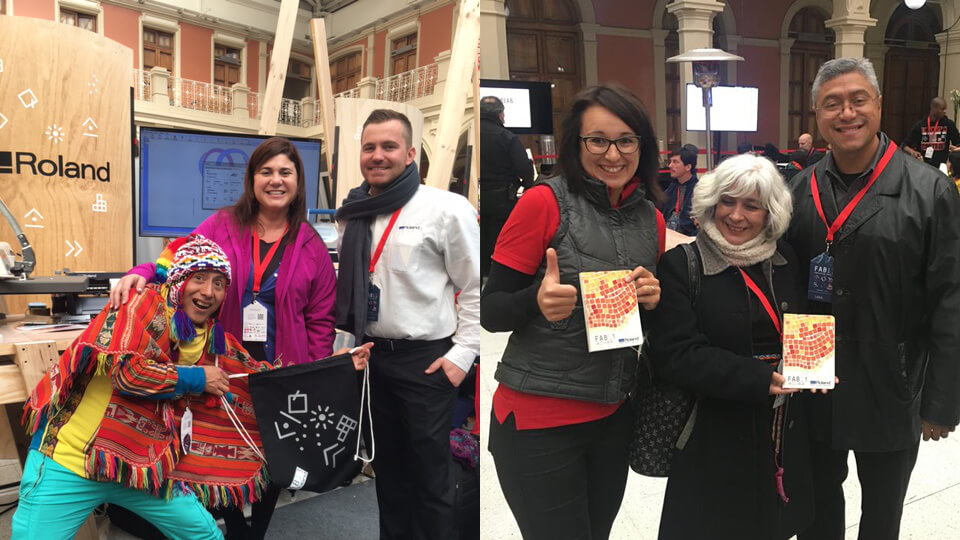 Left: Roland DGA representatives Garrett Smawley and Nicole DelPrato with a happy attendee and his newly printed backpack.
Right: Amado Lara, Roland DGA's Director of Sales for Latin America, poses with two smiling attendees and their notebooks personalized on a VersaUV LEF flatbed printer.
After the show, Roland DGA representatives expressed the importance of FAB13 and how Roland DG should continue to strive to be more than just a technology provider, but to also represent education, community and the development of new ideas. FAB events and the global Fab Lab movement are a perfect reflection of our own Roland DG ideals. As a progressive company, we can continue to provide essential technology devices while maintaining a connection to the network of Fab Labs around the world in order to share information, brainstorm ideas, and collaborate on solving problems and accomplishing great things.