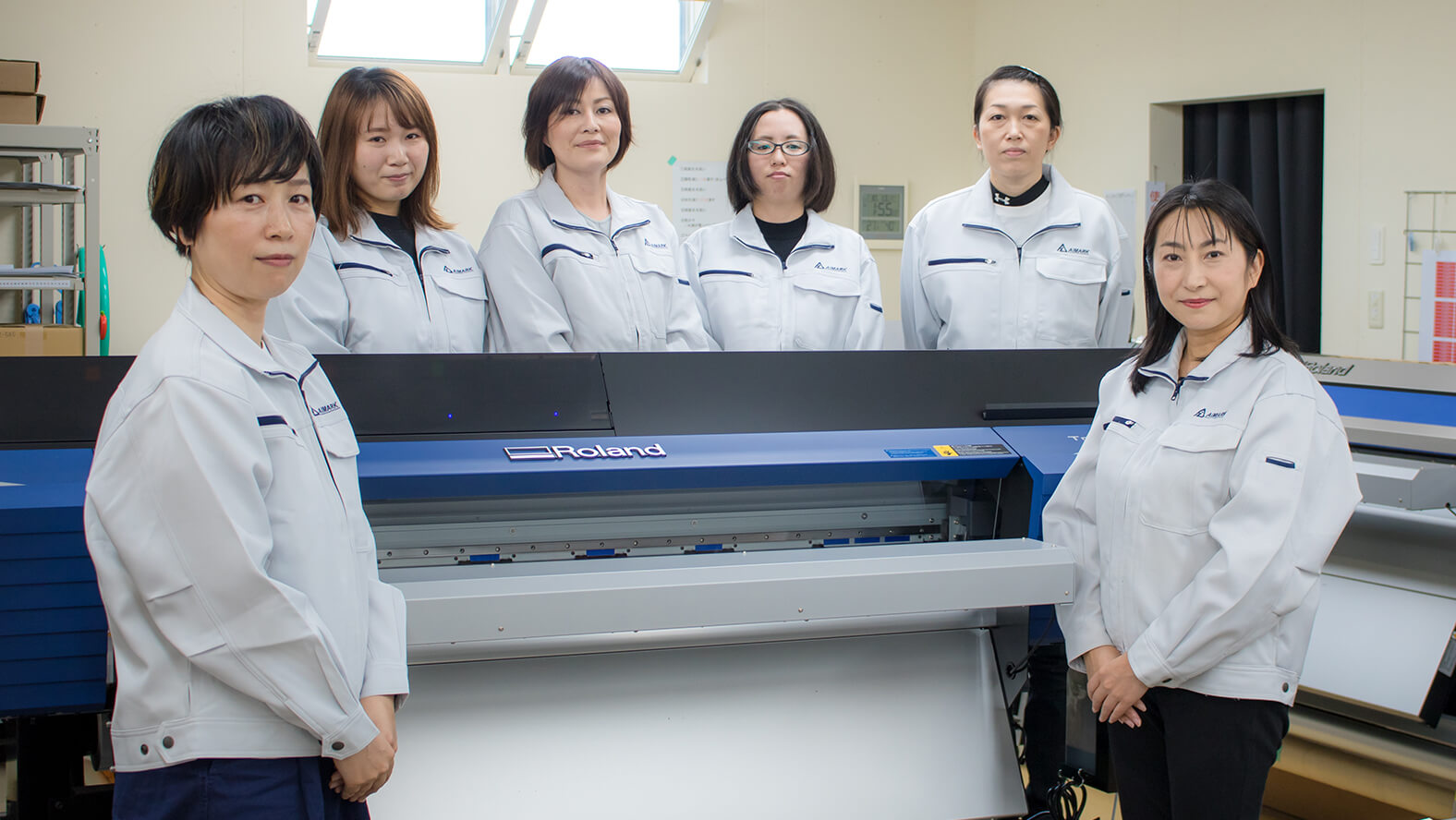 Industrial and Maritime Safety Signs Made-to-Order with Inkjet Printing
12/15/2020 Digital Printing
We recently had the opportunity to interview AIMARK, a fabrication company in Imabari City, Ehime Prefecture, Japan that began using a TrueVIS VG2-540 wide-format printer/cutter to produce nameplates and signs for various applications ranging from shipping to industrial equipment.
Using printing, plastic engraving and metalworking to make products that meet customer requirements
AIMARK is a fabrication company that uses printing, plastic engraving and metalworking methods to produce items such as identification plates, nameplates, stickers, and signs for shipping-related companies and equipment manufacturers. Women make up 70% of the employees and are involved in the production and fabrication processes.
We spoke remotely with President Seiko Kayakabe (photo front right) and Shiho Fujiwara (photo front left) who is in charge of printing operations.

The new production center constructed in 2015 features a wooden design to create a more comfortable working environment for employees.
Roland DG: Tell us a little about the type of work that AIMARK is involved in.
Kayakabe: My father founded AIMARK in 1994. At that time, the main line of work was making nameplates by engraving characters in acrylic. Today, the business has expanded to include stickers, signs, metal nameplates, and other similar panels you often see around town.
In the past our printing division used only silk-screen printing, but we added inkjet printing in 2005 after hearing positive stories from one of the companies that we work with. While silk-screen printing requires quality craftsmanship, we decided to equip our worksite with inkjet printers because we can operate them by ourselves, and they can also be used for a wider range of applications. Since then, we have always used Roland DG printers. The TrueVIS VG2-540 is our fourth such unit.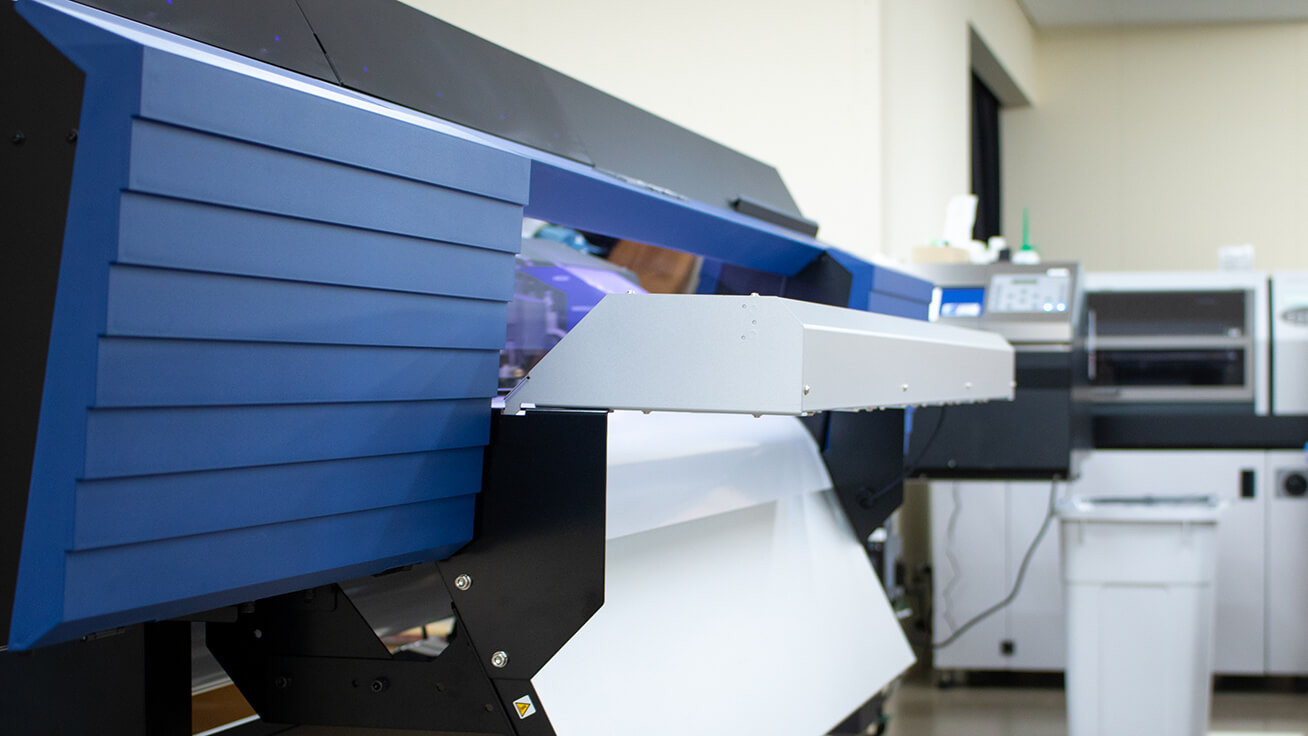 Roland DG's TrueVIS VG2-540 wide-format printer/cutter (foreground) and VersaUV LEF2-200 UV printer (background)
What types of customers do you receive orders from?
Kayakabe: More than 90% of our customers are B2B transactions with many orders from shipyards and shipping-related companies around Japan. We provide these companies with complete packages of all the labels and signs required on ore carriers and crude oil carriers as well as commercial vessels like container ships. Examples of such displays include the guidance signs inside ships and pipe identification stickers to indicate what pipes are used for, such as water, hot water or chemicals. For equipment manufacturers, the stickers we make include those that are attached to equipment or warning signs installed throughout factories.
We have three production divisions at AIMARK: Printing, including both inkjet and silkscreen, Plastic engraving, and Metalworking. There are many companies in the nameplate production industry that specialize in their own field of expertise. Our forte, however, is that we are able to produce all these types of nameplates under a single roof. This means that we can recommend to customers the ideal production method to suit their particular application, required quantity and completion schedule. Inkjet printers mean we can even make individual stickers, which is highly appreciated by equipment manufacturers with small production runs.
Inkjet printing

Plastic engraving

Metalworking
The VG2-540 was the top choice for its fine text and full color capabilities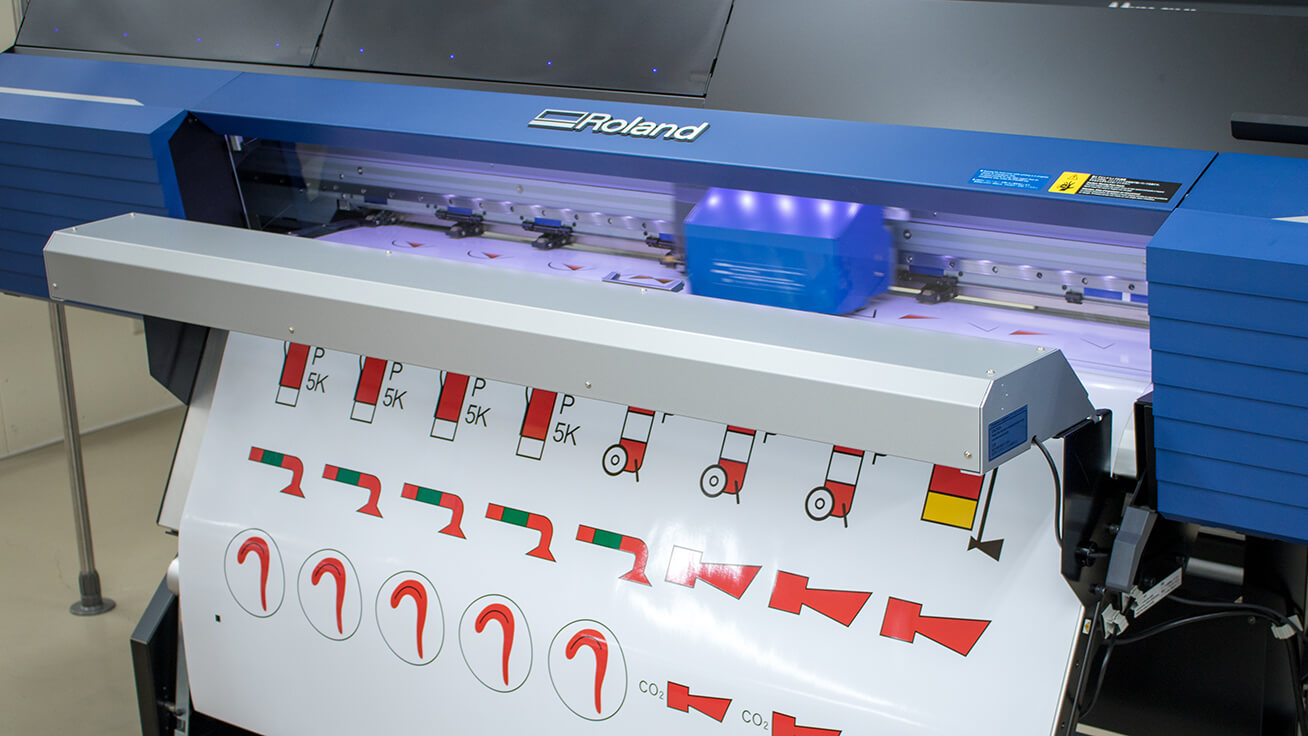 What were the reasons you decided to choose the VG2-540?
Kayakabe: This was an upgrade from the VS-540, the printer that we were previously using. We considered various different models while gathering feedback from operators, but decided to settle on the VG2-540 for its excellent text quality and how easy its RIP and print management software is to use.
How do you find using the VG2-540 after setting it up?
Kayakabe: Warning signs are often made of many solid colors, and they look amazing when printed with the VG2-540, without any grainy appearance. Fine text is also printed clearly, which makes a big difference on product liability labels (safety labels applied in accordance with product liability regulations) that we deliver to equipment manufacturers. These labels have warning statements packed into a small area, but they come out looking so clear.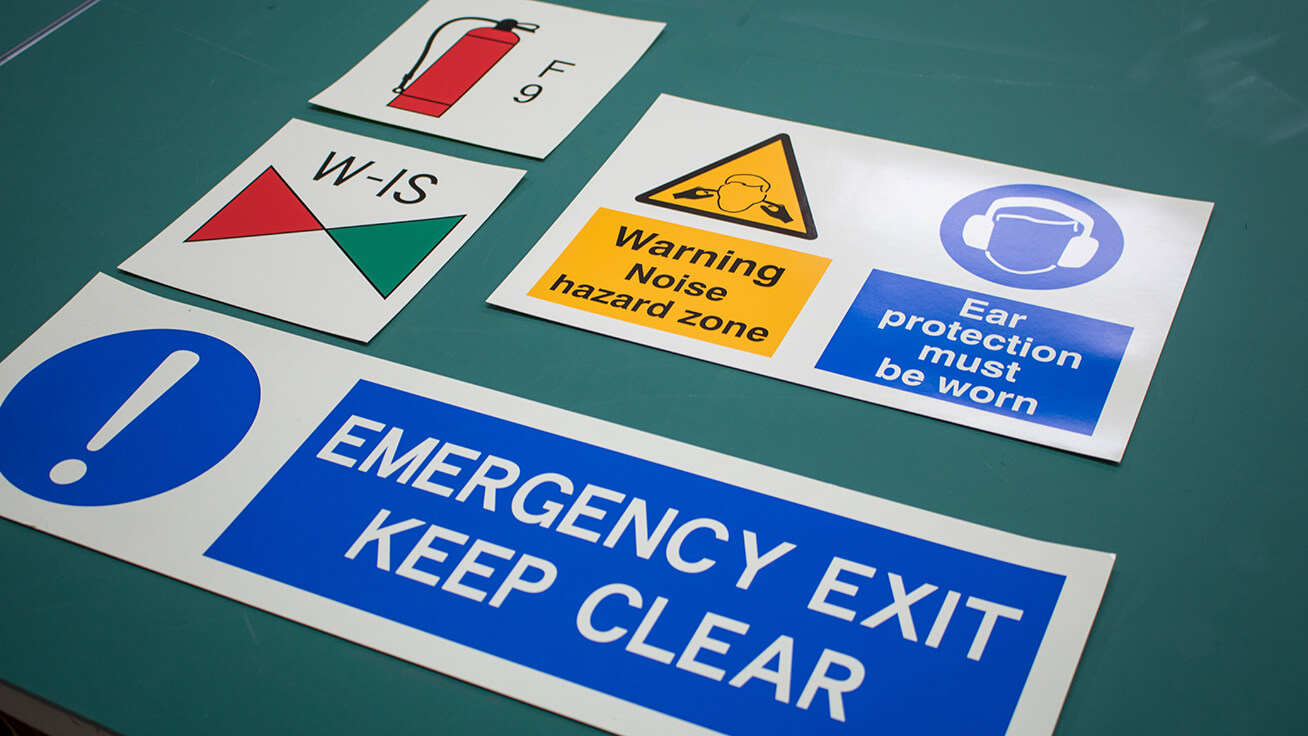 Fujiwara: The balance between print speed and image quality is excellent, and there is minimal skewing even when printing on long materials. It is quick to start-up and has many small improvements that make it much better to work with on a daily basis, like the easily accessible loading lever and lamp that turns on during servicing or printing.
At AIMARK, all steps of the printing process, from creating design data to the actual printing, are performed by a single operator. Multiple printers can be controlled from a single PC, which means we can focus on design work without having to get up and down to set up each printer. I also like the RIP and print management software interface as it is easy and intuitive to use.
The VG2-540 is equipped with new green and orange inks; how have you utilized their capabilities?
Fujiwara: Until now we struggled reproducing greens, oranges and neutral colors when printing to match the colors specified by the customer. Using the green and orange ink with the VG2-540 has halved the time required for color matching, and the printed colors also look great.
Kayakabe: Shipping-related print jobs often need to be printed using non-standard colors, like dull greens and blues. These colors are not available with off-the-shelf cutting sheets, so we use inkjet printers to create colors as close as possible for our customers; the VG2-540 is able to print colors that are very similar.
If someone has an idea, we want to make it
Lastly, tell us about your future business plans.
Kayakabe: Many of our customers around Japan are now working remotely due to the COVID-19 pandemic, and we did experience a temporary decline in business, so we took the opportunity to take on new projects like making acrylic sneeze guards.
Our approach at AIMARK is to work with customers to make things that they think would be handy to have. We hope to create products that are beneficial to society and meet the ever-changing requirements of customers by harnessing our expertise with printing, plastic engraving and metalworking.
Thank you for the wonderful insight.
This was a great opportunity to catch a glimpse of the production process for safety signs on ships, in plants and on machinery.