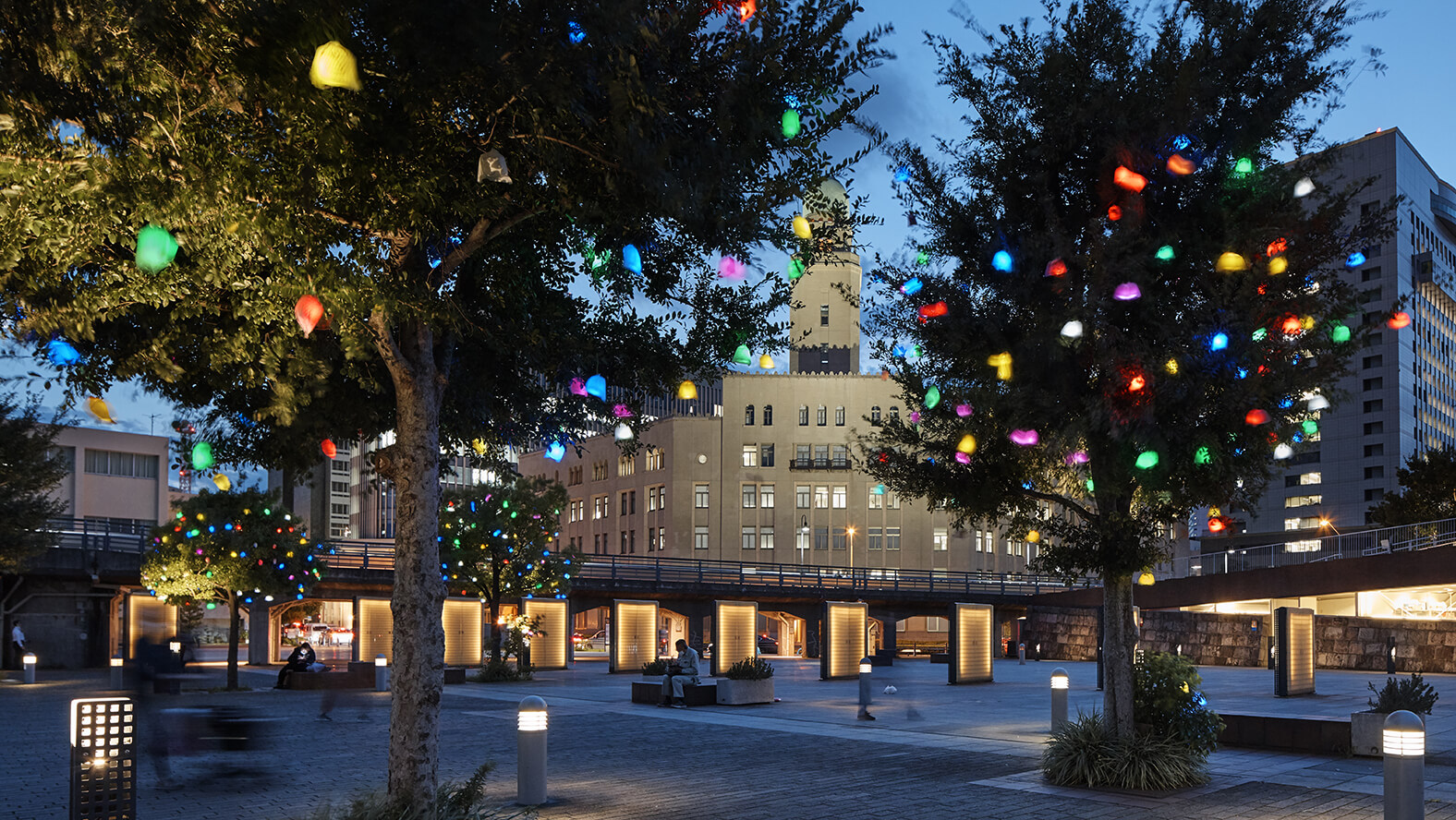 Smiling Faces Made with UV Printers Light up a Japanese Park
11/17/2020 Events & Tradeshows, Digital Printing
In autumn, Zou-no-hana Park in Yokohama Port, Japan, was illuminated by the Hikari no Mi (Shining Smile Fruit) light-based installation that featured trees adorned with smiling faces drawn by children. Visitors normally take part in person during the annual event to create drawings. Since this was difficult to achieve this year, however, the event took on a new online approach, where Roland DG's UV printers were utilized for the event.
The "Hikari no Mi" idea came about following the 2011 Tōhoku earthquake and tsunami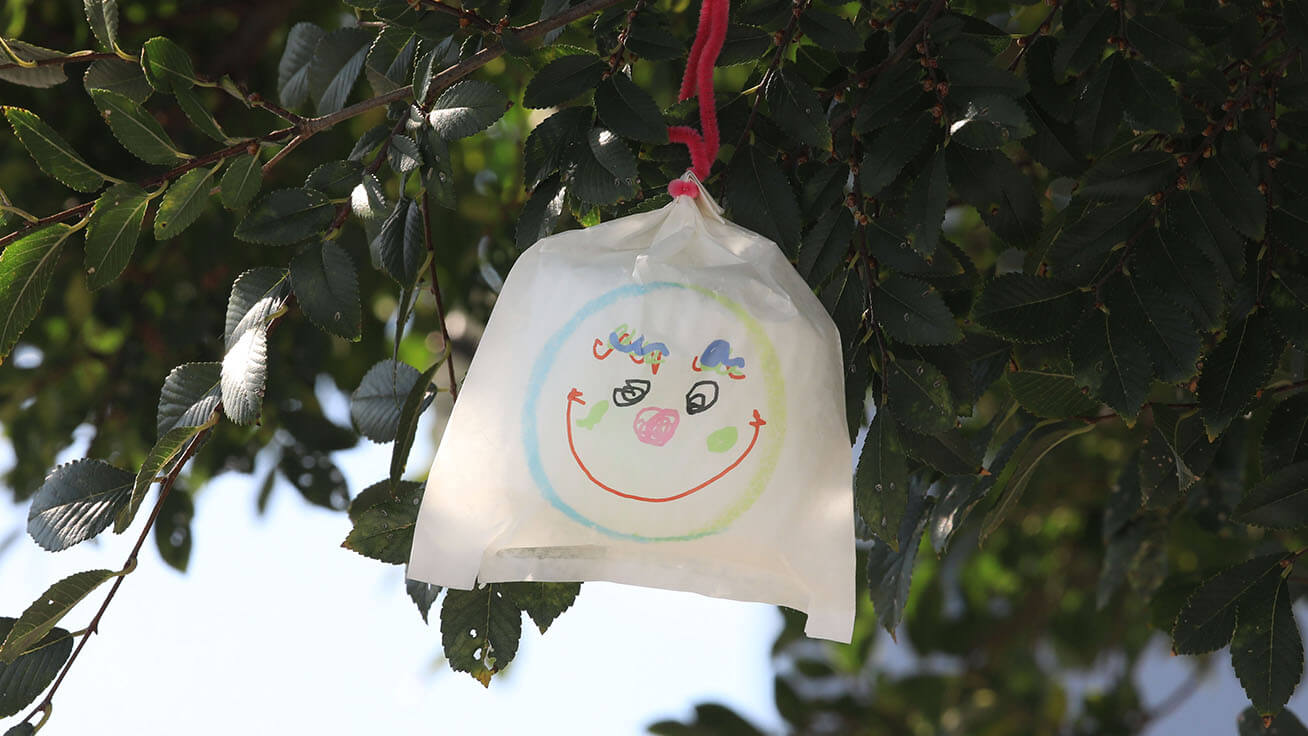 A Hikari no Mi hanging from a tree. (Photo: Mito Murakami)
Hikari no Mi is a participatory art project created by artist Kyota Takahashi in the wake of the 2011 Tōhoku earthquake and tsunami which resulted in the Fukushima Daiichi nuclear disaster. The event involves handing participants a fruit bag—which is used when growing and picking fruit—and having them draw smiling faces on them. An LED globe is then placed inside the bags to create a colorful nightscape filled with smiles. To date, more than 100,000 visitors have taken part in the event in Yokohama and other locations around Japan.
This year, with the COVID-19 pandemic still continuing, the event was organized as a joint program with the Yokohama Triennale 2020 "Afterglow" international contemporary art exhibition held at Zou-no-hana Terrace art space and rest house in Zou-no-hana Park, together with an online workshop. Roland DG assisted with the event by providing UV printers to print smiling faces created by children from Japan and around the world onto fruit bags.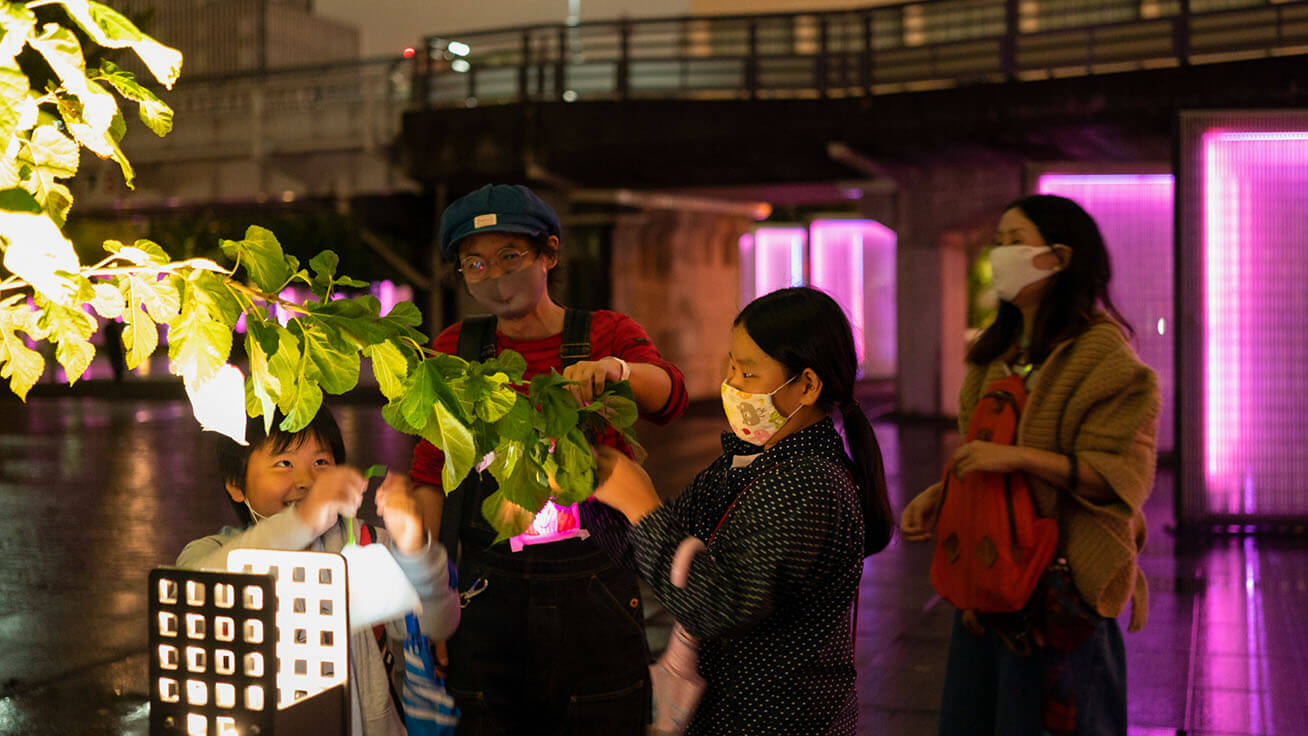 Hikari no Mi made during September 26-27 workshop on show at Zou-no-hana Park. (Photo: Hajime Kato)
We had the opportunity to find out more during an online chat with organizing members.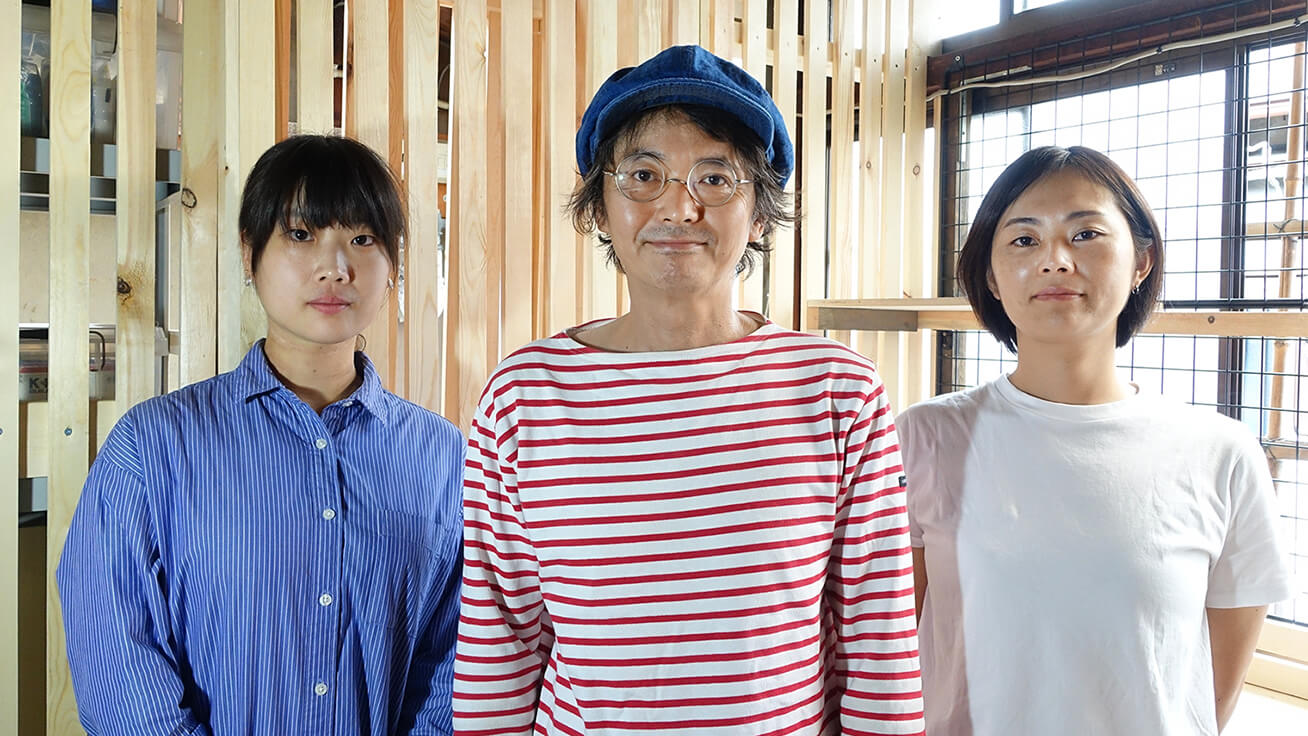 Kyota Takahashi (photo center)
One of Japan's most prominent artists using light-based installations is Kyota Takahashi. Major projects of his include light projections for the 100-year anniversary of Tokyo Station as well as planning and hosting exhibits for the Kyoto city KYOCERA Museum of Art. He has also been involved in many participatory art projects like Hikari no Mi.
Kyota Takahashi office staff Mito Murakami (photo left), Reiko Kawaguchi (photo right)
Shinichiro Moriya (Wacoal Art Center)
Shinichiro Moriya is the chief planner of Wacoal Art Center a company in charge of operating "Zou-no-hana Terrace" and the arts complex "Spiral" in Omotesando, Tokyo.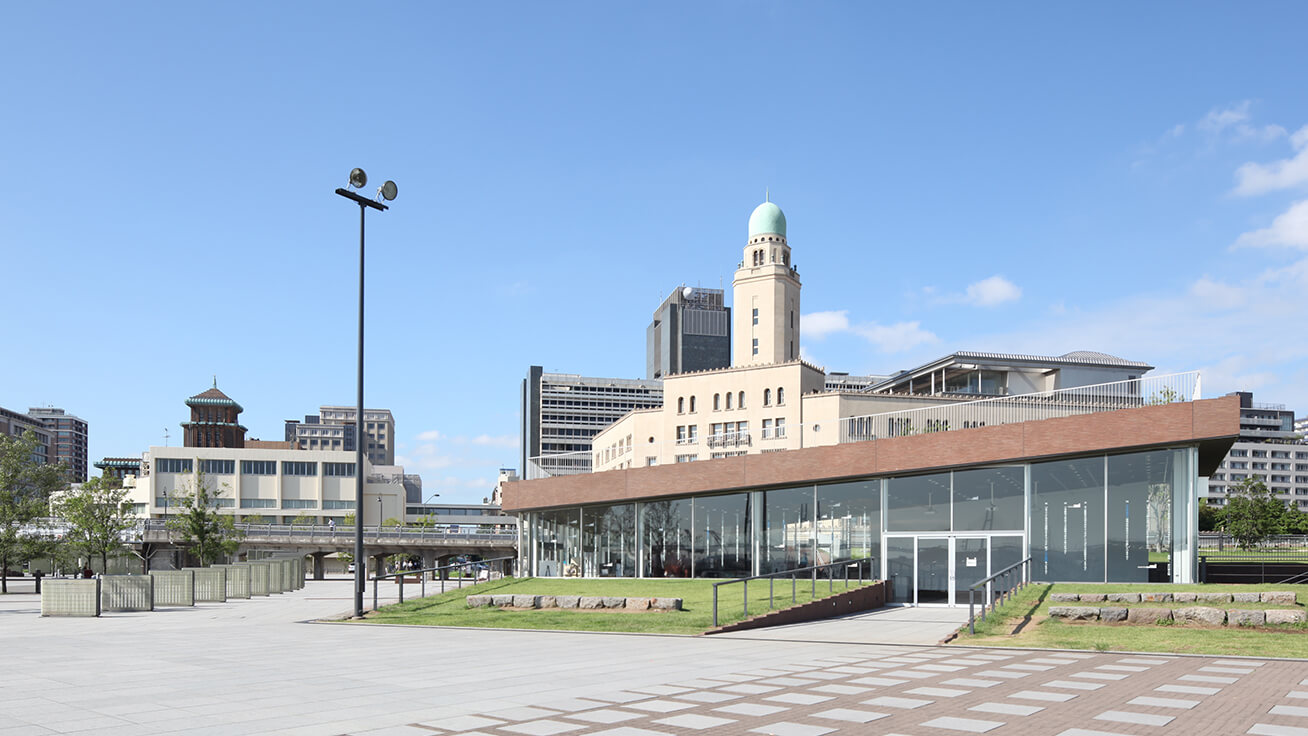 Zou-no-hana Terrace where the event was held. (Photo: Katsuhiro Ichikawa)
Roland DG: What type of artwork is "Hikari no Mi?"
Takahashi: I first draw a circle on fruit bags, and then have children draw their own smiling face or the face of someone dear to them. A small LED is then placed inside the bag before hanging it from a tree. When power conservation became a major issue after the 2011 disaster, I came up with the idea of putting a small battery-powered LED in fruit bags to help brighten up a wide area. Similar projects are on the rise around the country, including children in disaster-hit Rikuzentakata in Iwate Prefecture exchanging drawings of smiling faces with children in Yokohama.
Moriya: I have been working with Kyota on the Hikari no Mi project for ten years. It is wonderful that small lights like these can create such a bright atmosphere. I think that the thoughts and compassion that people create really left a lasting impression, especially when people were feeling so miserable after the earthquake.
UV printers are playing an important artistic role during the pandemic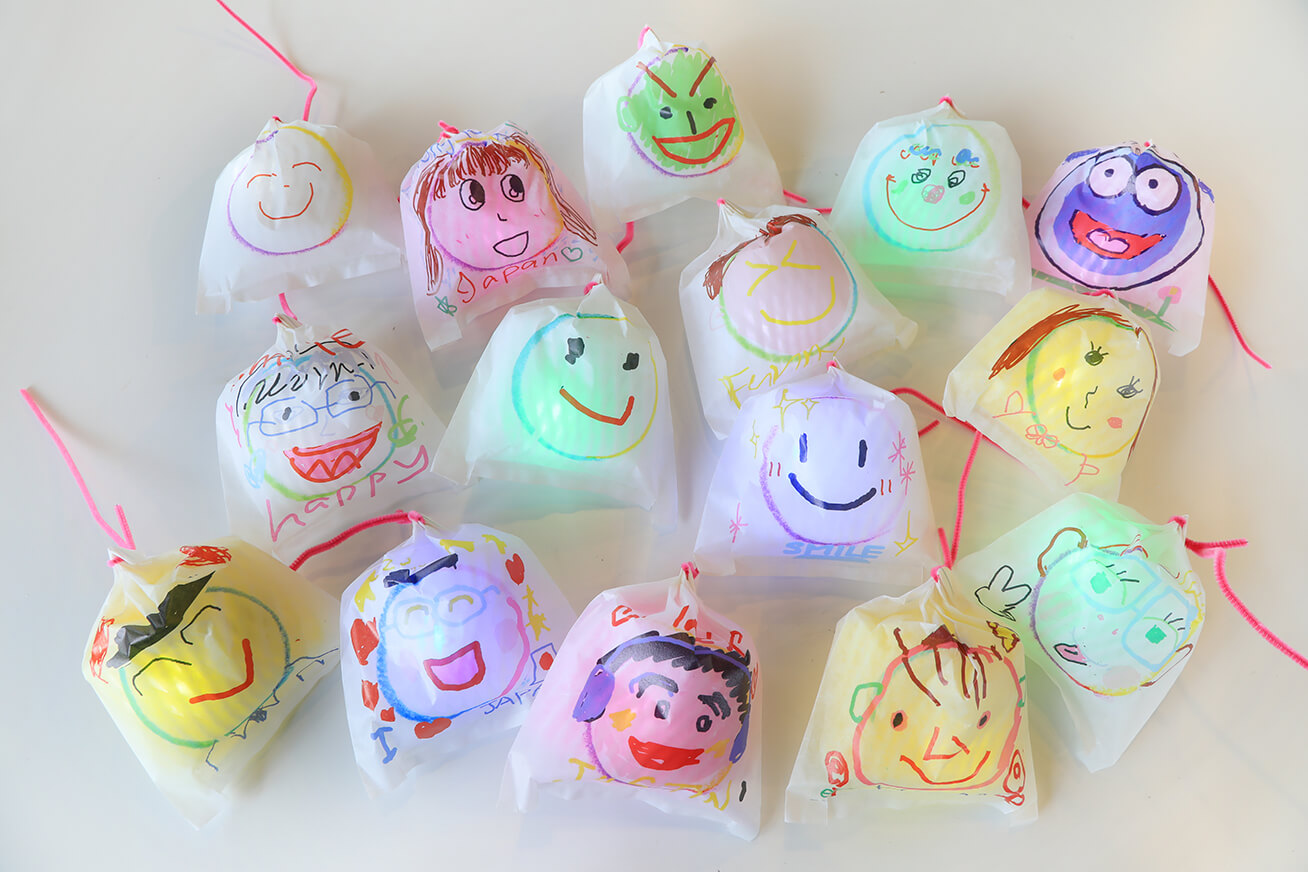 A sample of colorful Hikari no Mi creations. (Photo: Mito Murakami)
This art is on display every year in Yokohama, but things have changed immensely this year.
Takahashi: Hikari no Mi are works of art that we make together with participants. In the past, we visited elementary schools, children's centers and other facilities to make them with children.
When the COVID-19 pandemic broke out before spring, we were no longer able to visit children. There are many people who look forward to the event every year, so I was worried about how to continue running the event.
For this year, we decided to organize the event together with online workshops. We called for people around the world to take part in drawing images online of their smiling faces by using a special website we set up for the event. We also ran small-group workshops at Zou-no-hana Terrace, and linked up with children in Hong Kong over ZOOM to draw smiling faces together.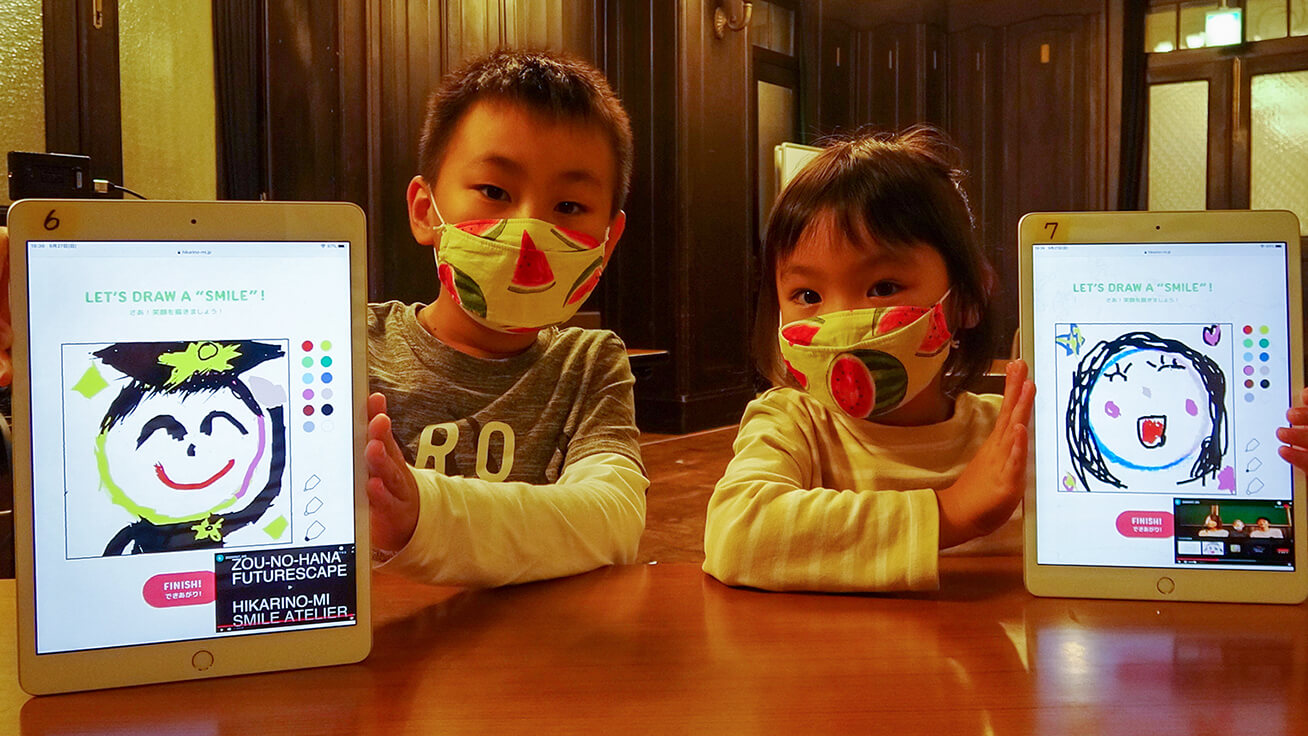 Workshops were held for each family household—who created some very special smiles! (Photo: Mito Murakami)
What made you start using UV printers?
Takahashi: The pandemic situation made it difficult for us to receive drawings of smiles sent in from people overseas, but I didn't want to settle for running an online-only event. So I asked around to see if anyone knew of ways for printing digital data onto fruit bags, which is when I found out about UV printers that can print on a wide range of materials. I tested the printing using Roland DG's UV Printer at FabCafe Kyoto, and decided that this method could definitely be feasible.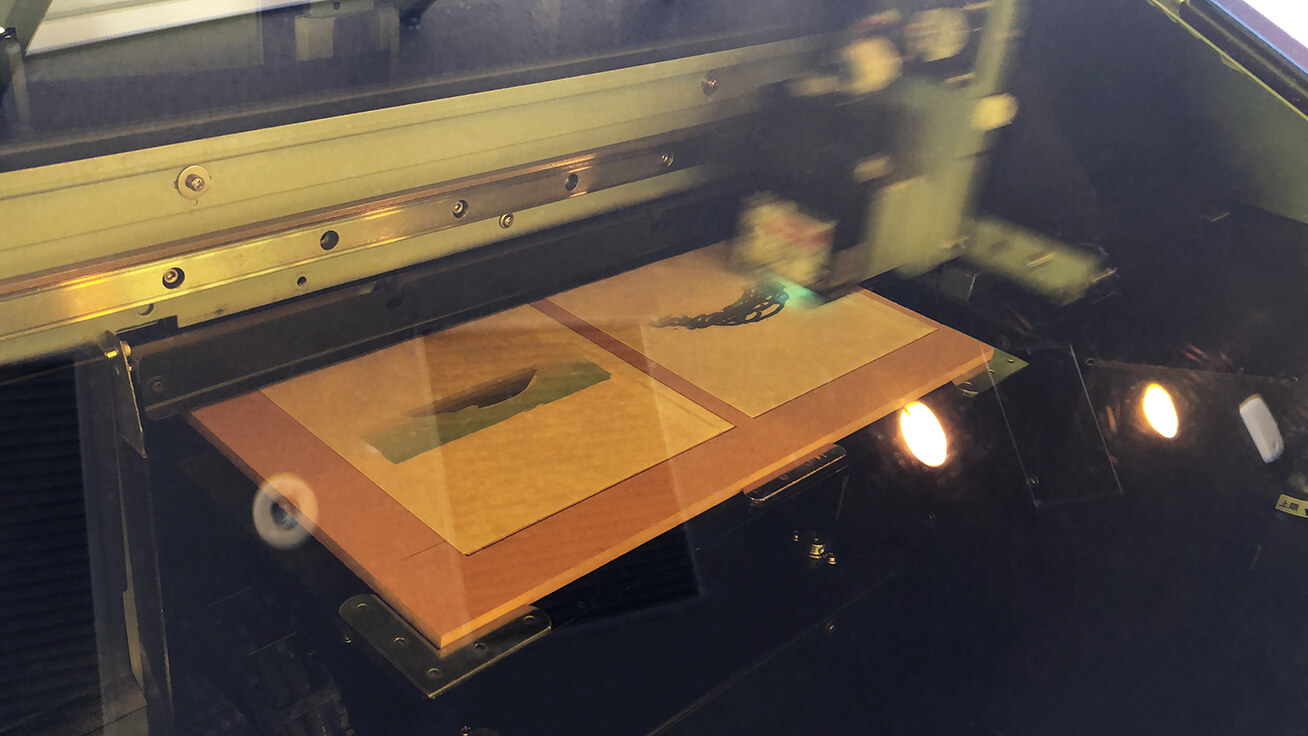 Printing on a fruit bag using the LEF-12i UV printer. (Photo: Mito Murakami)
What did you think of the results of using the UV printer?
Murakami: We tested various types of prints by changing line thicknesses and colors, and found that the print speed was quick with excellent color production. The resulting textures look just like drawing on fruit bags with crayons or permanent markers.
What about feedback from participants?
Takahashi: When the bags are hanging on trees, they definitely do not look like they have been printed. I even heard participants commenting, "Look at the smiling faces," as if they had actually been hand-drawn.
It was the first time for many workshop participants and event visitors to see this type of printer in action, and they were amazed by how it worked. Children stood right up against the machine watching it print. No doubt witnessing the drawings gradually come to life was a new experience for everyone watching.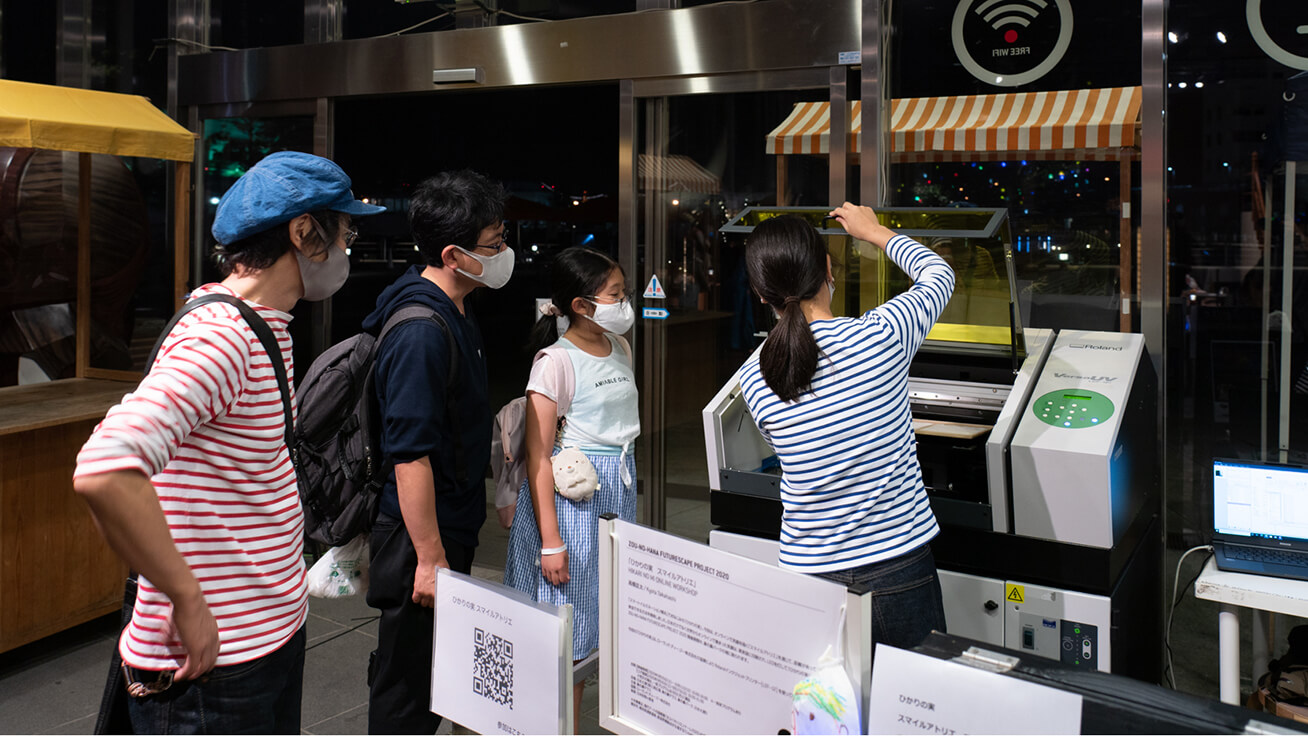 A UV printer in action at a workshop. (Photo: Hajime Kato)
How did the first online event go?
Takahashi: In the past we had run similar events just within Japan, but having children in Japan and Hong Kong create artwork together remotely was a rewarding experience.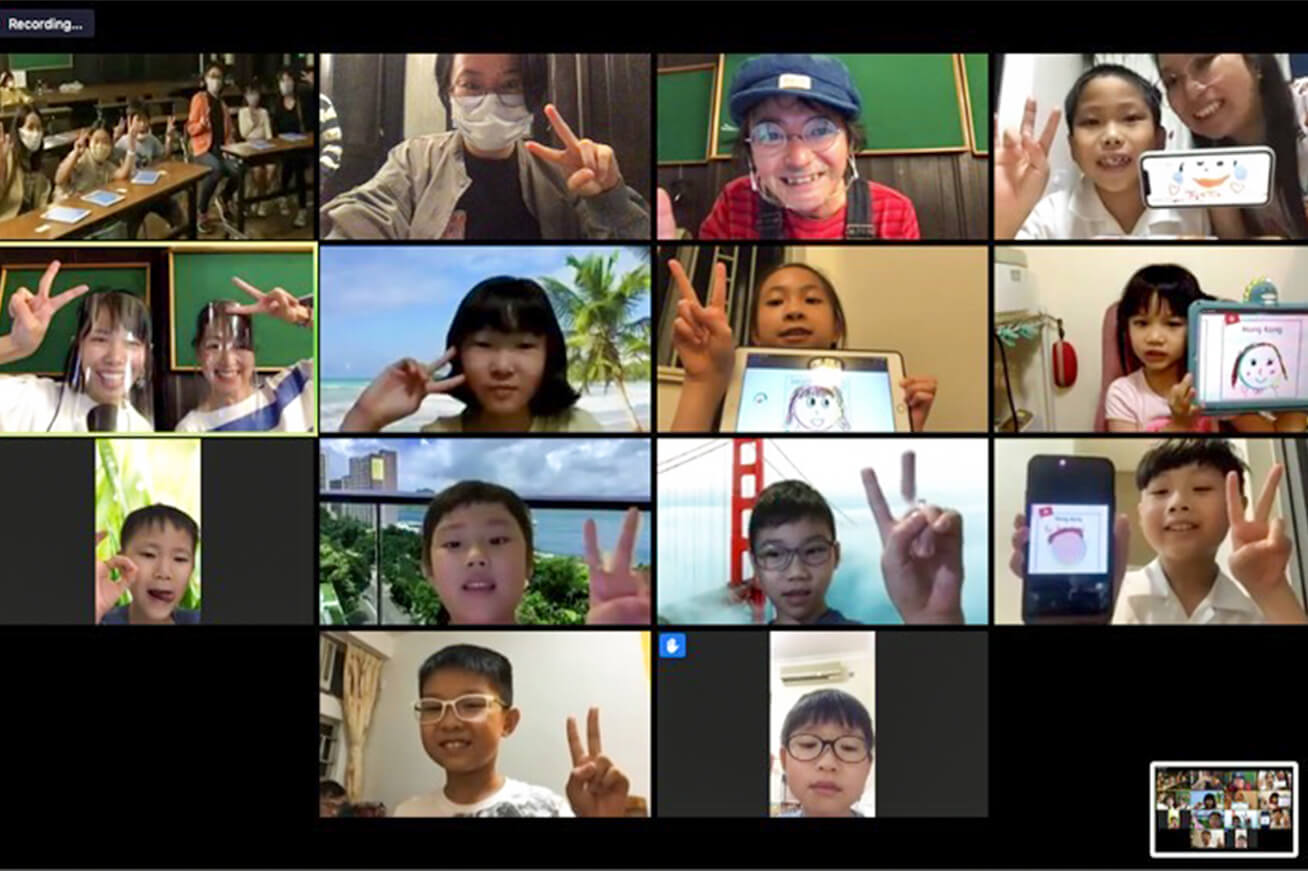 Expanding the potential of art
How do you think the COVID-19 pandemic will change the art world?
Moriya: I think that the true potential of art becomes most evident when there is unease running throughout society. Right now we are having to adapt to new lifestyles that we have never experienced before, like not being able to meet people face-to-face. The Hikari no Mi concept was created when power-saving and power-efficiency efforts were at a peak after the earthquake and tsunami, but I hope it becomes a way for people to stay connected despite the major changes that are now occurring in society.
How do you feel about using digital technology in the art world?
Moriya: I find it great fun to see just how much we can harness these new technologies. Just like Kyota discovered with UV printers, I think there will always be new opportunities by fusing artists' creativity with technology.
Takahashi: I found that UV printers are ideal for creating one-off works or expressing ideas using certain textures. For this event we printed out and displayed digital smiling faces drawn by children overseas, and someday I want to try printing out artwork drawn by children in Japan and have it displayed at similar event spaces overseas.
The move to online systems will become the global standard in the near future, which in turn will likely place a greater value on actual artwork that you can feel and own yourself. So I think that there is great potential for UV printers that are capable of printing on a range of different materials.
Thank you for your insight!
It was great to see Roland DG products being used to create artwork that plays a key role in bringing people closer together despite having to stay apart.