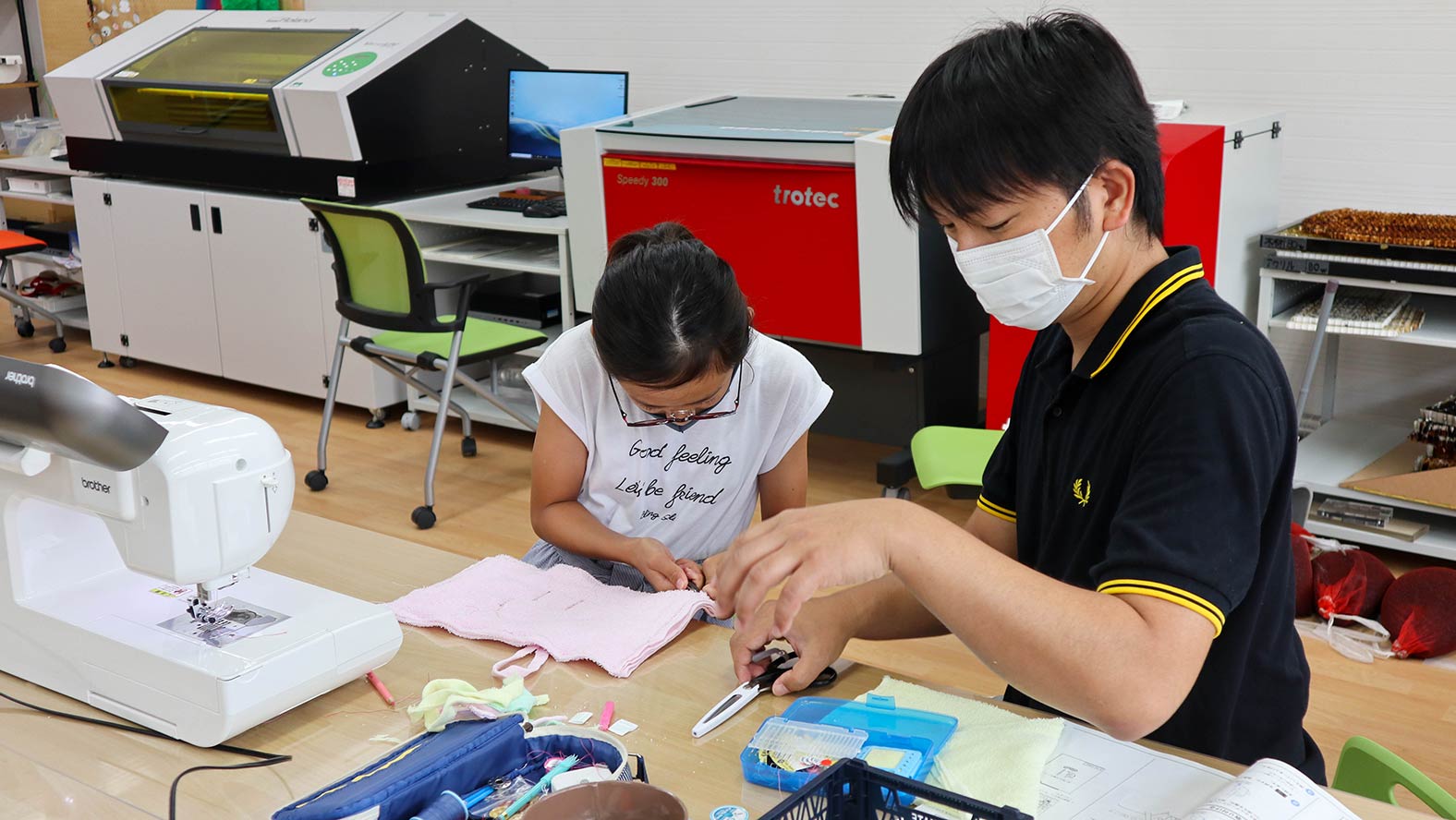 Makers-Lab Toyohashi Brings the Potential of Manufacturing Closer to Home
10/25/2021 Digital Printing, 3D Digital Fabrication
Makers-Lab Toyohashi in Toyohashi, Aichi Prefecture is a makerspace run by Science Create Co., Ltd., a public-private (third sector) organization based in the area. The lab was opened in 2015 within Toyohashi Science Core, a center promoting industry-academic collaboration and supporting the creation of new industries in the Higashi-Mikawa region. As a lab that allows anyone to put their fabrication skills into practice, Makers-Lab Toyohashi is seeking to breathe new life into local industry.
Photo: Makers-Lab Toyohashi attracts people of all backgrounds who are interested in fabrication, including children.
Click here for details about Makers-Lab Toyohashi (Japanese text only)
We organized an online meeting with Makers-Lab Toyohashi staff to find out more about the ideas and concepts available there.
Science Create: Atsushi Takemoto
Science Create, Technical Coordinator: Masahiro Tsuchida
Lead Technical Staff: Hiro Sato
(from left) Tsuchida, Takemoto and Sato.
Roland DG: What type of venue is Makers-Lab Toyohashi?
Takemoto: We have a range of digital fabrication tools here that are available for use by local residents who want to explore the realms of fabrication ranging from personal interests through to prototypes made for companies or independent businesses, and even university research projects. Our users are not only from Toyohashi, but many also come from neighboring towns such as Toyota and Anjo, and even from Hamamatsu in Shizuoka Prefecture.
Makers-Lab Toyohashi is located in the Toyohashi Innovation Garden cultural exchange area on the first floor of the Toyohashi Science Core building. Toyohashi Innovation Garden is the collective name for three facilities: Makers-Lab Toyohashi lab, Startup Garage co-working space that supports startups, and Agri-food Lab food prototyping and development facility. We run our lab by coordinating our fabrication capabilities with the other facilities here.
As an example of how this works, if a user makes a prototype at Makers-Lab and wants to turn it into a product to sell, we would tell the user to go to Startup Garage to discuss specific sales strategies, starting a business and subsidies. Another example is when a user has developed an idea at Startup Garage and wants to turn that idea into a prototype, Startup Garage would advise the user to talk to us here at Makers-Lab.
What are some features specific to facilities operating in the public-private sector?
Takemoto: Makers-Lab Toyohashi is a truly unique makerspace in Japan as it is based on collaboration between industry, academia, government, and finance, which is one of the strengths of the public-private sector. We have kept our pricing structure to a minimum to give as many people as possible the opportunity to use our facilities. Even elementary school students can use the latest tools here for a very low price.
We have also set up a technical assistance desk manned by a dedicated Technical Coordinator to offer our users technical advice such as whether they can make what they are planning with the available tools, or if they can actually machine the materials they are planning to use. Students from the local Toyohashi University of Technology are also on site as technical staff to help users. Companies using our facilities can link up with students, and the students are able to apply their expertise in specific fields and come up with their own ideas while working together with companies.
A makerspace for beginners and professionals alike
How are people using your makerspace?
Takemoto: Many users of our makerspace are actually long-term members. We also organize tours of our facilities to demonstrate the available tools and machining samples to first-timers. First-timers become members if they think our lab has the right tools to make what they have in mind.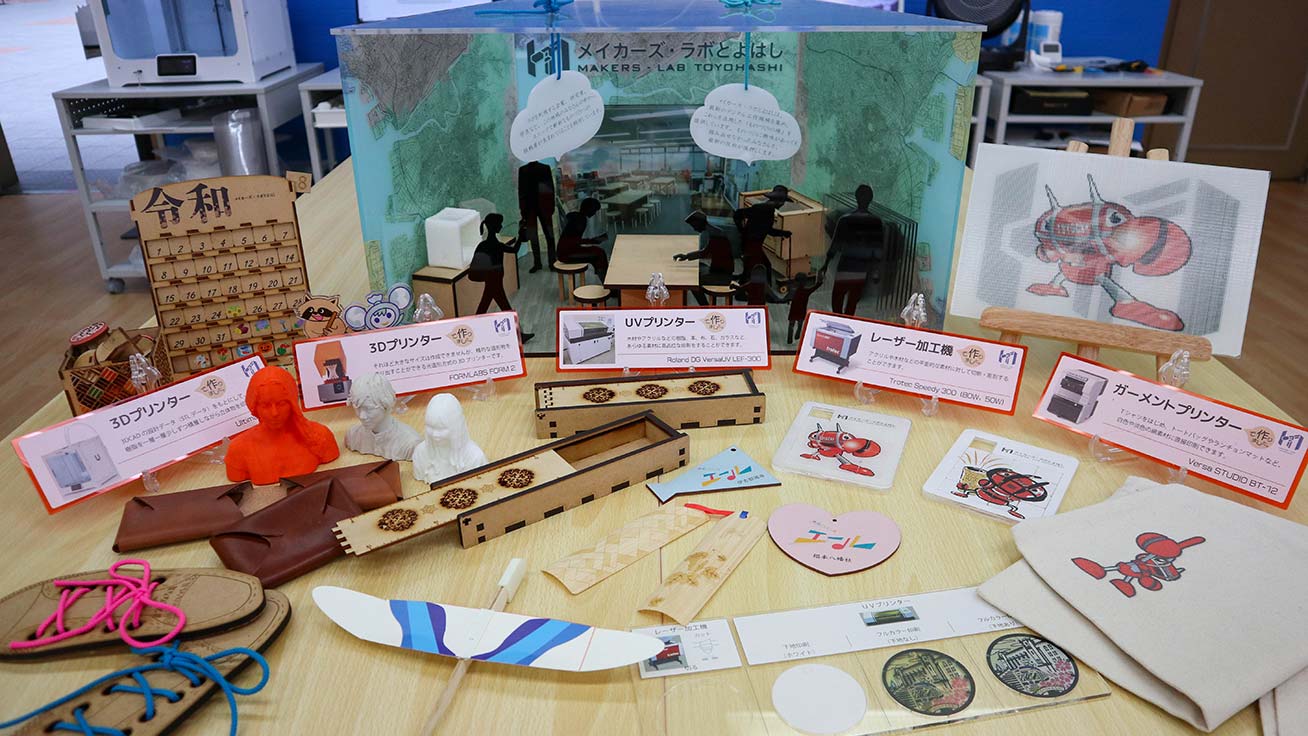 Some of the staff's best creations demonstrate the capabilities of the makerspace.
Before using our tools and software, users are required to take a basic training course to learn the correct methods to ensure safety.
What are the main types of tools that are available?
The most frequently used tools here are the laser engravers, UV printers and 3D printers.
When we first opened the lab we only had 3D printers available, but we have increased the quantity and type of tools we use, to greatly broaden our fabrication capabilities.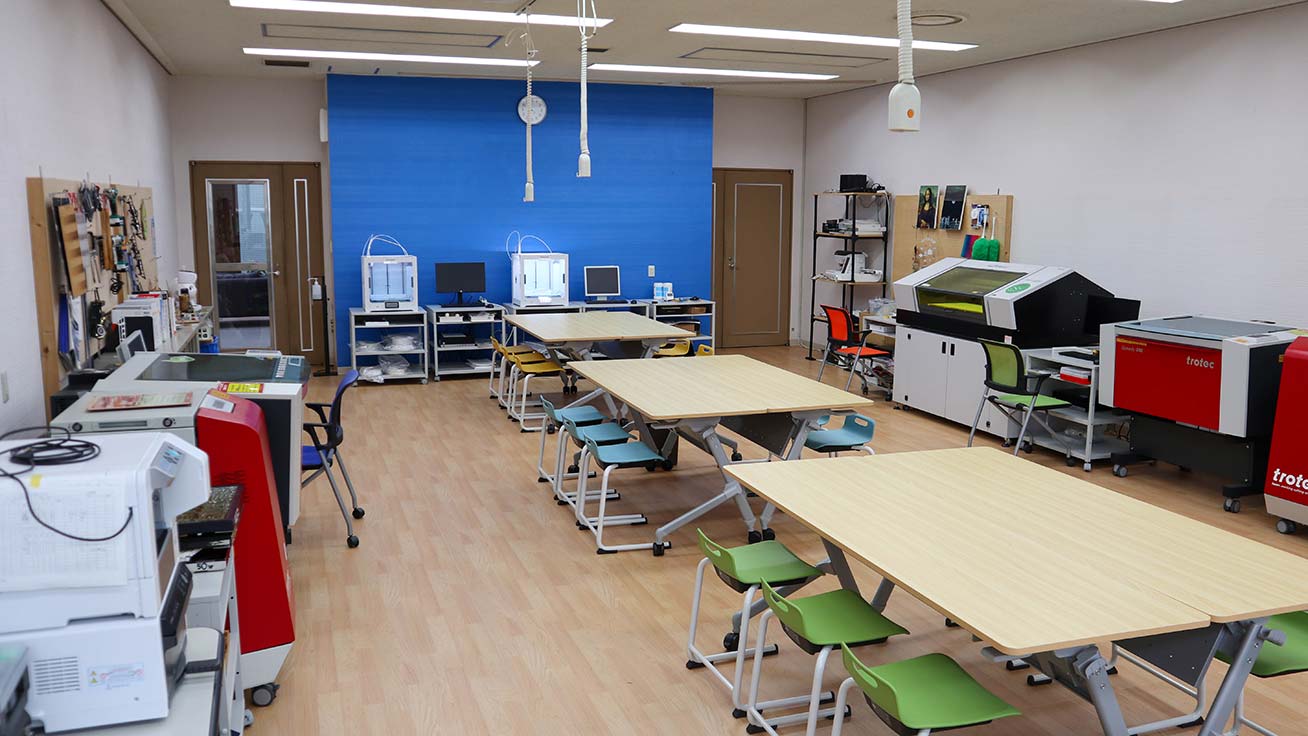 Roland DG's VersaUV LEF-300 UV printer, VersaSTUDIO BT-12 direct-to-garment printer and monoFab SRM-20 desktop milling machine are also available at the lab.
How are Roland DG's tools being used?
Takemoto: UV printers are often used to add colors to objects after they have been cut out by the laser engraver. Photos and illustrations look amazing in full color. More skilled users are even trying to create special effects with unique finishes by utilizing clear ink.
Tsuchida: Members use these tools to make small accessories like keychains by printing on acrylic or medium-density fiberboard (MDF) with UV printers. They are easy to use because it is so simple to create 2D data.
Sato: Students specializing in architecture use the laser engravers to make models for their graduation design projects, and then use UV printers to add color and decoration. Some members have even used the UV printers to make commemorative souvenirs for research lab graduates.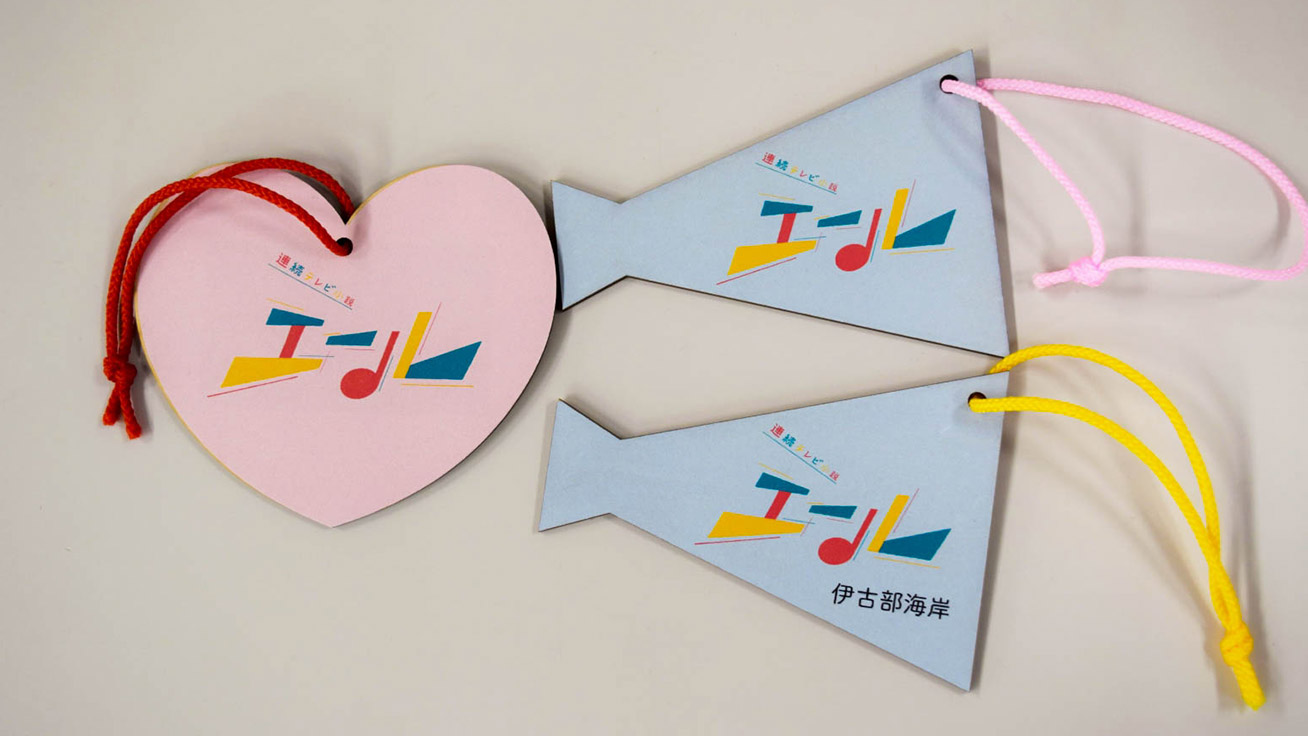 Wooden tags feature logos of the "Yell" Japanese NHK television drama series set in Toyohashi. This one-of-a-kind merchandise from Toyohashi City is made from MDF cut with a laser engraver and printed with a UV printer.
We heard that you recently started using our direct-to-garment printer.
Takemoto: Demand for printing on fabrics like tote bags was growing, so we decided to add a direct-to-garment printer to our lineup. Its compact design is great because it is so easy to take to events we hold at other sites. I think it will be useful for giving people the opportunity to make items outside of the lab environment.
Sato: Our members love it because you can print designs by simply placing your fabric in the cassette. The design software is also easy to use.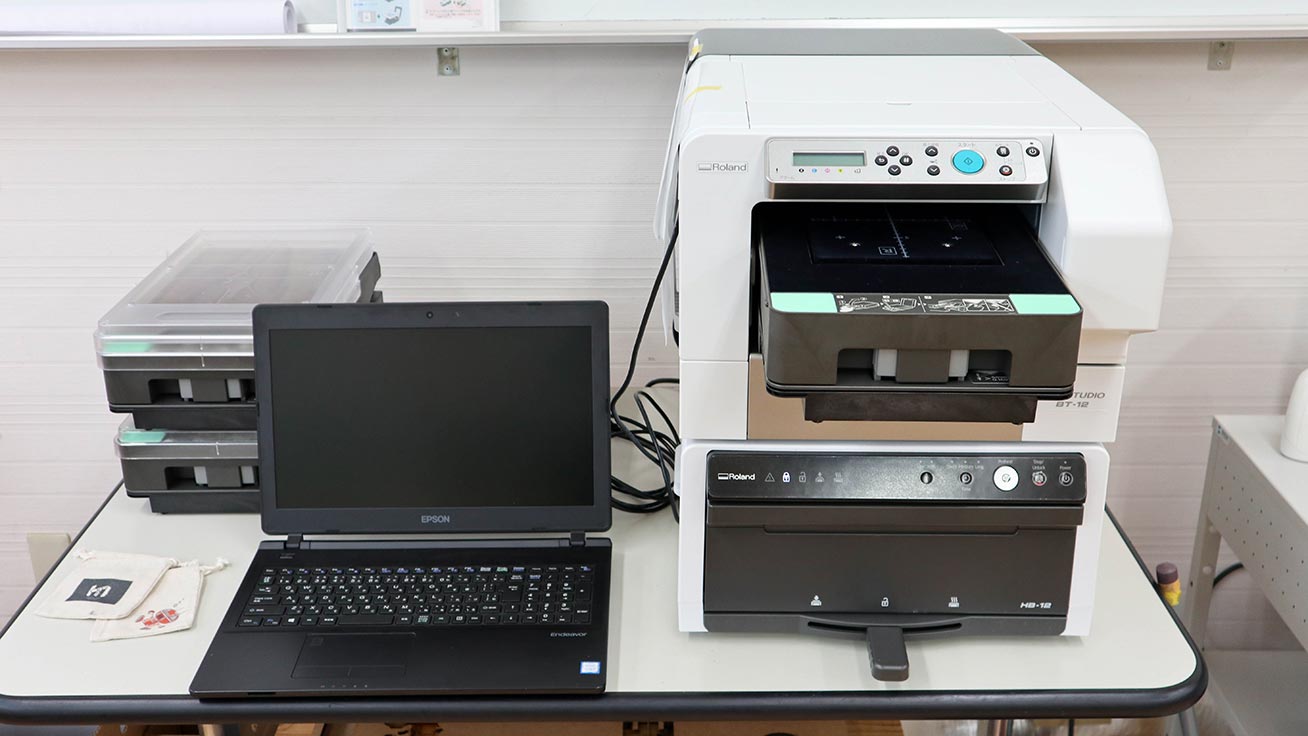 The BT-12 direct-to-garment printer.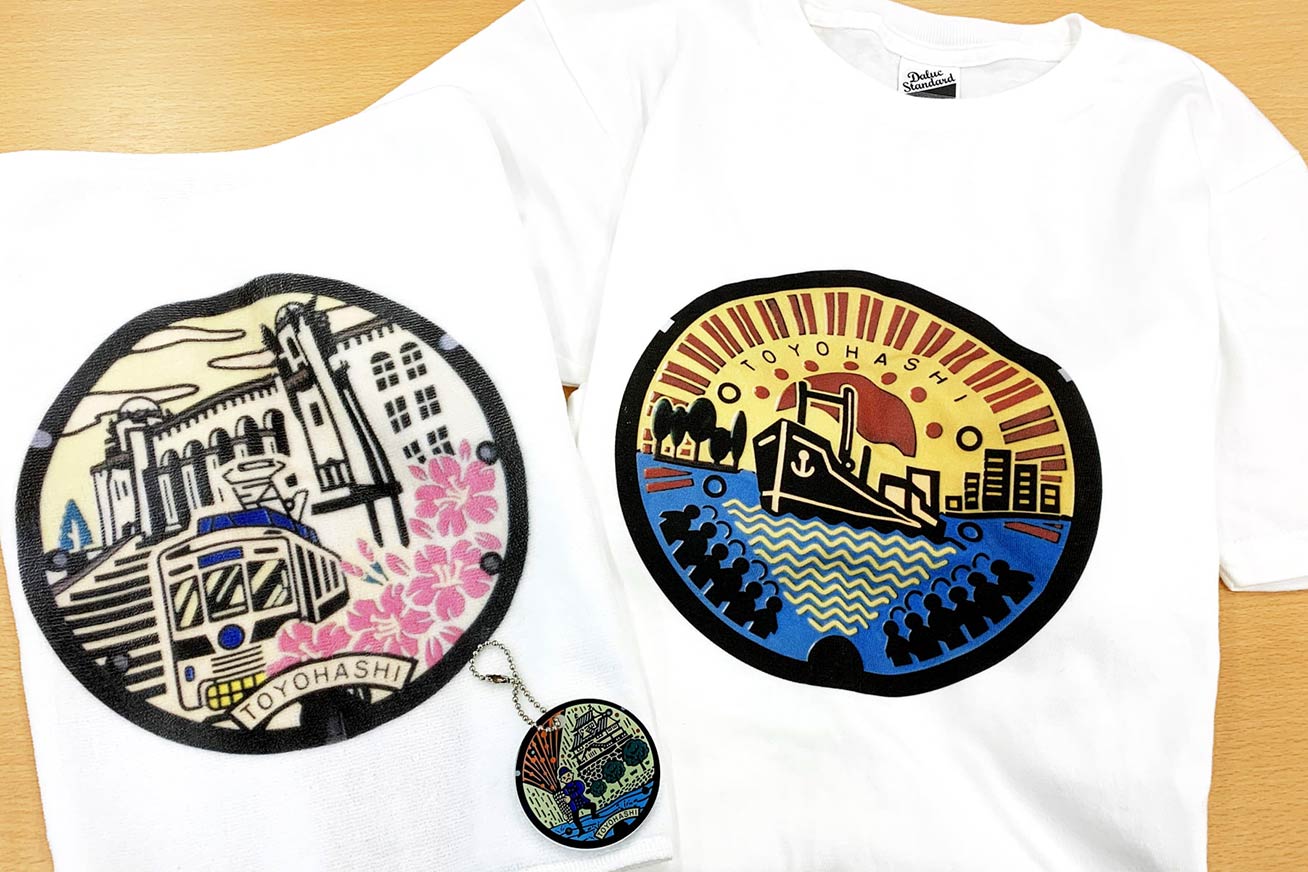 For an anniversary event, Toyohashi's retro-style manhole designs were printed onto t-shirts and key chains.
Broadening the scope of fabrication and nurturing tomorrow's startups
This is your sixth year in business. What changes have you noticed since opening the lab?
Takemoto: In addition to prototype development by companies or R&D by universities, our users now come from a very broad demographic that also includes independent business owners, housewives, students and retired people.
We are focusing our efforts on showing how much fun it is to make things, especially to the younger generation who will be holding the reins of our local communities in the future. Some students were reluctant to make use of our lab because they found it difficult to operate the tools or create data. For students like these, we began running open days this year with the topic "Exploring your fabrication potential" where participants work with staff to create items that they want to make. Our goal with these open days is to give students the initiative to take the next step in developing their own ideas by themselves.
We also organize and hold the Robotics Plaza course for elementary and junior-high school students that makes use of the cutting-edge technologies like robots and drones. Since August, an ongoing topic of the course has been programming an AI-powered car, where everyone creates a circuit that the car drives through using the AI it has learned. The kids get actively involved and have a great time—making your own creation and watching it move is naturally the most exciting moment!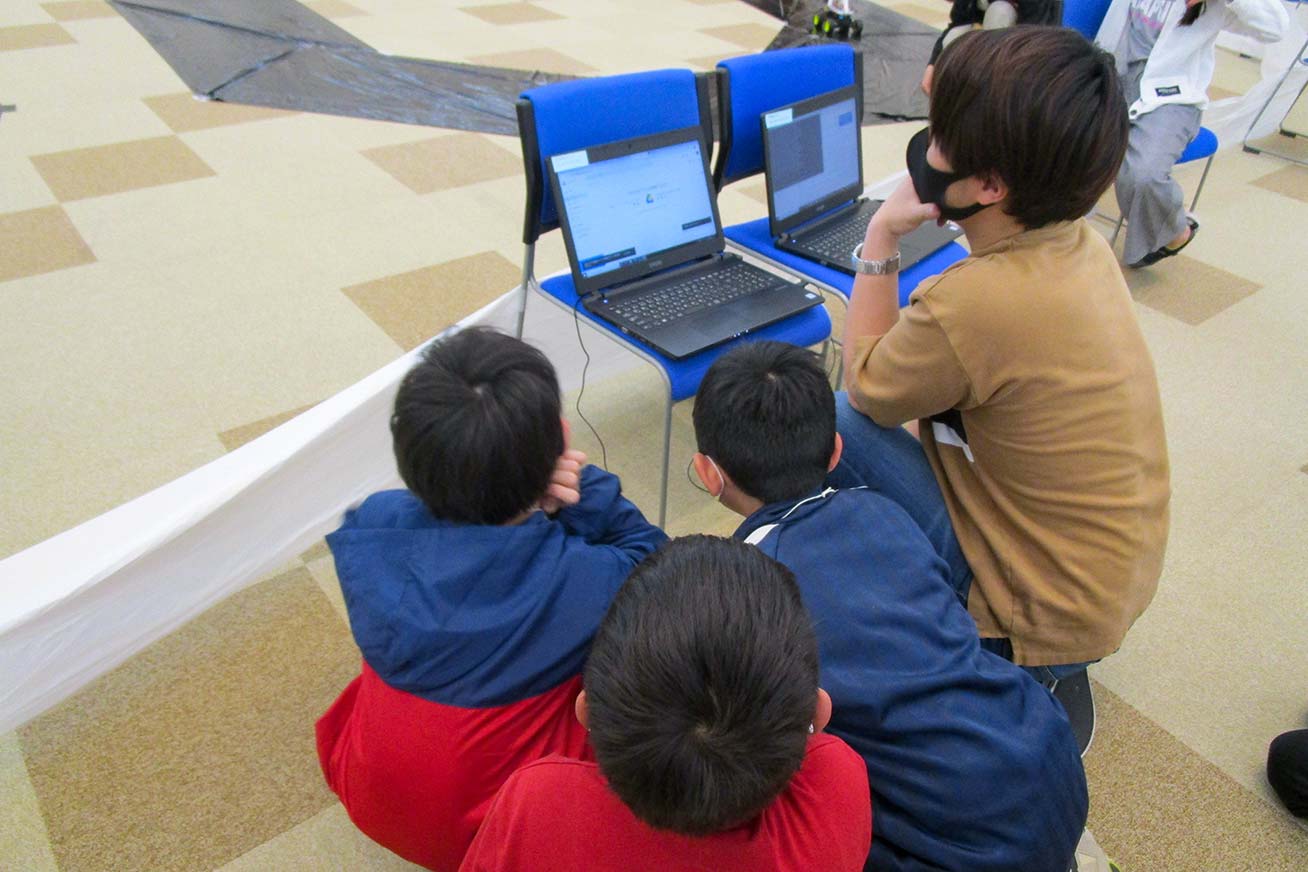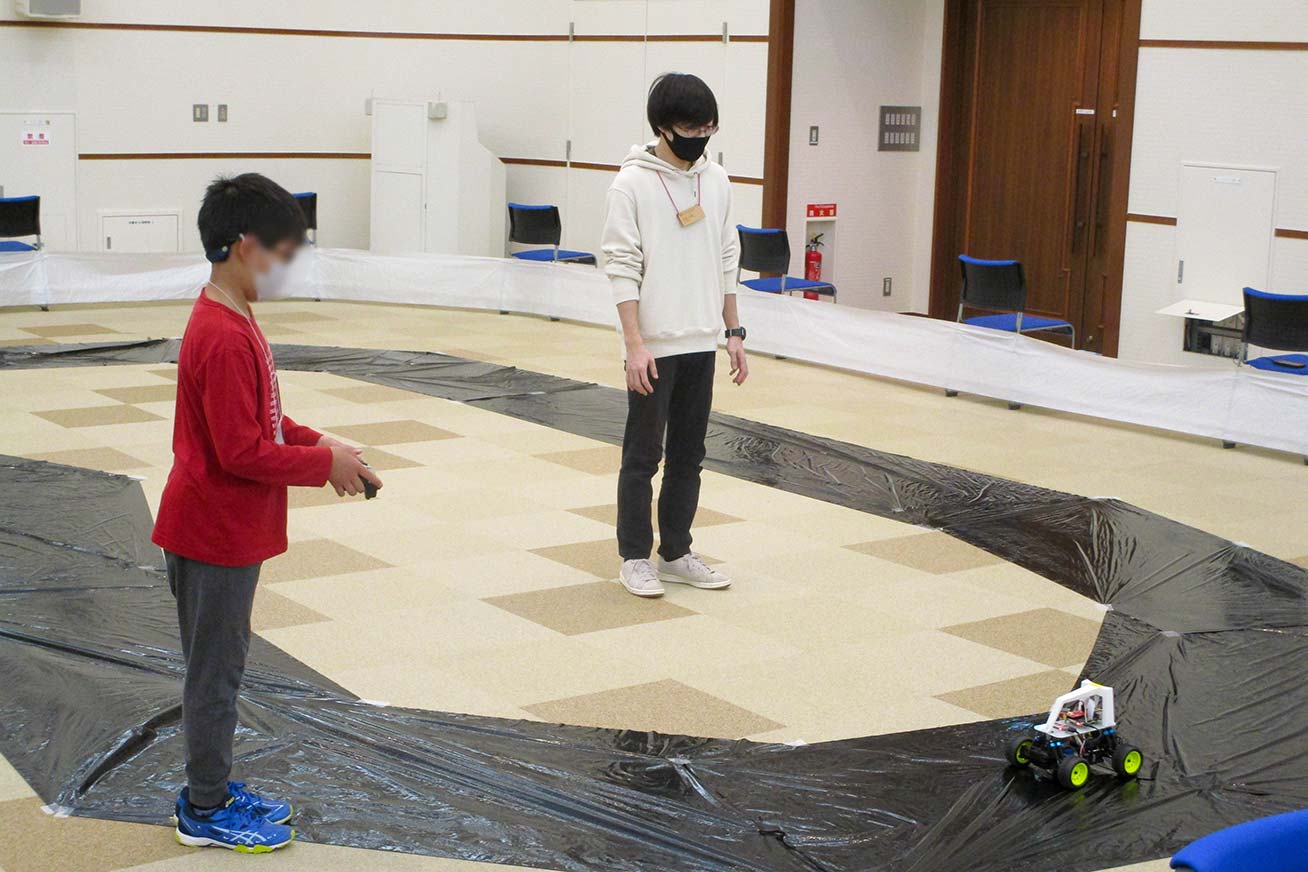 Finally, what is the overall goal of Makers-Lab Toyohashi?
Takemoto: When we first opened our doors six years ago, there was a growing trend behind the term Maker, and a large number of labs popped up all around Japan. Unfortunately, there are fewer and fewer labs that still remain active today. Thanks to the cooperation of Toyohashi City, we are still going strong with the aim of reinvigorating the local community here. Our upcoming plans are to work together with similar labs in neighboring municipalities and play a key role in creating a hub that serves to connect labs like ours.
In the future, I am looking forward to the day when companies, individuals, students or children using our makerspace go on to create new products, or new startups are formed by people from our local community.
It sounds like there are exciting things coming up in the future. Thanks so much for sharing your vision with us.