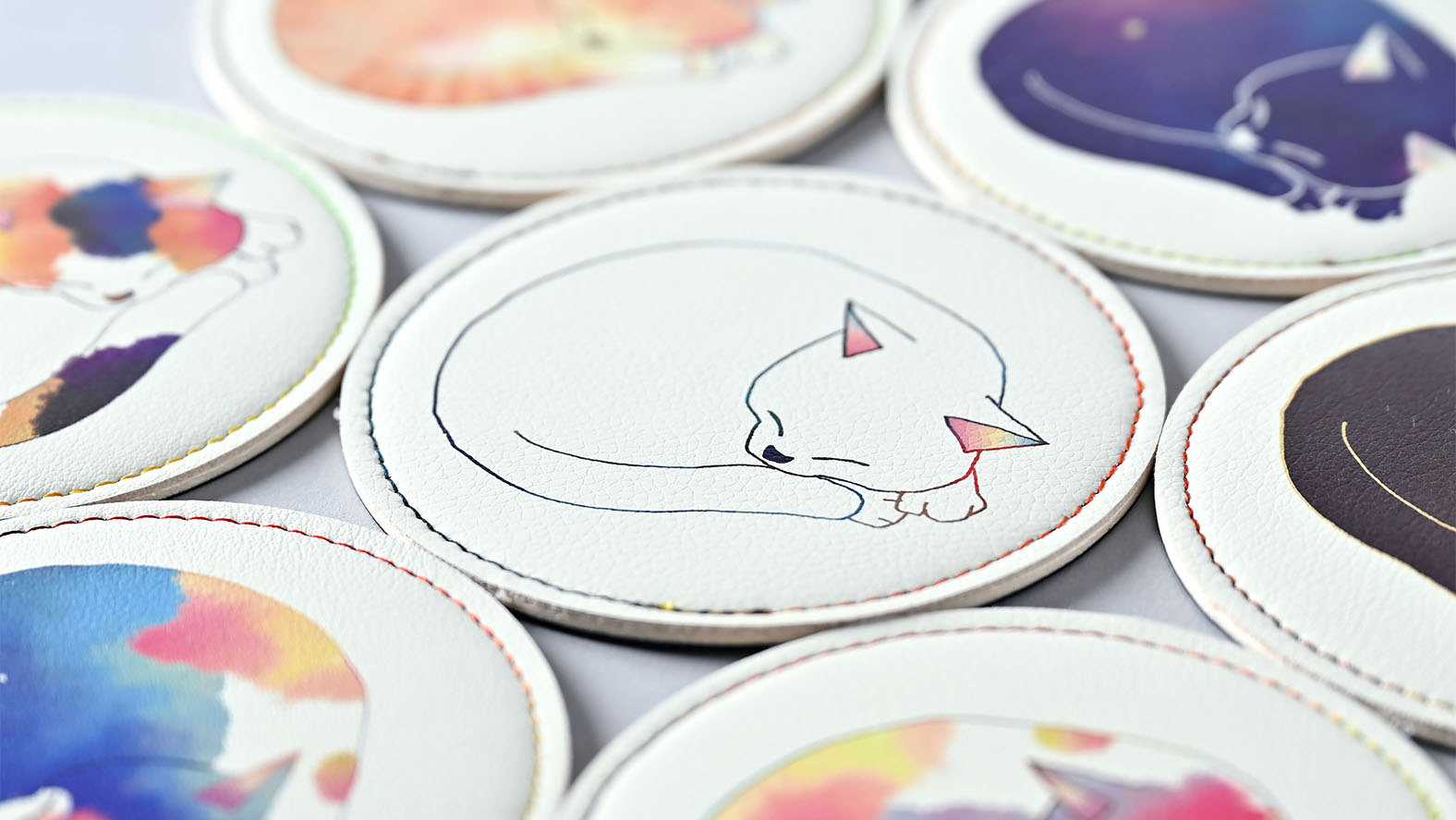 Automotive Synthetic Leather Company Launches Consumer Accessories Brand
12/22/2022 Digital Printing
KYOWA LEATHER CLOTH CO., LTD. is one of the world's leading manufacturers of synthetic leather materials for automotive interiors. The company launched the Sobagni consumer brand featuring fashion and everyday items made from its own synthetic leather material, using Roland DG's LEF2-300 benchtop flatbed UV printer to create a range of colorful designs.
Photo: Sobagni coaster featuring a UV printed illustration of a cat
Turning high-quality, eco-friendly, ethical leather into customized accessories
Located in Hamamatsu City, Shizuoka Prefecture where the Roland DG head office is based, Kyowa Leather Cloth produces and markets synthetic leather used for automotive seats and other applications. It launched an e-commerce website in June 2021 under the new brand name Sobagni, marking its first foray into the business-to-consumer segment. We had a chat with Satoshi Suzuki (photo below) of Sobagni's Brand Planning Department.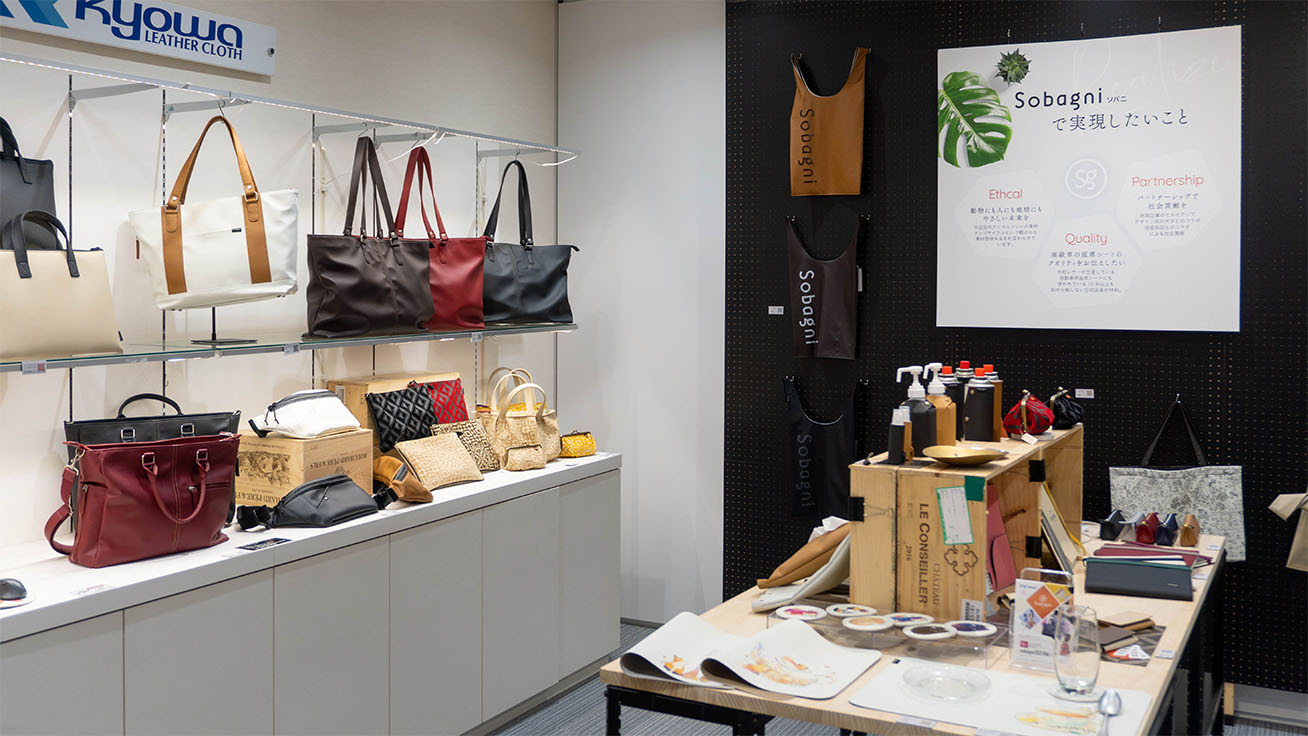 An extensive product lineup ranging from handbags to stationery items is on display at the Sobagni showroom.
Roland DG: What led to the launch of the Sobagni brand?
Suzuki: Our synthetic leather used for interior automotive applications is of a high level of quality and extremely durable to surpass the rigorous standards required of automotive interiors and is also an eco-friendly material. We came up with the idea to launch the Sobagni brand because we want to have more people discover "ethical leather," a material that is still relatively unknown among individual consumers.
We started out with a lineup of just 35 items, but that number has now increased to around 200 products. Every day, all six members of the Brand Planning Department work on planning new types of products.
Products are mainly sold on our e-commerce website, but some are also available at specialty stores in Hamamatsu City. In addition to the Sobagni brand, we also produce OEM products and collaboration merchandise with other brands.
We had a look at an ethical leather bag and were surprised by how lightweight and soft it was.
One drawback of the polyester-based polyurethane used as ordinary synthetic leather is that it is susceptible to hydrolysis (a decomposition reaction caused by water and humidity in the air) which makes the surface become easily deteriorated. Our ethical leather, on the other hand, is made of polycarbonate-based urethane, an extremely durable and water-resistant material that is tough against hydrolysis. I hope we can use the Sobagni brand to change the perception that some consumers have that synthetic leather is lacking in durability.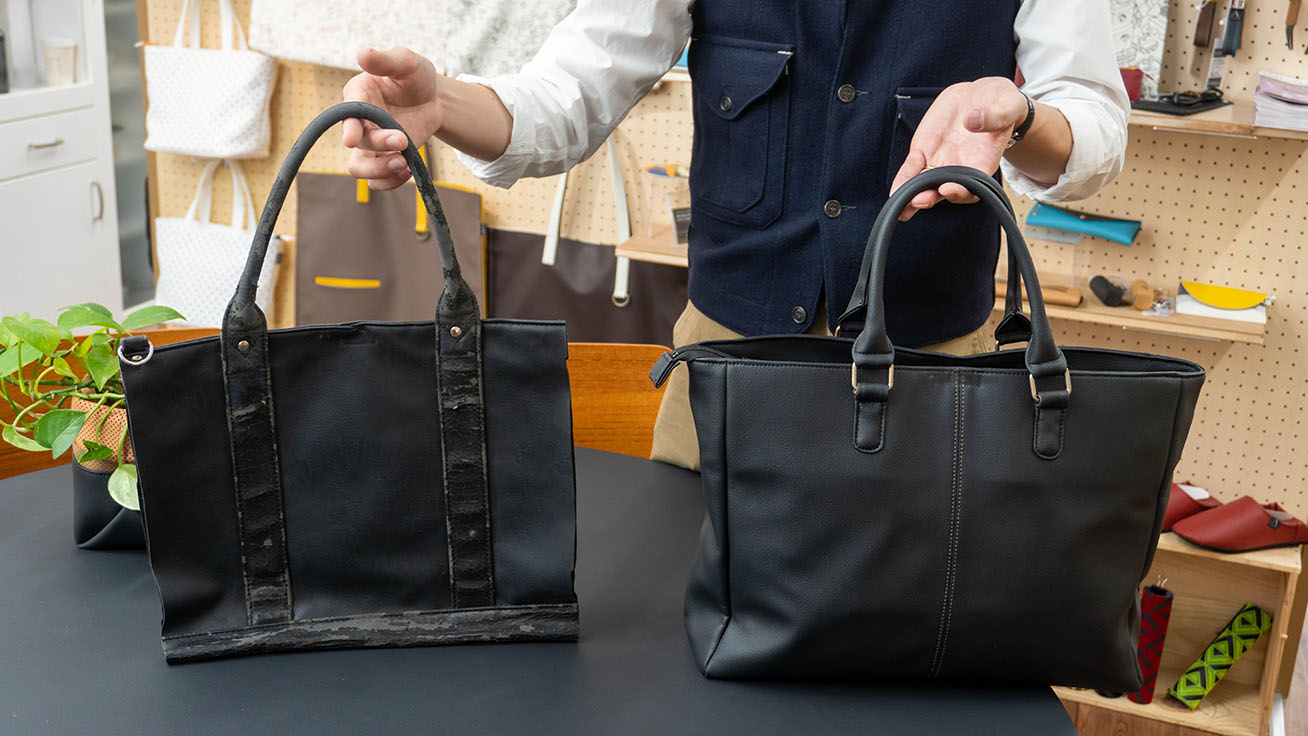 Results of a durability test simulating ten years of use. The surface of a bag made of ordinary synthetic leather (left) looks tattered, but the ethical leather bag (right) looks relatively undamaged.
UV printers offer countless designs to leather goods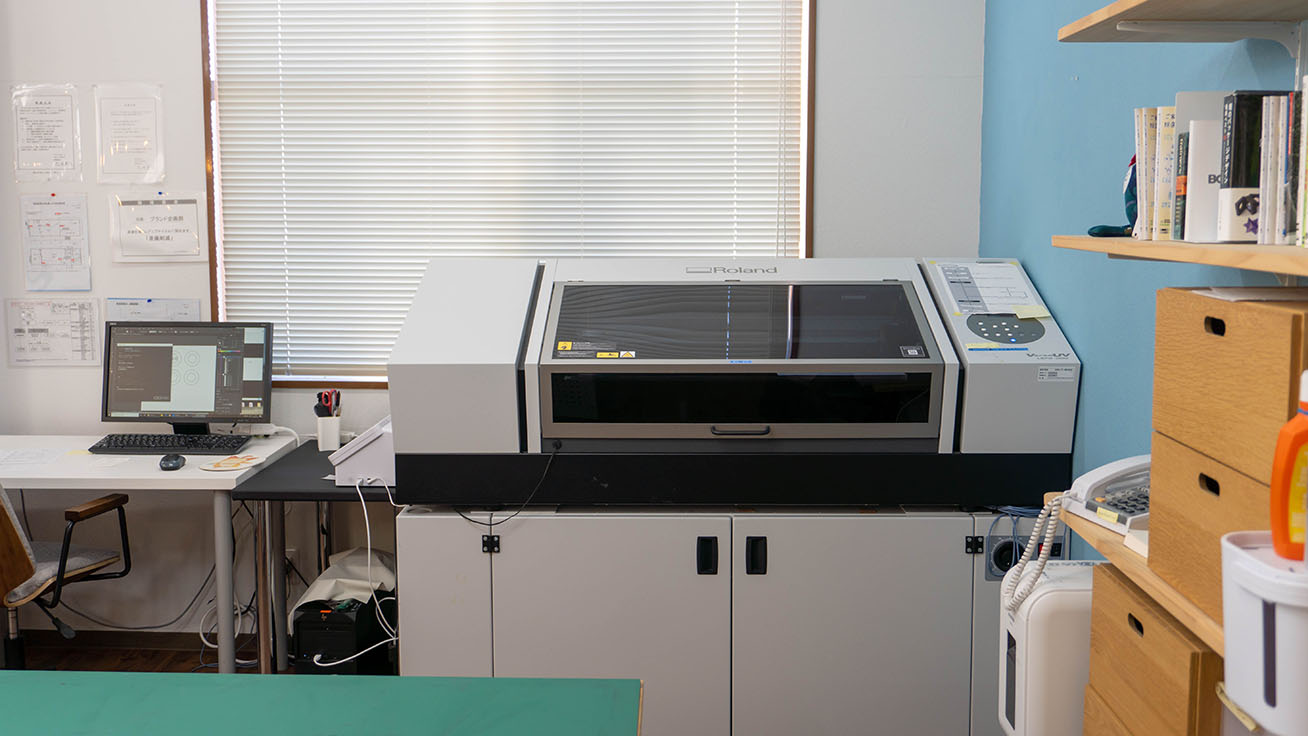 The LEF2-300 benchtop flatbed UV printer installed at the Brand Planning Department office.
What are you using the UV printer for?
We use them for high-mix, small-lot production. We print designs onto products after receiving orders. This method allows us to keep inventory to a minimum, while also being able to adjust production volumes in line with sales and popularity trends.
What are your impressions after using the UV printer?
When we were first launching Sobagni, we decided on using the LEF2-300 UV printer because we wanted to increase our product lineup and types of available designs in the future. The quality of prints on soft, flexible ethical leather was one characteristic in particular that made the LEF2-300 stand out. The colors are vibrant, and even light, water-color style illustrations and shades are printed exactly as they should look.
We also run promotional campaigns on the Sobagni official Instagram account and other social media platforms; ideas posted by our followers often create the inspiration for new product designs. Our popular lineup of animal-themed mousepads is a great example of this. Followers commented that they also wanted to see other dog breeds, so we added more types to our lineup. A key advantage of the UV printer is that it is capable of producing items when required on-demand.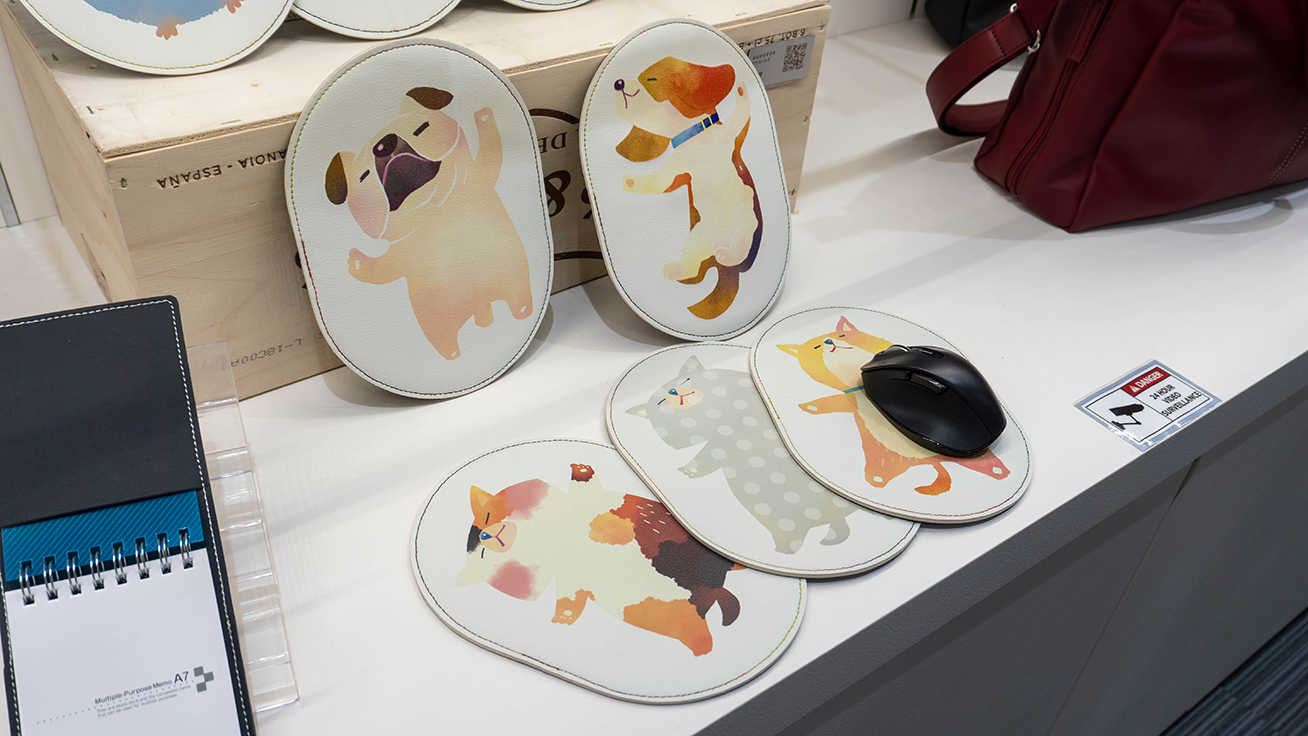 The popular mousepad design drawn by illustrator Makoto Ikutake makes the mouse look like it is rubbing the animal's belly. Additional animal types are also being released.
Making products popular with consumers
What was the reaction after launching the brand?
We utilized social media to promote the Sobagni brand to potential customers. We also had specials featured in the media showcasing how ethical leather is an environmentally friendly product. This led to an increase in inquiries from companies wanting to know how to process their own waste materials into similar synthetic leather. An example of this is a type of synthetic leather developed recently using apple pomace leftover from the production of cider in Nagano Prefecture.
Ethical leather has also presented opportunities for increased interaction with children in local communities. We team up with local elementary schools to run club activities which involve workshops where we make pen cases printed with pictures drawn by children.
We convert their pictures into digital data here and use the UV printer to add their designs to the pencase material; the final assembly process is completed together with the children. These workshops required quite a lot of preparation, but the children and teachers loved them, and it was a very rewarding experience. We hope to continue running workshops like this on a regular basis.
What are your future aspirations?
The designs of our current product lineup are mainly based on drawings, but we want to branch out to using graphical designs across the entire printable surface. Another service we want to expand on is making items featuring personalized names.
The Sobagni brand name is coined from a combination of the Italian word sogni, meaning many dreams, and sobani, the Japanese term for nearby, or together. This captures the essence of being right there alongside our customers as they pursue their dreams. Rather than simply releasing designs from our end, we want to develop products that are in line with the needs of our customers.
Thank you for your time. We hope to see even more amazing items that maximize the characteristics of this great material.
See here for more details about Sobagni (in Japanese only. International shipping is not available)